Antron Brown raced to victory in the Traxxas Nitro Shootout on Saturday , earning a $100,000 payday during an action packed Saturday at the Chevrolet Performance U.S. Nationals.
Brown, the 2012 Top Fuel world champ, took the victory at the Lucas Oil Raceway at Indianapolis despite having to pedal his Matco Tools dragster down track, running a 4.147-second pass at 220.62 mph to defeat Doug Kalitta in the final of the all-star bonus event. It was Brown's first win in the Traxxas Nitro Shootout, having defeated J.R. Todd and Richie Crampton to reach the final.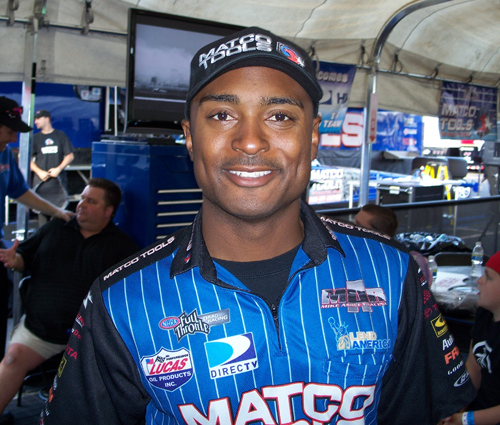 "The main thing is we were able to sneak away with that win," said Brown, who also won the Pro Stock Motorcycle all-star race at Lucas Oil Raceway at Indianapolis in 2000. "When you race a Kalitta car in the final for $100,000, they'll throw a big run on you. We both didn't make it down cause we were pressing hard and we knew what was at stake."
Kalitta, appearing in his first Traxxas Nitro Shootout final, ran a 6.588 at 86.46 after his DeWalt Tools dragster quit shortly after the hit of the throttle. He defeated Shawn Langdon and fan vote lottery winner Clay Millican en route to the final.
In other racing, Larry Dixon (Top Fuel), Jack Beckman (Funny Car), Greg Anderson (Pro Stock) and Chip Ellis (Pro Stock Motorcycle) raced to qualifying leads at the final event of the NHRA Mello Yello Drag Racing Series regular season.
Dixon was the top qualifier on Saturday in Top Fuel with a 3.744 at 326.00 in his C&J Energy Services dragster. A three-time world champ, Dixon is searching for his second No. 1 qualifier of the season and 53rd of his career with two sessions remaining. Dixon is a four-time winner of the world's most prestigious drag race.
"Other than trying to win the event, points wise we'd like to try to get back into third place," said Dixon on his goals for this weekend. "We got bumped down last week. It's worth those points at the end of the year. I've lost a championship by two points and you never want to leave any on the table."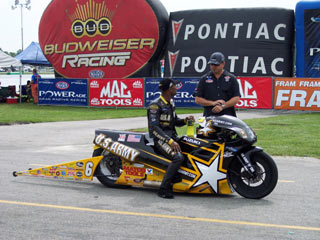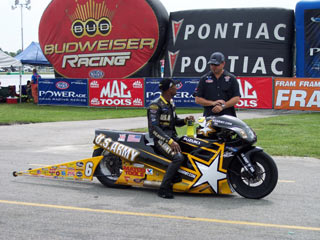 Billy Torrence is second with a 3.771 at 323.58 in his Capco Contractors dragster. Denver winner and Billy's son, Steve Torrence, sits third with a 3.778 at 326.08, also in a Capco Contractors dragster.
In Funny Car, Beckman continued his hot streak with a 3.936 at 323.74, both track records, claiming the qualifying lead in his Infinite Hero Foundation Dodge Charger R/T. Beckman has had an incredible last few races, resetting the national record multiple times and winning two of the three races during the NHRA Western Swing. Beckman, the 2012 world champ, is gunning for his fifth No. 1 qualifier of the season, and fourth in a row.
"We went a 3.91 in testing (here) last week in way better conditions," Beckman said. "The delays helped bring the track back into that zone where we could run a mid-three. We had that data with the 3.94 from Sonoma and it went within six thousandths on that run. When the car becomes that predictable, it becomes a tough combination to beat."
Brainerd winner Robert Hight drove his Auto Club Chevy Camaro SS to a 3.971 at 322.96, good enough for the provisional No. 2 spot. Tommy Johnson Jr., one of the most consistent Funny Cars the last few months, sits third with a 3.976 at 318.32 in the Riley Children's Hospital Dodge Charger R/T.
Anderson claimed the provisional No. 1 in Pro Stock with a 6.562 at 210.70 in his Summit Racing Chevy Camaro, achieving the feat during the final pass of the second session. Anderson, a four-time world champ and six-time Indy winner, is going for his second No. 1 starting spot of the season and 77th of his career.
"I'm very happy with the car and the performance so far," said Anderson, who is looking for his third No. 1 qualifier at Indianapolis. "It's sad we lost last night's run but today was great. I was second after the first run and first after the second. We're going in the right direction and that's why I love Indy."
Jonathan Gray sits second with a 6.567 at 210.05 in the Gray Motorsports Chevy Camaro. Local favorite Drew Skillman, a leading contender for the Auto Club Road to the Future Award, is third after posting a 6.570 at 210.05 in the Ray Skillman Racing Chevy Camaro.