Chip Ellis rode the Junior Pippin/PiranaZ Buell straight to number one in Saturday's second round (third round overall) of Pro Stock Motorcycle qualifying for Labor Day's 61st annual Chevrolet Performance U.S. Nationals at Lucas Oil Raceway near Indianapolis, Indiana. If Ellis stays on top through two more scheduled rounds on Sunday, it will be his third number one qualifier of the season and 16th of his career.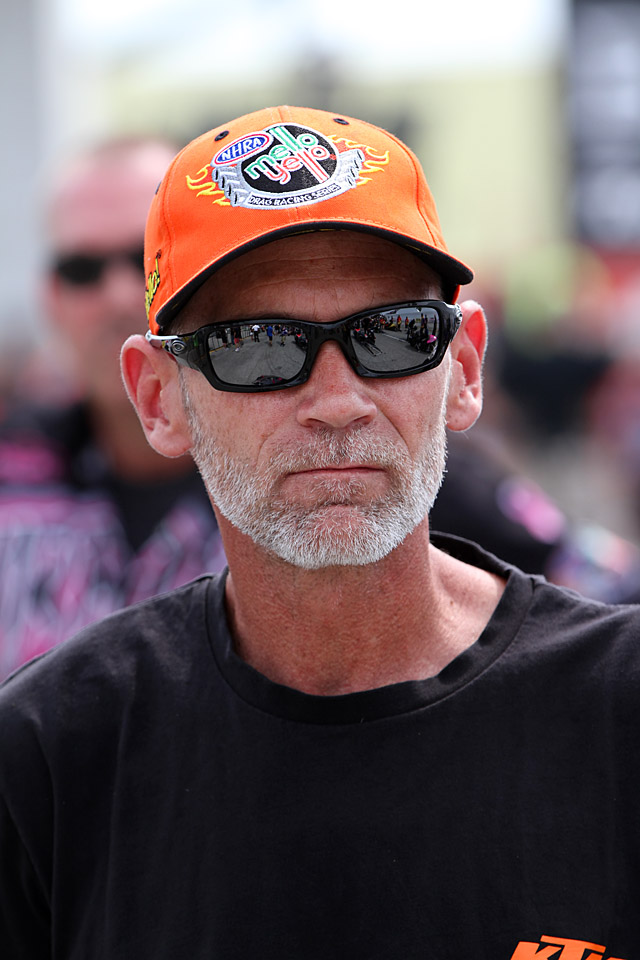 And while Friday's result may have been somewhat of a fluke, Saturday was the second day that Pippin-powered Buells led PSM qualifying at Indy. Redell Harris rode his own Pippin-powered Buell to the top of the charts on Friday when his bike was the only one to take a timeslip as rain canceled the rest of the session and he was crowned king for the day.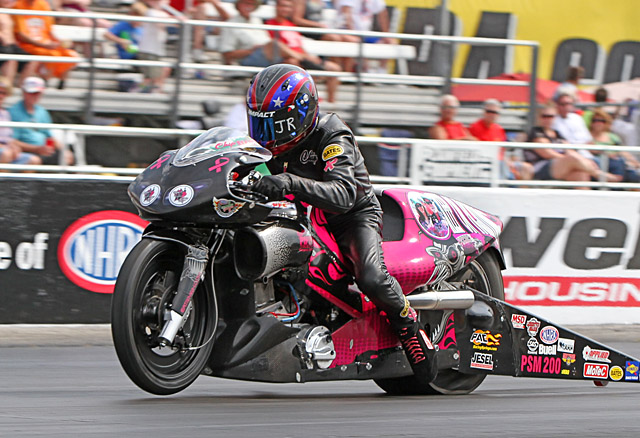 All this took place while Pippin is at home in Conyers, Georgia on the receiving end of massive doses of chemotherapy and radiation to combat recently discovered inoperable, stage 4 nasal cancer.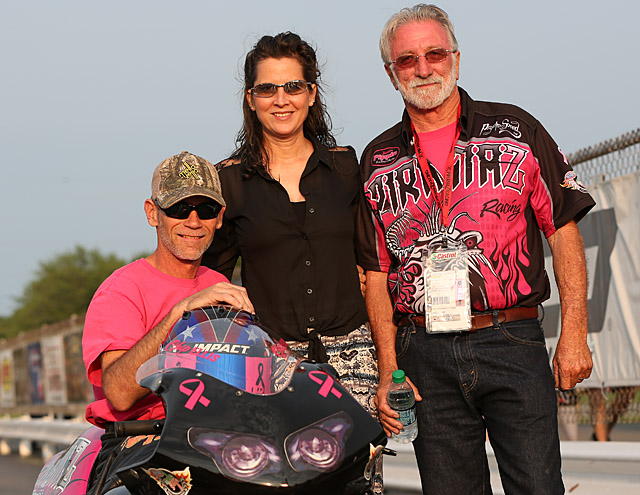 Leading at the end of the day hardly seemed possible for Ellis after a bad bog slowed the black and pink Buell to an 11th place qualifying result in the early round. The 7.14 at 189 mph pass left the team with precious little to tune with for the evening session. And yet, while the competition improved marginally, Ellis and the bike improved dramatically to a 6.862 at 193.63.
"I was expecting to improve, but not to an .86," said engine builder/tuner Lon Moyer. "Then I thought that was gonna be a pretty stout run to hold up for the session. But the Harley guys were coming up next and they always run pretty strong, so you never know."
And Andrew Hine did come close, running 6.879 on his Harley-Davidson. Second round leader Jerry Savoie was third with a 6.896.
"We have a little more to tune off of now," said Moyer. "The first run, we had such a poor 60 foot. But we knew we had something to work with, it was just a matter of getting it to work down low. We've made good runs with bad 60 foots before, but you don't want to make a habit of that. You've gotta make good runs out here, these are some of the best racers in the world."
"We've been trying to get the clutch straightened out," explained Ellis. "We came here and tested last Wednesday and I think we are starting to get a handle on it." Indeed, as Ellis' 1.059 was the second best 60 foot time of Saturday's second round.
Embed the video on your website:
Will Ellis stay on top after Sunday's two rounds? "I have all the faith and confidence in my engine builder and team that we can get this job done," said Chip, who noted that a winning performance is the best medicine for Pippin when he needs it most.
Junior Pippin and Chip Ellis would like to thank PiranaZ http://www.piranaz.net , Junior Pippin Trucking, Paul Bost Trucking, B&R Automotive, Lisa Pippin, Lon Moyer, Dave Bryant and Brad Moore.
contact Junior Pippin: jr.pippin@hotmail.com
for media inquiries: Tim Hailey timhailey@eatmyink.com
for more about the NHRA http://www.nhra.com/
This report was prepared by Tim Hailey. Enjoy everything there is to read, see and watch about motorcycle drag racing and more at http://www.eatmyink.com