Fall-Line Motorsports just completed the most successful season in their six-year history of competition in the Continental Tire SportsCar Challenge (CTSC) series and won the Driver's Championship in GS with Trent Hindman and John Edwards and the Manufacturer's Championship for BMW. Hindman will be back in 2015 to defend his title and will be joined by fan-favorite and Daytona winner Ashley Freiberg who returns to Fall-Line after competing in five races with the team in 2014. Also returning to Fall-Line for 2015 is Al Carter who will be joined by his 2014 teammate Corey Lewis. This two-car lineup will be a solid contingent to repeat for the 2015 Championship in their BMW M3s.
Hindman will now be in his second full-season of CTSC, after completing a half-season in 2013. He became the youngest driver to start on pole in the GS category at Lime Rock in 2013 and became the youngest Champion in CTSC history when he captured the title last October at just 19-years old. Hindman will be joined in 2015 by former teammate Ashley Freiberg. Ashley became the first woman to win a race at Daytona International Speedway as she and teammate Shelby Blackstock won the 2014 season-opening race. Ashley spent five races with Fall-Line in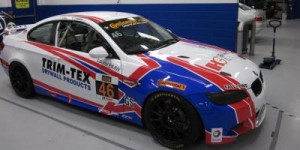 2014 as all parties worked tirelessly to put a full season program together. That hard work has paid off and Ashley will be co-driving with Hindman for the full-season in CTSC as they welcome back longtime partner Trim-Tex Drywall products alongside new partner Intercontinental Hotel Group (IHG). The 46 Championship winning car will look much the same with its unmistakable red, white and blue livery.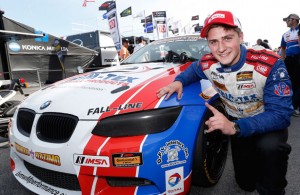 Trent Hindman: "I'm incredibly excited and grateful for the opportunity to be driving the Fall-Line BMWs for another season in GS! Last season was very special for us, and we're going to be working hard to try and defend that championship in 2015. I'm also very excited to be sharing the car with Ashley Freiberg. She's shown a lot of speed and consistency as a starting driver in select races last year, and I know having her in the car will give us a great shot at keeping the car up front. I can't thank Mark Boden, Michael Harvey, Joe Koenig, and everybody at Fall-Line and Trim-Tex enough for making this all possible. I'm really looking forward to getting back in the car at Daytona."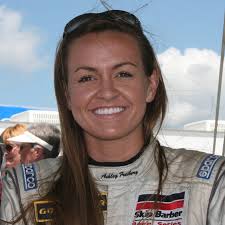 Ashley Freiberg: "I honestly can't put into words how excited and honored I am to be back with Fall-Line. I have had an interesting career up to this point of being in and out of the seat due to a lack of funding, as well as spending lots of days at the racetrack looking for a ride, so it is overwhelmingly exciting for me to finally see my hard work starting to pay off and to have such big names like BMW and IHG on my side. I'm really looking forward to driving with Fall-Line Motorsports again this year and with my new co-driver Trent who is ridiculously fast. Really every aspect of the deal this year is top-notch so I can't wait to find out what this year will bring! I am so ready get back behind the wheel… Is Daytona here yet?!"
Returning to Fall-Line for his fifth season in CTSC is Al Carter who has been a fixture in the Fall-Line camp for three years. He will be joined by his 2014 co-driver Corey Lewis who competed in the Lamborghini Super Trofeo series where he earned several wins and podiums, as well as the CTSC in the ST category where he earned the team's first pole position and took the win at Indy. Lewis has been racing for 15 years beginning with karts at the age of eight. After earning Regional Championships and National Championships in karting, Lewis progressed into the Skip Barber Regional Series. He advanced into the National Skip Barber Series earning many podium finishes before he moved into Formula Mazda cars. Throughout the 2015 season, Corey will be helping raise awareness and money for Reach Out World Wide (ROWW). Founded in 2010 by Paul Walker, ROWW is a non-profit organization committed to providing critical aid to those affected by natural disasters and humanitarian crises. Visit https://donate.roww.org/coreylewisracing for more info. At the time of release this car's program is secure for Daytona and Sebring events but looks very positive to remain for the full season.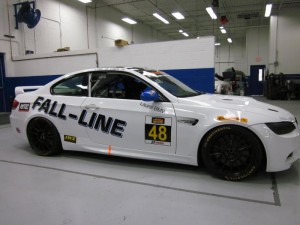 #48 Newport Group/B+ Foundation/Fall-Line Motorsports BMW:
Al Carter:
"To be back with Fall-Line is very exciting. The entire team- crew, drivers, engineers, all continue to perform at the top of their game and winning the 2014 Championship proves that. I am beyond happy to be returning to the team. I am also looking forward to driving on the same team as my three teammates. We all raced in Skip Barber together and I know how talented they all are. I am also thrilled to be co-driving with Corey. We have known each other for many years and raced on the same team last year but never as co-drivers. Our chemistry is very powerful and I have high hopes for Daytona and Sebring and what is to come for the rest of 2015."
Corey Lewis: "I am literally feeling like a kid on Christmas morning, words can not express how excited I am to be apart of Fall-Line Motorsports. I am ready to get to work with the team at Daytona and start the season off strong. Co-driving with Al Carter, who is no stranger to the Fall-Line BMWs, we are sure to be contenders for the podium! Al was the person who told me to get into sports cars when he was with Fall-Line Motorsports back in 2012. At the time, I was in open wheel racing, and now everything has come full circle! I can not thank everyone enough that made this all possible; Nila Agency,LLC – Monticello Motor Club – AMPED Apparel – BELL Racing Helmets – my family, friends and fans for all the continued support…. Lets go racing!"
Michael Harvey, Team Manager: "We are very excited about 2015. Obviously 2014 was a fantastic year for Fall-Line, BMW, and Trim-Tex and 2015 is shaping up to be just the same. We are very proud to continue to represent BMW and equally so to welcome new partner IHG on board. The synergies between these partners is great to see and is testament to our process of integrating partners on a B2B level."
Fall-Line Motorsports is a premiere builder and fabricator of race cars for all levels of competition. Fall-Line specializes in BMW, Porsche, Audi and other high-performance makes. Fall-Line Motorsports unveiled their Grand-Am team in 2006 and won the GRAND-AM Continental Tire Sports Car Challenge GS Championship title in 2010 and the IMSA Continental Tire SportsCar Challenge series in 2014. In addition to fielding 2 GS BMW M3s in the IMSA Continental Tire SportsCar Challenge, Fall-Line also prepares and fabricates cars for other CTSC teams, SCCA and NASA drivers, track day prepared and high performance street vehicles