There are about 10-thousand reasons sled and motorcycle drag racers should head to Martin, Mich.'s US 131 Motorsports Park, the weekend of Oct. 2, and it begins with the much-anticipated Cycledrag $10,000 Box and No Box Shootout. In addition to the big money race the weekend will also feature the thrilling Woody's Super Sled Shootout, The Super Bowl of Two Stroke Racing, a Fast Harley Bagger Grudge Shootout, Street ET, Grudge racing and special Gambler's races.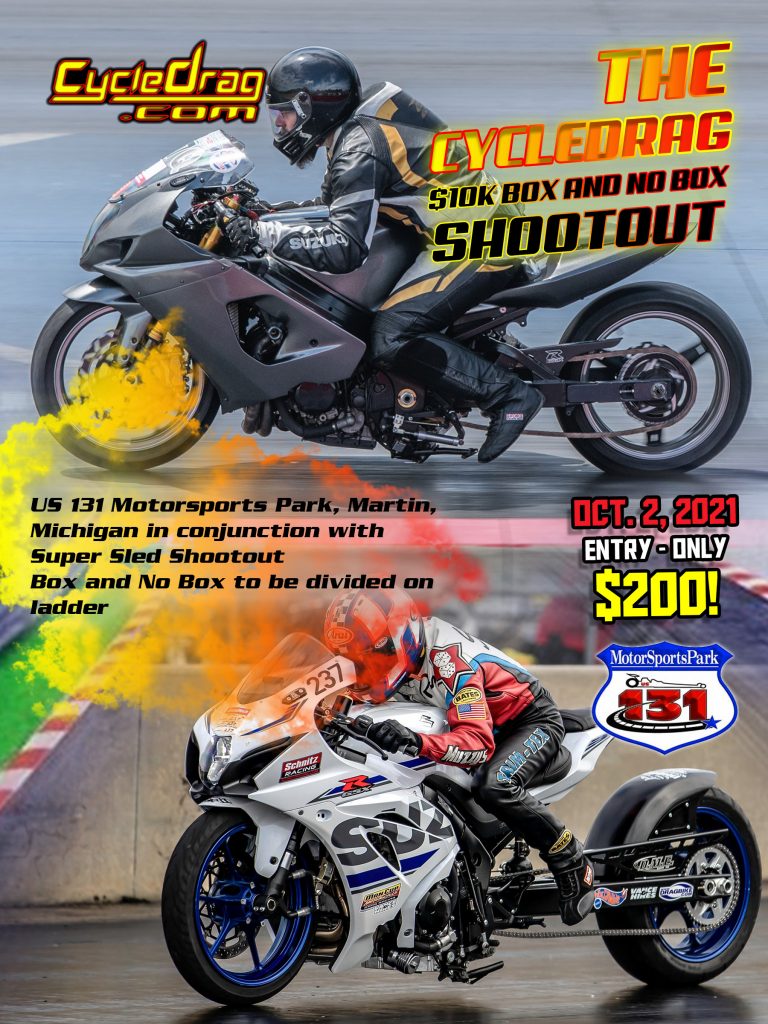 Cycledrag $10K Shootout
When Cycledrag was approached about keeping this long-standing race going, perhaps it was a bit ambitious to immediately offer nearly eight times the previous payout at a whopping $10,000. Nonetheless that is what was done and the money is guaranteed.
"This was all about giving back to the sport and giving back to the great racers who support this event," Cycledrag's Jack Korpela said. "I wanted to do something special. We are going to have a fun race to remember."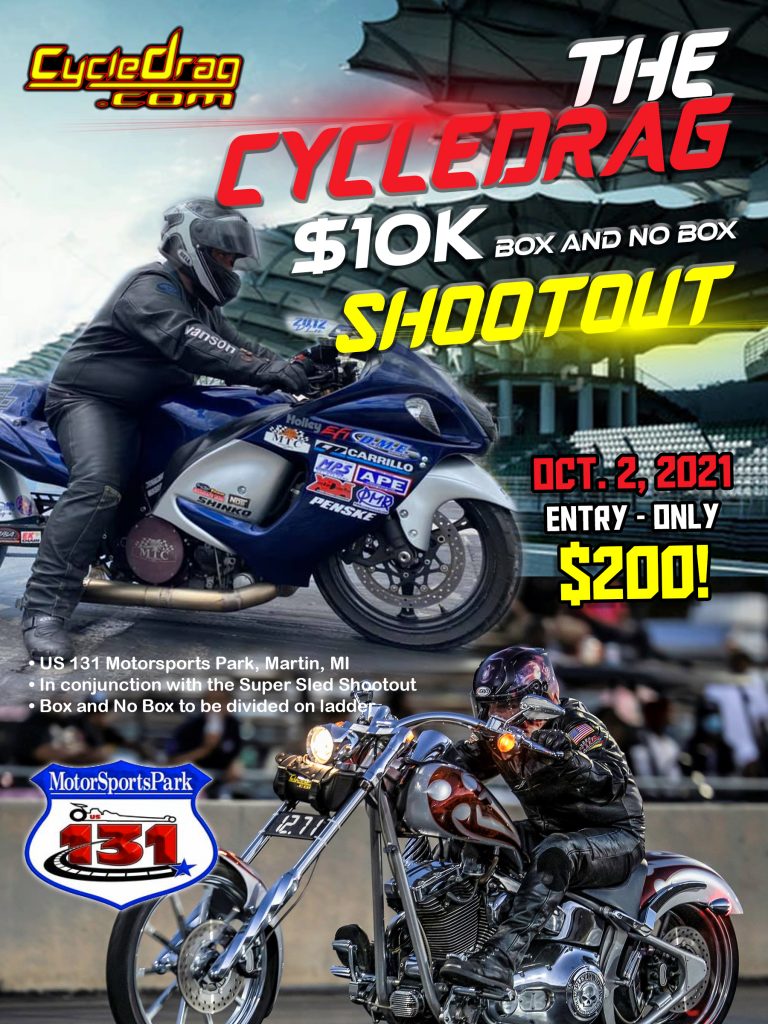 The ladder has been divided into "Box" and "No Box" categories and the payout on each side will be $5,000.
Racers are asked to pre-enter as spots are going quickly. Please paypal the $200 entry to jack.korpela@cycledrag.com with the rider's name and "Box" or "No Box" to secure your spot. More than one entry per rider is permitted. So far talented racers John Ard, Mike Bolander and Ken Koby have all secured two spots each for a better chance at the big jackpot.
If "No Box" fills up, No Box racers are welcome to enter the lower Box side where every effort will be made to keep Box and No Box separated until the late rounds.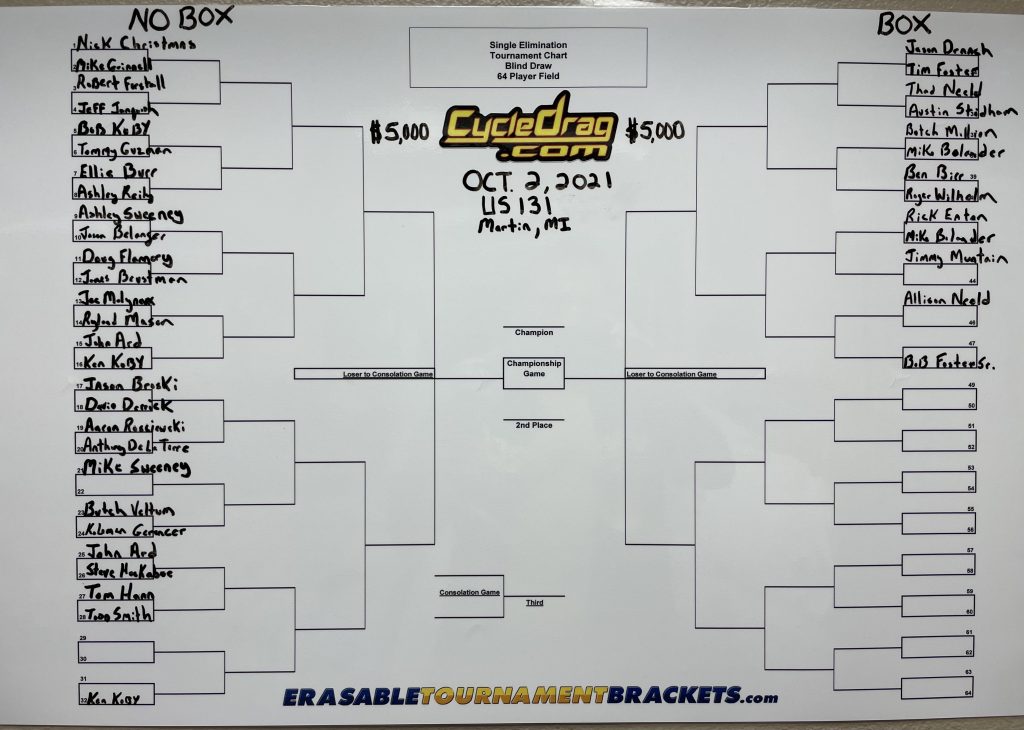 Racers will be given two time trails on Saturday Oct. 2 before the start of the race. Come join the fun and take a run at the big money.
Super Sled Shootout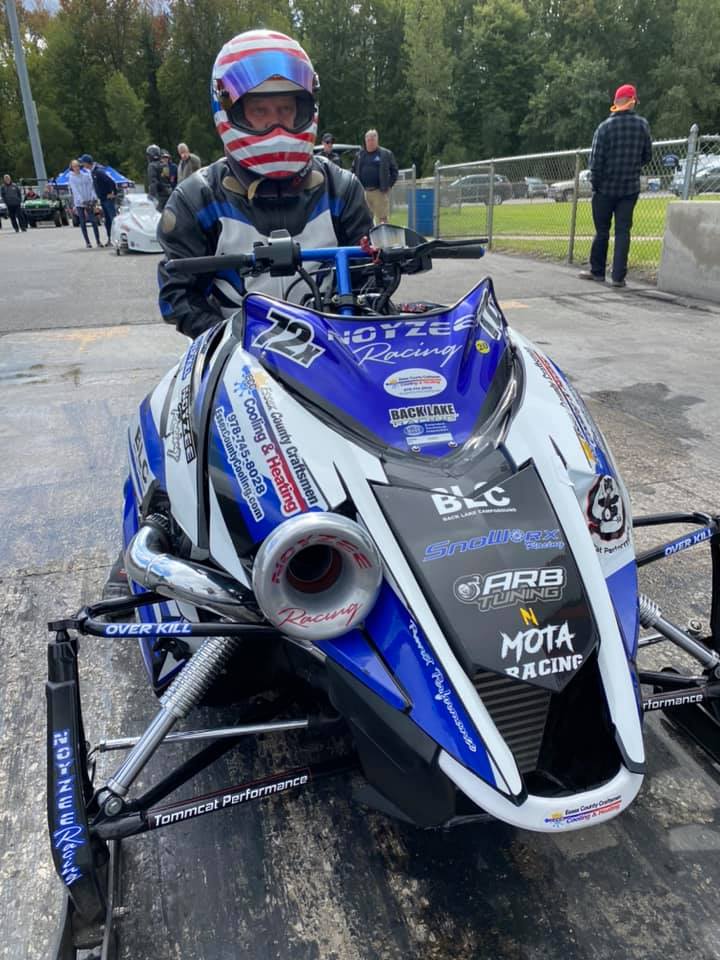 The "Super Bowl" of drag sled racing is back once again and will feature the following classes.
Bracket Challenge. 1/8 mile full bracket race for sleds.
PRO INDEX. 1/8 mile, .500 pro tree. Five different indexes running together.
Woody's challenge. 1/8 mile, heads up class, two qualifiers. Pro stock 800 sleds. Only the "sweet 16" will go into eliminations. (Heavy hitters= Dan Fisher, Brandon Beauregard, Keith Culley, )
Pro Mod, 1/8 mile heads up pro tree. Spec turbo sleds. (Heavy hitters= Glenn Hall, Brad Noyes, Robbie Lowe, Anthony Mini, Jeremy Hannen, Louie Wirbel)
Outlaw, 1/8 mile, heads up pro tree, unlimited sleds. (Heavy Hitters= Jeremy Hannen, Chris Homrich, Rob Lowe, )Once again Jamie Bellamn of Bellman Oil will be on hand to smoothly run the event.

Jamie Bellman
Super Bowl of Two Stroke Racing
Martin's fall classic has become the largest gathering of two-stroke drag bikes in the world, and this year will be no exception. With entry fee lowered from $100 to just $50, two stroke fans are encouraging all of those who have motorcycles collecting dust in the garage to bring them out for this celebration of pre-mix.
To accommodate slower bikes that may be quite a ways off the Super Eliminator records, this race will be run as a "dial-your-own number" ET race. As an added twist Kevin Hutchinson and the two stroke faithful have asked for a four-tenths Pro Tree start. All two strokes are welcome and the maximum dial-in will be 14.99.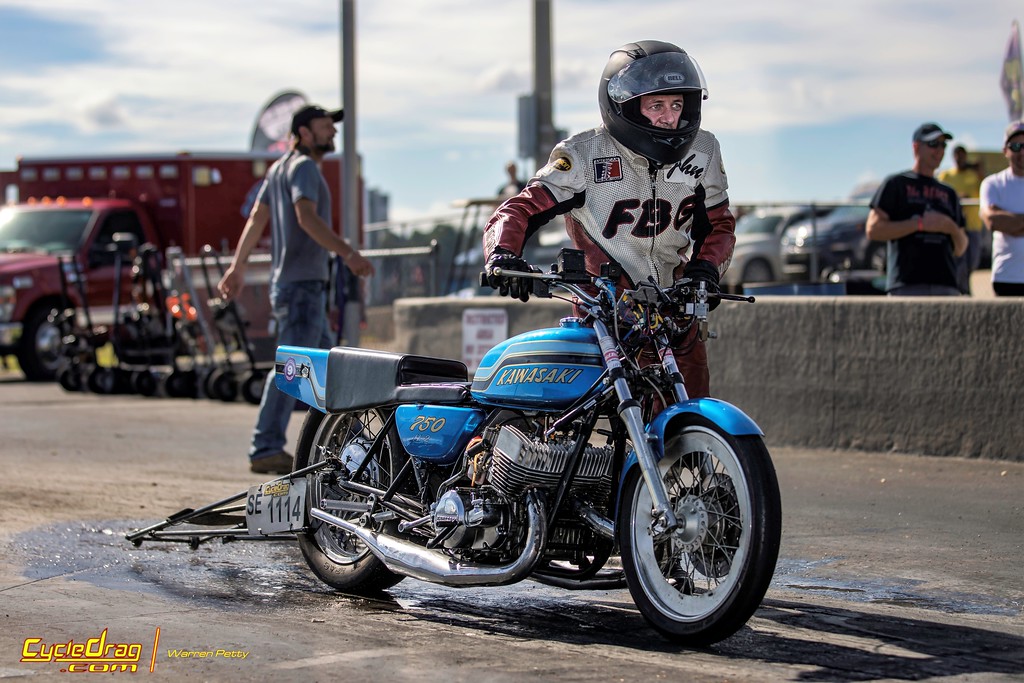 Cycledrag will guarantee $1,000 to the winner, regardless of bike count.
Racers can lock in a spot by sending the $50 entry via Paypal to jack.korpela@cycledrag.com.
Fast Harley Bagger Shootout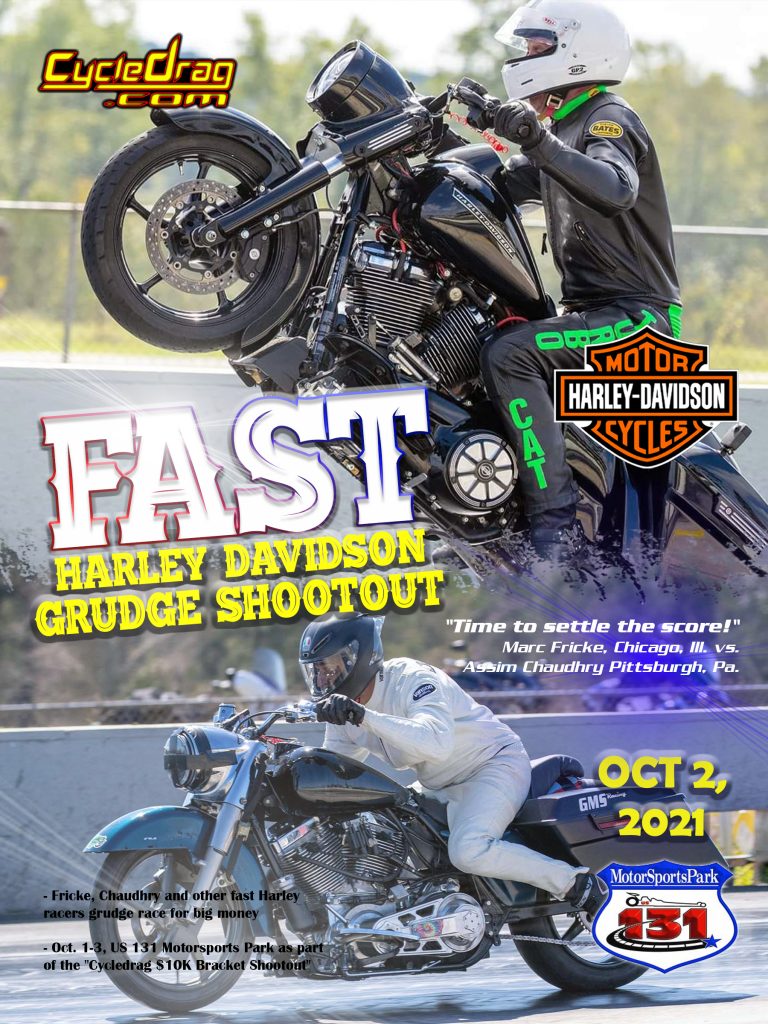 Two of the biggest names in the ever-popular and quickly-growing Harley-Davidson Bagger class are Pittsburgh's Assim "Kadafee" Chaudhry and Chicago's Marc "Bogey Man" Fricke. When this dynamic duo saw a race at the perfect meeting meeting point between Pittsburgh and Chicago they jumped at the opportunity to come settle their score with a big money grudge race. Top Bagger racers Frank Wojcik, Jason Broski and Ryland Mason will also be there with all other Bagger racers welcome.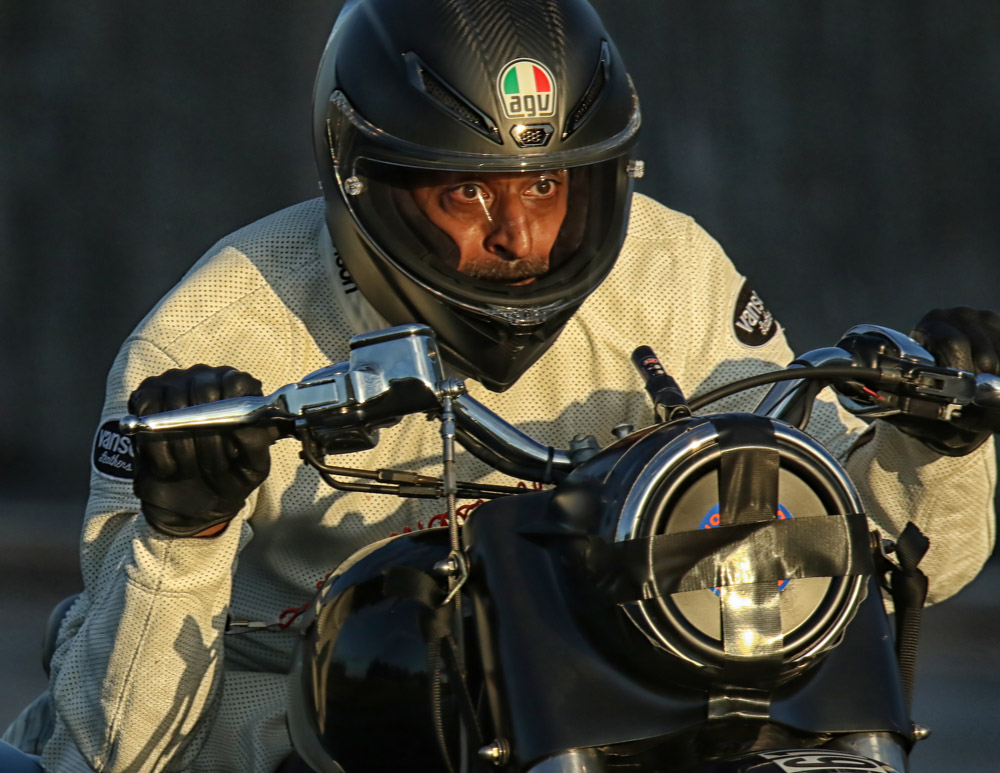 Chaudhry and Fricke will be setting the rules for this special exhibition shootout. All Bagger racers are encouraged to show up with some cash to lock-in runs with the best in the nation.
Gamblers Race
Saturday and Sunday will also feature a "catch-all" gamblers bracket race open to all bikes and sleds for an entry of only $50. This race will be perfect for individuals wanting to maximize track time and get as much end-of-the-year racing in as possible. Another gamblers race will also be run Sunday, Oct. 3 weather permitting. There will be lots of racing opportunities for competitors eager for action.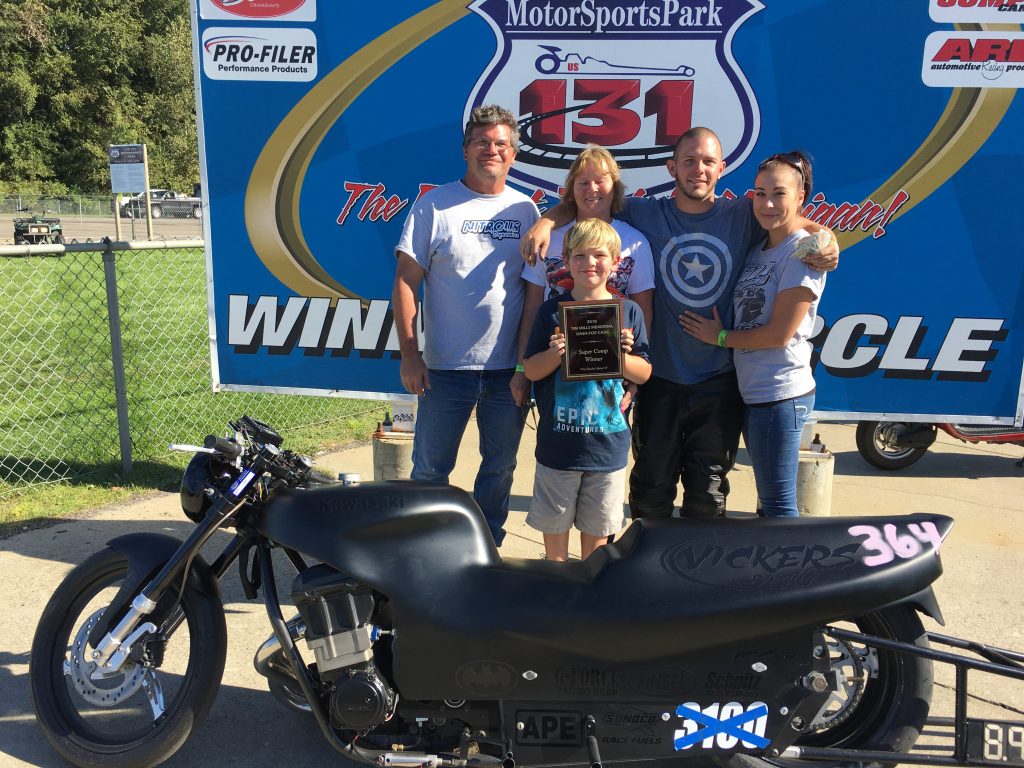 Street ET

The Street ET class, reserved for street tire, non-wheelie bar, non-delay box bikes will also be contested Saturday and Sunday with an entry fee of only $50.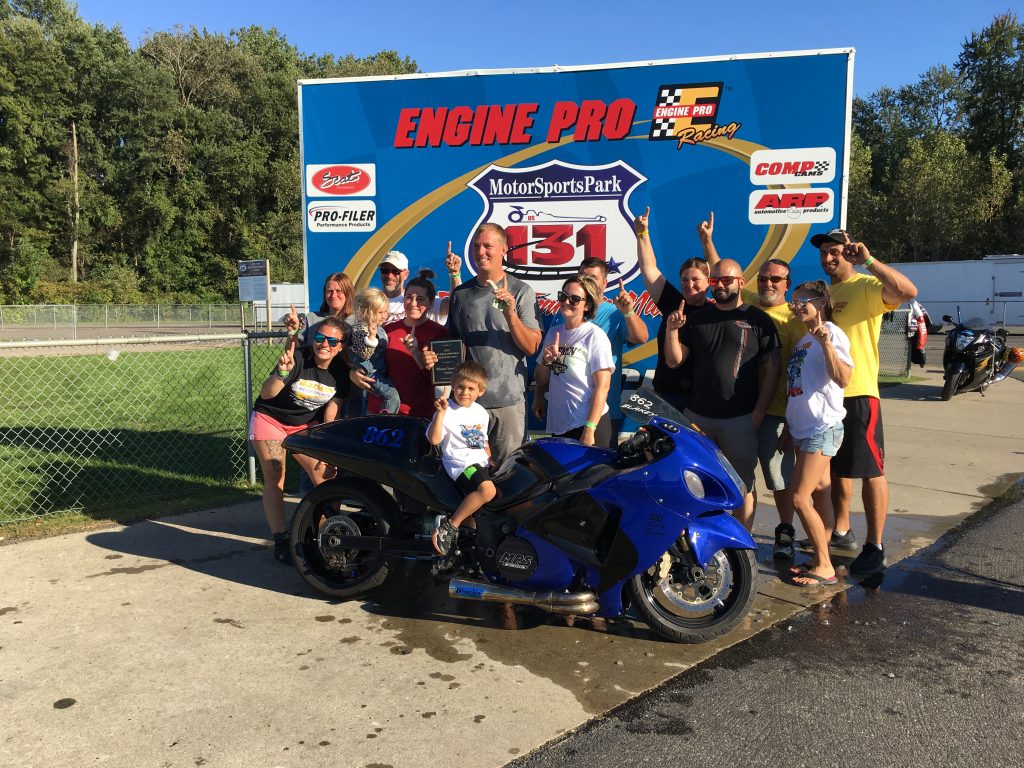 Grudge

Racers wishing to grudge race or test are welcome to buy a grudge card for $50 day. Multiple grudge sessions will be run throughout the weekend.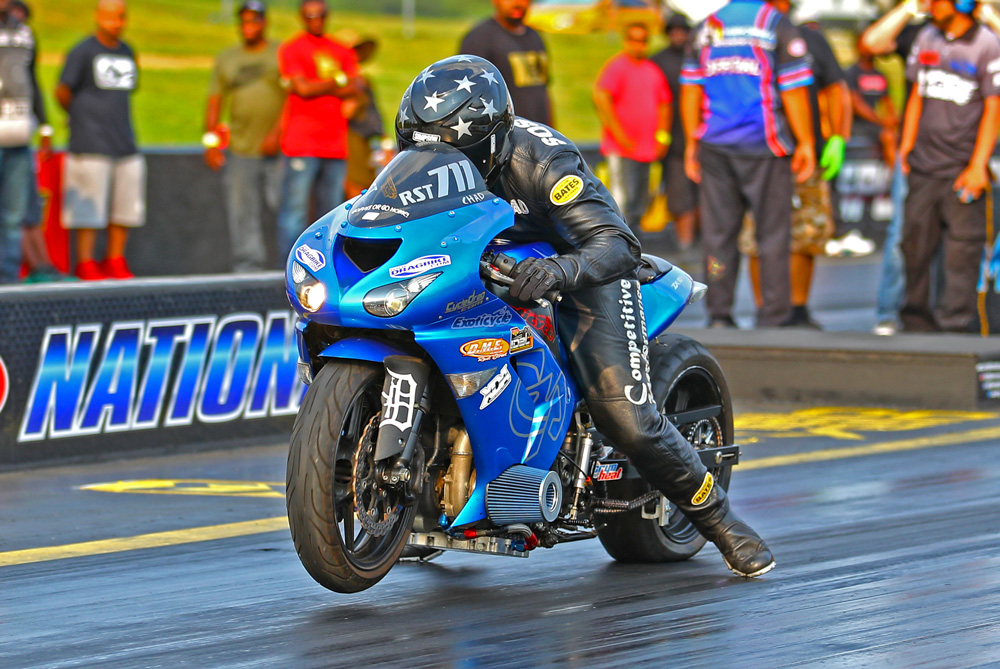 This unique event will feature a live band on Saturday night and a bunch of fun surprises. If you are anywhere near US 131 Motorsports Park in Martin, Mich., be sure to join us for a fun, unforgettable, action-packed event.
Big thanks to event sponsors –
MPS – Motorcycle Performance Specialties
Samson Exhaust Schnitz Racing
All Harley World Shootout
Doug Flannery
Don FerginSupport those who support your sport!
There are more videos on the Cycledrag Youtube channel (please subscribe here) and the Cycledrag.com Facebook page (Please like here) and more will be coming soon. Check back daily.