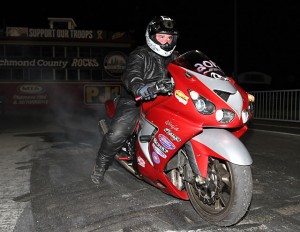 The Adams Performance Sportsman Summer Sizzler ran as a two-day race condensed into one under sunny skies at Steve Earwood's Rockingham Dragway. With rain threatening for Sunday, Earwood called a racer's meeting on Saturday and polled the group whether to squeeze it in or not. "That's a real racer's track, to ask us what we wanted to do," noted Virginian Michael Rankin. And the vote was—let's do it in a day.
So the Rockingham Dragway staff hit the nitrous button, shifted smoothly through the gears and accomplished two days work in one. The racers hustled to and from trailers—cooling clutches, airing shifters, filling bottles, checking pressures and adding fuel in record time. The Mickey Thompson MIRock Superbike Series' first-ever sportsmen-and-grudge-only event hustled along in a big way.
Few bikes hustle the first eighth mile like the Louis Concrete 4.60 machines, the quickest index bikes on the planet. And in the first year for the class, Kenny Cornell has already won twice. Number one qualifier Eran Pielert made it easy for Cornell this time around, redlighting in the final.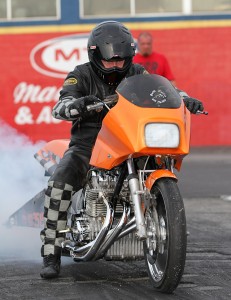 Multi-time MIRock pro class champion Jeremy Teasley won 4.60 last time out at MIR. This time around he went out early with a nitrous problem on a bike borrowed from his brother Brandon. But lest the Teasley name be sullied, dad James "Crow" Teasley Jr. took FBR Shop 5.60 on an '80s Kawasaki that's been doing the family right for a long time. Teasley beat Ben Knight in the final after Knight took out number one qualifier Robert Parker in the semi.
No-bar specialist Knight was on a 5.60 bike borrowed from Dustin Lee, an old school Kawasaki wheelie-bar bike no less. Knight had made only one wheelie bar pass in his life before this weekend, but seemed to get the hang of it pretty quickly. Still, his comfort level in familiar territory revealed itself as he won Nitrous Express Pro ET race 2 on his '04 no-bar Suzuki Hayabusa over Bob Carlson in the final.
But don't feel sorry for Carlson. He made the long drive from Connecticut pay off with his first ever MIRock Crazy 8s win over class champion Shayne Proctor. An all-Kawasaki ZX14 final, Proctor took the tree but Carlson took the stripe. "I had a blast," said Carlson. "Over 40 runs—it's all a blur!"
April Rockingham winner Jerry Turner seems to have found a home at the venerable facility in North Carolina's Sand Hills, winning Nitrous Express Pro ET this time around. Turner beat #1 qualifier Brian "Cannoli" Canoles in the final.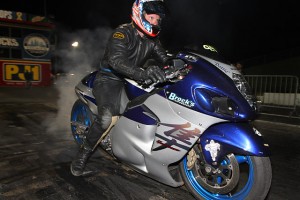 Brock's Performance Street ET champ Boo Brown will have a chance to defend his title at The Rock in November, winning Race 1 with an .014 light against Michael Herman Jr. in the final. Tennessee racer Lee—the guy who loaned his KZ dragbike to Knight—won Race 2 with an even better .010 against fellow finalist Langdon Cheves. Lee accomplished that on a ZX14, borrowed from Turner! 'Twas an incestuous winners circle indeed.
And remember Rankin, from the beginning of this report? He rode his Suzuki GSXR1000 to the Trac King/APE Top Sportsman final, where he faced Mooresville racer Scottie Keller. Rankin took .010 from Keller at the tree, but Keller took the win.
Afterdark Underground featured a stellar race between Jeremy Teasley on the Adams Performance-built "1 Bad Apple" and rider Dust on the "Sam Cooke" 'Busa. Teasley had the starting line advantage, but Dust drove around for the win—three layers of a cake on the line. "Where we were conservative (on the tune-up), they were aggressive," reported Teasley. "He drove around me mid-track, but I was pulling back up on him at the end."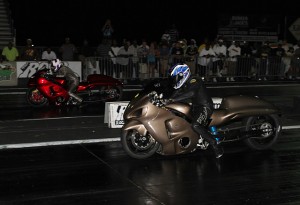 The difference was half a bike length. "We misjudged the track and didn't put enough to it," said builder-tuner-race sponsor Coby Adams. "Let's put bigger jets in it and rerun it."
A great plan indeed, but Father Time and a precisely-at-midnight rain shower put the kibosh on any further racing on this particular evening. But the Mickey Thompson MIRock Superbike Series reconvenes for the biggest motorcycle drag racing, bike club culture and bikini show event of the year—the WPGC Bike Fest at Maryland International Raceway on July 19-21.
Find out more about PJ1 motorcycle products at http://www.pj1.com/
Find out more about the Mickey Thompson Performance Tires MIRock Super Bike Series at http://www.mirockracing.com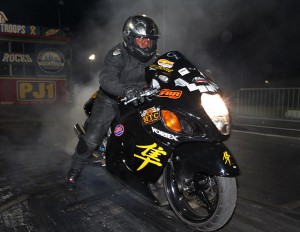 Find out more about Rockingham Dragway: www.rockinghamdragway.com
This report was prepared by Tim Hailey. Photos are for editorial use only. Enjoy everything there is to read, see and watch about motorcycle drag racing and more at http://www.eatmyink.com
-end-
High-res images for editorial use are available by e-mailing timhailey@earthlink.net