It's become a new tradition. Major League Baseball plays its "Field of Dreams" game in Dyersville, Iowa, on Thursday, and just down the road the Trick-Tools MotorcycleMania lights up Eddyville Raceway Park on the weekend.
Emerging out of Iowa's tall, August cornfields, the nation's best motorcycle drag racers came to compete on ERP's rural eighth mile of acceleration action. It's been that way two years in row now as both of these awesome sporting events grow together.
Grothus Dragbikes 4.60 Index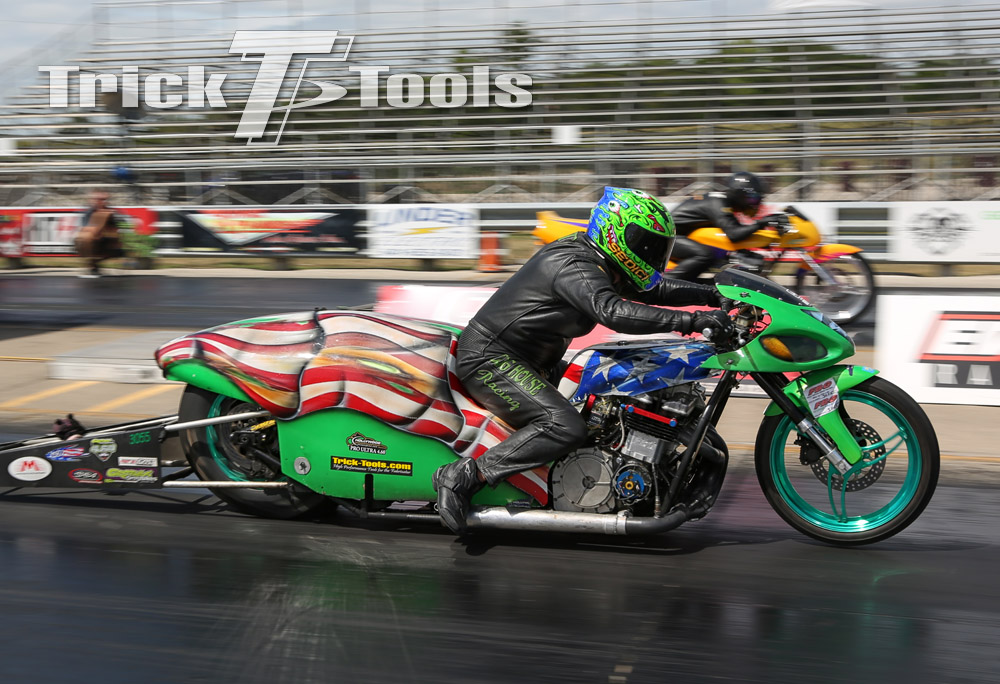 Grothus Dragbikes 4.60 continues to be a growing class at MotorcycleMania and at many events across the country. Also growing is the career of rider Chase Van Sant, who would assuredly have his NHRA Pro Stock Motorcycle license by now if the Lutanol shortage hadn't put the kibosh on post-event testing after NHRA national events for most of the summer.
Van Sant won Saturday's 4.60 final over runner-up Mike Murphy, then runner-upped to Memphis racer Chad "Chicken Head" Otts on Sunday.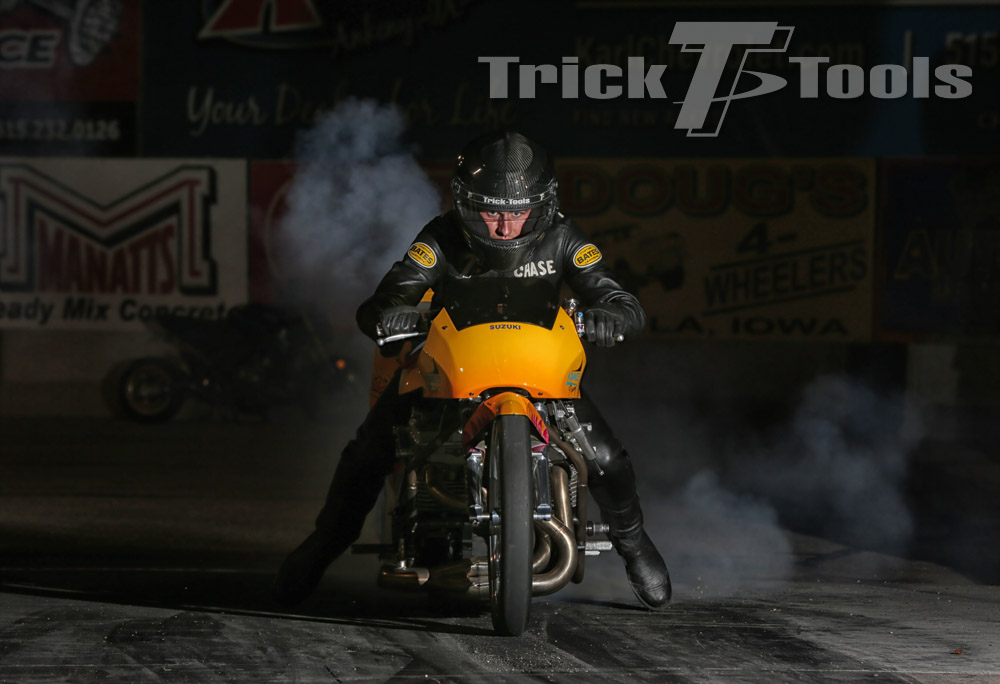 Murphy rolled up to Saturday's final with a broken bike. "I took it to the line praying he would redlight," reported Murphy. "It's unfortunate, I would've gave him a good race that day."
"I'm bummed for the Murphy's and the issues they had that caused them not to be able to run the race how they wanted," said Van Sant. "I don't like winning that way—but I needed to get over a hump and things fell my way on Saturday.
"It's been a little over a year since I've won a race, so to get through some rounds after struggling all day and come out with the win was a really, really good feeling.
"My cousin Teag and I were both able to pull off wins on the same night and I think that was the most special part of the weekend. He just started riding last year and has only raced a handful of times, so to have the weekend he did was outstanding. He won Street ET shortly after the 4.60 final and I think I was more excited for his win than I was to grab a win myself!
"It was great to make the final Sunday as well and have some really tight races. Chad Otts and I had some fun in the final on Sunday and we left close off the line, but I just slowed up way too much to make a difference. Chad had a great weekend, too, and his bike was absolutely rolling. They had such a good handle on it and I was lucky to squeak by him on Saturday."
Otts took the starting line .003 to .012 and ran a 4.64 to Van Sant's .68.
"The Eddyville Trick-Tools race was an awesome event to attend," said Otts. "The best part about this event is that it's two races in one weekend.
"As always, 4.60 had a bunch of tough competition, but thankfully Will Garner (Jones) had my bike dialed dead-on.
"I would like to thank my amazing fiancé for all the miles she drives us and all the great food she always feeds us. I also want to thank the boss man in charge, Ronnie Adams, and all my awesome teammates for all the dedicated hard work and long hours put in to keep the bike up and running. Also a huge thank you to Dyno Don for all of his endless hard work he puts in behind the scenes. We give all the glory to the good Lord above for each and every blessing and keeping us all safe as we travel and race around the country."
"We had a great weekend at our home event and had a blast with family and friends!" added Van Sant. "It's always special when you can have a good group of racers come up and support an event that a lot of people invest and put a lot of work into."
And Chase knows first hand how much work that is, as his dad Bruce Van Sant owns event sponsor Trick-Tools. Bruce partners with Eddyville track owner Gerald Kramer and Cornbelt Dragbike Association promoter Kelly Hefner to put on MotorcycleMania—quickly becoming a must-do race for motorcycle drag racers across the country no matter what points series they run in.
"I would have loved to have my dad's bike up and running better so he could have had a fair chance at going some rounds, but we still have to sort out an electrical gremlin somewhere on the bike," finished Chase.
"All in all, this weekend was a major positive for me and we are taking away a lot of really great things. For the second year of doing the event, I think everyone was pretty pleased with the turnouts as well."
Rally at the Valley No Box and Box bracket classes
No wheelie bar, no delay box—that's how Jeremy Murphy rolls on his Kawasaki ZX14 streetbike that even has "NO BOX" on it's Iowa plate. MotorcycleMania was an excellent weekend for Murphy, winning Rally at the Valley No-Box both Saturday and Sunday, and the Box/No-Box run-off on Saturday.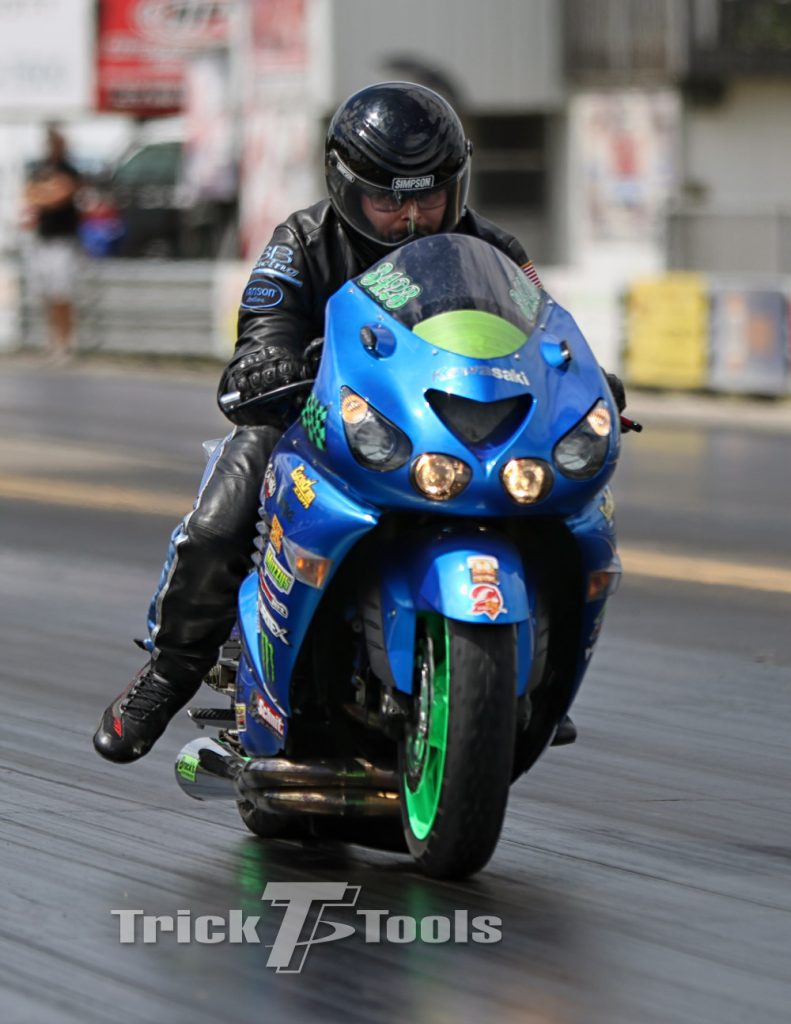 "It was just about a perfect weekend," said Murphy. "I got lucky when I needed it and got hot towards the end both days." Murphy beat Dylan Klinghagen in Saturday's No-Box final before facing Box winner Tom Klemme in the run-off.
Klemme beat Bill Baker in Saturday's Box final by the .008 margin at the tree, as both racers ran dead-on their dial-in.
Murphy put a nasty .004 light in the run-off on Klemme, who countered with an .029. That gap at the line was good enough for Murphy to win with a 5.91 on his 5.88 to Klemme's 5.59 on 5.58.
Murphy worked his way back to Sunday's No-Box final, this time against Jeff Morgan. Murphy eased up to an .080 light this time around, but still was out first against Morgan's .109. Jeremy's 5.96 was also closer to his 5.88 dial than Morgan's 6.09/5.99.
"I couldn't have gotten it done without the help and support from my family, especially my parents, my uncles, and most of all my wife Audrey and daughter Josie. They let me drag them all across the Midwest any given weekend and do what I love, and their love and support means everything to me.
"The fist bumps and 'Good luck dude' from Josie before every pass sends me down the track with a smile, no matter what happens. A few weeks ago I had a redlight and lost, and when I got back to the trailer she looked me dead in the eye and said 'Seriously dude, you went red? Come on Dad!' And hearing that from a 3 year-old will really set you straight!
"Big thanks to Brevin at Bond Motorsports and Bill Bullers at BB Racing as well. Bill's knowledge and willingness to help and teach me about the MaxxECU 24/7 has been monumental as we get my dad's bike dialed in, and hopefully it won't be long until all three Murphy Racing bikes are in the winner's circle.
"The Midwest is a shark tank of tough motorcycle bracket racers and everyone brought their A game to Eddyville. We are very thankful for Eddyville and the Kramer family hosting such a great event."
David Primrose was sawing through Sunday's Box ladder despite losing round 1. "First round on Sunday, the bike picked up considerably for some reason," said Primrose. "I pulled up on my competitor, sat up and got out of it thinking I had an easy win, only to see I broke out with a 5.32. According to the weather I should have run a 5.36 (ran a 5.37 in the time run). So I bought back in.
"In my buy-back round, I was .0006 on the tree which earned me the bye in the next round. Had a good light and ran a 5.32 on the bye run. In the semis, had a close race with Brian Wood.
"In the final round of Box, I had to run John Fitzpatrick, who I have known for years racing NHRA Division 5. After my burnout I pulled up to the line and leaned down to put the bike into first gear. While doing that I must have let the bike roll and when I looked up I had rolled all the way into the stage beam. I backed up to pre-stage and waited for John to pull in. After the run my crew told me he had gone -.006 red, I felt his pain because that is what I had done in the semis of Saturdays race. When I got back to the trailer and looked at the ticket, John had really went -.0006 red and I was .050 and ran another 5.32 on a 5.32 dial—my lucky round. Apparently my staging mishap affected my light.
"Going into the run-off for the big check between Box and No-Box, I had to race Jeremy Murphy, who won Saturday's run-off with a .004 against Tom Klemme and was going for the double, so I knew I couldn't make any mistakes against him. I was .018 to his .021, lifted as I came up on him and ran a 5.33 (5.32 dial) to his 5.90 (5.88 dial).
"I would once again like to thank Bruce Van Sant, Trick-Tools, and Eddyville Raceway Park for putting this race on for a second year. I am pretty sure they are going to do it again in 2023, so if you weren't there this year you should plan on it for next year."
R/J Performance Super Comp 5.60
Tom Klemme may have lost Saturday's Box/No-Box Run-off, but the quiet old school racer doubled up with R/J Performance Super Comp 5.60 index wins on both days—with Steve Weitkeper runner-up each time.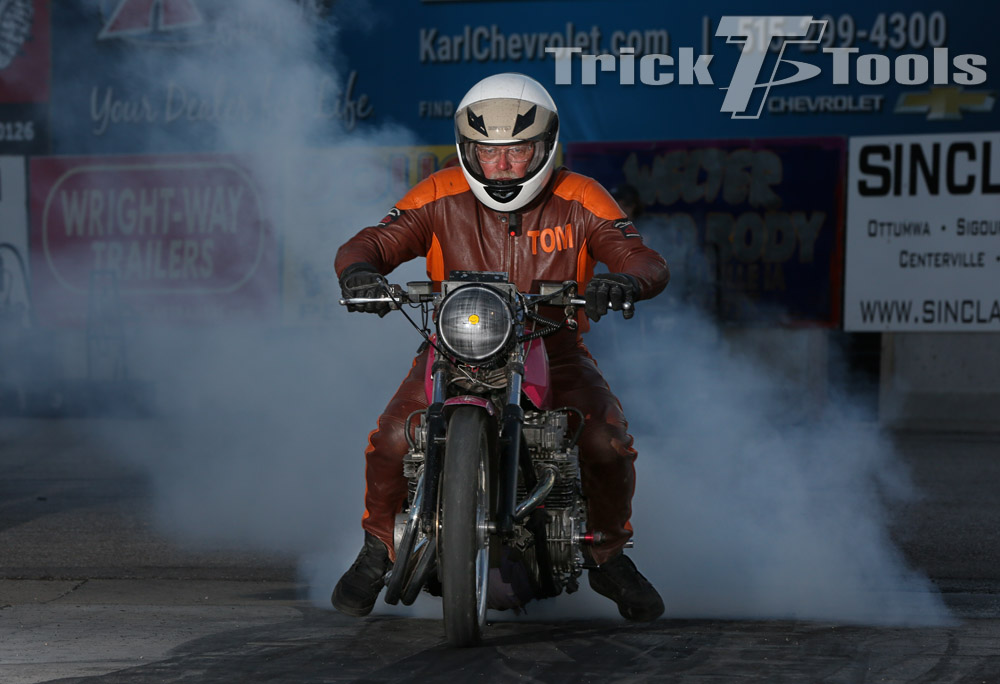 Saturday's final saw Klemme take .041 at the tree that fairly well decided that one. Ditto on Sunday when Klemme widened the starting line gap by a hundredth to .051
His first time ever racing a bar bike, Weitkeper was thrilled to reach two finals. "It was an honor to meet and to be able race him," Weitkeper said about Klemme. "Losing to him made second place not feel too bad.
"To say I'm stoked about today is an understatement. I wouldn't be able to do any of this without the help of my teacher, mentor, and in my eyes one of the best out there on two wheels, my brother Brian Wood. He has literally taught me everything I know about riding a bike of this caliper. With each pass he told me what he seen me do wrong and right and with each pass I improved.
"My addiction has now become full blown. It's one thing to ride a bike, but to go rounds with some of the best is a feeling you can't describe."
Klemme was still nursing a visibly swollen, sprained wrist. "Thanks to Gerald Kramer and Kelly Hefner, and my grandson Blake, who came and helped this weekend," said Klemme. "I was more excited for David Griffith getting his first win. and then second."
Schnitz Racing Top Gas 5.10
As Klemme mentioned, 46 year-old David "Van Go" Griffith got his first-ever win in six years of racing on Saturday in Schnitz Racing Top Gas 5.10 index, then followed it up with another on Sunday.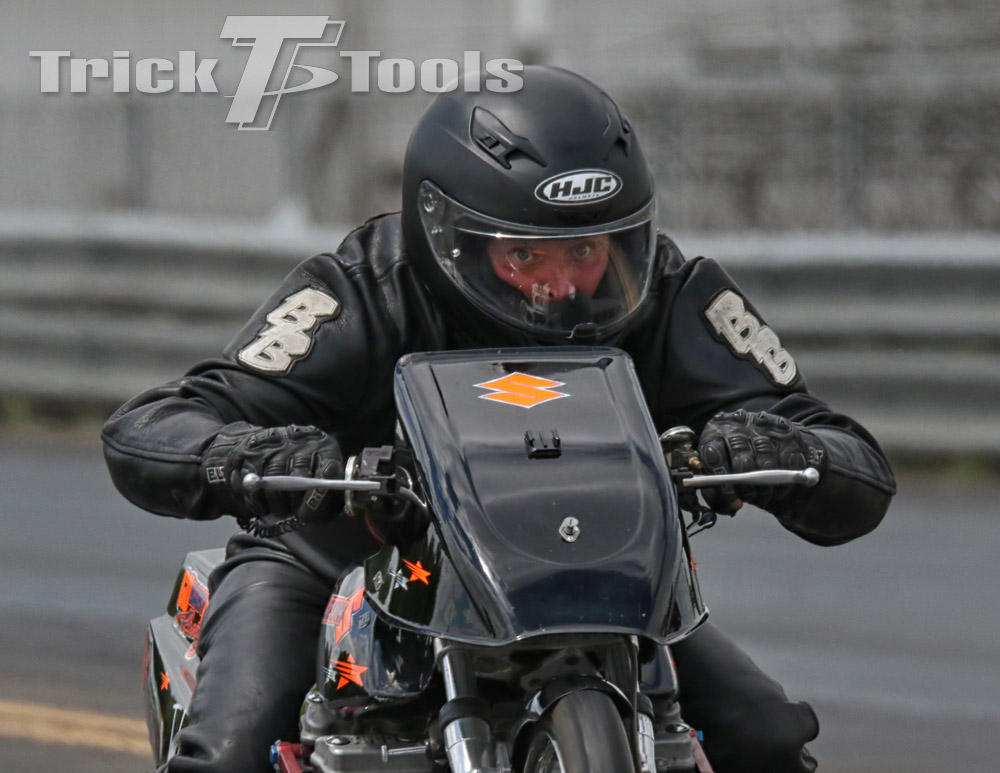 Griffith took the tree .011 to .035 against Heather Wagner in Saturday's final and ran a 5.11 to Wagner's 5.18.
Back in the final again on Sunday, reaction times slowed to a .053 for Griffith and .067 for Mark Brady. Texan Brady broke out with a 5.07 to Griffith's 5.14.
"I started out racing on a KZ1000 with a 5.5 inch tire and am now on my third bike, which is a Suzuki GS, all-engine Top Gas bike in a Puppet chassis," said Griffith.
"I've been having the time of my life meeting great people at the track and doing this amazing sport. I managed to get my first win Saturday night then followed it up with another Sunday, which felt absolutely amazing to say the least!
"The track and staff at Eddyville Raceway this past weekend was spot on also. I'd like to thank my wife and crew chief Donnell for always believing in me and the amazing amount of help she gives me. KPM out of Davenport Iowa for building my engine, K and M Optix from Greenfield Iowa for sponsorship, Scott Van Eaton sponsorship and crew help, and CJ's Fab Shop from Fontanelle, Iowa, for all my TIG welding and fabrication needs.
"It is such a joy to get to do something that all I aspire to be like do. Thank you to all that have helped me along the way!"
Certified Auto Sales Super Gas 6.00
Tom Klemme's brother Joe Klemme worked his way through Sunday's Certified Auto Sales Super Gas 6.00 index field to meet the Oklahoma racer known as Country Boy in the final.
Country Boy had a very respectable .014 reaction time on his no-bar bike, but Joe's .009 was deadly. Both ran 6.04s in this amazing race, the win going to wheelie bar-clad Klemme.
"My win (this weekend) was a little different than most," said Joe. "There was no pressure of a points series because this is a once a year race. Myself and my brother Tom went there to have fun and, of course, win as many classes as we could. At the end of the weekend, when I won Super Gas, that gave us four finals and three class wins. Yes, we had fun!
"Special thanks to Tom's grandson Blake Klemme, who pitted for me all weekend. Looking forward to this race again next year!"
Dylan Klinghagen gave up the tree with an .078 to final round opponent Ben Birr's .060, but ran way closer to the number for Saturday's Super Gas win.
"The event was a blast again this year and was ran very smoothly," said Klinghagen. "I was in three classes on Saturday and really started to struggle to keep my focus during the heat of the day. I caught a couple lucky breaks when I needed them.
"I'd really just like to thank my old man for making this possible for me, and Joey and Shawn at Excessive Autosports for helping when they could. Looking forward to doing it again next year."
The Cycle Shop Outlaw No-Bar Grudge
Manhattan, Kansas' The Cycle Shop again sponsored the Outlaw No-Bar, heads-up, no-time grudge class. A great track is essential for these bikes, and for most of the weekend, that's exactly what they had.
"On Friday, the track was great and my bike was on absolute rails," said Altoona racer Patrick Kerr. "No complaints at all and the weekend was looking super promising. Felt I had everyone covered by a long shot.
"Saturday, the track was really tricky in the AM. Was pulling all the power I could to get through the early rounds, and soon as the third round came, the sun was setting and the track was wanting more. This is where it becomes tricky—what is enough? Or too much?
"I was able to put together A to B passes and with enough in the tank to hold off some huge horsepower ProCharger and turbo bikes to keep that win in Iowa!" Kerr beat South Dakota's Shawn Takoch in Saturday's final.
"Which really meant a lot to me, as I had my whole team there and family flew in from Arizona," said Kerr. "Was nice to get that clean sweep with them present. I want to thank my supporters and sponsors, Bill and Chase, my team always in my corner making sure I have all I need to go rounds. Wil Marquardt with The Cycle Shop for a killer motor and all the help I need on the track. Next Level install, Bob with Certified Auto Sales, Tony with Executive Interiors, Doug with Doc Shirts, Brian with Pleasant Hill Auto Body, and Dennis Bailey for helping me wiring, tuning, and bouncing all the ideas needed.
"Boy, Sunday was a tuners race! The track was really good first round and then there was not enough power to even pull out the bike. The more power I pulled, the worse the spin was off the line. Come to find out that was on me. I made tuning mistakes to make it worse and lost in the semis to very tough David Ellenbecker."
Ellenbecker went on to beat Oklahoma's Lucas Townsend in Sunday's final. "We coughed up a valve keeper on our first test pass Friday night," said David. "By an extreme stroke of luck, there was no damage that couldn't be undone."
"My parents brought the spare parts and tools to get it fixed," said Marquardt.
"I can't thank Ray and Mara Marquardt enough for driving to Manhattan to pick up the parts and tools and driving them up to us in Eddyville," said Ellenbecker. "You guys saved our weekend!
"We worked late Friday night tearing the head off the bike and had to sit out of the race Saturday while we performed open heart surgery in the trailer. There were a lot of hands on deck offering help, tools, and a good laugh when it really counted. Wil, Preston, Jadon, Phil, Fitz, Chase, Elvis, Patrick, Seth, Trevor, Ray, Mara, Tony—thank you so much everyone, it really meant the world to me.
"After some elbow grease and a lot of help from our friends, by Saturday afternoon we were back from the dead and made it down the track that evening. As if Wil wasn't busy enough working on five different bikes that weekend, he somehow managed to get me back on the track within 24 hours.
"Its great to have high level racing in this part of the country," said Marquardt. "Thanks to everyone who made it possible, especially Eddyville and Trick-tools. This one was a little extra rewarding."
A1 Cycles V-Twin Outlaw Bagger
Like Outlaw No-Bar, A1 Cycles V-Twin Outlaw Bagger places few limitations on its aggressive machines.
Wins both days came on turbo bikes, with Saturday's win going to Jeremy Williamson. Grabbing .023 at the start of the final, Williamson powered to a 5.34 against runner-up Jason Broski's 5.69.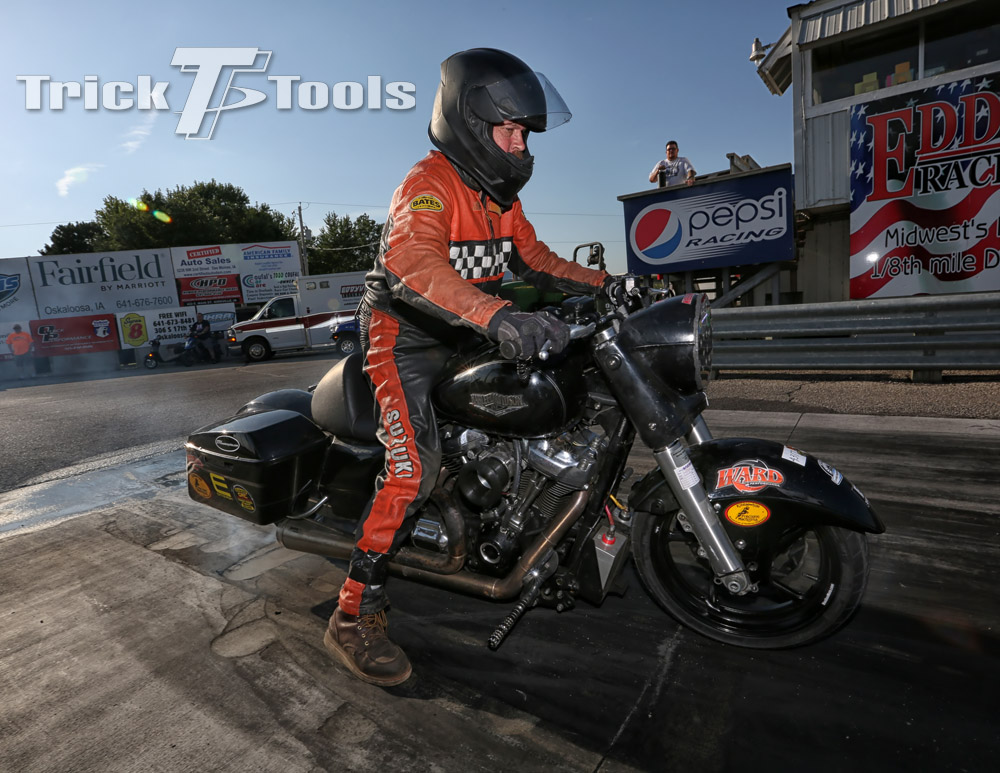 Williamson's Bagger is a 107″ Twin Cam with custom turbo kit he built himself, Maxx ECU, Murray Performance conversion trees to run Hayabusa forks, forks cut by M2.shocks, R6 wheel conversion, monoshock swingarm Williamson built and fabbed as set up, crank by GRC, Delkron cylinders by Solenburgs, CP pistons, paint by Brian Patton, wiring and Maxx ECU set up by Jason Clasquin.
"Great weekend of racing," said Williamson. "Track was awesome as usual, Kelly did a hell of a job again. It's the best race of the year in my opinion, always looking forward to it."
The Bagger drag racing world is always looking forward to what A1's Mike Beland is going to bring out next, and his leopard upholstered "Methany" (named after a Valdosta bartender) is no exception. The 124 cubic inch M8 turbo ran mid 8's the first weekend out at the track and promptly sold to Scott Williams.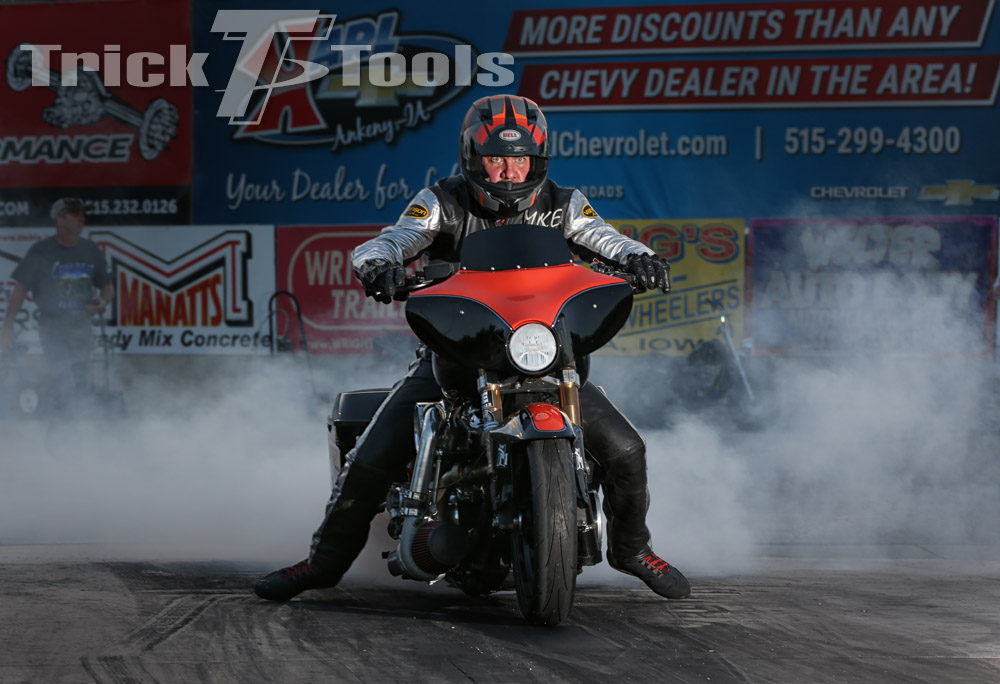 Beland's .015 light left opponent Victor Gotay dazed to a .125 in Sunday's final, leading Beland to a 5.71 to 5.68 holeshot win. "We were not the fastest, just the most consistent," said Beland. "And the 54 year-old driver pulled a holeshot win."
Beland thanked DTF Carbon, Deatschwerks, Dymag wheels, Maxx ECU, Drago Bike Works, Scott Williams, S&S Cycls, Snipes Machine and Paint, Worldwide Bearings, Kenny's Components, and Tim Hailey of eatmyink.com.
Khrome Werks V-Twin Street Bagger
From mild to wild, Williamson was cleaning up on Saturday, also winning Khrome Werks V-Twin Street Bagger. His deadly .009 vs. final round opponent Keith Evans' pretty well wrapped it up even before Williamson's 6.70 outran Evans' 6.73.
Both Williamson and Sunday winner Dave Cartwright garnered attention for their strong wheelie game. Evans again runner-upped on Sunday, but this time took the tree with an .066 to fellow Hoosier Cartwright's .258. But Dave laid down a 6.59 at 109 mph to Evans' 6.93 at 105.
Digs Rod Shop Pro Cruiser
Dustin Bockover won both days of Digs Rod Shop Pro Cruiser, with Poor Shanon Poor in the other lane in both finals.
"Coming from the 765 (Marion, Indiana) were me and my racing family—my wife Tyanne, friends Chad Garriott, Keith Evans, Kyle Harmon, and family. We made the trip to Iowa to race Kelly Hefner's Cornbelt race, and we are happy with our results. The competition is very good at that race. This is our second year attending this event and every year gets even better.
"The Bagger classes were stacked, lots of fast bikes. I ended up winning every race and I couldn't be happier with my results. The bike worked very well and luckily I did as well and it all worked out. I won Saturday and Sunday and a grudge race Friday night with Kelly Hefner.
"I cannot thank Kelly and all the sponsors enough. My friends Chad Garriott and Keith Evans done great as well. The competition gets tougher year after year and I cannot wait for next year."
Street Bike ET bracket class
As mentioned in 4.60 coverage, Trick-Tools employee and Van Sant cousin Teag Klyn won Street Bike on Saturday.
"First round of Super Gas on Saturday, I made a massive mistake and lost the first round," said Klyn. "When I came back to the trailer, all of our family, friends, some racers and crew guys were there and they all gave me a ton of support to keep me from being discouraged in Street ET. From there it was on! It really forced me to focus in on the important details."
One detail Klyn didn't have to focus on in the Street final was cutting a light, as opponent Chad Winters went red.
"To be able to pick up the first win of my career, at our home track, was truly an amazing feeling. To make things even better, Chase picked up the win in 4.60. I had a little bit of a moment on the way back to the trailer after I won and let's just say, it brought tears to my eyes. Just a surreal moment for me.
"On Sunday, I was able to go in with a lot of confidence and go some rounds again. I made it to the third round of Street ET before going -.008 red and lost in the semifinal round of Super Gas to a great racer in Joe Klemme. It felt great to be able to make a lot of passes this weekend just trying to find my groove and figure out what works for me.
"Being so new to the sport and only have three races prior under my belt, I'm learning more and more every pass what details are important and take a lot of focus. I am truly still learning the basics of drag racing as far as staging all the way to judging the finishline. Honestly, even finding a routine to stick to.
"I have a couple of great mentors to watch and learn from in Bruce and Chase, even other racers we are friends with. Like I mentioned before, now that I'm more than just a spectator/crew guy and get to race myself, I pay a little more attention to what other guys are doing on their passes.
"I want to give a massive thanks to Bruce Van Sant for letting me race his bike and taking me along on their family's racing journey. This certainly wouldn't be possible without him. I want to thank Chase Van Sant for guiding me and helping me better understand racing and what it takes to be a good racer. Chase is like a little brother to me and has been for his entire life, yet I look up to him when it comes to how he carries himself on and off the track. Thank you to all the friends, family, and crew members for playing a big part in this weekend. And I want to thank my wife, Candice, for the love and support!
"What an amazing event! Bruce has put countless hours in to make this event possible and grow from the previous year. It's a little bit rewarding to play a small part of hosting the event and to see it grow is pretty cool. The Eddyville Raceway staff was great and toughed it out on a long, HOT day on Saturday. A big thank you to all of our friends that traveled long distance to support the event as well as the ones who didn't have to travel as far. Also thanks to Tim Hailey of eatmyink.com for coming to MotorcycleMania."
Darnell Dickerson was Sunday's Street winner against fellow Missourian Yan Levit in a double breakout match. Dickerson's .017 advantage at the tree helped pave the way to his win.
"It was rough with tough competition but I was fortunate to get first place in Street ET, and to have shared the final round with teammate Yan Levit made it so much more fun!" said Dickerson. "Eddyville Raceway it was fun and I enjoy every time I've been there.
"Thanks for all the support from those that do and a special thanks to my sponsors American Iron/AI Choppers, the best tuner in the world, and Down To Ride Performance for building me some awesome machines!"
Nostalgia Bike bracket class
The new Nostalgia Bike bracket class provided some great bar vs. no-bar entertainment for bikes 30 years old and older, with no slider clutches and no delay boxes.
Young Jordan Brewer won both finals on his no-bar Suzuki GS1100E vs. Dan Jones on his Kawasaki Z1R dragbike.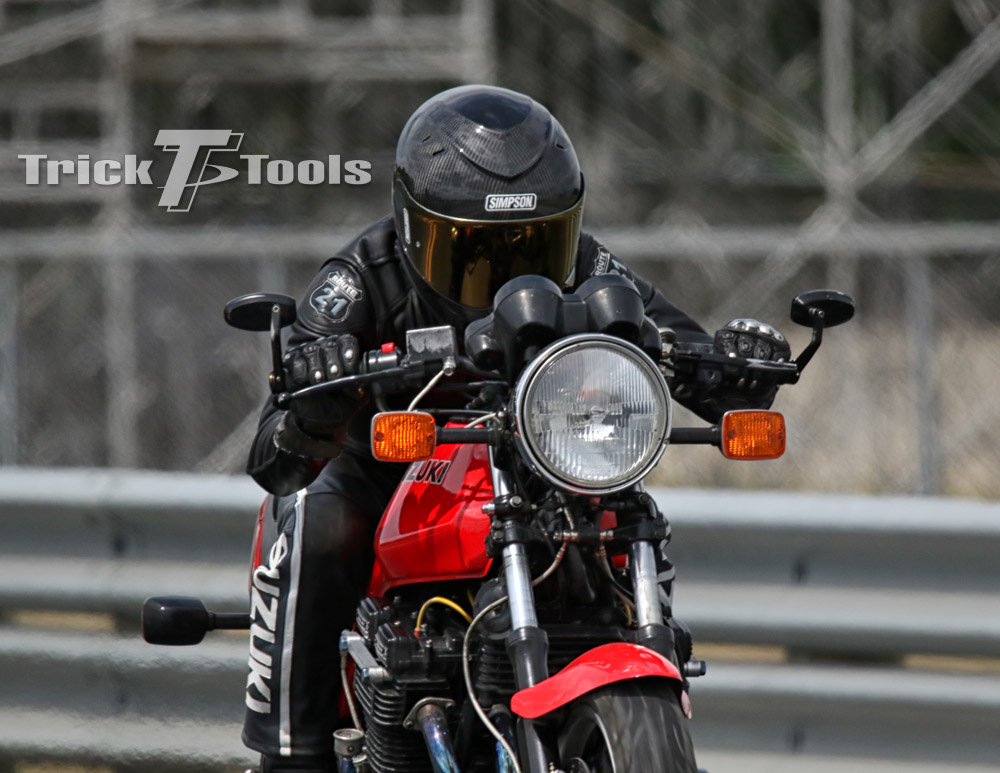 Jones is a nostalgic enough piece himself that he bought his bike brand new and has raced it since it had 300 miles on it. Brewer is not.
"It's my first year racing drag bikes, and it was very exciting to get my first win on Saturday and turn around on Sunday and do it again," said Brewer, who paved the way to his wins by taking the tree both days.
"I want to give a big shoutout to Dave Griffith that got me started into this sport. Also KPM out of Davenport, Iowa, for teaching me a lot about how to bracket race, and i couldn't have better teachers. I hope I continue to grow and become a better racer and rider. Also want to thank my family and friends for supporting and helping me."
187 Custom Cycles V-Twin Pro Bagger
Outlaw Bagger runner-up Broski continued his summer-long reign of terror, winning 187 Custom Cycles V-Twin Pro Bagger on Saturday when multi-Bagger class winner Jeremy Williamson went red.
"The Pro Bagger final against hired gun Jeremy Williamson on the race promoter Kelly Hefner's bike," Broski recalled. "We both staged and got on the two-steps for what seemed like an eternity. The tree never went green. The starter backed us out and we went back in. Jeremy ended up leaving before the tree was active, so I got the win.
"Still decided to send it after staging for a third time and ran 5.71 at 122, .02 off of my best of 5.69 for the weekend.
"The downside, it spit the exhaust valve shims out from being on the two-step for such an extended period. Thank goodness for KPMI and Ward Performance, they got me my valve train components super fast."
Broski made the necessary repairs and was able to race the following weekend.
Rick Hunnicutt beat Pro Cruiser winner Dustin Bockover in Sunday's Pro Bagger final. "Want to thank Jeremy Williamson, for letting me ride the 'Punisher' and Kelly Hefner for putting the event on," said Hunnicutt.
Shutdown Area
In addition to payouts for eliminations excellence, number one qualifiers received a bonus courtesy of Mitch Brown's Monster Race Products.
Add it all up and the MotorcycleMania weekend was a great success, especially for the racers who followed the call to Iowa. No matter what points series you may follow, don't ignore that call to the lanes when the next MotorcycleMania takes the tree on August 11-13, 2023.
There are more videos on the Cycledrag Youtube channel (please subscribe here) and the Cycledrag.com Facebook page (Please like here) and more will be coming soon. Check back daily.
To take advantage of some amazing discounts at Brock's Performance, click – http://brocksperformance.com?aff=12
USE cycledrag5 coupon code.