In Pro Stock Motorcycle t the 17th annual NHRA Toyota Nationals at The Strip at Las Vegas Motor Speedway, Oct. 29 category points leader Krawiec rode his Screamin' Eagle Vance & Hines Harley-Davidson to a 6.924 at 193.16 defeating Hector Arana Jr. This is his third career victory at this event, seventh of the season and 43rd of his career.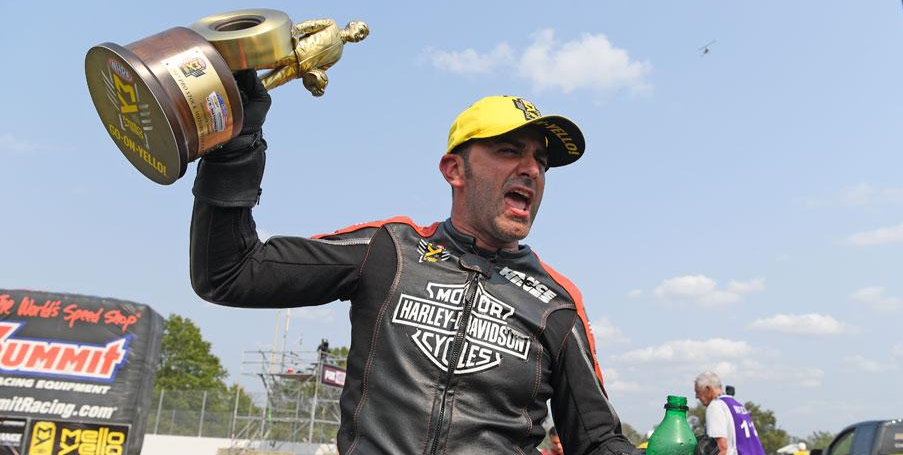 "My motorcycle has been a pleasure to ride," Krawiec stated. "I've got a great group of guys behind me. That make tune-up calls and make the bike as good as it is. By no means is it just one person. It's really about the whole crew that those guys do for me and give me the opportunity to have a bike that can win a race is really something special."




Krawiec's road to victory was lined with wins over John Hall, Angelle Sampey and Scotty Pollacheck. The win puts him 150 points ahead of LE Tonglet who remains second. Arana Jr. rode past Katie Sullivan, Mike Berry and Tonglet.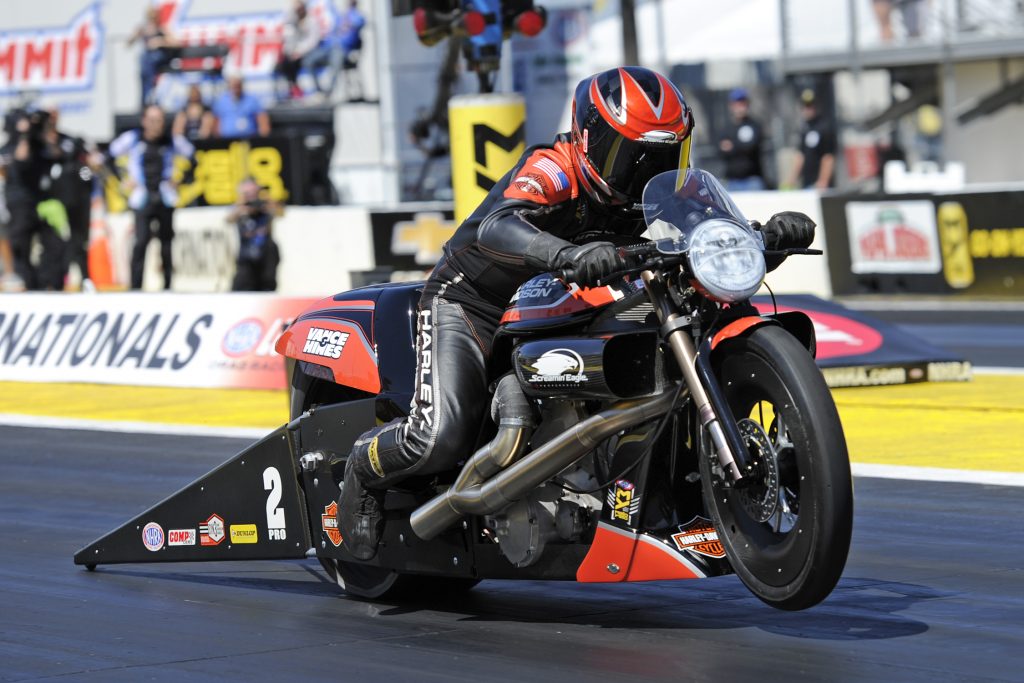 The NHRA Mello Yello Drag Racing Series concludes at the final event of the season at Auto Club Raceway at Pomona, Nov. 9-12, with the 53rd annual Auto Club NHRA Finals.
PRO STOCK MOTORCYCLE:
ROUND ONE — Angelle Sampey, 7.009, 188.25 def. Jerry Savoie, Suzuki, 7.044, 189.82; Mike Berry, Buell, 7.035, 189.28 def. Hector Arana, Buell, Foul – Red Light; LE Tonglet, Suzuki, 6.987, 191.00 def. Melissa Surber, Buell, 7.021, 188.96; Karen Stoffer, Suzuki, 7.040, 189.84 def. Angie Smith, Buell, Foul – Red Light; Andrew Hines, Harley-Davidson, 6.967, 192.30 def. Joey Gladstone, Suzuki, 7.005, 190.38; Scotty Pollacheck, Suzuki, 6.955, 189.39 def. Matt Smith, 6.964, 192.11; Eddie Krawiec, Harley-Davidson, 6.939, 192.85 def. John Hall, Buell, 7.009, 189.73; Hector Arana Jr, Buell, 6.947, 192.30 def. Katie Sullivan, Suzuki, Broke;
QUARTERFINALS — Tonglet, 6.974, 193.18 def. Stoffer, 7.152, 189.34; Pollacheck, 6.924, 192.49 def. Hines, 6.974, 192.60; Arana Jr, 6.966, 192.99 def. Berry, Foul – Red Light; Krawiec, 11.547, 70.41 def. Sampey, Foul – Red Light;
SEMIFINALS — Arana Jr, 7.061, 191.10 def. Tonglet, 7.009, 191.62; Krawiec, 6.932, 194.24 def. Pollacheck, 6.974, 190.89;
FINAL — Krawiec, 6.924, 193.16 def. Arana Jr, 6.949, 192.91.