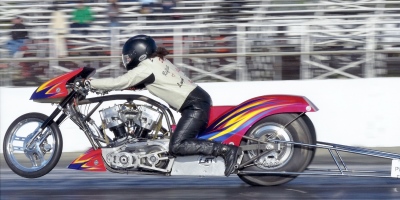 Dream Chaser Racin', Janette Thornley kicked off her second season of racing at an American Motorcycle Racing Association (AMRA) event at the State Capital Dragway in Baton Rouge, LA.
It was an exciting weekend for the Dream Chaser Racin' team, Thornley, Freddie Robbins and Buddy Foss, as they stepped into the 2013 season on their own.  "I know we will face some challenges as a new team out here but I am confident we have what it takes to make a good showing and we have some awesome friends and fellow racers that are willing to help", says Thornley.
Although the weather put a damper in the schedule, the AMRA did a great job at accommodating the racers and provided 2 rounds of qualifying Sunday before moving into eliminations.
"Feeling extremely anxious, after several months off the bike and I still consider myself a rookie, I was glad to make some solid runs and shake some of the cobwebs out", says Thornley.  "It's apparent I need to work on my reaction times because the boys had the bike tuned up right!"
Thornley qualified 12 in the 14 bike field after she left before the green light on round 1 of qualifying so she did not receive a time.  In round 2 of qualifying the bike coughed some but she was able to run a 5.14 ET in the 1/8 mile.
In elimination round 1, Thornley got the win with another 5.14 ET, after a red light from her competitor, Dale Niles.  "We knew 5.14 wasn't going to win the race so we looked for opportunity and found it" said Thornley.  Round 2 elimination didn't bring her the win but the team was extremely happy with a solid 4.76 ET, stepping it up from their previous runs.
Thornley says, "we learned some 'what to do' and some of 'what not to do'.  This will help us prepare for the upcoming season."
Look for Janette Thornley and the Dream Chaser Racin' team in Bradenton Florida as they compete in the Manufactures Cup April 6-7.  They will then travel up to Richmond Virginia for their first appearance at the new NHRA Harley-Davidson Drag Racing Series the weekend of April 12-13 (Friday/Saturday race-free spectator admission on Saturday).
Dream Chaser Racin' would like to thank LAT Racing Oils, Robbins Performance and Gifts by DJ for your sponsorship.  Thanks to the additional support this weekend from Mike Bahnmeier, Dalton Matthews, and Doug Atkinson.  Sponsors always welcome!
Contact Dream Chaser Racin' at dreamchaserracin@yahoo.com