When 22-year motorcycle drag racing veteran Mac "The General" McAdams decided he also wanted to go four-wheel racing sometime in 2011, the inherent thrill and exhilaration of making a full quarter-mile pass in a 3,000-plus horsepower Pro Mod car was something the Harwood, Md. resident could not wait to experience.
At Maryland International Raceway's Door Wars, April 19-20, McAdams received the coveted opportunity he had been waiting for. It was finally time for The General to run his 1953 Corvette out-the-back-door.
After multiple changes and upgrades over the winter, McAdams' first pass in a pre-race test session netted a 4.00 at 185 mph eighth-mile time. McAdams shut the car off as planned shortly thereafter.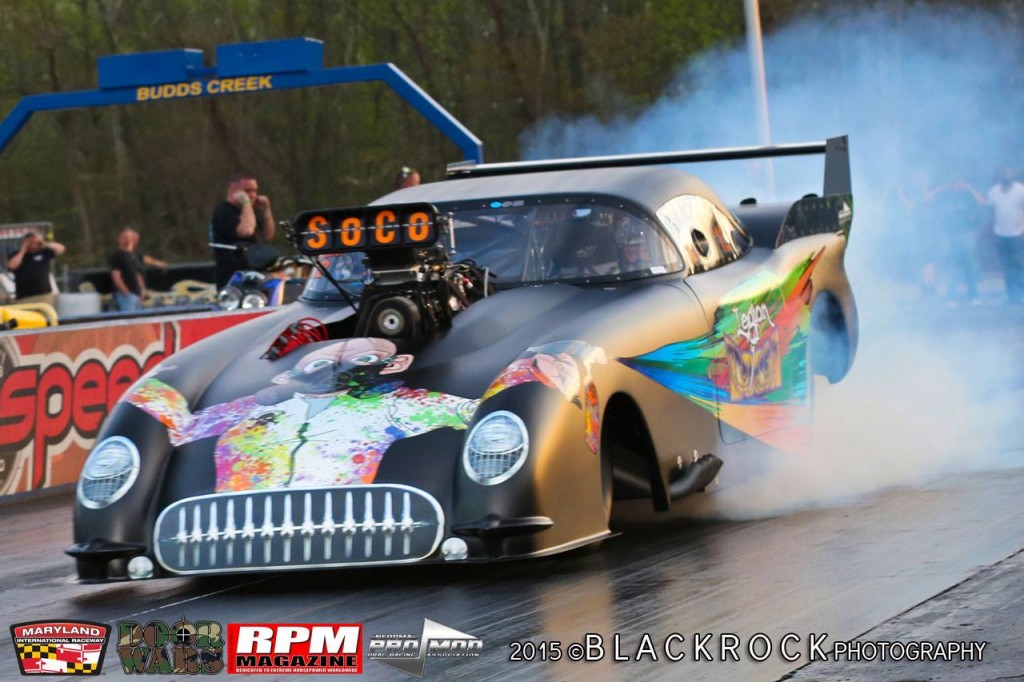 "For the second pass I asked Camp (Stanley, crew chief) what do you want me to do? He said if it's still pulling at the 1,000-foot mark, run it out!" McAdams said.
McAdams did just that. The blown Vette screamed through the MIR speed traps under power.
After experiencing the jubilation and invigoration of a full-pull, McAdams' euphoria hit a crescendo when crew member Derek Wisooker came over the headset to tell him he just ran a blazing 6.08 at 232 mph.
"I got the news right as my chutes blossomed," McAdams said. "It was downright bad ass!"
Previously, McAdams had been as quick as 3.97 at 187 mph in the eighth-mile in his car and 7.14 at 199 mph in the quarter-mile on his Outlaw Pro Street bike. McAdams says the 6.08 at 232 mph in the car was a totally new sensation.
"There is no comparison. I have been 1.03 (60-foot time) on my Pro Mod bike and 4.12 at 176 mph to the eighth. It's a completely different ride and rush," McAdams said.  "The 3.3 Gs at the initial hit in the car is simply unreal.  The negative G's when the chutes fall are insane."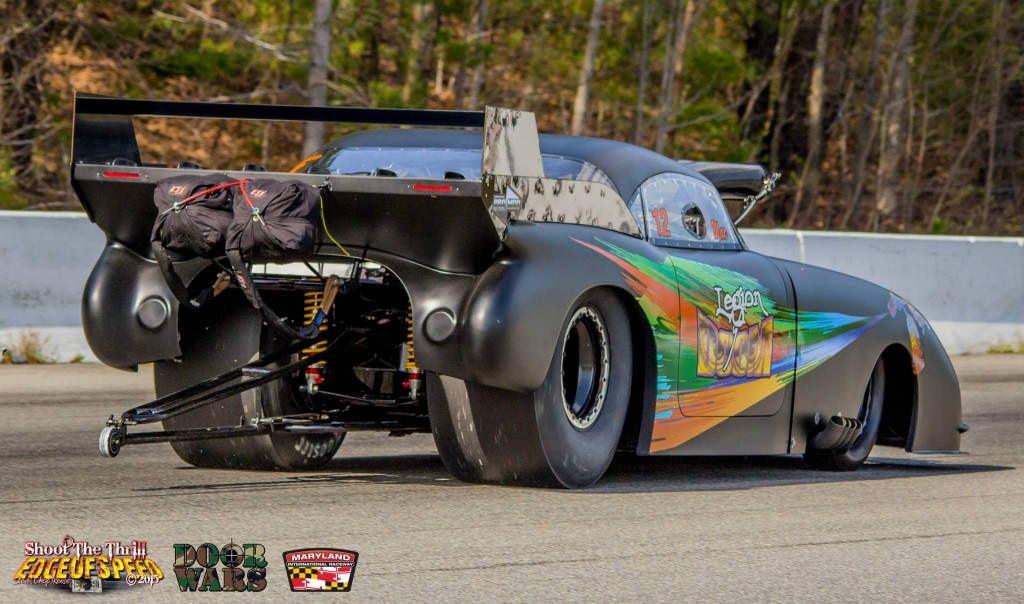 In highly-competitive qualifying rounds, featuring 23-drivers vying for the top 16 spots, McAdams took the No.  11 position with a 6.10 at 232 mph.
"I couldn't be more proud of everyone involved with my team," McAdams said. "The qualifying performance was a wonderful way to start the year."
McAdams weekend ended when mechanical issues prevented him from making a run in the opening round of eliminations.
"Sadly a broken rod in the first round burnout ended our weekend quick," McAdams said.  'Still, we are beyond excited for our next event."
Hamburg, Pa.'s Kevin McCurdy and his 68 Camaro won the event with 5.97 at 237 mph in the final.
Over all the Door Wars event was a tremendous success for McAdams.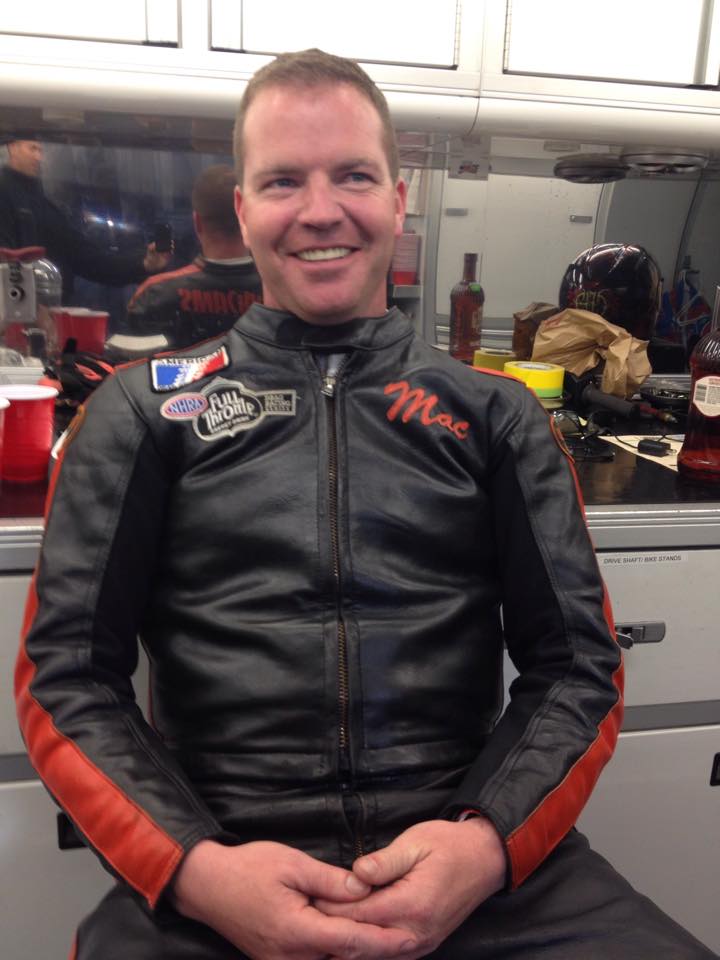 "232 mph in a Pro Mod car! The only thing on my bucket list now is to ride a top-flight Top Fuel Bike," McAdans said.
Door Wars continues what has already been a successful season for The General. On the Saturday before Easter McAdams rode his Top Sportsman Suzuki to a five-round event win.
Mac's next four-wheel opportunity will come at the 37th Annual Mountain Motor Nationals, May 8-9, from Maryland International Raceway. Before that he will race at MIR aboard his pair of immaculate Suzuki GS motorcycles in the IDBL series.
Check out the video of qualifying from MIR's Door Wars below.
Also, McAdams,  the high-volume collision center owner, will soon offer powder coating, hydro dipping and hydro graphic work to his fellow racers.  If you think Mac's bikes and car look awesome, make sure you get with him to see what he can do to improve the image of your race vehicle.
"We are really excited about this," said McAdams,  "Hydro dipping is a much more inexpensive way to customize your car or bike parts. Our shop will be able to do complete dragbike bodies."
McAdams thanked his family for being so supportive with his race programs.
McAdams thanked his wife Lisa, daughter Paige, Steve Wood, Micah Mcclintic, Rick Smith, Camp Stanley, John Stanley, Leroy Dewdney, Derek Wisooker and Will Rush. He also thanked all of his employees at his three Classic Collision shops.