Walt Timblin, of highly-regarded Timblin Chassis, has become one of the most revered dragbike frame builders, not only in the country, but in the world.
In early March Timblin crossed a bucket list item out with an indelible experience of a lifetime. The respected fabricator traveled to Bahrain, a small island situated near the western shores of the Persian Gulf in the Middle East, for the finale of the BDRC (Bahrain Drag Race Championship) at Bahrain International Circuit.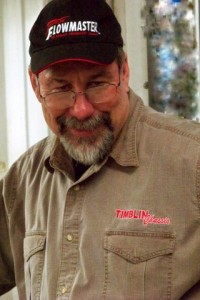 "I'm truly blessed," Timblin said. "What an amazing experience."
Even sweeter, Timblin's customers utterly dominated the series. Mohammed Bourashid won the BDRC championship in convincing fashion.
Timblin's visit came on the heels of Bourashid's impressive 4.025 (1.oo short time) on the newly-constructed Timblin, E.F.I (electronic fuel injection), Holley, Drag 965 GS Suzuki.
"I'm very proud," Timblin said. "To achieve that performance in only 14 or 15 passes is very impressive."
The monumental 4.02 added to an already astounding season for Bourashid, who back in November joined Ashley Owens and his teammate, Pro Mod legend Billy Vose in the exclusive "three club" with an impressive 3.98 on his Timblin, Lectron GS.
After Timblin finished the state-of-the-art chassis for the EFI bike, Dan Run at MPS installed the Holley system and Bourashid and Vose did the fine tuning.
"Mohammed and Bill have always been a team to be reckoned with," Timblin said.  "They know how to run the threes. Not many do."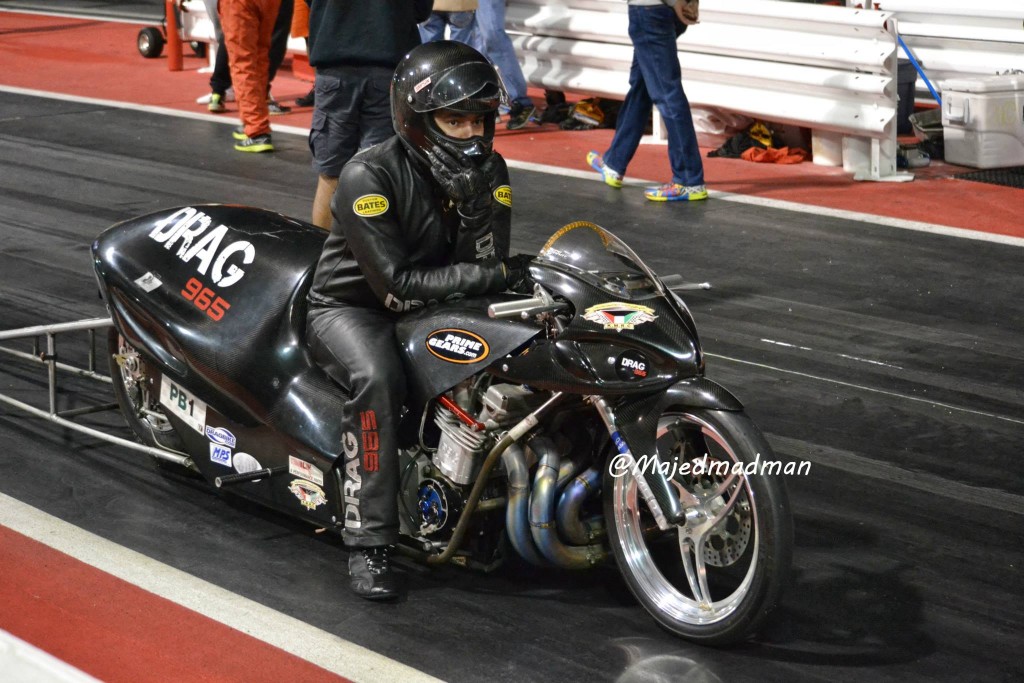 Vose returned the high praise to Timblin, who has been learning and evolving in the chassis business since 1994.
"Timblin Chassis has the best fit and finish with the most attention to details," Vose said.
Emerging as the worldwide go-to guy for a Pro Mod frame, Timblin has about eight motorcycles in the Middle East, four in Australia and several in Greece.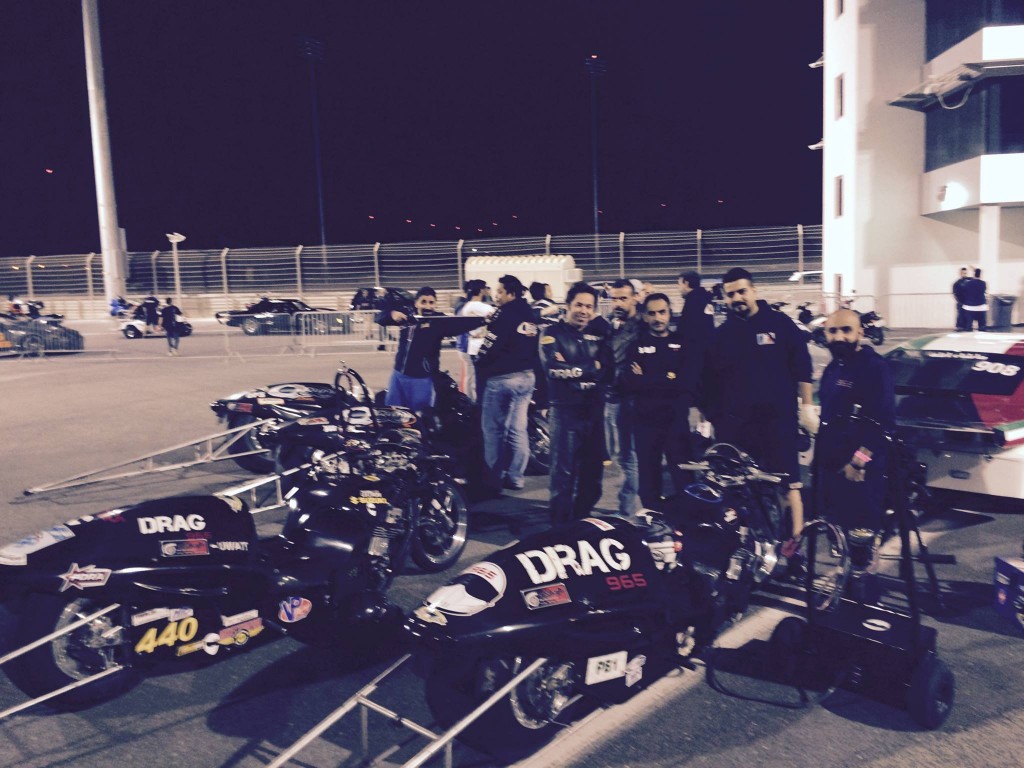 "I'm blessed to have guys from these teams all over the world come to me and have faith in me to build a chassis that will run the big numbers," Timblin said.
Many agree, Timblin's chassis seem to greatly improve and evolve year after year. Perhaps this is a result of Timblin's incessant search for refinements.
"Thinking outside the box and going against what people think is what has made them better," Timblin said. "The 60-foots are consistently 1.00 or better. I'm very pleased with that."
From start to finish, it takes Timblin about a month-and-a-half to fabricate a top-notch chassis.
And sometimes roadblocks can surface.
Due to some companies going out of business, such as machining outfit PMFR and brake manufacturer Grimeca, combined with Timblin's desire to innovate and experiment, he sometimes has to search for new, better components. The building of Meshal Al-saber's bike from the Q80 team in Kuwait, owned by Shiek Duaij Fahad Al-Sabah, is another recent Timblin success story.
"This bike was different in many ways. It had a 14-inch rear wheel, a step motor plate and a wider and longer chassis. These are all things some said would not work. When we started this project we were up against having no current wheels, brakes and sprockets to build with due to PMFR going out of business. They used to supply 90 percent of the parts," Timblin said. "I hooked up with Johnny Vickers from Hawaya Racing for excellent wheels and found calipers from Brembo. We made hangers to fit our needs."
And of course, Timblin's own nation-wide list of respected go-to guys who help him with builds, showcase the highest quality.
"Al-saber's carbon fiber bodywork comes from Kenny's Components which I think is the slickest carbon ever. The billet mechanical vac pump is supplied by Star Machine," Timblin said. "The nitrous components were from Nitrous Express. The titanium exhaust was from Steve Sousley at Pro Fabrication in North Carolina. The offset lightweight sprockets are from Bill at Robinson Industries in New York. The rear sprockets are from PMP in Texas."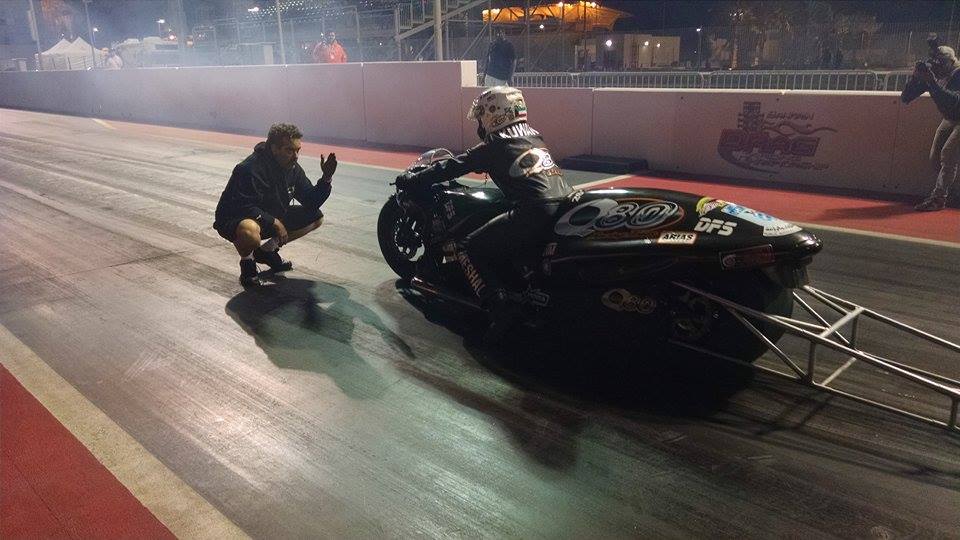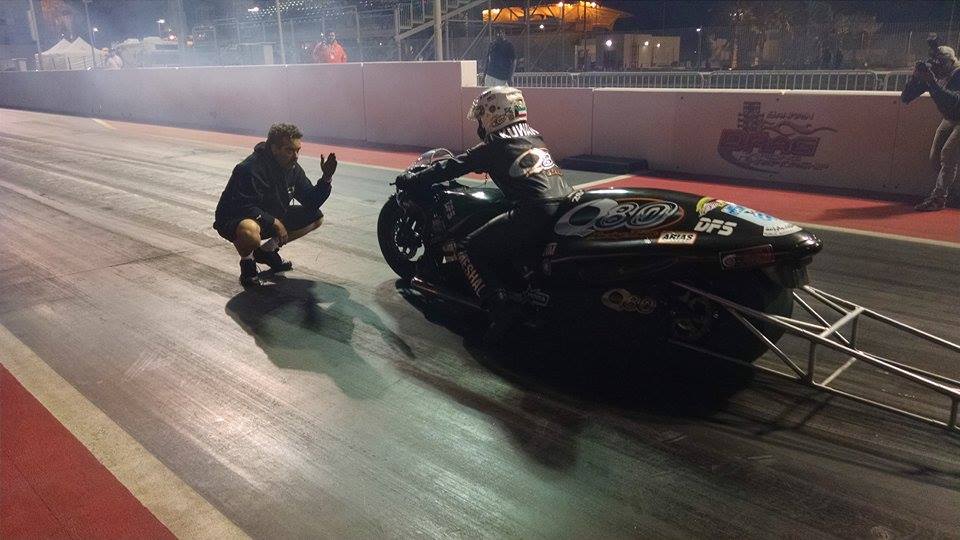 The bike was delivered to Qatar and Meshal Al-saber went to two finals and qualified on the pole at every ADRL race en route to capturing the championship.
"I guess the new things we tried worked. It is a proven winner. Thanks to Shiek Duaij Fahad Al-Sabah, Meshal Al-saber and Dan Wagner for all the hard work in winning this championship," Timblin said.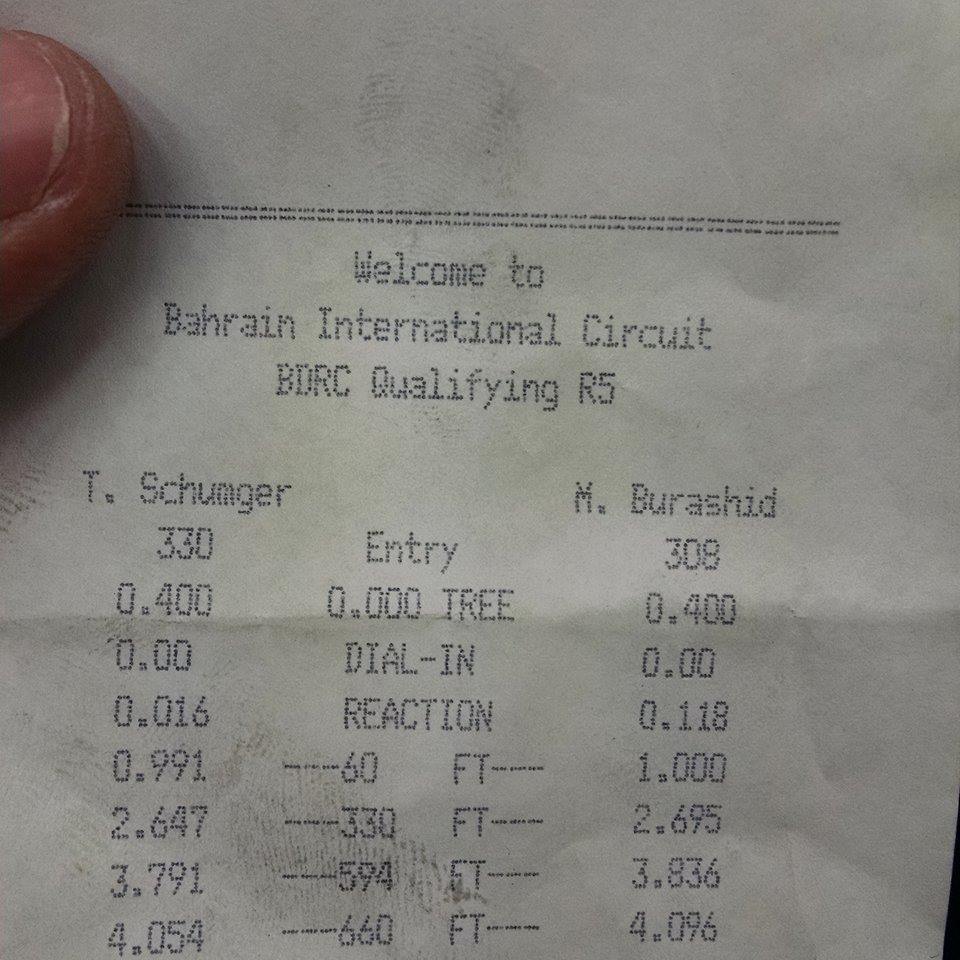 Champions Bourashid and Al-saber were not the only Timblin customers to impress in the Middle East this past winter season.  Terry Schweigert won an ADRL event and Jassim Saeed from Saudi Arabia ran a career best 4.10.  Saeed will receive a new 2015 Timblin chassis sometime this year.
"What a season already! How can I not be excited for the races coming up in the U.S.," Timblin said. "Thanks to the best riders and tuners and all the long hours and hard work that make this happen."