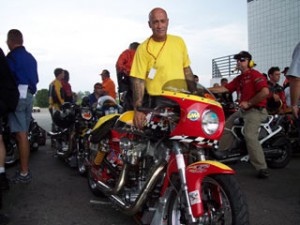 After a season of record smashing performance Andy Simon vindicated himself from the rumors that he had been cheating.
As any true racer knows, winning can provide some tremendous benefits.
However success can sometimes have its downfalls as well.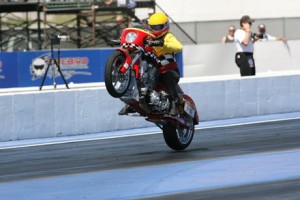 In racing when a competitor becomes dominant in a category with rules restricting such factors as fuel, engine size, and wheelbase, it isn't usually long before that racer is accused of cheating by at least one of his adversaries.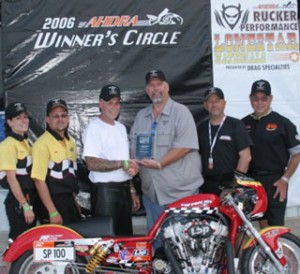 Such was the case of AHDRA Street Pro dominator Andy Simon, who utterly annihilated the competition for the first half of the season. Simon won all five of the first five races he entered in 2006 and decimated the records along the way. Following the event in Atlanta, Ga. in late May, where Simon recorded a new record of 8.67 at 158 mph in the quarter and 130 mph in the eighth, a rumor stirred amongst the pits that Simon may be cheating.
"I was devastated. When someone says you are cheating it rips your heart out," Simon said. "My wife was actually hurt the most because she knows how hard I work at this stuff."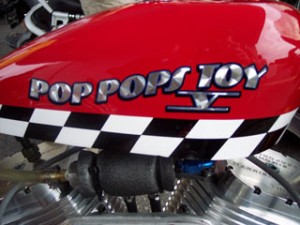 The 53 year old has been racing over three decades and has won championships in several different forms of motorsports. Simon asserts that he never once bent the rules to gain a competitive edge.
"I've been racing for 35 years. I've raced motocross, drag cars, stock cars, and I've won championships in everything and I have never cheated," Simon said. "I get ahead by paying a lot of attention to detail and surrounding myself with good people."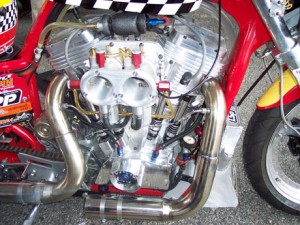 As the rumor continued to escalate the AHDRA administered an unannounced tear-down on Simon's motorcycle in Earlville, Iowa. After a thorough investigation, AHDRA head of tech Bill McGrew deemed nothing to be illegal on Simon's machine.
"I give a lot of credit to the AHDRA for making the whole process very professional. Bill McGrew asked me if I could tear down and I said sure," Simon said. "It was a complete check. They checked the bore and stroke, the carburetor, the head, they checked everything."
Simon went on to reveal just why he thinks he is so far ahead of most everyone else in the class.
"I fabricate everything. What I do to this bike I fully understand and I feel like I'm a part of," Simon said. "I took a stock Sportster frame and modified the backbone, lengthened the swing arm, and hand made most everything on there."
Simon is so deeply integrated in the construction of his bike that he even makes his own cylinder heads.
"The head makes a big difference, and guess what, it is available to people," Simon said. "I'm willing to share my secrets and sell one to anybody in the class. I can accommodate any Harley. That's what helps the sport, when you try to get people to go faster. I'm excited."
Simon points to some of the small details like quality valve jobs and superior brakes as making a significant difference as well.
"A lot of other things come together. Mike Lozano gave us a valve job and we picked up horsepower. GMA provided us with some amazing brakes and components that have no rolling resistance at all," Simon said. "I just always aim to improve the whole package. There's much more to it than just horsepower. Clutch management, the chassis, and rider skill play a big part as well."
Rider skill may be the one element that a fellow competitor can't buy off the shelf. Simon's tremendous amount of experience is another factor that helps him smash records.
"The rider is definitely part of the equation on one of these high horsepower no-bar bikes," Simon said. "I have to stay very focused on my shift points and body position."
However Simon says the hand crafted parts and refined riding style isn't what really makes the difference. Simon says his secret weapon is the love of his family.
"My wife really supports me and my kids call me at every race. It means a lot to me," Simon said. "Even my grand kids call me on Saturday and Sunday to wish me good luck. I honestly believe that moral support and having good people behind you is just as important as anything else."
With the tear down behind him Simon continued to dominate the category and went on to earn the No. 1 plate at the tour's final stop in Las Vegas.
As for Simon's competitors that were convinced that he was cheating, he has but one message for 2007.
"Get ready. They haven't seen the best yet"