Drag 965 is a motorsports team comprised of cars and motorcycles based in the Middle East. The new dragbike team is quickly finding success with multiple round wins and low ETs in the Arabian Drag Racing League (ADRL).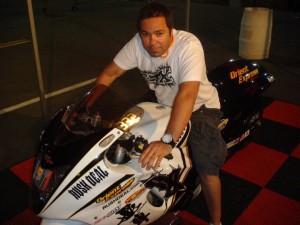 Pro Extreme Motorcycle, referred to as Pro Bike in the ADRL, racer Mohammed Bourashid of Kuwait was thrilled when he was asked to be a part of Drag 965 a few months ago by Sheik Mohammed khaled al-Sabah.
"It's a great honor," Bourashid said. "I knew this would be a very successful team."
Drag 965 has a strong American influence with the knowledge and experience of Billy Vose, who was the first man to put a Pro Extreme (formerly Pro Mod) in the sixes in the quarter-mile. Vose contributes to the squad as a rider and a tuner and the team regularly has one of the quickest bikes in the ADRL. Drag 965 advanced to the semifinals of the series' first four events, with Vose winning round three and finishing runner-up at round four.
"We are just a rookie team but I think in the future we will be one of the biggest names in the racing world," Bourashid said.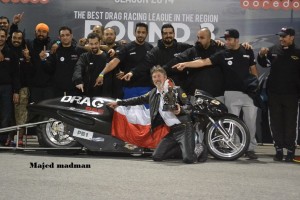 Like Vose, Bourashid brings a wealth of knowledge and experience to the squad. He began dragbike racing in the early 90s and started his own speed shop, MRB Performance shortly thereafter.
In 2002 he built a Hayabusa Pro Mod, which would become the quickest motorcycle in the Middle East with a 4.75 at 155 mph.
Bourashid's second Pro Extreme Motorcycle featured a GS motor and a state-of-the-art Timblin chassis. It was immediately successful. With Vose piloting the machine, the team recorded the second quickest Pro Extreme run ever at 3.97, just a hundredth of a second behind Ashley Owens' record-holding 3.96. Bourashid was impressive on the bike as well, turning in a 4.02 at BDRC Bahrain.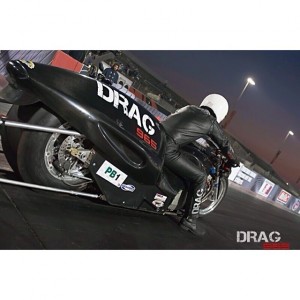 Following a rule change that forced the team had to add over 75 lbs to the motorcycle to meet the minimum 625 lbs., the machine now runs competitively in the low 4.0s.
"We want to win and we still want to break the record," Bourashid said. "It's a lot harder now with the extra weight, but we are always improving."
Bourashid's goal is for Drag 965 to win the championship in the ADRL before he makes the trip over to the states to compete in the PDRA.
"It's really cool when the American racers come over," Bourashid said. "It's very competitive. I'm looking forward to racing in the states as well. It's always a great time."
Bourashid thanked team owner Sheik Mohammed khaled al-Sabah and team manager Anwar Alytama for the opportunity to be a part of Drag 965.
Bourashid also thanked Falicon and Timblin Chassis