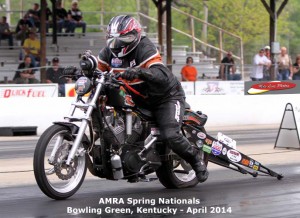 Team Half Fast Drag Bike Racing of Ypsilanti, Michigan is proud to welcome Discount Tire (www.tires.com) as a Major Sponsor for the 2014 Race Season.
Discount Tire was founded in 1960 in Ann Arbor, Michigan, and they now have 875 stores in 28 states across America – including one in Bowling Green, Kentucky that opened last year. With over 50 years of experience and expertise, the largest selection of name-brand tires at the lowest prices, they are Team Half Fast's go-to place for tires for the RV, trailer, and personal vehicles!
"We're very excited to have Discount Tire come on board as a major sponsor this year," says Chip Sutinen, racer for Team Half Fast Drag Bike Racing. "Discount Tire is a great fit for Team Half Fast. They have high-quality tires for budget-conscious folks, and their vision statement says it all: 'Treat customers and one another with respect and fairness. Help those in need, always do what is right, work hard, be responsible and have fun.' They were instrumental to our efforts last year, and we're thrilled to be expanding our relationship this year." Sutinen adds, "Be sure to stop by our pits at the races – we have a lot of giveaways, including koozies and tire gauges, and we're also giving away prizes in the stands, as well!"
Also renewing their support for Team Half Fast Drag Bike Racing for 2014 are: Lucas Oil Corporation, Vega Helmet, Wheels Through Time Museum, Accel Motorcycle, Mickey Thompson Tires and Wheels, Pingel Enterprises, Inc., Design Engineering, Inc., Vital Virtual Services, Goodson Tools and Supplies, PBI Sprockets, Supernate of Super V Cycles in Florida, CCW, and Airgas of Ann Arbor, Michigan.