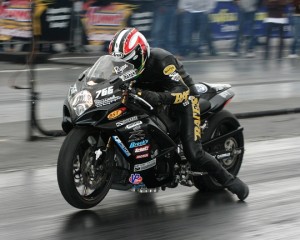 The 8.88-index class designated for quick street bikes, known as Crazy 8s, has been added to the upcoming Manufacturers Cup from Valdosta, Ga., Nov. 11-13 and the winning rider will receive $1,000.
The Cup committee is adding the class to its program on a trial basis.  Street Fighter, a similar 9.50-index street bike class will also compete at the event.
The Crazy 8s class was born at Maryland International Raceway as a concept thought of by MIROCK official Jason Miller.  This past season MIROCK boasted impressive turnouts of over 40 competitors in this new category.
Amazingly street bikes of today are easily able to surpass the traditional 8.90 Super Comp mark, a class that long required wheelie bars and huge racing motor.
MRE and Dave Schnitz of Schnitz Racing were instrumental in assembling the class purse.  Click here to visit Schnitz Racing to say thanks.