CP-Carrillo is proud to announce the release KING Bearings for powersport applications.
PRODUCT DETAILS
Following in-depth research on performance powersport needs, CP-Carrillo is proud to introduce King Bearings first high performance powersports engine bearing line. King powersports line of bearings utilizes pMaxBlack, a superior performance bearing structure and overlay, developed by King specifically for professional race teams in various demanding race platforms such as NASCAR, Drift, Drag, Rally and more.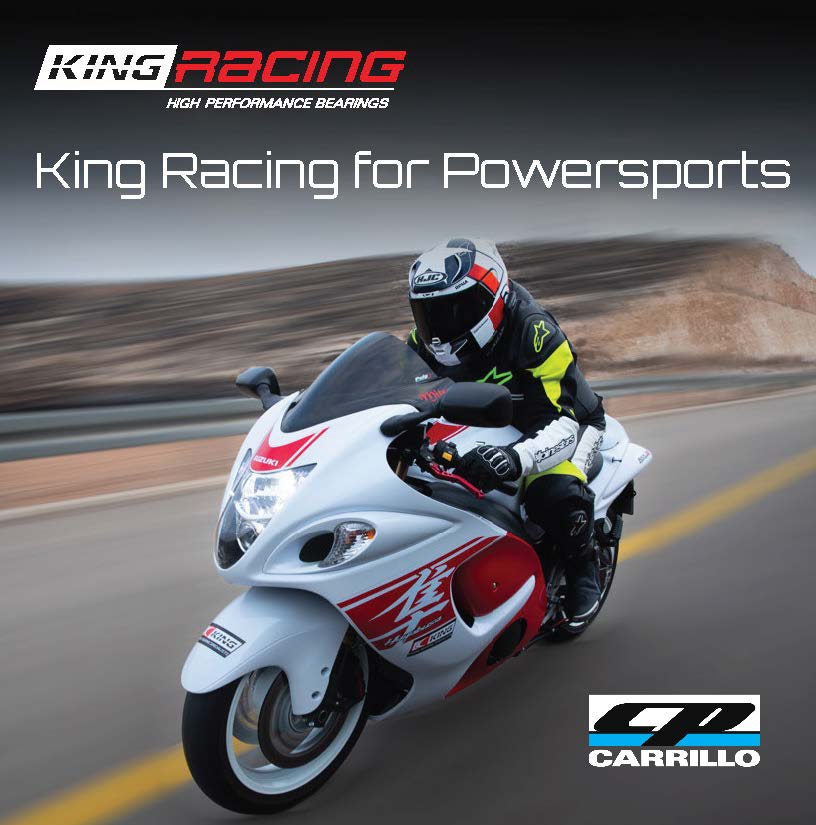 SMART DESIGN
King powersports connecting rod bearings and main bearings are designed with tight, graded tolerances to preserve the exacting hydrodynamic regime required by high RPMs. They are available in thicker and thinner 5 grades of STD (to produce less or more clearance) as well as 0.25mm to fit ground / resized crankshafts!
These bearings are perfectly suited for both on-track competition and touring/cruising riders and are significantly stronger than their OE counterparts.
ABOUT CP-CARRILLO
CP-Carrillo strives to be the globally dominant manufacturer of pistons and connecting rods for racing and high performance industries. We are committed to growth through quality, value, customer satisfaction and continuous improvement. We craft these two pinnacle products at our headquarters and manufacturing plant in Irvine, California, USA. For more information please visit https://www.cp-carrillo.com/, like us on Facebook https://www.facebook.com/CPCar/ and follow us on Instagram https://www.instagram.com/cp_carrillo/ to learn more about us.
There are more videos on the Cycledrag Youtube channel (please subscribe here) and the Cycledrag.com Facebook page (Please like here) and more will be coming soon. Check back daily.