Australia's quickest and fastest Top Fuel Motorcycle is heading to the Aeroflow World Fuel Altered Challenge-presented by Gulf Western Oil on September 21st.
The mission is to record the first five-second motorcycle time in the Southern Hemisphere.
Chris Matheson's "Nitro Voodoo" Top Fuel Motorcycle has led the nitro-burning Top Fuel motorcycle scene over the past 9 years, winning an unprecedented six Australian championship titles. His machine holds both ends of the Australian Top Bike record, and almost every track record in the county.
But wait, he wants more!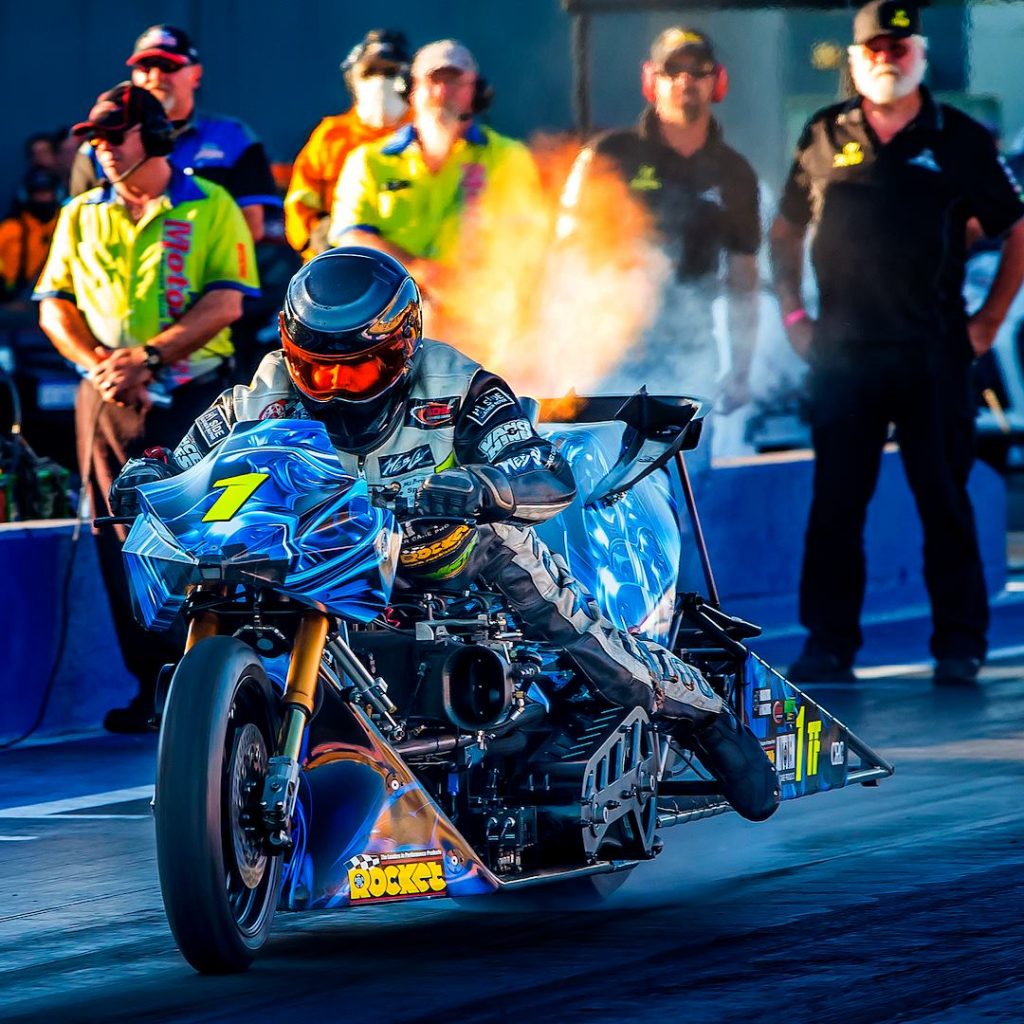 At the season-ending Winternationals, Matheson was in dominating form, top qualifying with a stunning 6.03 elapse-time, his quickest pass ever down the quarter-mile, winning the event and wrapping up his sixth Top Bike Championship.
Matheson said, "That's ancient history now, we have a blank page and are basically starting at zero.
"We have been busy at the race shop focusing on small details to ensure the big gains can be there when we really need to be quick and reliable come race day.
"The bike is ready to compete the new season and has undergone some changes to try to improve its overall performance.
"We have refined our intake and exhaust system, giving us increased acceleration through the middle of the track, which will improve our overall elapsed-times.
"Another area of improvement is our aerodynamic package. We have improved the front-facing of the motorcycle to reduce wind pressure by increasing the shape and size of the fairing. This ultimately will reduce wind resistance," said Matheson
At a recent test day at our home track of Willowbank Raceway, the "Nitro Voodoo" team put their theory to the test. Despite gusty wind conditions at the track, the signs were very promising. The bike was stable, and Matheson felt less wind pressure as a result of the improved aerodynamics.
"We've been chasing a five for a long time, in fact too long, "said Matheson. "We have run this bike in Australia for nine years. This coming season will be number 10!
"Sounds like a great excuse to run a five to me," laughed Matheson.
"We are super excited coming to Sydney, and can't thank Graeme and Wendy Cowin enough for giving me the opportunity to run at the Aeroflow Fuel Altered Challenge-Presented by Gulf Western Oil. Graeme has been a strong supporter of our operation for many years now and there wouldn't be anything sweeter than to run our first 5 at this awesome event.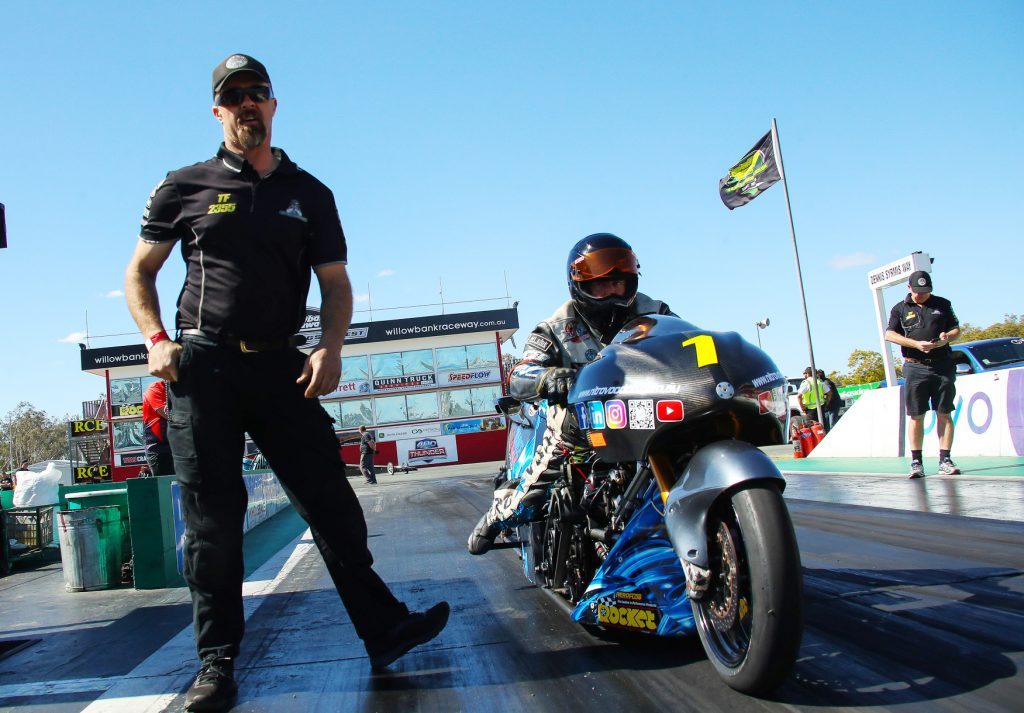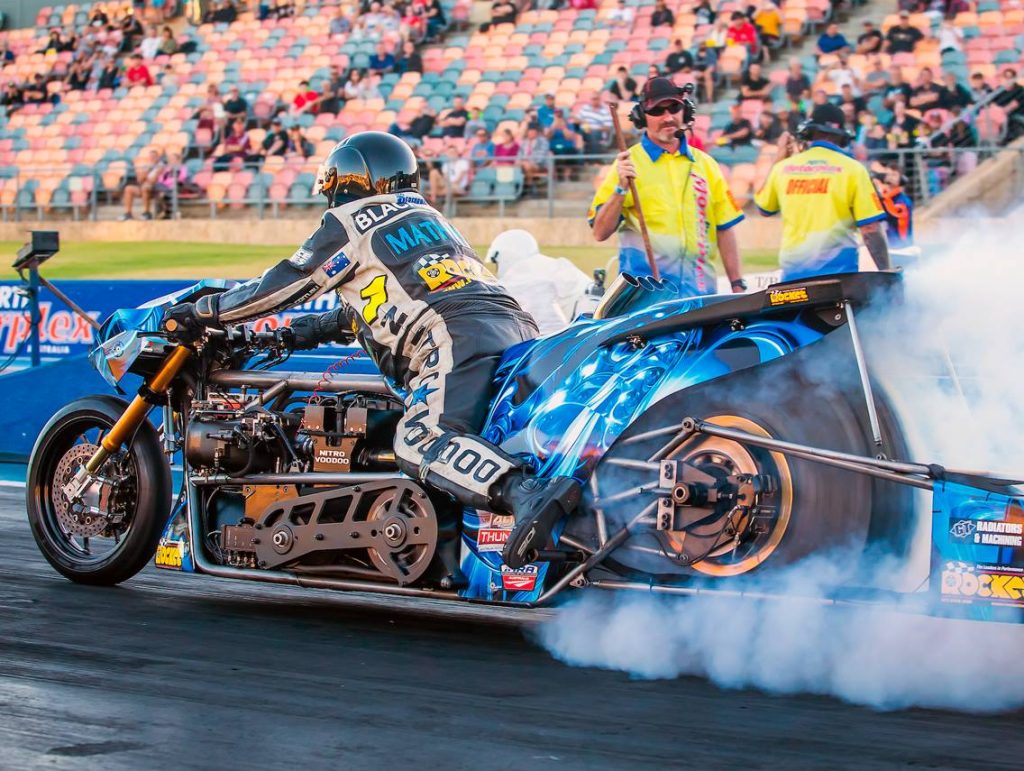 "People often say I'm crazy doing what I do, but let me tell you something, I reckon driving a nitro-burning short wheelbase Fuel Altered is also nuts. I've heard they sometimes drive a mile down the quarter-mile.
I know the track will be prepped well by the Sydney Dragway crew for the 10 nitro-burning Fuel Altereds to put on an awesome show for the fans. We plan on doing the same and hopefully can break into the five-second zone.
There are more videos on the Cycledrag Youtube channel (please subscribe here) and the Cycledrag.com Facebook page (Please like here) and more will be coming soon. Check back daily.