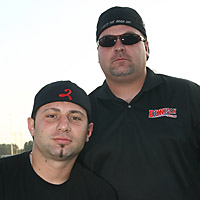 With the 2008 motorcycle drag racing season about to get under way, Team Brock's Performance is making final preparations for their championship challenge. New faces join longtime Brock racers as they take aim at AMA Dragbike, MIROCK and regional race series.
Phil Stoll and Ronnie Mitchell
Pro Street 2008 Hayabusa
Brock will once again be backing the Pro Street Turbo Hayabusa of Ronnie Mitchell ridden by veteran Phil Stoll.
Stoll had a strong year in 2007. In the AMA Dragbike Pro Street class Stoll earned a #2 plate with two wins and three number one qualifiers. He set a record in Atlanta, which was subsequently broken, and still holds the 1/8 mile speed record at 160.19 mph. Stoll had a personal best e.t. of a blistering 7.23 seconds.
Stoll also totally dominated the Mickey Thompson X-Treme Pro Street Bike Shootout held at Milan Dragway. Stoll was near-prefect, getting six wins and one runner-up in the seven-race series with seven number one qualifiers.
Mitchell sold the 2007 race bike to Jason Dunigan and will be teaming up with Dunigan for the 2008 campaign on a brand new 2008 Hayabusa.
"This new bike is going to be a good-looking piece," said Mitchell. "We are trying some new things that I think will put us over the top."
Brock's Performance has been backing the Mitchell-Stoll team for years, and Brock thinks their day is about to come.
"Ronnie and Phil have been instrumental in the designing and testing of our drag shock for high-horsepower applications," said Brock. "Phil is one of the true veterans of the class. They are so overdue for a championship. They are the highest-ranked privateers running. They keep making strides, and when it all clicks everyone is in trouble."
Vince Woska
Super Street 2008 Hayabusa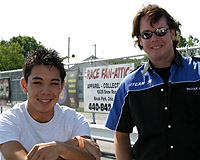 After missing a big chunk of the 2007 season to take a breather and rebuild for 2008, former super sport champion Vince Woska will put fourth a full court press for the 2008 season, only this time in SuperStreet.
"This seemed like the logical progression," said Woska, who earned the SS #1 plate in 2006. "I spent six years in SuperSport, and we accomplished what we wanted to so it was time to move on."
The bike will be a turbocharged 2008 Hayabusa provided by David Kirts of Olathe Suzuki in Kansas. Former Brock's Performance sales manager, Bryan Snyder, will be preparing the bike out of his own shop, Quantum Motorsports, in Dayton, OH.
Brock's relationship with Woska has been on-going, and he is fully behind the new project. 'We have been involved with Vince since he was 16 years old," said Brock. "His reputation speaks for itself. One of the best things about working with Vince is his father, Vince Sr. He comes to the track prepared."
"There will be a steep learning curve moving to a turbo bike," continued Brock, who will be helping on the tuning. "I don't know if he will win the championship but that doesn't mean we are not going to try. With his riding, his dad's tuning, and help from us, he will be giving everybody fits."
Woska is ready for the challenge. "A number of my old SuperSport competitors are now in Super Street so I am comfortable moving up. I have ridden a few turbo bikes before, and I rode a nitrous bike in Super Street, so I am confident that we can jump right in and do well."
Joe Franco Jr.
Super Street Hayabusa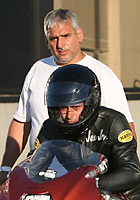 The name Franco is synonymous with nitrous-powered motorcycle drag racing with Joe Franco Sr. tuning a number of teams to Pro Mod championships over the years. Now second-generation rider Joe Jr. is making his mark on the sport, challenging in the sportbike classes of SuperSport where he earned a #3 plate in both 2006 and 2007 and Super Street where he was ranked 4th nationally last season.
Franco Jr. will again be riding a Hayabusa in Super Street in 2008 based out of Franco's Performance in New York.
"Joe's father and I raced Pro Mod year's ago," noted Brock. "He has a long history of being on the cutting edge of nitrous technology. We used to trade secrets. To watch his son grow up like he did it is a natural fit for us to be involved with the family."
His last name notwithstanding, Joe, Jr. has become a formidable rider in his own right. "He showed his potential last year," continued Brock. "He has done a lot of maturing as a rider in the last couple of years. He has a feisty New York attitude. Last season I would watch him make passes and I would say, 'Man, I could help that kid'. We are going to see."
Jennifer Robertson
SuperSport GSXR 1000
New to the AMA Dragbike tour in 2008 is Jennifer Robertson who will represent Brock's Performance in SuperSport on a GSXR 1000.
Robertson, 29, is no stranger to motorcycle drag racing, as Texas racers will tell you. She is the 2006 San Antonio track champion in the 600/750 class with a total of five wins in six final round appearances on a Yamaha R6 and she has a win and three runner-ups in Texas Shootout competition.
Robertson also has made her name in land speed racing, earning the honor of "Fastest Female" at the Texas Mile with a top speed of 216.506 mph on a turbo Hayabusa.
Brock has been backing Robertson in her local competitions, and will now be behind her as she sets her sights on the AMA Dragbike national tour.
"Jennifer has been a standout in Texas Mile speed racing and local bracket racing but SuperSport is another world," said Brock. "She is new to the class so it is going to be a development year for both of us. Still, I think she will light things up a bit."
One thing Brock is excited about is the new rules in SuperSport allowing the Hayabusa and ZX14.
"I love the new rules," he said. "We are drag racers and we want to go as fast as possible. Big motors have more power. We don't buy the little stuff."
Farlie Hall
SuperSport ZX14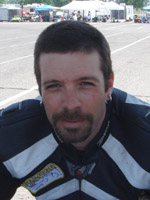 Farlie Hall is another Texas racer to join the Brock stables in 2008. An employee of AJ Foyt Cycles for the past 17 years, (the last six as the service manager) Hall has a motocross background but took up drag racing "partially out of self preservation."
Running a series of ZX-10s in Texas Shootout SuperSport competition with support from Kawasaki, Hall scored a series of #2 plates. Last season he bought the 2006 GSXR1000 ridden by Jeremy Teasley and took sixth in the AMA Dragbike national points.
"I think I have shown the ability to work on my own equipment and produce results as good as many much better financed teams," said Hall.
Brock noticed him right away.
"I started to watch him after he bought Jeremy's bike," said Brock. "He became a contender so he knows how to ride. Unfortunately when the '07s came out he was at a natural disadvantage but he still stayed competitive."
"I spoke to him at the National Finals," continued Brock. "He asked me about the ZX14 so I let him ride mine. He looks to me to be dedicated to what he is doing so we decided to support him."
Brock feels it is a great opportunity to have Hall team with Robertson to fight the SuperSport wars in the new big-bike format.
"We have Jennifer on a Suzuki and Farlie on a Kawasaki," stated Brock. "It will not only give us a platform to work on development but it will also help showcase what Brock's Performance does: we can help you on either a Suzuki or a Kawasaki."
Rob Bush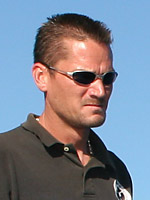 Pro Mod – Outlaw Pro Street – True Street Hayabusas
Rob Bush from Fish's Customs is getting back on the seat in a big way in 2008, competing in Outlaw Pro Street and True Street in MIROCK as well as Pro Mod in AMA Dragbike and ADRL. All the bikes will be Hayabusa powered and all will have Brock's Performance exhaust systems.
Bush is best known for building the world's first Hayabusa-powered machine to eclipse the six-second barrier, his Fish's Customs Pro Mod ridden by Billy Vose. For this season Bush and Bernard Johnson will team up for a three-bike Pro Mod team with riders Vose, Ron Clark, and Bush at the controls.
"We actually have four bikes," stated Bush. "We will have a complete spare bike in case something blows up. Maybe I should say when something blows up. You know what it is like in Pro Mod."
Bush was drawn to the MIROCK Outlaw Pro Street Class to go after the big performance bonus money put up by Schnitz Racing. "Dave is putting up five grand for the first Outlaw bike with a modern powerplant to make a six second run and three grand for the first over 200 mph," said Bush. "I want to get it all in one fell swoop."
In addition to the Outlaw bike, Bush will run a 2008 nitrous Hayabusa in True Street and possibly AMA Dragbike Real Street.
Brock jumped on to help Bush achieve his lofty goals. "Rob and Fish's Customs are one of our long-time dealers, and we like working with our dealers whenever we can," said Brock. "They have the quickest Hayabusa-powered dragbike in the world. That shows that he can stick with a project to make it work. That is the kind of people we like being associated with."