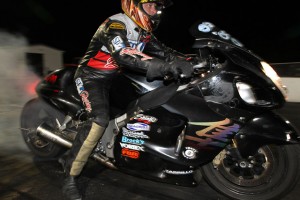 Beautiful September weather and a booming racing organization came together to produce the biggest Mickey Thompson MIRock Superbike Series ever held at Maryland International Raceway. MIR's Fast by Gast Fall Nationals is always an autumn festival of speed, but with over 600 motorcycles entered, competition on the best-prepped track in the business was especially fierce.
Two-time reigning Orient Express Pro Street champ Rodney Williford is on his game big time, coming straight off the trailer with a 6.99. Williford ran as quick as 6.91 and never slower than 7.03 to take the win over Danny Cox, who had to let out when his Hampton Roads H-D nitrous Suzuki Hayabusa started to roll over on the top end.
Number one qualifier Williford passed his season long rival Joey Gladstone in points, setting up an all-out championship brawl when the series reconvenes at Rockingham Dragway the first weekend of November. Gladstone's DME Racing 'Busa blew a fuse in the waterbox and failed to start against Cox in round 2.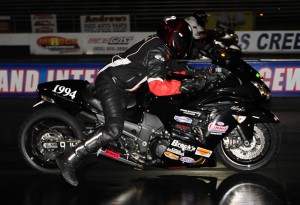 Johnny "Turbo" Dobrin can lean back on his season long DME Racing Real Street points lead, needing only to show up and enter at The Rock to claim his championship. Like Gladstone, Dobrin and his Exoticycle turbo 'Busa also went out in round 2 at MIR. He was taken out by 6'3", 215 pound David Merks—a big man in what is mostly a jockey sport. Merks' RS Motorsports teammate, multi-time champ Jeremy Teasley, later won the event over Chris Moore—yet another teammate. In all there were three Roger Starrette-tuned, nitrous-huffing Kawasaki ZX14 in the semis along with surprising Sherrell Blake and his nitrous Suzuki GSXR1000.
Ronnie Procopio, who's won more championships than any other racer in MIRock history, can skip the Rockingham race if he wants, but he won't. Procopio secured another Mickey Thompson Pro Mod championship with a win at MIR. Procopio broke the beam in the final when Maryland native Mac McAdams failed to show after damaging what he reckoned was his sixth engine in the last eight passes in the semi.
Ryan Schnitz and the HTP Performance EFI/nitrous/Hayabusa "NJECTED" Pro Mod, along with Billy Vose and the similar MPS Racing 'Busa, both stepped up their games in the battle to compete with the ancient GS motors that McAdams and Procopio race with. And surprise entrant Bob "Opie" Malloy laid down huge MPH and competitive passes on his nitro Buell, which made its initial debut at MIR almost 10 years ago.
Trac King/APE Top Sportsman went to first-time winner William Phillips, a veteran racer claiming his first MIRock trophy. Phillips took the win when Devin McClain redlit in the final.
Defending class champion "Fearsome" Andy Baumbach won House of Speed Crazy 8s in an epic battle over East Coast dominator Bob Carlson. Up to the challenge, Baumbach nailed a perfect .000 light to Carlson's .005. Both bikes ran passes within .004 of each other.
Carlson rebounded to win Sunday's Fast By Gast Pro ET final over MIR homeboy Shayne Proctor, who also runner-upped in Sunday's Brock's Performance Street ET. That final was won by Derek "Head-Down-&-Serious" Crawford. Boo Brown won Saturday's Street ET over Michael Herman Sr., and Saturday's Pro ET final was won by James Farmer over Nicholas Hamlett.
Like Carlson, Baumbach won one and lost one, as he runner-upped to North Carolina's Curtis Griggs Jr. in the FBR Shop 5.60 Index final.
Saturday's Afterdark Underground ran in front of an intense crowd until 1:00 am. The featured race that actually happened was Lavar "Lil' Charlie" Delee on "Moonshine" against Caleb Holt. Delee took the night race, but his bike's owner accepted the challenge of shortening "Moonshine" and rerunning the race on Sunday. That was a bad decision. The shortened chain broke at the masterlink and the purse went back the other way.
The East Coast's drop-dead best bikini models took the stage on Friday for MIR's famous bikini contest. A really good looking girl won, and she was surrounded by a bunch of other really good looking girls who didn't. Do we really have to wait 'til next year for another one of these?
We don't have to wait long for another Mickey Thompson Performance Tires MIRock Superbike Series race, as the Finals—that all-out, hustler's paradise, sensation of the nation—is November 3-4, 2012 at Rockingham Dragway in Rockingham, North Carolina.
Results: http://www.mirockracing.com/results/2012/race7-mir/index.htm
Find out more about the Mickey Thompson Performance Tires MIRock Superbike Series at http://www.mirockracing.com
This report was prepared by Tim Hailey. Enjoy everything there is to read, see and watch about motorcycle drag racing and more at http://www.eatmyink.com