With an exciting new look and three new corporate partners, its game-on for Top Fuel Motorcycle racer Jay Upton.
After an extended break from championship racing, Upton and the 'Big White Bike' have been testing at their home track with the intent of making the most powerful bike in Australia more reliable. Its always been fast…. really fast in the first half and has run as fast as 333kmh (more than 205mph) at half distance on the quarter mile.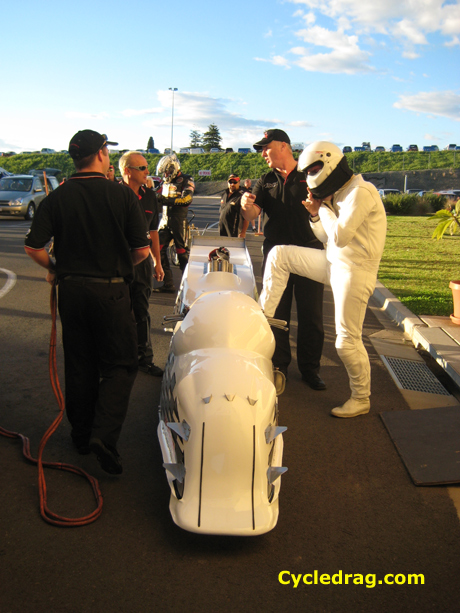 Thunder 400 kicked off the new championship the 'Nitro Up North' in Darwin in July and first race back Jay and the boys won the event and took every point there was to have. The following weekend, the team ran at the 'Desert Nationals' in Alice springs, winning again and resetting the track record. They also did both those events on one engine, so the reliability is certainly showing through.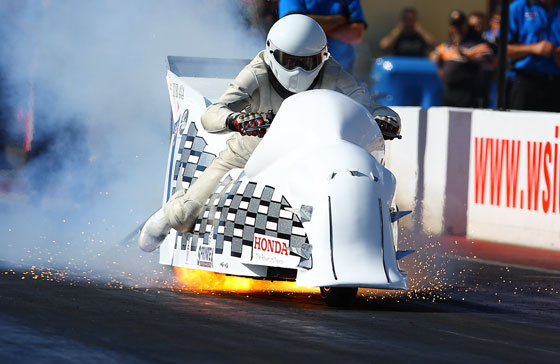 Jay and the Top Fuel Promotions Team are proud to welcome three of their everyday business partners as racing partners. Upton owns and operates Wear Parts WA www.wearpartswa.com.au based in Malaga WA and distributes the WPA range of Ground Engaging Tools (for construction and mining machines) and the Gulf Western Oils range of oils, greases and other associated products for the Transport, Construction, Mining and Automotive Performance markets.
Upton commented "it's great to be able to sell the products we endorse and to endorse the products we sell everyday" "The Gulf Western Comp R50 that we use in the bike has made a fantastic improvement to our reliability". You too can have the same oil for your high performance car, or the latest OEM approved extended oil change Top Dog Indestructible for your big rigs.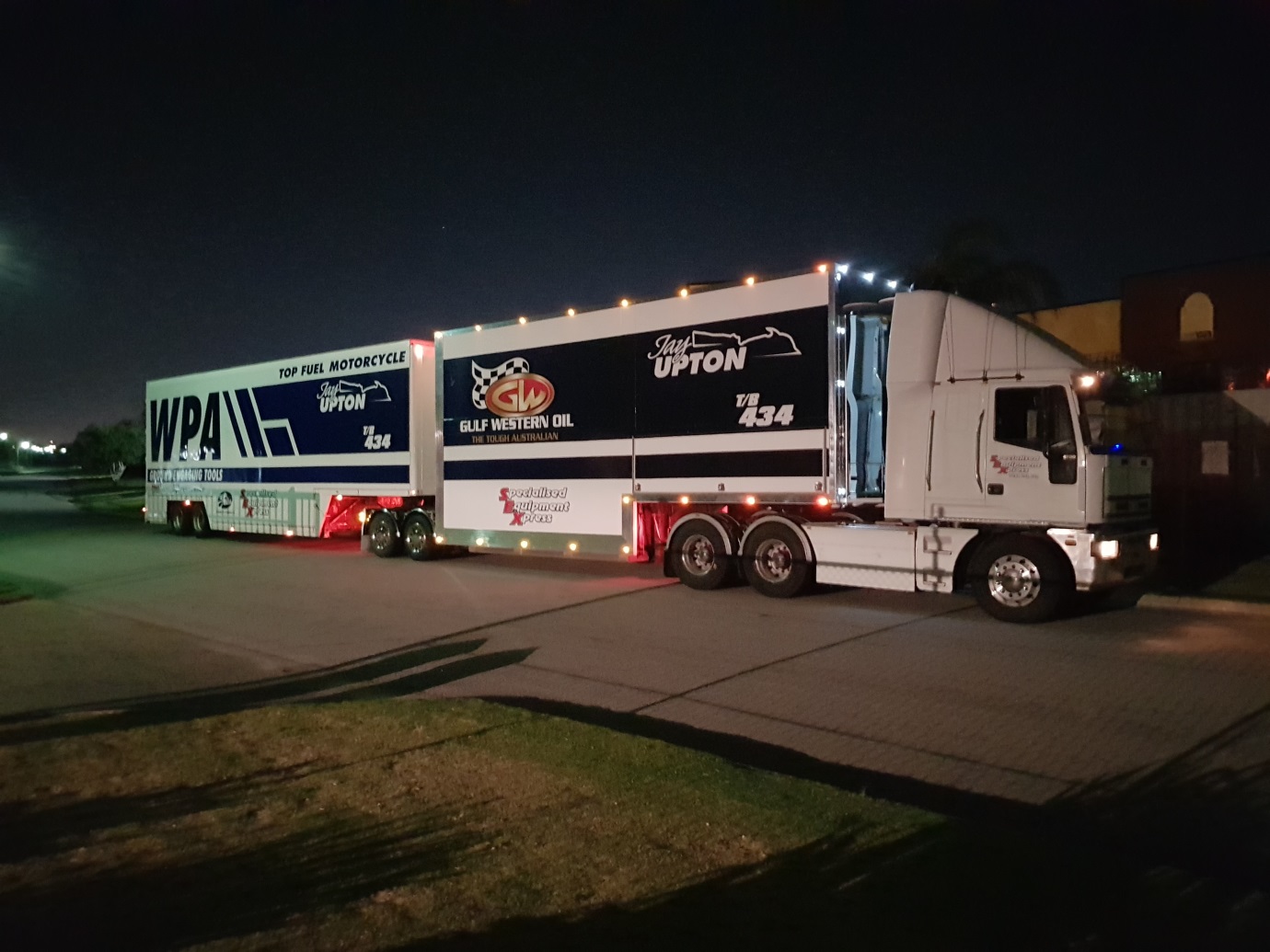 The Top Fuel B Double is proudly supported by Specialised Equipment Xpress (SEX), a growing family owned trucking business out of Newcastle NSW. SEX specialises in Show Freight (they're currently hauling 63 semi-trailer loads of the Taylor Swift Show around Australia) and is Rio Tinto's preferred carrier in Australia. Colourful Managing Director Grant Mundy is a huge supporter of the team and his enthusiasm is infectious. Upton enthused "having Grant and the SEX team on board is fantastic, Grant is a hard worker, pushing us to excel, and allowing me to concentrate more on going fast!"
Jay loves to race in Sydney and considers the track the best in the country, despite surviving a huge crash there in 2009. So head out to Sydney Dragway on Saturday, or look for the OVO mobile live streaming online to welcome Jay and the team back to Sydney.
Sydney Dragway is celebrating 15 years of racing this year and Upton is proud to have run the first two Professional category National Records ever at the opening event. Current National Champion Chris Mathieson will also be there, doing his best to keep Upton at bay this weekend, so stout performances are pretty much guaranteed!
Racing Starts at 2.30pm on Saturday