2018 Summit Racing Equipment Sportsman Series Competition Bike Champion Tony Frost took out the victory at last month's South Coast Nationals and now he is hoping to do it all again at this weekend's South Coast 660 at the same venue.

The January 11/12 event, to be hosted at Portland's South Coast Raceway, will mark round seven of the 2019/2020 Summit Racing Equipment Sportsman Series.

"Winning the South Coast Nationals was unexpected and great to achieve," said Frost, who also reset the national B/CB mile per hour record to 138.75 miles per hour on his way to victory in December.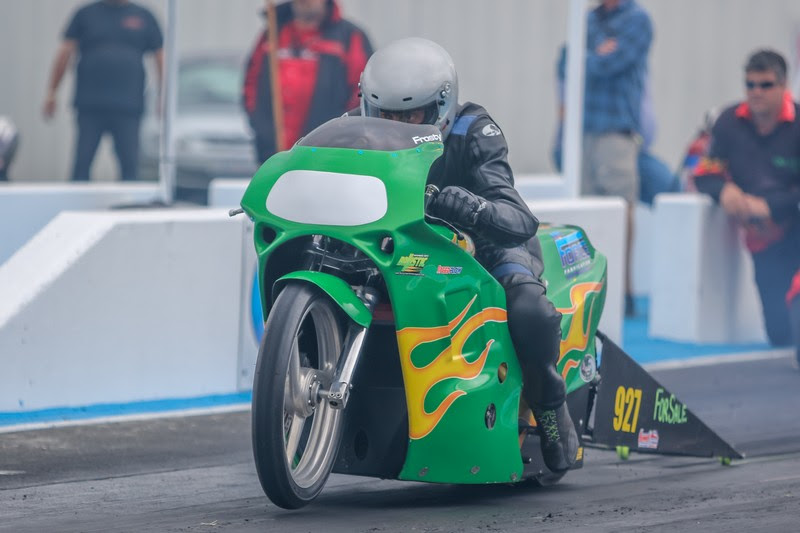 "We went there knowing we could run under the Index, but with (current champion) Rob Cassar being there and knowing he was able to run under the national record, and also with Nathan Stone making a return, we weren't sure what to expect.

"Racing Rob in the final was especially tough – being great mates and knowing how fast that bullet can go, we knew we had to run a clean and fast race and make him work for it and hope things would go our way, which they did!

"The race itself was clean and fast, and while we had had an electrical gremlin in a previous elimination race which we put down to our lanyard connections, it didn't show in the final.

"I cut an okay .029 light for an advantage and part of me was waiting to see Rob ride around me, but he only went past after the finish line and I couldn't believe our luck!

"Resetting the MPH record was great as well – it wasn't something we were chasing but I have to say thanks to Rob for the reminder to claim it. The bike has more left in it as a package too, it is just a matter of fine tuning it with the clutch and so on to get it to its full potential.

"We actually have the chassis for sale at the moment too – we aren't getting out of racing though, just working on something new," he teased.

While chasing the Summit Racing Equipment Sportsman Series title this season isn't a priority for the Pedders Warrnambool business owner due to work commitments, he has his eyes on another victory and perhaps more record-breaking before the season is out.
"We are really looking forward to the South Coast 660 this weekend and we will just do what we always do – try our hardest to go as fast as we can, qualify well, and have some fun. With some luck we might be in another final and who knows, maybe we can secure another win!" the Warrnambool racer said.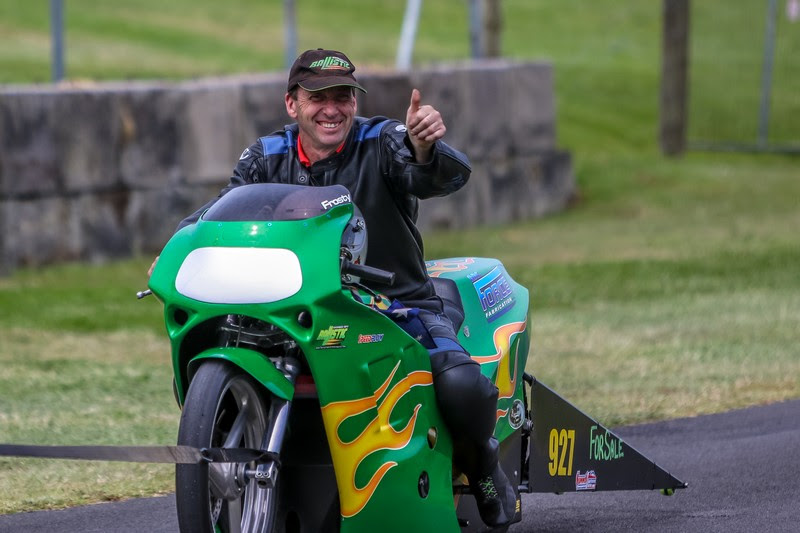 "The event is going to be a cracker and in Competition Bike we have some great racers at the moment: Phill Paton is coming over from Western Australia and he is racing strong; Nathan Stone has found some speed in is bike; Levi Addison made his Comp Bike debut in December and is running right on the index and so close to a five second pass; Nat McKay has also stepped up and is another one to watch; and also David Willis can run under his index too.

"The track is just great too – South Coast Raceway is one of those tracks I love to race at. The team there always has the facilities clean and tidy and they go out of their way to help the racers out – you couldn't find a friendlier club and I think a lot of larger venues could take note of what they do there.

"I would like to thank them for all that they do, as well as all of the people I couldn't do this without – my family and my crew: my wife Tracey and my children Bronwyn and Brock for all their support and understanding of the hours I spend in the shed, on the phone or at the race track! Also I must say thank you to Rick, Jill and their family for their help, as well as Kim and Simon and the Queensland crew.

"Finally, I have to send a huge thank you to my major sponsors, Clint and Danielle at FORCE WEAR Group; Trevor at Trevor Birrell Racing; and Ballistic Race Parts for their ongoing support."

Round seven of the 2019/2020 Summit Racing Equipment Sportsman Series, the South Coast 660 at South Coast Raceway, will be held across January 11 and 12, 2020. For event information, visit www.southcoastraceway.com.au orwww.andra.com.au
There are more videos on the Cycledrag Youtube channel (please subscribe here) and the Cycledrag.com Facebook page (Please like here) and more will be coming soon. Check back daily.