The past weekend's South Coast 660 at South Coast Raceway has provided a perfect start to 2020's Summit Racing Equipment Sportsman Series action for more than 150 competitors.

The event marked round seven of the 2019/2020 Series and the first for the new calendar year, hosting two big days of action across January 11 and 12.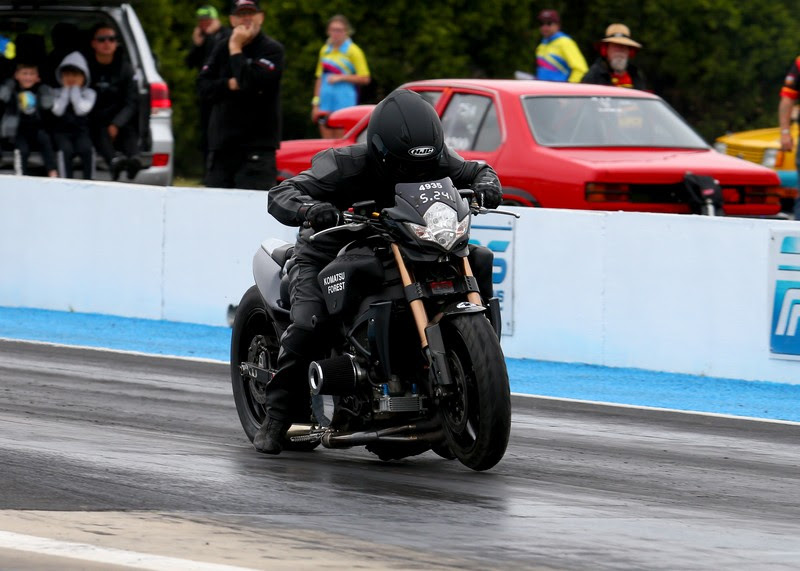 By taking out the victory today in Modified Bike, Henly (VIC) racer Gavin Dohnt secured his fourth event win of the season and continued his Portland winning streak after winning last month's South Coast Nationals and also the 2019 running of the South Coast 660 event.

Also the DecoGlaze Glass Splashbacks Central Victoria Top Qualifier Medallion recipient for his bracket, Dohnt enjoyed a bye run in the opening round of today's racing before going on to dispatch Derryn McGregor and Shane Walker prior to his final face-off against Bryan Finn. The former champion from Stirling North in South Australia had earned his second consecutive finals match-up against Dohnt by virtue of earlier victories over Paul Cooper (round one) and Levi Addison before he enjoyed a bye in the semi-final.

"The weekend has been great. We had been hoping to test on Friday (which was rained out) as there were some things we wanted to try, so we tried all of those things at once in the first qualifier and that didn't work, but the remaining qualifiers were good," Dohnt explained.

"In the third qualifier the bike went quicker than it has ever gone by half of a tenth, so it went very well and the track was just excellent.

"It was really, really good (to get the fourth win). We have done one 'five-twenty' pass at Mildura previously but all of our passes today except for one 'roll off' were in the five-twenty range so the bike was running really well and the track was really good considering the weather – from the startline prep to all the way down the track it was just great.

"We have had a really good weekend – the Modified Bike crew has been great and it has just been a fantastic weekend with some fantastic people racing at a great club," he concluded while thanking Komatsu Forrest Products, LV Dohnt Forrestry, PB Suspension, and his wife Jodie for their support.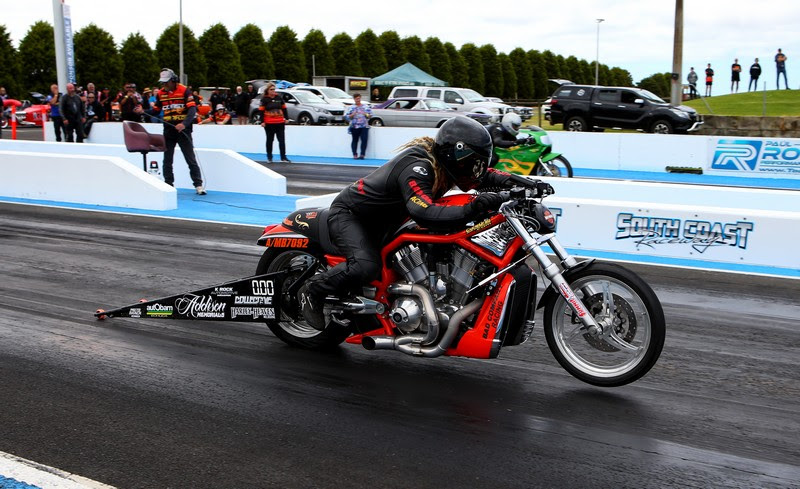 Enjoying a break-through win was Levi Addision, who notched up his first ever ANDRA Christmas Tree in the Competition Bike ranks this weekend. It was only the second Competition Bike event for the racer from Somerville in Victoria, who undertook double duty in Portland by also competing in the Modified Bike bracket.
Addison faced off against former champion and last round winner Tony Frost in the final for the bracket which runs a Chicago Shootout racing format. The Top Qualifier for the bracket was Rob Cassar.

"This is really good as it is only our second ever Competition Bike event, so I am pretty happy to get the win! I am just stoked to be honest," Addison said.

"I have raced Tony (Frost) a few times now so I was just concentrating on doing my own thing, he is super fast so I was praying that we just went that bit better!" he laughed.

"It was a really good event for us, we got a PB as well as the win and we had no issues. I was also racing in Modified Bike so with doing the two classes it was a bit of a handful but it also meant more ride time which is always better.

"I would like to thank my wife, my dad and my whole family for their support; as well as Addison Memorials, The Collective Family, Harley Heaven Melbourne, SRT Signs, Faster Moto, Bad Company Racing and BMC Australia."
ANDRA thanks South Coast Raceway and all of its volunteers and sponsors for an outstanding race track and a well-run event.

Round eight of the 2019/2020 Summit Racing Equipment Sportsman Series will be held at the Perth Motorplex, with 49th Westernationals to be hosted by the venue across February 29 to March 1, 2020.

The event will feature not only all the racing for the Summit Racing Equipment Sportsman Series, but also Top Fuel, the West Coast Top Doorslammer Challenge and the West Coast Nitro Bike Challenge with all racers competing for a prestigious ANDRA Gold Christmas Tree Trophy.
There are more videos on the Cycledrag Youtube channel (please subscribe here) and the Cycledrag.com Facebook page (Please like here) and more will be coming soon. Check back daily.