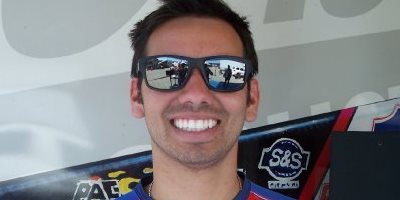 The only thing that is stopping Lucas Oil Buell rider Hector Arana Jr. these days is the finish line as he remained unbeaten in 2013, sweeping to his third consecutive Pro Stock Motorcycle victory at the O'Reilly Auto Parts NHRA SpringNationals on Sunday.
"It feels great," Arana Jr. said. "This was the most nervous I've been. I guess it was wanting to keep up the reputation amid all the pressure. I'm handling it well and I've got to thank my crew; they're doing an awesome job. It's pretty exciting to be able to do this."
Arana Jr. became only the third Pro Stock Motorcycle rider in NHRA history to win the first three races of a season. Matt Hines was the last to do it, winning three in a row in 1998. Dave Schultz won the first four races of the 1991 season to hold the NHRA record for wins at the start of a season.
"It's pretty exciting to be up there in good company with those guys," Arana Jr. said. "Those guys were all excellent riders, and they're well-known in this sport. To be there with those guys is pretty amazing."
Arana Jr. opened the 2013 season with a win from the No. 2 qualifying position in Gainesville, Fla., then won the pole and the race in Charlotte before repeating that feat in Houston.
He opened this race against No 16 qualifier Shawn Gann and secured that round-win when Gann red-lit. That moved Arana Jr. to the second round against his dad, 2009 series champion Hector Arana Sr.
Arana Sr. actually had the better elapsed time (6.902 seconds at 192.22 mph to Arana Jr.'s 6.906 at 193.68 mph), but Arana Jr. got the jump on the Christmas Tree. Arana Jr.'s light was .070-second while his dad's was .114 and Arana Jr. advanced to the semifinals.
"He didn't say too much. He just said, 'Good job. You beat me again.' Our bike hasn't been the fastest on every run on Sunday, but we've been the most consistent and that's what wins races. I feel like I've been pretty consistent as a rider, too. That combination is lethal and we've been able to keep doing it. It's pretty exciting."
Arana Jr. blitzed John Hall in the semifinals with a pass of 6.928 seconds at 193.13 mph; Hall recorded a lap of 6.959 at 190.11 mph. That put him in the final against Scott Pollacheck, one of the three riders Arana Jr. beat in the final of the Dollar General NHRA Four-Wide Nationals in Charlotte last week.
Arana Jr. left first, .034 to .041, and outran Pollacheck with a lap of 6.912 seconds at 194.74 mph. Pollacheck trailed with a pass of 6.985 at 188.54 mph, and Arana Jr. had his sixth career victory.   
"We're working hard and our bikes are running well right now," Arana Jr. said. "We're going to try to keep this momentum up and we'll see what happens."
The win came two years after Arana Jr. made his Pro Stock Motorcycle debut, beating his dad to claim his first round-win of 2011. Arana Jr. finished second in Houston last year.
"It's very exciting to seal the deal," Arana Jr. said. "I got my first round-win here and I got to the finals last year. To be able to get the win now and cap it off is pretty exciting."