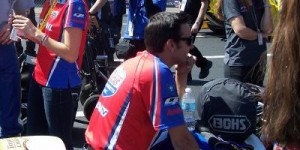 With the national speed record in their hands, Lucas Oil Buell racer Hector Arana Jr. and his team look forward to breaking the elusive 200-mph barrier in the NHRA Pro Stock Motorcycle class in 2015.
Arana broke Eddie Krawiec's three-year-old mark of 199.26 mph in the final round of the NHRA Four-Wide Nationals last Sunday in Charlotte. Arana's speed was tantalizingly close to 200 mph, 199.88.
"Breaking the 200-mph barrier is the last big accomplishment in our sport of drag racing," Arana said. "The first one who does it is going to be the one who goes down in history. They're going to be the one who everybody remembers going 200 mph. You're not going to remember the second one to do it; you'll only remember the first one."
Arana hopes that he or his father, Hector Sr., is the first to exceed 200 mph.
"We're going to try our hardest," Arana said. "We're going to continue to keep up what we've been doing, keep working hard at the shop. Hopefully, the next opportunity we have, maybe we can be the ones to get it."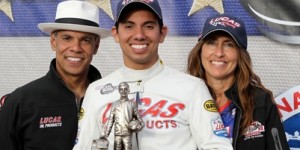 When that chance will come, no one knows. The events in Englishtown or Reading appear to be the best opportunities, but conditions have to be just right.
"It's about having everything perfect," Arana said. "You need to have the right combination, everything the motor wants. You need to have horsepower, of course, and with all that comes hard work and dedication. You've got to have all that in order to achieve that speed."
Conditions in Charlotte were nearly perfect for going after top speeds. Arana recorded a 199.26-mph run in the semifinals and now has two of the three fastest speeds in Pro Stock Motorcycle history.
"It was special," Arana said. "My dad has broken a record before, but I've never done that. I didn't even realize that we got a certificate or anything like that until NHRA came by and gave me a form to fill out for the certificate.
"That record hadn't been broken since 2012, so it was pretty cool to do it. Hopefully, it will stand for a long time — until I can break it again — myself or my father."
Article courtesy of NHRA.com