ector Arana Jr. is very glad to get his "Gracie" back this weekend for the 24th annual FRAM-Autolite NHRA Nationals at Infineon Raceway.
"Gracie" is the engine in Arana Jr.'s Lucas Oil Buell Pro Stock Motorcycle, named after his mother Grace. "Gracie" wasn't in the bike last weekend in Denver because the altitude at Bandimere Speedway requires a different sort of power. Arana Jr. qualified fifth there with the backup engine, "Don," named after Lucas Oil executive Don Corsette, but can't wait to have "Gracie" back.
"We're going to put Gracie back in and come back fighting strong," Arana Jr. said.
Arana Jr. is 2-0 in Pro Stock bike qualifying with "Gracie" between the rails, earning the No. 1 qualifier at Norwalk and Chicago with the new engine. The 22-year-old rider is in the middle of his rookie season as a teammate to his dad, 2009 Pro Stock Motorcycle champion Hector Arana Sr.
The Aranas had perhaps the best weekend together at Denver, with dad qualifying No. 1 and making the semifinals, while son qualified No. 5.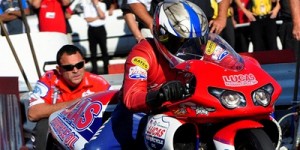 But not only was Denver different for the engine, but for the riders, too. Arana Jr. had to use a different technique in the altitude because horsepower was naturally down in the thin air. Arana Jr. said he had to wait on shift lights during each run, being patient not to shift too soon and rob even more power out of the combination.
"If not, you short-shift, and you kill your run because you kill your power," Arana Jr. said. "But Sonoma, I'll probably have to be speed up because everything's going to come a lot quicker, so I'm going to have to be ready for it."
But he's even more ready to have "Gracie" back on his bike.
"I'm looking forward to Sonoma. It's a beautiful track," Arana Jr. said. "Everybody says it's a nice track to ride down. It should be fast. Hopefully, I can get my best ET there and another No. 1 qualifier with Gracie."