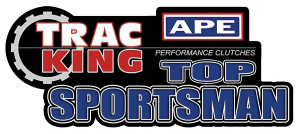 Trac King Clutches / APE is continuing their long time support of the Trac King Clutches Top Sportsman class, and is the longest running sponsor of the class. Top Sportsman is a sportsman class designed for the quickest Pro E.T. bikes in the country.
It attracts the fastest dragbike bracket racers from all over the country. This class is an ET Bracket class and run on a .500 full tree with a qualified 32-bike field. The Trac King Clutches Top Sportsman class will now be competing for $3,000 to Win ($1,000 increase this year), $500 to Runner-Up, $150 to Semis, and $75 to 1/4 Finals. Racers must purchase a 2-Day Pro E.T. tech card as in the past. Trac King Clutches / APE is also a sponsor of the famous $24,000 3rd annual Orient Express Pro Street Battle Royale that will take place at the DME Racing Fall Nationals on October 2-4, 2015 at Maryland International Raceway. This event draws in over 40 of the World's Fastest Orient Express Pro Street bikes for the ultimate in cash and bragging rights!
APE has been a leading supplier of clutch kits for the extreme high performance motorcycles for over 30 years, and is branding that part of their product line. Trac King Clutches has been the kings on the track for decades! APE also houses a full machine shop, along with a Cylinder Head and Crankshaft Department.
Also, no other company in the motorcycle industry manufactures, in house, a larger selection of titanium retainers than APE. Besides retainers, the turning centers are also used to make valve seats, cam sprockets, manual cam chain tensioners, clutch hub nuts, wrist pins, and other products For more information about Trac King Clutches / APE, visit their website at www.aperaceparts.com Remember… Support Those That Support Your Sport!
The next event for the Mickey Thompson Tires IDBL Series will be the 18th annual Pingel Spring Nationals at Maryland International Raceway on April 24-26, 2015. For more information on the Mickey Thompson Tires IDBL Series, visit www.RaceIDBL.com or connect with us on Facebook, Twitter and Instagram @RaceIDBL. See you at the Strip!
Jason Miller – IDBL Promoter
2015 IDBL Schedule
18th annual Pingel Spring Nationals
April 24-26, 2015 M
aryland International Raceway
29th annual MTC Engineering Summer Nationals
May 29-31, 2015
Maryland International Raceway
15th annual WPGC Bike Fest
July 24-26, 2015
Maryland International Raceway
46th annual Orient Express Motorcycle U.S. Nationals
Sept 11-13, 2015
Atco Dragway
23rd annual DME Racing Fall Nationals
Oct 2-4, 2015
Maryland International Raceway
<a href="http://www.aperaceparts.com/">
<img style="border: 0px;" src="/wp-content/uploads/2013/11/APE.gif" width="448px" />
</a>