A week after going red in the NHRA Pro Stock Motorcycle final round, Angelle Sampey more than made up for it on Sunday in Norwalk, knocking off Joey Gladstone in the championship round with a standout pass of 6.861 at 197.13 on her Vance & Hines/Mission Foods Suzuki. It gave Sampey, a three-time world champ, her first victory of the season and 46th in her career. She reached the finals with round wins against Ron Tornow, defending world champ Matt Smith and Jerry Savoie, who picked up the win against Sampey last Sunday. But this weekend belonged to Sampey, and she led wire-to-wire against Gladstone to come through with a much-needed victory, which is her first at Summit Racing Equipment Motorsports Park.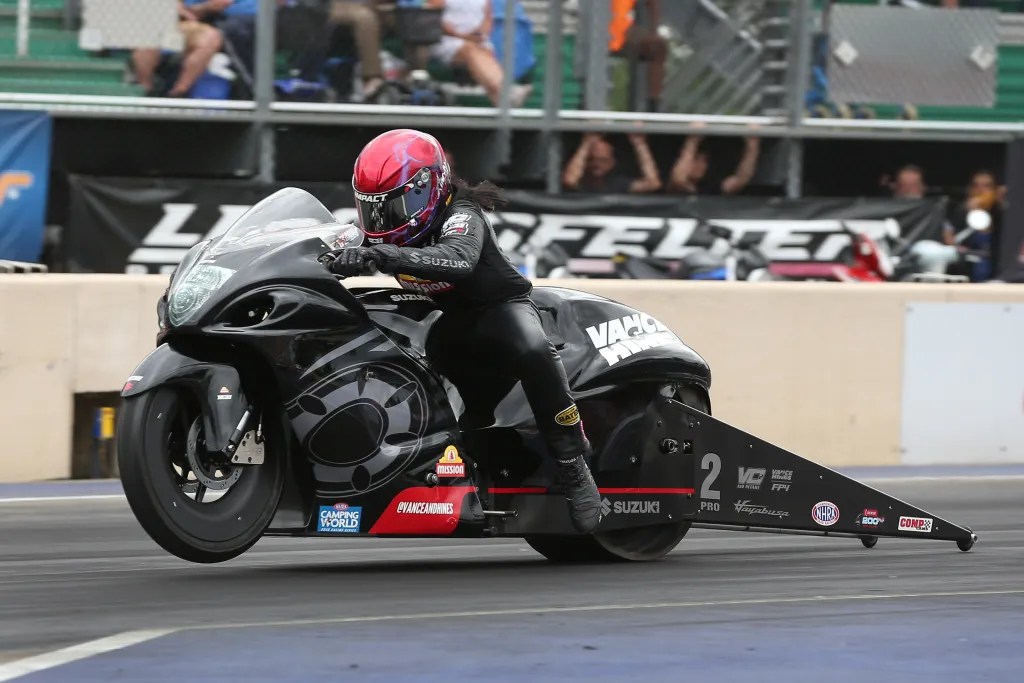 "You don't know the internal battle that I was going through since last week," Sampey said. "This was huge after the final in Bristol. I threw it away. I gave it to Jerry. It slipped through fingers and on Monday I prepared for this race. By Friday, I dug deep within myself. Twenty years ago, I wouldn't have had to do what I did mentally, but I've found that the biggest competitor these days is myself."
Looking for his first career win, Gladstone came up just short, but still managed a strong weekend, knocking off Jimmy Underdahl, Karen Stoffer and Hector Arana Jr. in his first final this season and third in his career. Steve Johnson maintained his points lead, but it closed to just 52 over Sampey.
The NHRA Camping World Drag Racing Series returns to action July 15-17 with the Dodge Power Brokers NHRA Mile-High Nationals at Bandimere Speedway in Denver. It is also the start of the famed three-race Western Swing.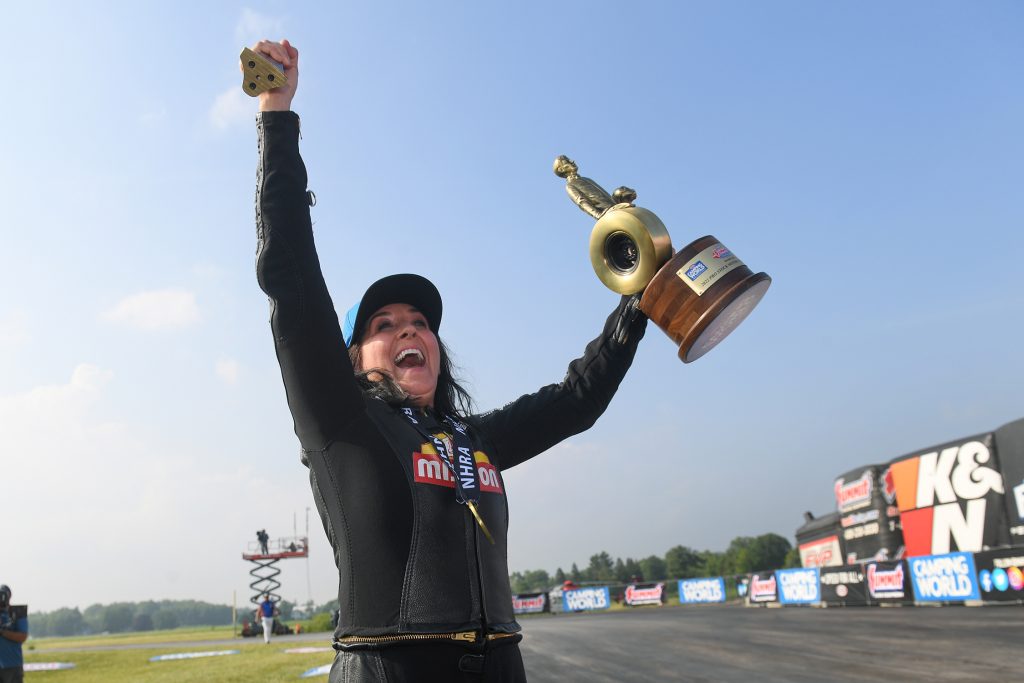 ROUND ONE — Hector Arana Jr, Buell, 6.916, 197.71 def. Marc Ingwersen, Broke; Angie Smith, 6.851, 199.29 def. Ryan Oehler, 7.078, 192.49; Jerry Savoie, Suzuki, 6.959, 192.69 def. Steve Johnson, Suzuki, 7.014, 195.48; Karen Stoffer, Suzuki, 6.873, 196.33 def. Chip Ellis, 6.908, 194.63; Angelle Sampey, Suzuki, 6.956, 168.51 def. Ron Tornow, Foul – Red Light; Joey Gladstone, Suzuki, 6.890, 195.62 def. Jim Underdahl, Suzuki, 6.988, 196.13; Eddie Krawiec, Suzuki, 6.864, 197.74 def. Jianna
Evaristo, Suzuki, 9.227, 98.93; Matt Smith, Suzuki, 6.879, 197.86 def. LE Tonglet, Suzuki, 6.938, 194.91;
QUARTERFINALS — Savoie, 6.991, 193.49 def. A. Smith, Foul – Red Light; Sampey, 6.890, 195.90 def. M. Smith, 6.947, 195.53; Gladstone, 6.907, 195.28 def. Stoffer, 6.855, 195.73; Arana Jr, 6.915, 197.13 def. Krawiec, 6.942, 176.60;
SEMIFINALS — Gladstone, 6.935, 193.82 def. Arana Jr, Foul – Red Light; Sampey, 6.855, 198.35 def. Savoie, 6.995, 183.29;
FINAL — Sampey, 6.861, 197.13 def. Gladstone, 6.928, 194.60.
Pro Stock Motorcycle. Points
1. Steve Johnson, 488; 2. Angelle Sampey, 436; 3. Karen Stoffer, 433; 4. Joey Gladstone, 385; 5. Angie Smith, 383; 6. Matt Smith, 379; 7. Eddie Krawiec, 377; 8. Jerry Savoie, 343; 9. Marc Ingwersen, 293; 10. Jim Underdahl, 259.
There are more videos on the Cycledrag Youtube channel (please subscribe here) and the Cycledrag.com Facebook page (Please like here) and more will be coming soon. Check back daily.