Angelle Sampey powered to an impressive victory on Sunday at the NHRA Thunder Valley Nationals at Bristol Dragway.
Sampey finished off a fantastic day in Pro Stock Motorcycle with her second victory in the Countdown to the Championship. In an all-female final round, Sampey beat Karen Stoffer on a holeshot on her Mission Foods/Vance & Hines Suzuki, as her run of 6.773-seconds at 196.85 held up. It gave Sampey her 45th career victory and second this season, as she pulled within 25 points of Matt Smith. That was a big moment, as was collecting the first Wally trophy for the class at Bristol. The category competed in exhibition races at the track in 1999 and 2000, but Sampey's win marked the first points race for Pro Stock Motorcycle in Thunder Valley.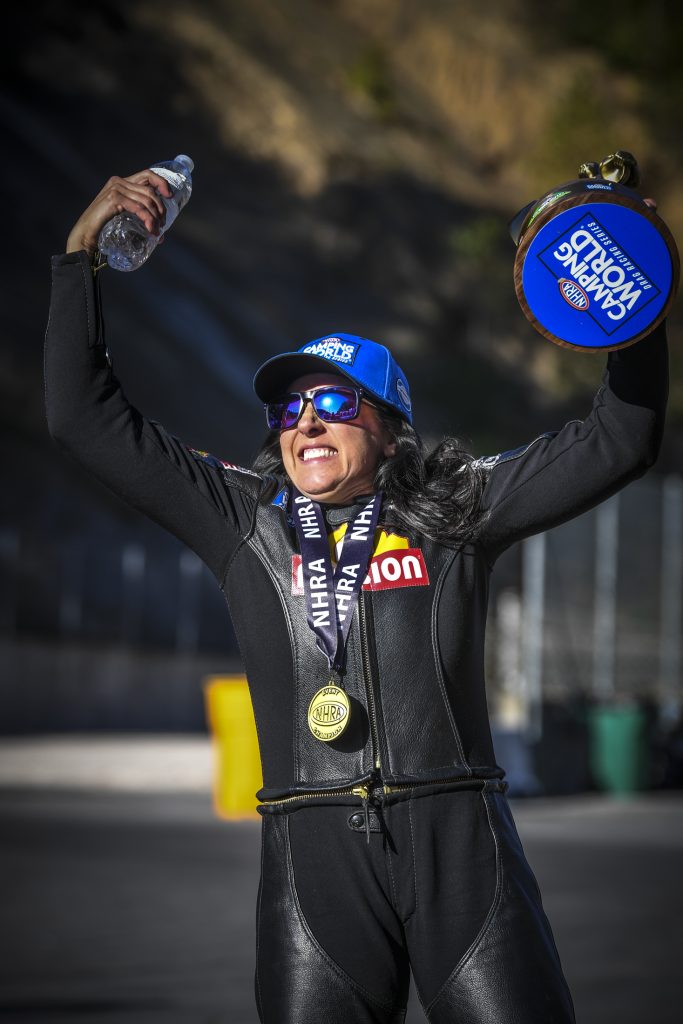 "I've been out here for so long, I've really learned to appreciate everything I get now," Sampey said. "When I win a race, the emotions are 100 percent genuine because it's a task to get it done. To get four round wins is really tough and it means so much to me. I love this sport so much and this team just works so hard. This mission was to catch back up in the points race and we made it happen. It was a fantastic day and it would be great to get the No. 1 back on the motorcycle."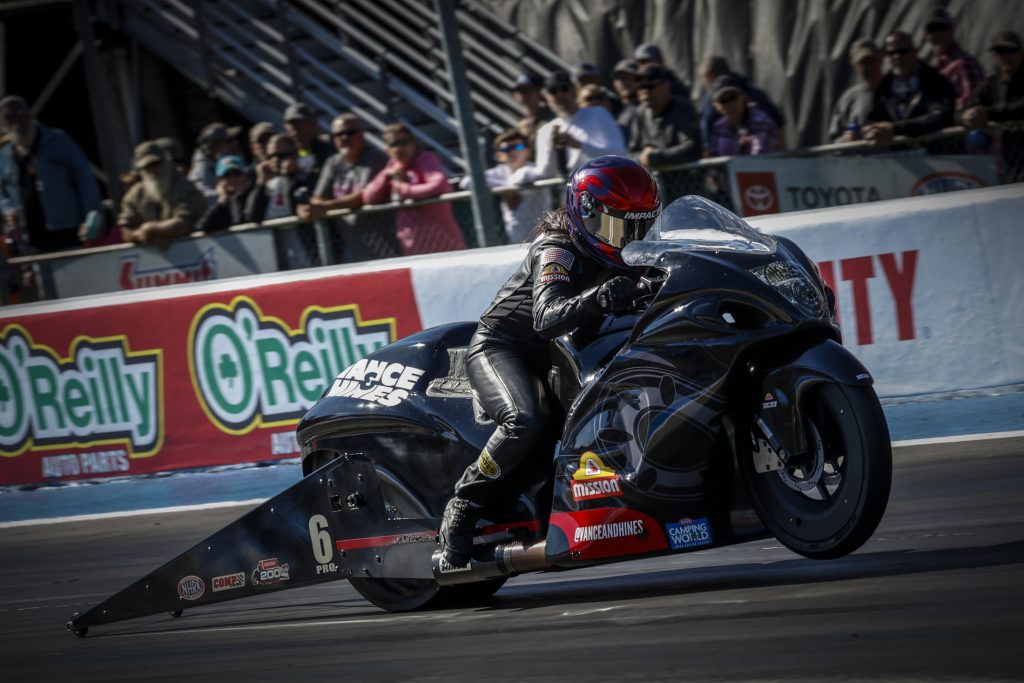 Sampey got to the final round with victories against Andrew Hines, Chris Bostick and Eddie Krawiec. Stoffer advanced to her second final round this season and 25th in her career thanks to round wins against Lance Bonham, Ron Tornow and points leader and defending world champ Smith in the semifinals. Smith also holds a 56-point lead against Steve Johnson heading to the final two events.
The NHRA Camping World Drag Racing Series returns to action Oct. 29-31 with the Dodge//SRT NHRA Nationals presented by Pennzoil at The Strip at Las Vegas Motor Speedway.
ROUND ONE — Chris Bostick, Suzuki, 6.994, 188.46 def. Charles Poskey, Suzuki, 7.117, no speed; Eddie Krawiec, Buell, 6.895, 196.93 def. Joey Gladstone, Suzuki, 6.998, 189.98; Kelly Clontz, Suzuki, 7.006, 186.36 def. Ryan Oehler, 8.503, 113.31; Ron Tornow, 6.984, 187.83 def. Steve Johnson, Suzuki, 13.777, 58.06; Angelle Sampey, Suzuki, 6.821, 195.62 def. Andrew Hines, Buell, 6.887, 195.70; Scotty Pollacheck, 6.894, 197.71 was unopposed; Matt Smith, 6.853, 199.08 def. Angie Smith, Broke – No Show;
Karen Stoffer, Suzuki, 7.160, 152.97 def. Lance Bonham, Buell, 7.778, 175.62;
QUARTERFINALS — Stoffer, 6.834, 195.14 def. Tornow, 7.054, 187.29; Krawiec, 6.844, 199.29 def. Pollacheck, 6.895, 198.23; M. Smith, 6.843, 198.20 def. Clontz, 6.965, 190.78; Sampey, 7.075, 154.33 def. Bostick, Foul – Red Light;
SEMIFINALS — Sampey, 6.814, 194.18 def. Krawiec, 7.964, 119.21; Stoffer, 6.785, 196.87 def. M. Smith, 6.895, 196.99;
FINAL — Sampey, 6.773, 196.85 def. Stoffer, 6.760, 197.83.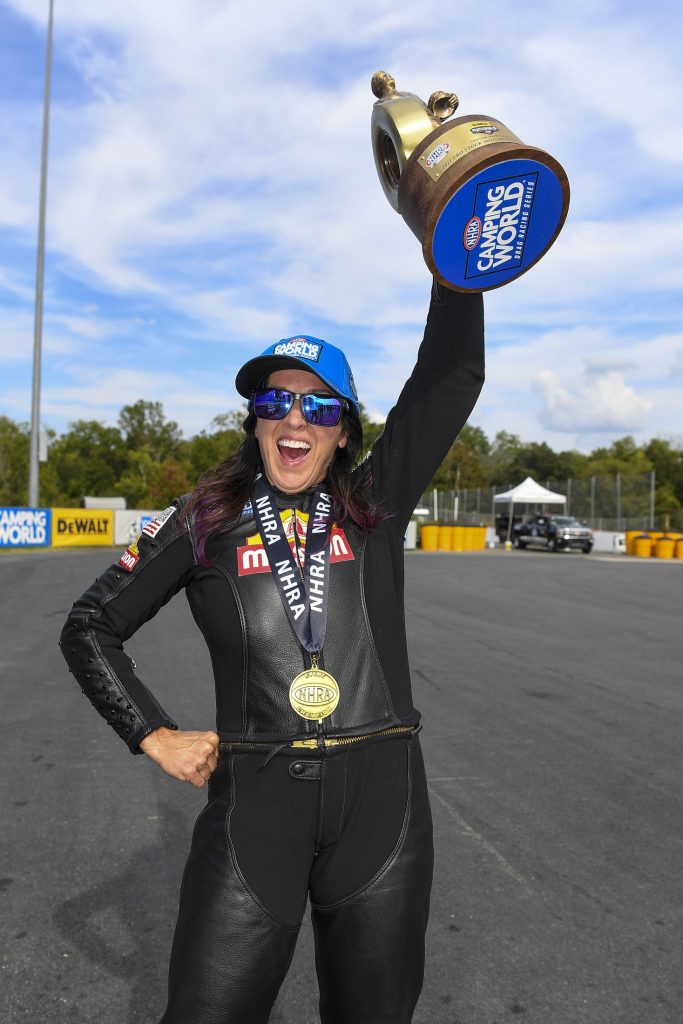 Pro Stock Motorcycle Points
1. Matt Smith, 2,451; 2. Angelle Sampey, 2,426; 3. Steve Johnson, 2,395; 4. Eddie Krawiec, 2,340; 5. Scotty Pollacheck, 2,291; 6. Karen Stoffer, 2,250; 7. Joey Gladstone, 2,235; 8. Angie Smith, 2,225; 9. Andrew Hines, 2,177; 10. Ryan Oehler, 2,150.
There are more videos on the Cycledrag Youtube channel (please subscribe here) and the Cycledrag.com Facebook page (Please like here) and more will be coming soon. Check back daily.
To take advantage of some amazing discounts at Brock's Performance, click – http://brocksperformance.com?aff=12
USE cycledrag5 coupon code.