The winningest female NHRA racer Angelle Sampey picked up her first career win on a Harley-Davidson at Lucas Oil Raceway at Indianapolis, racing to the Pro Stock Motorcycle winner's circle on Sunday at the Dodge NHRA Indy Nationals presented by Pennzoil.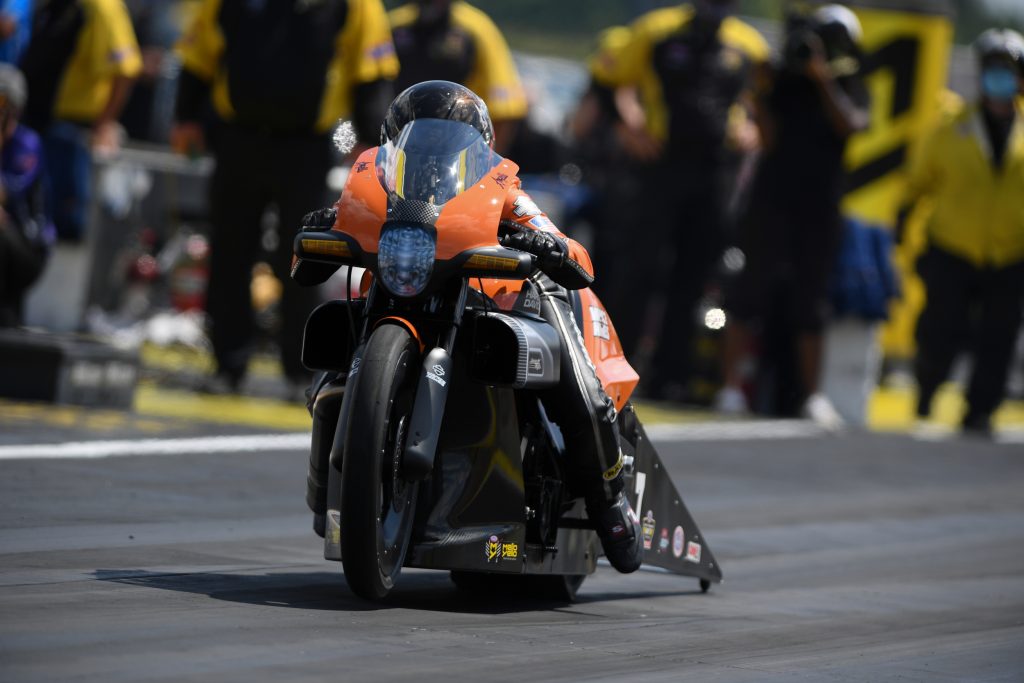 It was an emotional scene, as Sampey picked up her first win since 2016 and 43rd overall, going 6.880 at 196.07 in the final round on her Vance & Hines Harley-Davidson EBR to beat Chris Bostick. Sampey, who celebrated her birthday on Friday, won for the third time at Indy. She knocked off Steve Johnson, defending world champion Andrew Hines and Scotty Pollacheck to reach the final round, adding another victory in her impressive career as the NHRA's winningest female competitor.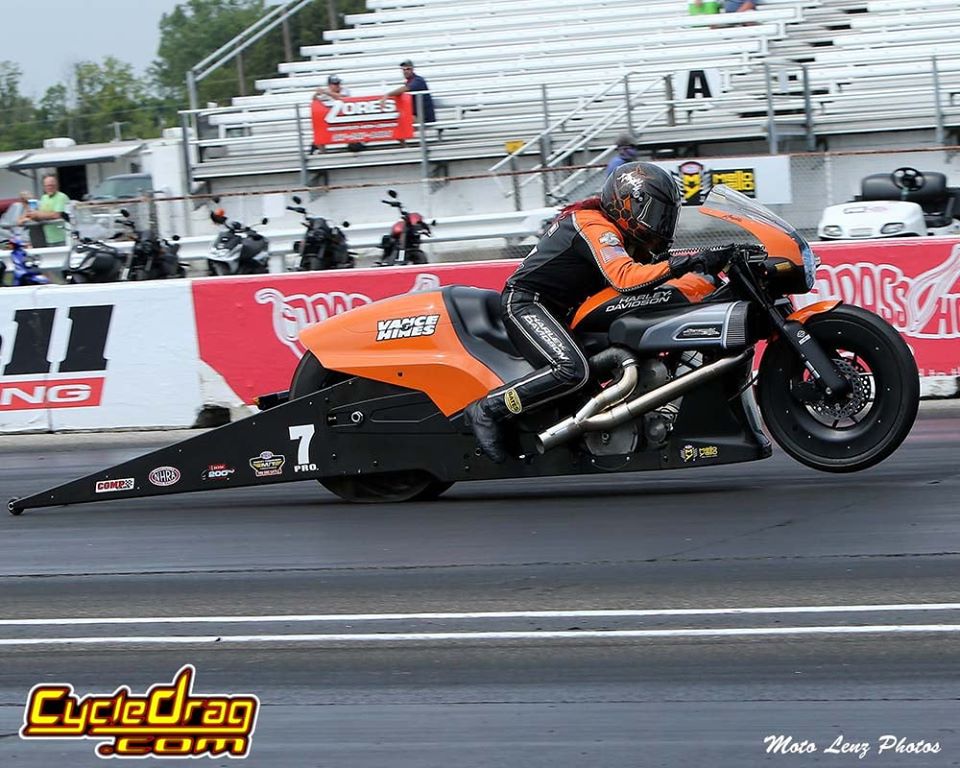 "I just tried to stay calm," said Sampey, who had a .001 reaction time in the finals. "I didn't know if we were going to get the bike fixed and I just said I'm going to stay calm. They got it fixed and thank you to Vance & Hines and Harley-Davidson. I told you I was going to do this."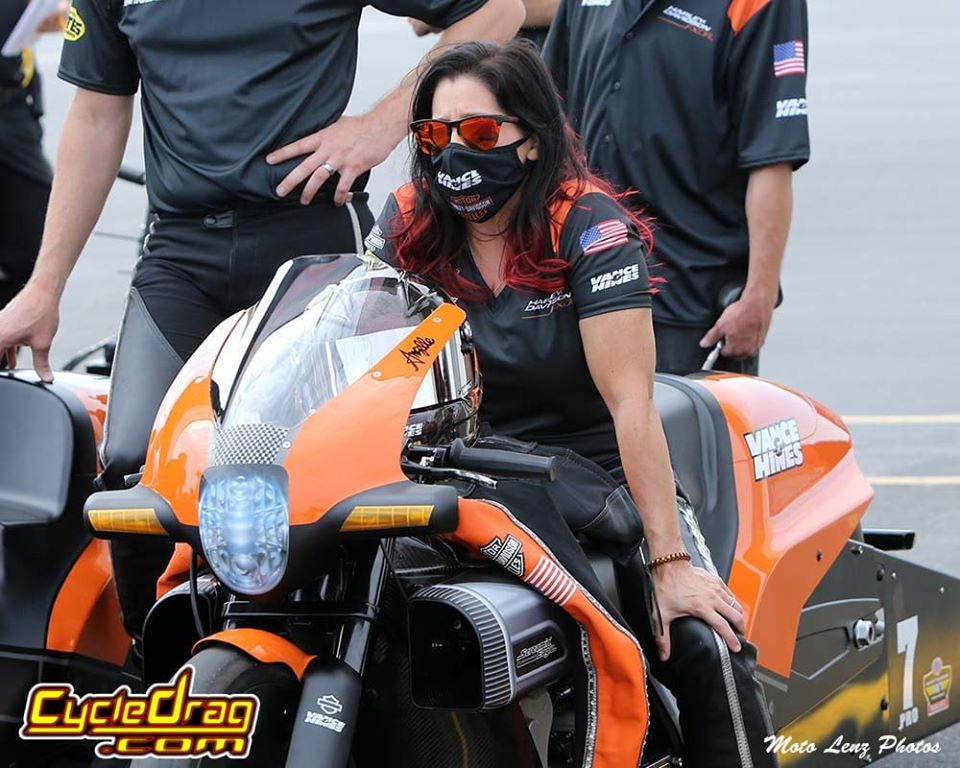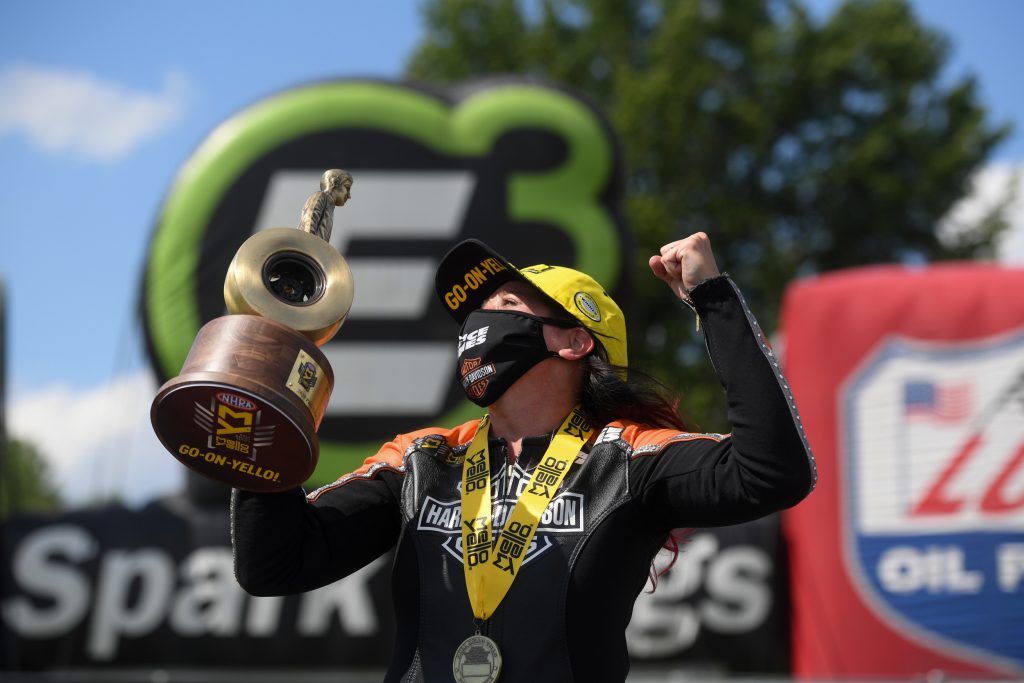 Bostick played the underdog role well on Sunday, reaching his first career final round with wins against Angie Smith, Ryan Oehler, who won the previous race in Indy, and multi-time champ Eddie Krawiec.
There are more videos on the Cycledrag Youtube channel (please subscribe here) and the Cycledrag.com Facebook page (Please like here) and more will be coming soon. Check back daily.



ROUND ONE — Hector Arana Jr, 6.897, 196.39 def. John Hall, Suzuki, 6.911, 194.80; Scotty Pollacheck, 6.861, 198.29 def. Jerry Savoie, Suzuki, 6.920, 194.46; Chris Bostick, Suzuki, 7.040, 191.40 def. Angie Smith, Broke; Andrew Hines, Harley-Davidson, 6.902, 196.85 def. Marc Ingwersen, Foul – Red Light; Angelle Sampey, Harley-Davidson, 6.934, 194.69 def. Steve Johnson, Suzuki, Broke – No Show; Ryan Oehler, 6.943, 196.59 def. David Barron, 7.103, 188.07; Eddie Krawiec, Harley-Davidson, 6.828, 198.03 def. Tiffany Butler, 7.439, 180.52; Matt Smith, 7.006, 195.73 def. Kelly Clontz, Suzuki, 7.309, 188.46;
QUARTERFINALS — Bostick, 7.009, 190.22 def. Oehler, 6.930, 195.96; Sampey, 6.908, 195.00 def. Hines, 6.995, 194.69; Pollacheck, 6.965, 194.63 def. M. Smith, 6.968, 195.79; Krawiec, 6.878, 198.12 def. Arana Jr, Foul – Red Light;
SEMIFINALS — Sampey, 6.879, 196.07 def. Pollacheck, 6.932, 196.16; Bostick, 6.977, 190.14 def. Krawiec, 7.181, 197.16;
FINAL — Sampey, 6.880, 196.07 def. Bostick, 6.950, 191.78.
Pro Stock Motorcycle Points
1. Ryan Oehler, 172; 2. Angelle Sampey, 168; 3. Matt Smith, 165; 4. Eddie Krawiec, 144; 5. Andrew Hines, 132; 6. Scotty Pollacheck, 128; 7. Hector Arana Jr, 125; 8. Chris Bostick, 123; 9. Angie Smith, 88; 10. John Hall, 65.