At a ground shaking press conference in Charlotte, Star Racing announced that Angelle will return to Star Racing for the entire 2015 Star Racing 35th Anniversary season as well as a few races in 2014.
High Performance Lubricants, a producer of high quality oil products based in Manteno, IL, has stepped up to the plate to serve as Angelle's primary sponsor for the NHRA Pro Stock Motorcycle events in Dallas (Sept. 19-21), St. Louis (Sept. 26-28) and Reading (Oct. 3-5).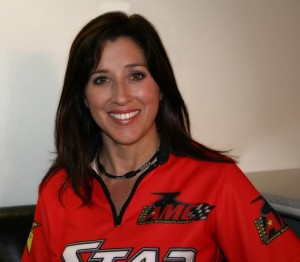 Angelle will once again bring her world class talent to one of the most prolific NHRA Pro Stock Motorcycle teams in NHRA History.
"I want to thank David Ward for expanding High Performance Lubricants involvement with Star Racing," beamed team owner George Bryce. "After the overwhelming response in Charlotte we hoped that a great company might want to join us for all of the excitement that has been generated with Angelle's return. I am so excited to go to Dallas where our riders Chaz Kennedy and Angelle will carry our rich tradition with NHRA to a new level."
"We are proud to be able to help Angelle return to competition," said David Ward of High Performance Lubrications. "When results matter, it is important to have an oil that won't let you down. The oil that Angelle uses in her hot rod motorcycle is very similar to the oil we make for fleet vehicles or for your own car. We wish Angelle and Star Racing all of the success in the world."
Since Saturday's press conference at ZMax Dragway and NHRA posting the press release on their Facebook page announcing Angelle's return there have been over 13,000 likes, 1000 comments and almost 2,000 shares adding to the media frenzy of her return.
"Thank you so much to everyone for their amazing support and excitement in my return to Star." exclaimed Angelle. "It was so crazy trying to keep the press conference a secret in Charlotte. I was not sure which race I would be returning but with High Performance Lubricants coming on board I will be racing in Dallas."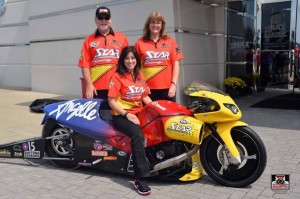 Angelle will be seeking her 42nd career win in Dallas that would bring her one step closer to Dave Shultz's class record of 45 wins. The Louisiana native understands the expectations but doesn't feel the pressure to win immediately.
"This is a dream come true to be back and I am taking these next three races to sharpen my skills every time I go down the track," added Angelle. "The rigors of getting my license reinstated last week and running a 6.90 at 193MPH in 95 degree weather showed me that I can still get the job done and my passion to win still burns inside. I am so excited to see all my fans in Dallas, St. Louis and Reading."
About Star Racing:
After more than 30 years in motorcycle drag racing, Star Racing and owner George Bryce have won six NHRA Pro Stock Motorcycle championships and 80 NHRA national event wins with 10 different riders. Their high performance motorcycle company is also a world-wide mail-order parts business, with engine building, a state-of-the-art machine shop and dyno services. Visit us at starracing.com
About High Performance Lubricants LLC:
High Performance Lubricants LLC is a non-traditional oil blender that focuses on building the best performing lubricant products coupled with outstanding customer service. High Performance Lubricant's products are blended in Manteno, IL in a state of the art blending facility. High Performance Lubricants focuses on the industrial, fleet, and racing markets. When the results matter it is important to have a product you can count on. Visit High Performance Lubricants at www.hplubricants.com or like us on Facebook @hplubricants
Angelle Fast Facts:
• Lives in Raceland, LA
• 44 years old
• Last time competed 2008
• Three-time NHRA Pro Stock Motorcycle Champion
• 41 NHRA national event wins (all-time winningest female)
• Husband Seth Drago, daughter Ava Jane (2011)
Star Racing Fast Facts:
• Based in Americus, Georgia
• Six-time NHRA Pro Stock Motorcycle Champions
• 80 NHRA national event wins with 10 different riders
• Owned by George & Jackie Bryce