June 25-26 marked the halfway point of the season for the AMRA's ProMod series and also
showed its biggest field of bikes this class has seen in several years.
Ryan Oehler laid down his third win in a row and stretched his points lead, nearly securing his second AMRA ProMod Championship.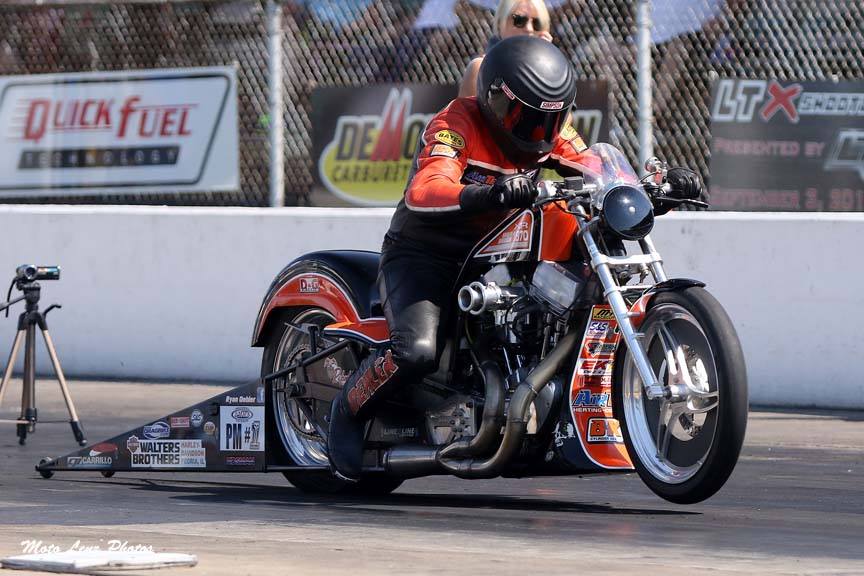 The intense heat wave made for a seriously hot weekend but the spectator turnout was huge and gave
everyone a real taste of summer. Track temps reached 130 degrees and air temp nearly 100 degrees
which played havoc on the riders all weekend.
Saturday's qualifying sessions was very exciting to watch. Several riders had trouble with their tune ups
and dealing with the extreme heat. Ryan Oehler 's first qualifying pass nearly ended his weekend,
breaking a rocker arm and lifter was not the way he planned on starting off his weekend. Ryan's crew
chief and team members Bad Brad and Doug Miller rushed to tear into the motor and were able to make
the repairs before round two. Ryan's next pass made up for his short comings of round one and laid
down the low ET of the weekend with an 8.45 at 153.20 mph and secured the number one qualifier spot
in this 10 bike field.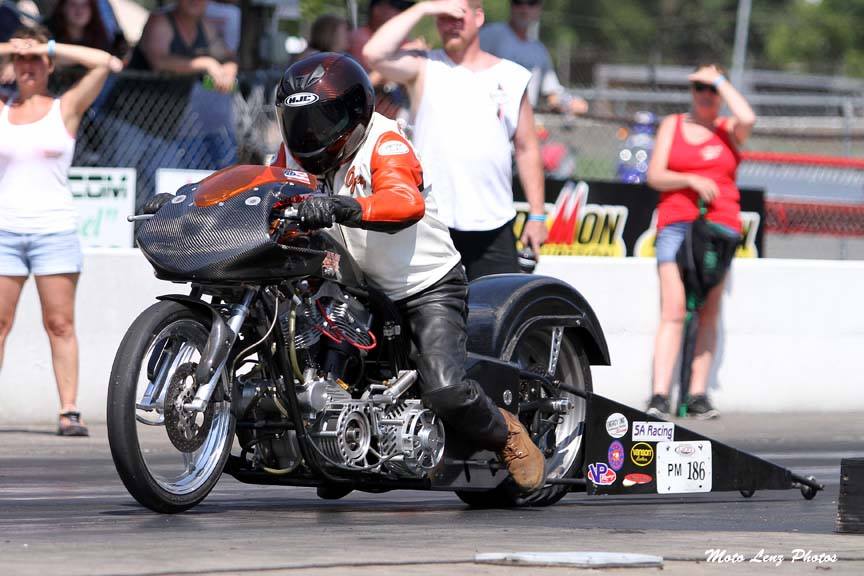 Gary Douglass was Mr. Consistent this past weekend and took the number two
qualifying spot with an ET of 8.58 at 158.61 mph. Running the fastest pass of the weekend, Douglass
racing showed that the team was turning out some serious power, especially under the extreme heat
conditions.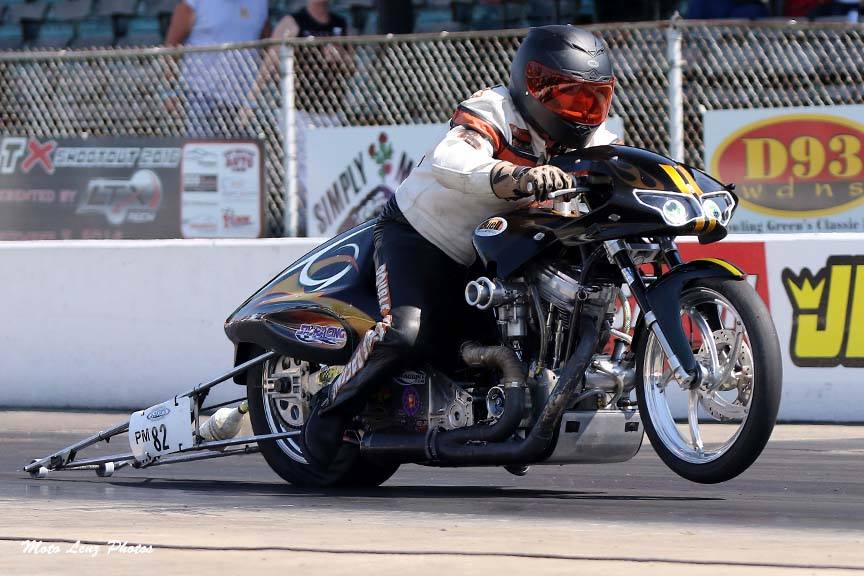 Shane Pendergrast came right out of the trailer with some very impressive passes but his
streak of taking the number one qualifier position came to an end this past weekend. This secured them
the number three spot with an ET of 8.59 at 154.99 mph.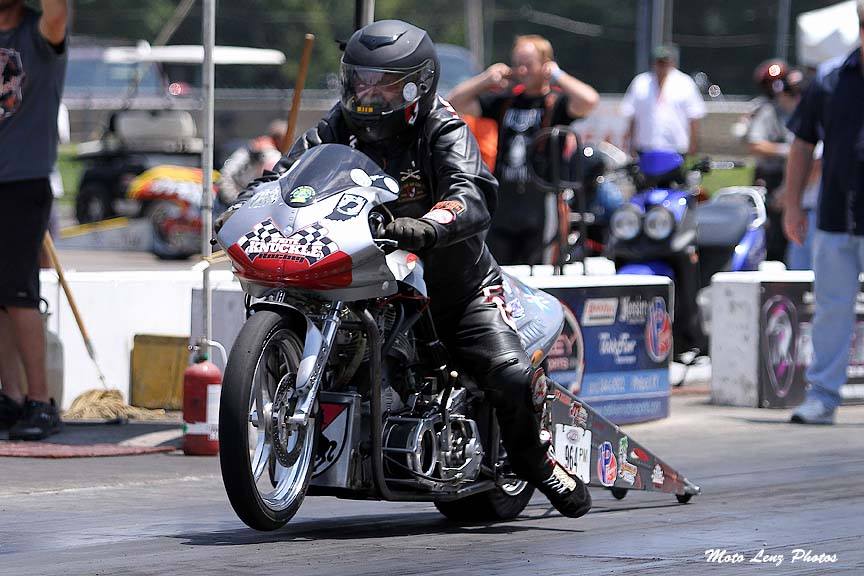 Jerry Lee Cloyd was looking very strong as usual and took the number four spot with an ET of 8.65 at 150.36 mph.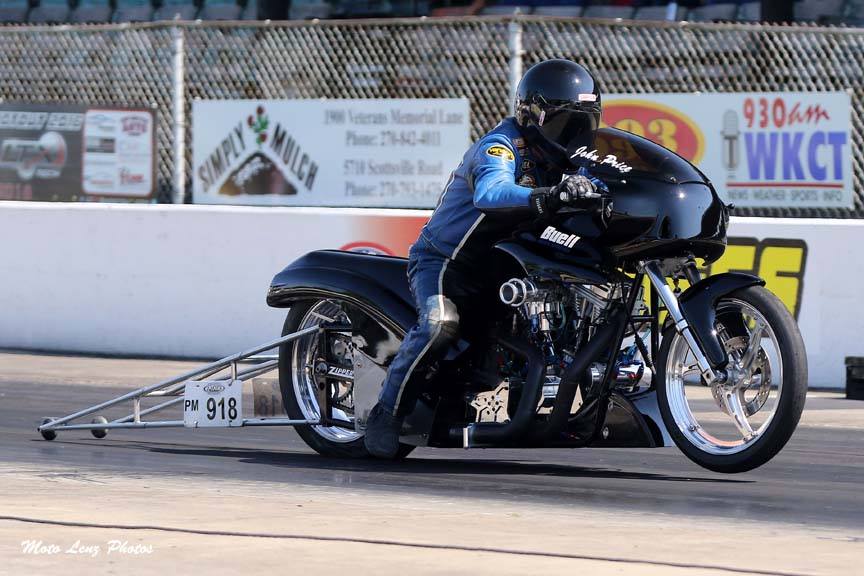 John Price made the long trip from Maryland making his first appearance of the season in this ProMod class. John was sitting pretty in
the middle of this ProMod field and took the number five spot with an ET of 8.72 at 151.85 mph.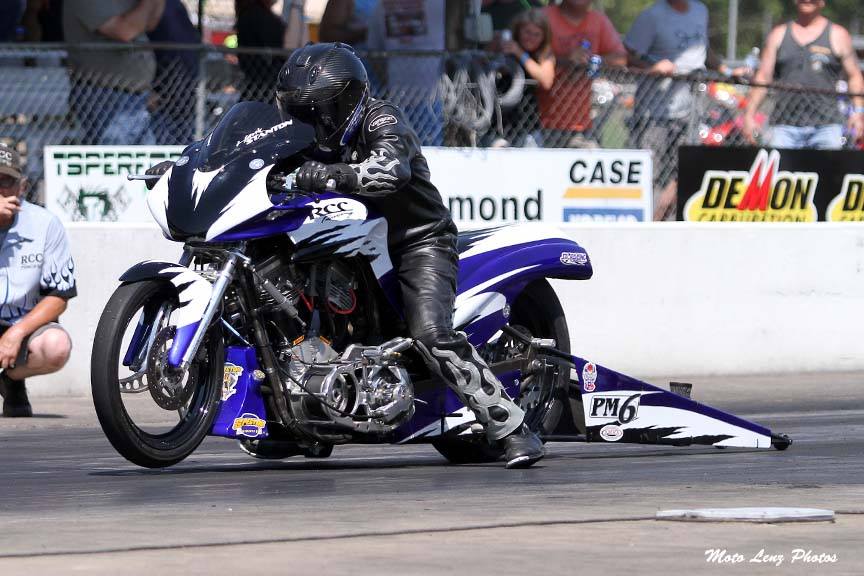 Hank Stanton also made the long trip from upstate New York and was happy to do so without having any
major mechanical problems on the road, for a change. Hank and crew chief Mike had a long night Friday
as they damaged the motor during testing. They broke a cam and lifter and had to thrash to make
repairs. Luckily, they had enough parts and were ready for qualifying on Saturday. Hank took the
number six spot with an ET of 8.76 at 143.37 and showed they were getting closer to making this
ProMod beast a contender once again.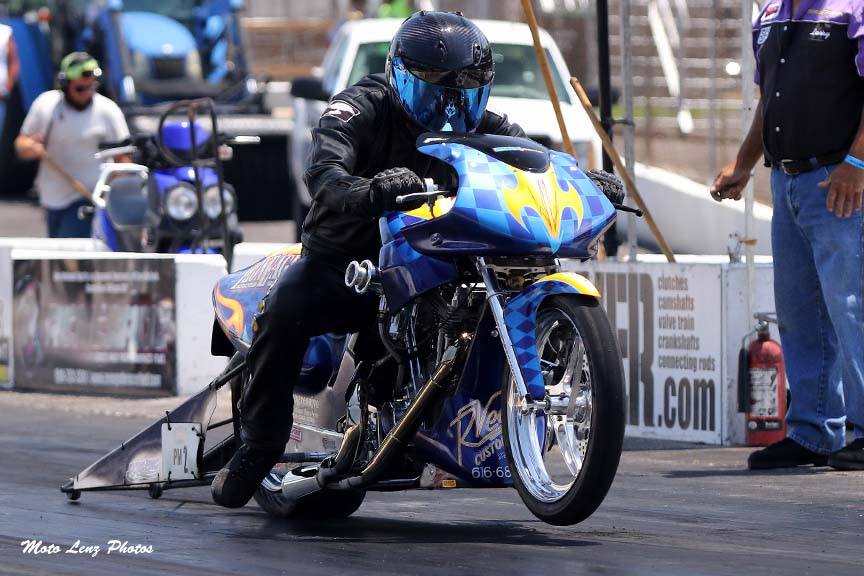 Team Iron Eagle and Clayton Danford struggled with mechanical issues and took the number seven spot with an ET of 8.99 at 153.33. Sitting in the number eight spot
was our favorite Cajun, Kyle Leblanc. Kyle has been working his butt off all season and is showing
forward progress. Kyle took the number eight spot with an ET of 9.20 at 144.52.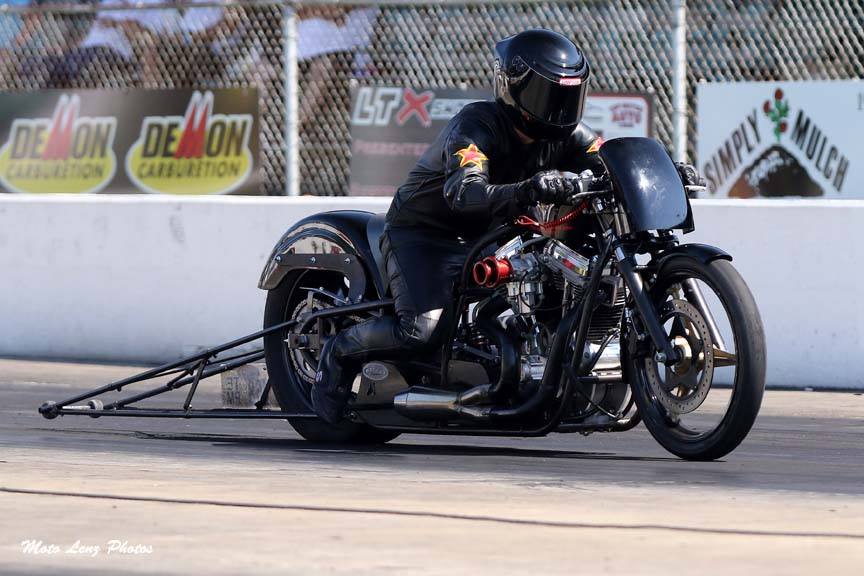 Justin Collier took the number nine spot and is still shaking down this fresh ProMod. Justin was able to lay down an ET of 9.44
at 137.19 and continues to show improvements. Rounding out this ProMod class was Larry Pesce.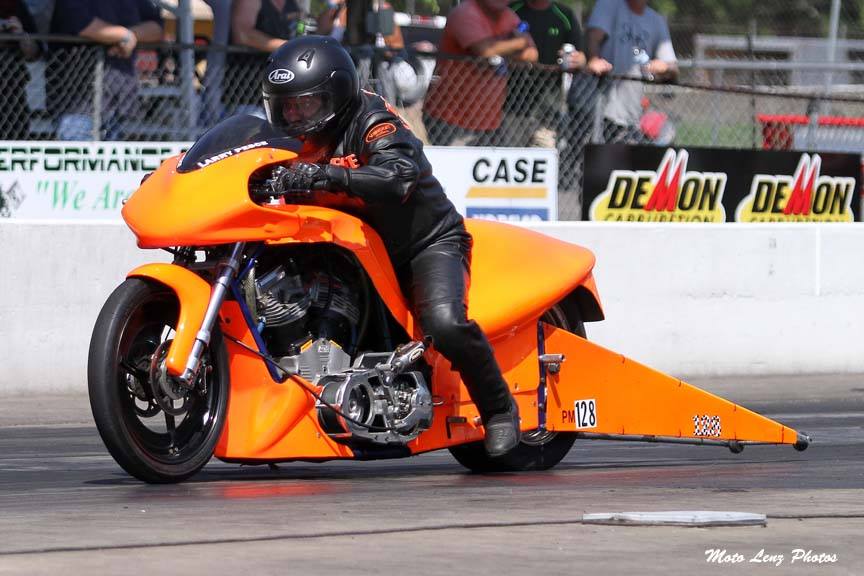 Larry had major clutch problems and fought through them all weekend but was able to come in with an ET of
9.52 at 138.84 mph.
Sunday wasn't any cooler than Saturday's qualifying session and if that wasn't bad enough, rain and
power failures plagued the track during the peak heat of the day. As race day got underway, the
ProMod's rolled into the staging lanes ready to do battle. Ryan Oehler and Larry Pesce faced off in
round one.
Ryan laid down another strong pass with an ET of 8.65 at 151.87and took the win moving
him into round two, where he would have a bye run. Larry Pesce had a failure on the line was unable to
make a full pass. Shane Pendergrast had a solo run due to Kyle Leblanc having a failure prior to round
one. Shane runs a low ET of round one with an ET of 8.57 at 153.70 mph. Jerry Lee lined up with
Clayton Danford for their first round show down. Jerry Lee was out first and took the round one win
with an ET of 8.67 at 150.70 mph to Clayton's 8.83 at 139.67 mph. Gary Douglass also moved into round
two when he took down Justin Collier. Gary runs a solid ET of 8.70 at 150.20 to Justin's 9.73 at 136.81.
John Price and Hank Stanton would be the final pair of round one. John Price runs a great pass of 8.94 at
147.73 and moves into round two. Hank had problems and was unable to full pass.
Round two was delayed due to a power failure. After generators were ran all over the place, it was time
to light'em up. Shane Pendergrast faced off with Jerry Lee. Jerry Lee goes deep on the stage and tried
to get in Shane's head. Jerry drops the hammer with a .02 light but Shane was right there. Shane takes
the win with an ET of 8.63 at 153.96 to Jerry's 8.73 at 150.13. Next up, Gary Douglass lined up with John
Price. Gary runs a great pass with an ET of 8.59 at 154.62 to John's 8.73 at 149.96. Ryan Oehler pulls
into the water box and moved up to the line as quick as he could. Rain was just starting to sprinkle and
Ryan was going to make it to the end of the track even if he had to have an umbrella. Ryan runs an ET of
8.59 at 153.51 and moves into the semifinals.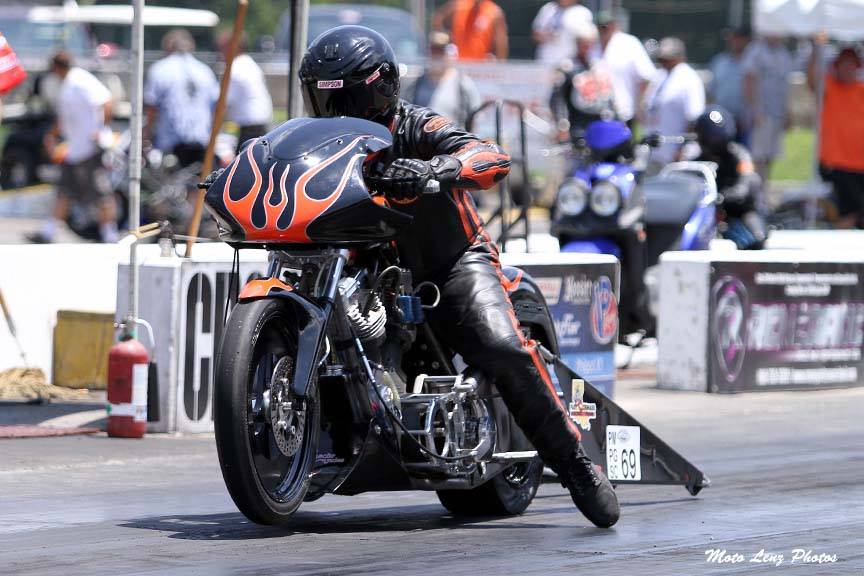 After a two hour rain delay, the semifinals were upon us. Ryan Oehler would faceoff with teammate
Shane Pendergrast. Ryan lays down a very impressive run with an ET of 8.47 at 153.84 and puts Shane
on the trailer with an ET of 8.62 at 154.00. Next up was Gary Douglass with a bye run. Gary breaks the
beam and pushed his ProMod machine back into the staging lanes and saves the bullet for the finals.
Calling all final rounds to the staging lanes rang out through the PA system and it was time to see who
would bring home the big check for this ProMod class. Ryan Oehler and Gary Douglass line up and let it
rip. Gary Douglass knew he had to cut a light and get a jump on Ryan after seeing his blazing pass from
the prior round. Gary was just a lilttle early and goes red with a reaction time of -.005 red but run a
good pass of 8.86 at 147.58. Ryan runs another solid pass of 8.55 at 152.71 and takes his third win in a
row.
The ProMod class has been growing and becoming stronger and stronger with quicker ET's and more
competitors. This would not be possible without the support of so many great sponsors: Capone
Racing, Moto lenz photos, Shane Pendergrast and John Arnold of Double Trouble Racing, Ryan Oehler
Racing, B&K Cylinder Heads, the AMRA Calendar fundraiser, and Fog Designs. Come check out these
wicked ProMod machines at the next AMRA race to be held at Martin Michigan's US 131 Motorsports
Park, July 23-24.