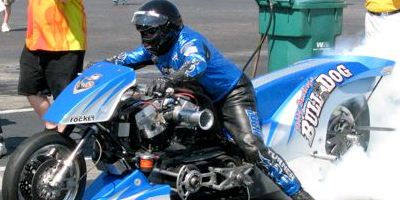 Different logo, same great race.  That's Rockingham Dragway track owner Steve Earwood's mantra for the AMRA  Nitro Harley Nationals to be contested at his racetrack, Oct. 11-13, 2013.
It took little time for American Motorcycle Racing Association President Marty Vandenheuvel to step in after the All-Harley Drag Racing Association (AHDRA) announced that it was ceasing operations.  The AHDRA had sanctioned a fall race at The Rock for 25 years.
"Rockingham Dragway has a rich history with Harley Davidson and Harley racers," Earwood said, "and that relationship won't end with the demise of the AHDRA.  Although we're saddened by AHDRA's plight, we're looking forward to many more years of success with Marty and Jayne."
The AMRA event will feature the popular Top Fuel and Pro Fuel classes as well as AMRA Pro Gas classes and racing for a variety of sportsman titles.  Doug Horne of Aberdeen, Md., the AHDRA Champion the last two years in both Top Fuel and Pro Fuel, has been installed as the early favorite in the Nitro Harley Nationals, the last of eight races in the AMRA series.
Other likely Top Fuel entrants are Larry "Drums" Brancaccio of Nutley, N.J., former champion Takeshi Shigematsu of Iyo, Ehime, Japan and local favorite Tommy Grimes of Pfafftown, N.C., who will ride for Harley Hall-of-Famer Ray Price of Raleigh.
In addition to the change in designation for the event, Earwood announced that the Johnny Vickers Hawaya Racing Nitro Riding School will hold classes at Rockingham in advance of the race.