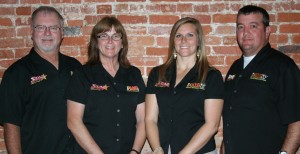 The most recent development for the future Americus Motorsports Complex is the addition of a project manager who will guide the development team through a multidimensional feasibility study, the financial process and the Phase I Environmental inspections, while continuing revisions to the business plan and additional market research for this 470-acre world class, multi-use facility located across from South Georgia Technical College.
Throughout the past several years, the AMC team, led by local Star Racing owners George and Jackie Bryce, has made enormous headway on the project by completing preliminary market research, land acquisition, zoning approval, FAA Runway Protection Zone approval, U.S. Army Corp of Engineers wetlands determination, topographical mapping, preliminary engineering and budgets, and marketing and promotional initiatives throughout the global motorsports industry.
The Bryces, who own and manage/operate a two-bike National Hot Rod Association (NHRA) Pro Stock Motorcycle drag racing team, drag racing school, machine shop, Harley-Davidson upgrade program, and mail-order parts business, have enlisted the expertise of new AMC Project Manager Jay Merritt to help facilitate the last few steps in the planning process.
Merritt's extensive background in business consulting and corporate banking will enhance the efforts already being made by the AMC team to make this multi-million dollar venture a complete success.
"I'm really excited for the opportunity to work with the Americus Motorsports Complex. The project has the potential to provide one of the largest economic impacts that Southwest Georgia has experienced. It's such a unique project with so many different possibilities. I think it's something that will truly benefit this community as well as the surrounding communities. This project will put Americus on the map in a big way. With my background in business consulting, corporate banking and project management, I hope to bring a different perspective to the team and to help guide AMC from the planning through the implementation stages," Merritt said.
The team plans to make an additional big announcement about the project after the first of the year in January that will offer more concrete information about the timeline and other details.
As the AMC team's newest member, Merritt will attend the Race Track Business Conference in December with Jackie Bryce and AMC Director of Marketing and Public Relations Jami Houston. This one-day conference offers informative sessions from other racing industry leaders covering all aspects of track ownership and operation. The conference is held in conjunction with the Performance Racing Industry Trade Show, one of the world's largest motorsports industry trade shows with 1,100 exhibiting motorsports companies and more than 40,000 buyers from more than 70 countries.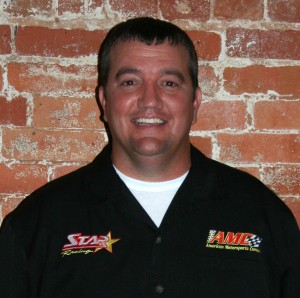 Originally from Fitzgerald, Ga., Merritt earned his Bachelor of Business Administration in Accounting from Georgia Southwestern State University. In 2006, he received his Master's in Business Administration from Augusta State University, graduating first in his class. He also has a certificate from Louisiana State University Graduate School of Banking.
In addition to his educational background, Merritt has more than 13 years of business and finance experience. As a commercial lender, he worked with hundreds of small businesses by providing innovative solutions to their financial needs. He became the U.S. Small Business Administration (SBA) and U.S. Department of Agriculture (USDA) loan specialist and the go-to resource for unique ideas.
During his early career, Merritt was recognized as one of the regional leaders with a large retail bank. The centers under his management lead the 42 center region in customer satisfaction and employee satisfaction.
Merritt also served as a controller for a high growth company. His expertise in accounting systems included converting and implementing new cost tracking systems.
As a part of his implementation of policy and procedure for the human resources division, Merritt provided guidance and coaching to help middle management motivate and inspire their people.
He provided sustainable strategies to control costs and planning for debt restructuring and cash flow. These strategies were implemented to ensure that there was constant evaluation of cash flow needs and key indicators to manage and fund an aggressive growth plan.
Aside from his career in business, Merritt is also a United States Marine, receiving his honorable discharge in 2003 after eight years of service. During his service, he was awarded three meritorious promotions and two Marine of the Quarter awards.
His passions are leadership and working with people, believing that human capital is the most important asset to a business. Merritt's areas of expertise include customer service, leadership, cost accounting, cash flow management, financial analysis, financial forecasting, contracting, government contracting, debt structure/re-structure, loan packaging, process improvement and overall project management.
Merritt recently launched his own company, Merritt Insurance, Investments, and Consulting, in October of 2013. Prior to this, he was employed as a business consultant for the Small Business Development Center (SBDC).
He is the proud husband of Amanda Shearl Merritt, D.M.D, and his most cherished title is father of his two-year-old son Dalton Jay Merritt.
The future Americus Motorsports Complex (AMC) is a multi-use world class motorsports facility in Southwest Georgia on 470 acres in Americus, neighboring the Jimmy Carter Regional Airport and South Georgia Technical College. The complex, designed for car and motorcycle use, will include a dragstrip, road race course, training centers, driving schools, a research and development Technology Park, condominiums and an outdoor amphitheater. Star Racing owners and NHRA veterans George and Jackie Bryce are utilizing their more than 40 years of motorsports experience and over 30 successful years in the motorcycle drag racing industry to develop the Americus Motorsports Complex.