Former Pro Stock Motorcycle racer Adam Arana recently graduated from the United States Coast Guard Training Center in Cape May, N.J., and will begin his full-time service later this week. Seaman Apprentice (E-2) Arana, 23, will serve on the USCGC Cheyenne, a river-buoy tender, based in St. Louis. He is due to report there March 6.
"Boot camp was intense but the experience was worth it," Arana said. "The days were long, very long, for about a month. I was… averaging four hours of sleep and waking up at 5-5:30 in the morning — and getting woken up by a whistle. Getting woken up by a whistle is the worst way to get woken up.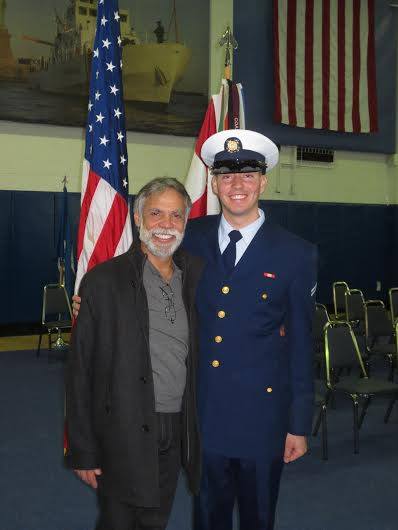 "They yelled at all times and we had to yell at all times. There is no talking normal to them. Every time you talk, it was yelling. And it wasn't talking loudly: They would watch your face, and if they didn't see veins popping out of your neck and you straining every single muscle in your face, you weren't talking to them loud enough. I lost my voice."
But Arana fought through and was one of a class of 49 who graduated. Eighty-five started in Arana's company. "I never thought I wanted to quit because I knew this was what I wanted to do," Arana said. "If there was any doubt in your mind, there would be a good chance you would end up quitting. If you weren't mentally committed to doing this, they would break you and you would want to quit because it wasn't easy."
Arana was joined by his family — father Hector Arana Sr., mother Grace Arana, brother Hector Arana Jr., and sister Abigail Arana — and girlfriend Jessica Outten at graduation last Friday. "Going into it, I thought it would be like every other graduation," Arana said. "But it was not like anything I had ever gone through, so it meant a lot."
USCGC Cheyenne serves the Mississippi, Missouri, and Kaskaskia rivers in Illinois and Missouri, servicing buoys and other navigation aids, as well as tendering some law-enforcement search and rescue activities. Arana will serve aboard the Cheyenne for an undetermined amount of time before moving to Coast Guard "A" School, where he will learn a specific trade.
The NHRA Mello Yello Drag Racing Series season starts for Pro Stock Motorcycle next weekend in Gainesville, Fla., and Arana admitted he's missing the rush to get ready, but he's also excited about his new position. "It has hit me a little bit that I won't be racing," Arana said. "It kinda stinks, to be honest. I was looking at some pictures and thought, 'Man, I'm going to miss this more than I thought I was.' But I'll be going from one exciting profession to another, so it'll be good."