Allan Henry is looking forward to taking on the interstate visitors at the Top End Nationals next weekend, as he seeks to secure back-to-back ANDRA Christmas Trees in Modified Bike.
The July 15/16 event at the Hidden Valley Drag Strip will mark the opening round of the 2022/2023 Summit Racing Equipment Sportsman Series, with round two to be held the very next weekend at the Alice Springs Inland Dragway (July 23/24).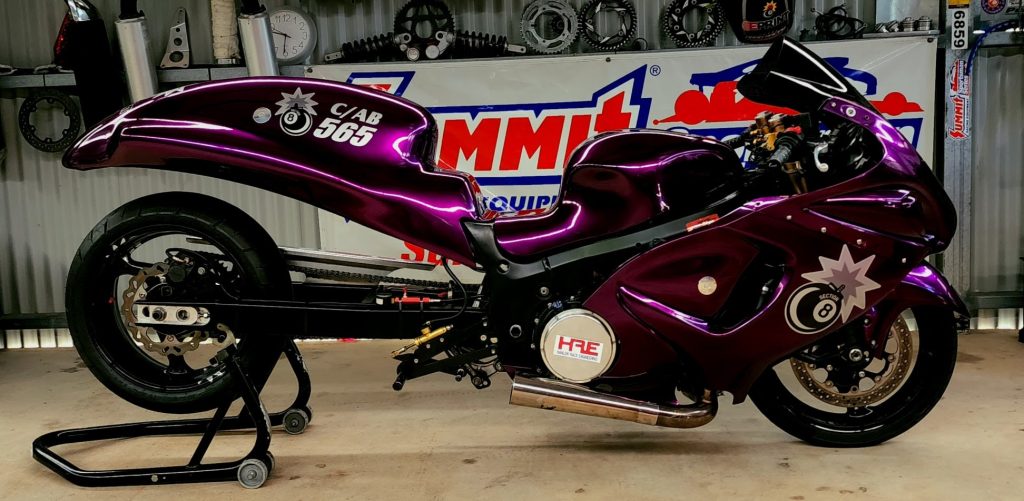 66-year-old Henry and his Section 8 Racing crew have been hard at work on the Section 8 Hayabusa and head to the Top End Nationals with a new program and plenty of confidence.
"We are feeling pretty good ahead of the event. We have made some changes to our bike in the off-season which we have been coming to grips with, and at our last event we PBed in both time and speed, so we are feeling pretty confident heading to the Top End Nationals," said the racer from Berry Springs in the NT.
"We Top Qualified at the Top End Nationals last year before going on to win. It was great to finally get a Christmas Tree trophy after getting so close several times, and the Decoglaze Glass Splashbacks Top Qualifier medal was a bonus as well.
"We are out there to win it again this weekend for sure – we definitely want to try and collect another Christmas Tree if we can.
"It is my home track, so these guys are coming in to play in my backyard and I am really looking forward to it – this might sound silly, but they have to beat me, I don't have to beat them. It might sound a bit headcase-ish to say that, but if you don't have that confidence, you are going to lose."
Section 8 Racing is a true team effort, with Henry – who has been racing since 1976 – backed up by an enthusiastic and talented crew.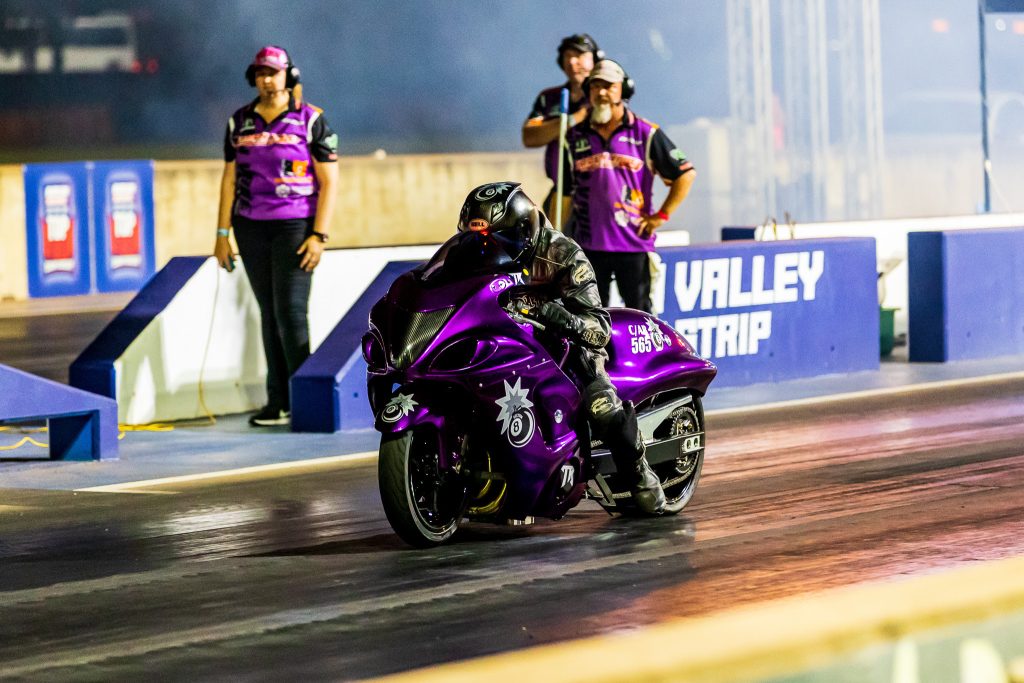 "This bike requires quite a bit of love and care on the startline, it is a bit of handful, so it really is a team effort," Henry said.
"We are getting down to the low eights now. It is still basically a standard engine with a set of cams in.
"We recently had the legend, Jim Hanlon, do the cylinder head and that was a fantastic effort from him – we were around the mid-eights and now I think there is an eight-twenty in it with the right air, so that is a huge step for just a cylinder head/cam set up.
"We are working on it all the time trying to squeeze the last bit out of it, especially my crew chief Adam Rapp – he is right on it and really keen.
"I say it all the time – all I really do is twist the throttle and hit the shift points; the crew does the rest!
"We are leaving the line at full throttle; we have it pinned at the stop and dump the clutch, so it isn't like you are riding it gently away – so it is very important to get the clutch and the stop right, otherwise you are looking at sky, road, ambulance!
"It is exciting, it gets your heart pumping! But I couldn't do it on my own – I have to thank my wife Mary-Rose for all of her support, and my crew – Adam, Sam, Theo, and also Stan at EPrint who always does a great job."
The 2022/2023 Summit Racing Equipment Sportsman Series season will run over 10 rounds, kicking off at Darwin's Hidden Valley Drag Strip next weekend (July 15/16) before heading to Alice Springs Inland Dragway (July 23/24).
There are more videos on the Cycledrag Youtube channel (please subscribe here) and the Cycledrag.com Facebook page (Please like here) and more will be coming soon. Check back daily.
To take advantage of some amazing discounts at Brock's Performance, click – http://brocksperformance.com?aff=12
USE cycledrag5 coupon code.