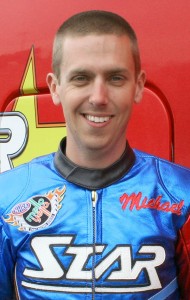 The Sovereign-Star Racing team will continue their championship run in the NHRA Mello Yello Series Pro Stock Motorcycle class this weekend Sept. 27-29 at the AAA Insurance NHRA Midwest Nationals with one less driver than when they started the Countdown to the Championship.
In an unanticipated Tuesday morning phone call, the team's two-year racer No. 6 Scotty Pollacheck informed team co-owner George Bryce of his decision to resign as the Sovereign-Star Racing driver for the remaining four races of the Countdown. Pollacheck stated that he will continue racing independently in the Countdown on a Pro Stock Motorcycle purchased from Matt Smith Racing, beginning with this weekend's event at Gateway Motorsports Park in St. Louis, Mo.
As the media attention heightens from this sudden announcement, Sovereign-Star Racing's remaining top 10 championship contender, No. 5 Michael Ray, is keeping focused on his responsibilities as a driver.
"I plan on doing what I'm expected to do and being the best driver I can be. There's going to be a lot of drama and turmoil this weekend, but it's business as usual for me. Regardless of what's going on, I'm expected to show up in our pit, put my helmet on and go out there and drive," Ray said.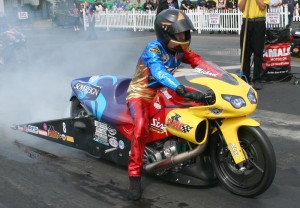 So far during his 2013 season with Sovereign-Star Racing, Ray has earned two national event wins, two other semifinal round appearances, two No. 1 qualifiers, low ET for the Norwalk event, and the top speed for Norwalk that also set a new track record. For the last eight races, Ray has also maintained a position within the top five competitors in the Pro Stock Motorcycle points standings, holding the No. 2 position for three consecutive races.
"At this point, Michael (Ray) and I are going to make a plan on what to focus on and how to keep our goals in sight while blocking out the unnecessary. I'm going to spend the extra time that I have now to focus on making Michael do the best job that he possibly can and to make his motorcycle go really fast," Bryce said.
Ray was just as shocked as his fellow crewmembers by Pollacheck's last-minute decision.
"You fulfill your obligation to the team that stood behind you when you were successful and when you were just starting out. That's what I expected from Scotty this year with us," Ray said.
Due to unexpected recent developments, it is still unclear whether 19-year-old Sovereign-Star Racing crew member and developmental driver Chaz Kennedy will be piloting the team's second Buell left open by Pollacheck's departure. More information will be released as it becomes available.
The 2013 Sovereign-Star Racing Team is a partnership between Georgia-based Star Racing and the Hungarian-based Sovereign Racing Team, the 2011 UEM European Pro Stock Bike Championship Team, owned by sugar distributor Jenõ Rujp.
The Sovereign-Star Racing Team would like to thank the following sponsors: Sovereign, Star Racing, Americus Motorsports Complex, S&S Cycle, Daytona Sensors, Worldwide Bearings, CP Pistons, Cometic Gaskets, and Uncle Hal Gottspeed Racing.