The 28th annual DME Racing Fall Nationals concluded the 2020 race season, crowning twelve champions at Maryland International Raceway (MDIR).
The third year of XDA faced a pandemic, mother nature, and decrees that did not allow spectators at two of their events. And despite all this adversity, the XDA season was filled with tremendous enthusiasm. 2020 produced record turnouts, new classes, new racers, first-time winners, first-time champions, and more records broken than any other motorcycle drag racing series.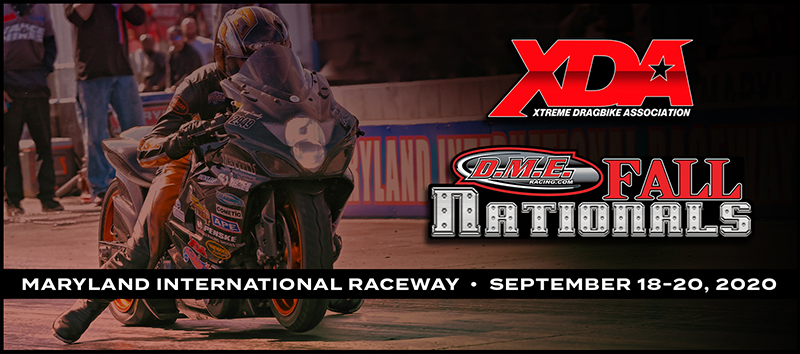 XDA has released its 2021 motorcycle drag racing schedule which now has an October date, expanding the series to seven events. With the additional event, XDA will return to Virginia Motorsports Park three times next year, while still holding four events at Maryland International Raceway. XDA will continue its consistent format of keeping races four weeks apart; get these dates on your calendar now!
April 23-25 / PFR Spring Nationals / MDIR
May 21-23 / MTC Summer Nationals / VMP
June 18-20 / FuelTech Superbike Showdown / MDIR
July 23-25 / WPGC Bike Fest / MDIR
August 20-22 / Bike Bash / VMP
September 10-12 / Bike Brawl / VMP
October 8-10 / DME Racing Fall Nationals / MDIR
With only three events this year and different winners at each event, it was a roller coaster ride in Orient Express Pro Street. Still, Jeremy Teasley was able to defend his championship title while retaining his 'Quickest in the World' status on the DME Racing GSX-R1000.
With Moore out in round one, Teasley, Williford, Greg Wallace, and Ryan Schnitz were still hunting for the championship. In round two of eliminations, Wallace and Schnitz would lose their rounds and pare down the championship chase to an all too familiar Williford vs. Teasley battle. Then in round three Teasley won his match against Justin Shakir to clinch the Champion chase. Even if Williford would go on to win, he would still be twenty points behind Teasley.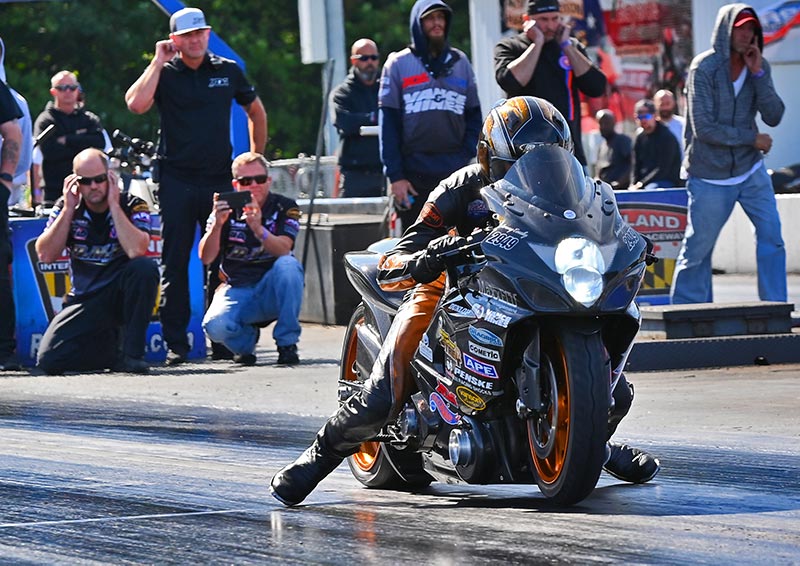 With the two quickest bikes on the property coming head to head, this would be the round everyone was waiting for. Williford cut his best light of the weekend and ran a 6.527 at 225 mph that Teasley couldn't counter. The DME Racing rocket tried to launch to the sky at the eighth-mile that Teasley had to fight back to the ground allowing Williford to gain ground and win the round.
On the other side of the ladder, Jason Dunigan had his best weekend of the year, qualifying fourth with a personal best of 6.620. Dunigan took out Bonitatis, Ryan Hable and Tony Ficher on his way to the final. With Williford taking out his teammate the round before, Dunigan was looking for his first win of the year. Both riders shot out from the tree and stayed side-by-side, making it an anxiety filled 6 seconds. At the 1000-foot mark, Dunigan's Hayabusa got out of the groove as he fought the bike from heading left into the other lane costing him precious ET and the win running 6.709. Williford took the stripe with a 6.513 at 225 mph putting Williford Racing back in the Winner's Circle.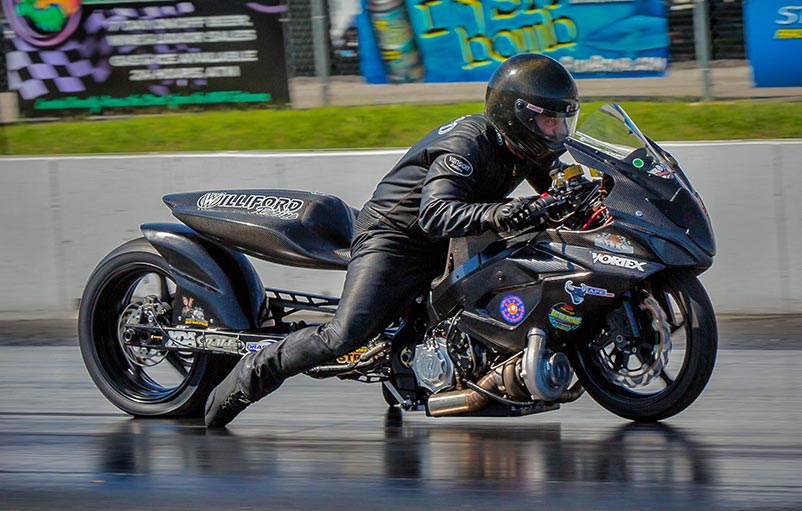 The DME Racing Real Street class was intense on Sunday in the JTR Racing camp. Brandon Teasley came into the event with the points lead. However, he put himself in danger when he took a second-round loss to Mark Hylton. With Spencer Claycomb and Ben Knight out in round one, his brother Jeremy could now take the championship from him. If Jeremy could win the race and break the ET record of 7.516, he would be the champion. Jeremy qualified with a 7.556 putting him in range to break the record held by Brandon. And since record-breaking is Jeremy's thing, the sibling rivalry hit an all-time high. Going into the final, Teasley had not broken the record. However, if he ran a 7.515 or better, it would break the record, and his previous runs were enough to back it up.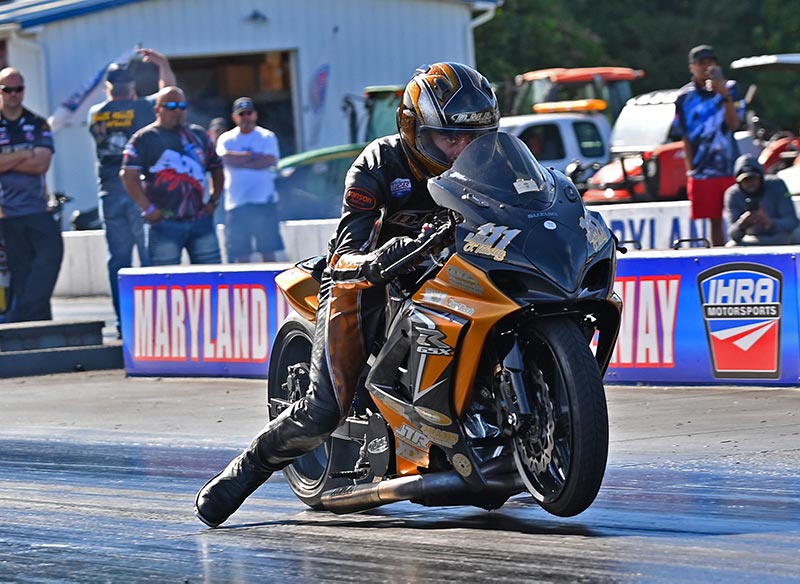 David Stewart who made his first final round appearance in Real Street this year had the performance to win against Teasley. Teasley took the light first and made a clean A to B pass running a 7.565 while Stewart had to control a wheelie that would cost him ET and the win. With no record set, Jeremy Teasley won the event, and brother Brandon won the championship. The JTR team would head back to Ohio together one big happy family.
The Pro Extreme class was full of action at the DME Racing Fall Nationals. Points leader Travis Davis handed Rob Garcia a chance at the championship when he lost the second round to him. Garcia additionally won against Tommy Saxton and had an earned bye in the semi-final that sent him to the final. Garcia now just needed to win the event, and he could claim the championship. However, he would need to get through Chongris first. This was only the second time Chongris has run in Pro Xtreme, but he looked like a veteran every pass. He took wins against champion Kevin Clarke, Billy Vose, and Shane Eperjesi on his way to the final.
Points leader Travis Davis was putting his money on Chrongris in the final as he had to watch his championship's fate from the sidelines. Chongris took the tree first and made a clean pass to take the win with a 3.933 while Garcia hit the wheelie bars several times, costing him ET running a slower 4.094. Chongris took his first Pro Xtreme win, and Davis won his first Championship with XDA.
Timblin chassis continues to find tremendous success in this class.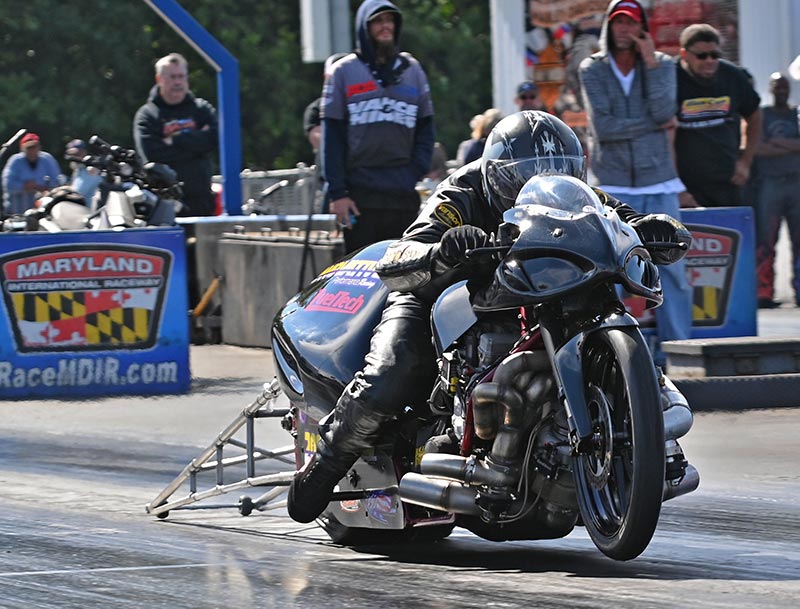 In HTP Performance Super Stock, David Fondon won the war but failed to win the last battle. Fondon, who has won the previous two events, took a quarter-final loss when he cut a .262 light allowing Chris Moore to take a holeshot win over him. Despite this loss, Fondon had the championship clinched when he qualified #1 to earn a bye in the first round. Fondon also reset his own records of 8.742 and 161.96 to an 8.691 at 163.57, making him a tenth faster over the class.
With Fondon out of competition, the fight for a new winner would heat up. Curtis McDougald and Richard Gadson, who qualified in the top five would knock out the competition for four rounds until they met in the final. Gadson qualified better than McDougald with an 8.81 to his 8.86. In elimination rounds, McDougald was running quicker each round than Gadson. But Gadson was cutting better lights. In the final, Gadson would get the advantage at the tree, but McDougald was determined to get his first win of the year and took out Gadson running a quicker 8.78 to his 8.862.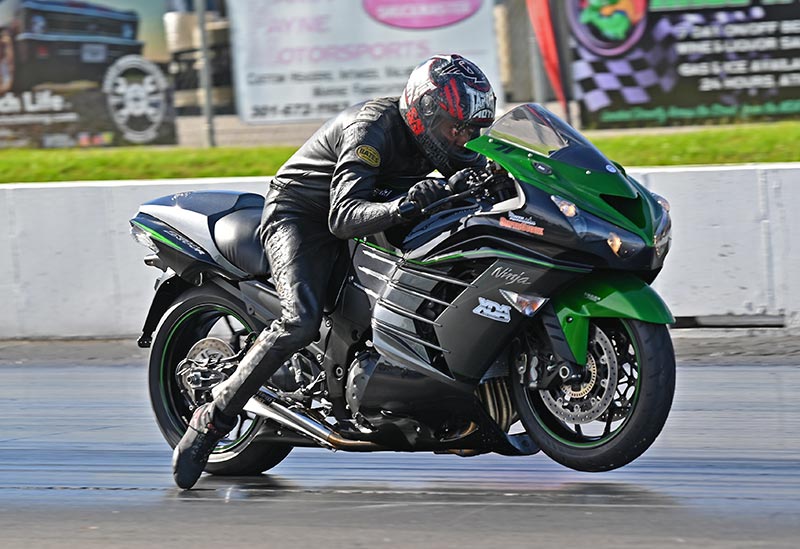 Jeremy Teasley took the Championship win in APE Nitrous Bulls. Teasley, who was leading the points going into the event, made his championship concrete when he took a first-round win on 'American Express' over Richard Gadson on 'Dead Man Walking'. Alex Williams on 'Master Blaster' took the weekend win over Gaige Herrera on 'Rhianna.' Herrera had a rough wheelie out of the hole and couldn't recover as Williams stayed on track for the win light.
David Page, who lost last year's Monster Bulls championship by a few points, came into 2020 with a clear plan. Taking wins at the first events gave Page a lead that would be hard to unseat at the final. Page took a first-round loss to Mike Thyen on 'The Prisoner'. Still, the points would be enough to guarantee him the championship. Thyen went on to the final to face Dave Martin on 'Everlasting Gobstopper.' With a track length oil down on Saturday night, the two would finish their race on Sunday in the sunlight. Martin would take and easy win as Thyen had to fight 'The Prisoner' from wheeling down the quarter-mile.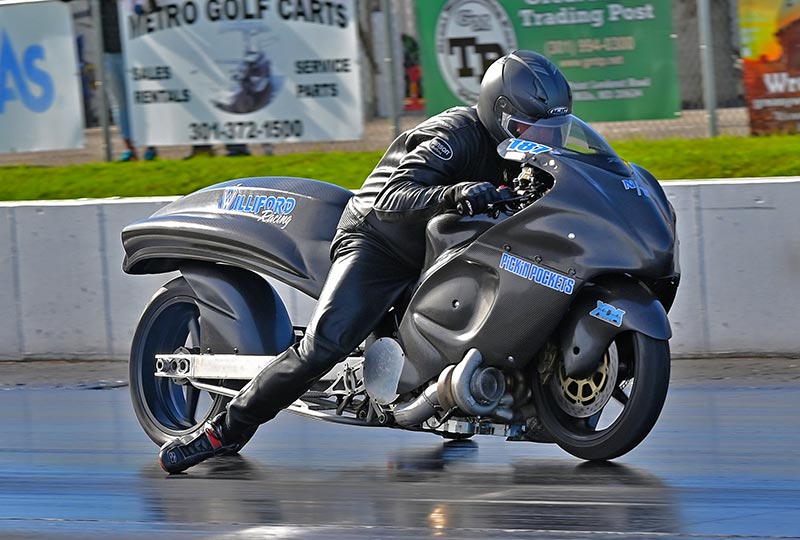 Russell Dennison on 'Sho-Nuff' and Kenyan Crawley on 'Professor' won took semi-round wins in Tommies DMV Bulls. However, these guys opted to split the winnings instead of finishing the race on Sunday.
Going into the finals, Mac McAdams lead the Vance & Hines 4.60 points, and if he stayed in front of the competition, he would keep that lead. Some of his closest points competitors were out in round one. Steven Shriver did not qualify, and Boo Brown and Terry Tompkins took a round one loss. The only threat left for McAdams was Ronnie Procopio. In round three, McAdams lost on a holeshot to Tyler Cammock, while Procopio won against Ronnie Smith. And with that, Procopio overtook the championship, despite losing the next round to Dystany Spurlock. Procopio earned eight more points than McAdams, becoming the 2020 Vance & Hines 4.60 Champion.
Spurlock's win against Procopio would send her to the final to face Earn Pielert. Pielert, with the better reaction time average, just cut a perfect light in the semi-final to win against Tyler Cammock. In the final Pielert once again cut the better light and ran a 4.604 to win over Spurlock's slower 4.62 pass.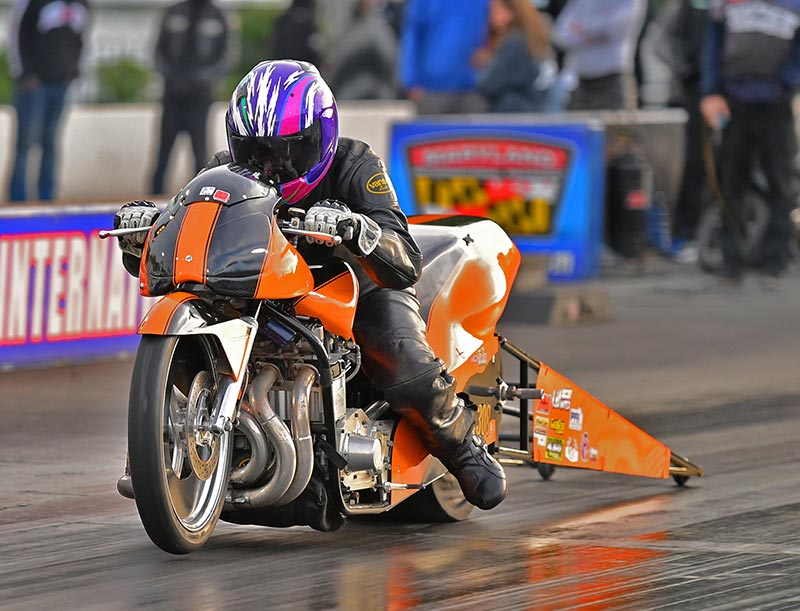 In the FBR Shop 5.60 class Dustin Lee came into the event with the points lead. Despite taking a second-round loss, he had enough points to keep his championship when his closest competition failed to earn enough points to overthrow him. Jimmie Miller tried but broke out in round three with a 5.598 to trail Lee by thirteen points for the season.
Aaron Vittorini from New Jersey, a new entry into the FBR Shop 5.60 class, qualified #6 with a 5.607 and took out several class veterans on his way to the final. Jeff Stahl, qualified # 3 with a 5.603, and also faced a challenging field of eight-mile racers on his way to the final. Both competitors came into the final cutting good lights. They had proven they could run the index with their 5.60 qualifying times. Unfortunately, the win was determined in a split second when Stahl turned on a -.015 red light to give Aaron Vittorini, the new entry, the weekend win.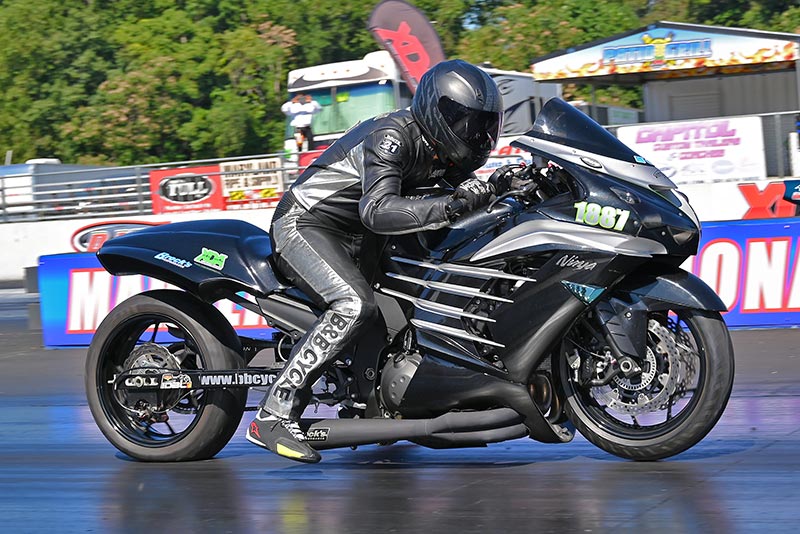 Coming into the final, Robert Parker led the Crazy 8's points. His biggest threat ,Tylan Beckelheimer, was a no-show to the event. This left only a handful of competitors that he would need to out-round on Sunday. However, Parker lost control of the championship when he took a first-round loss to Simeon Amaru. The only competitors that won round one that could pass him in points were Dustin Lee and Spencer Claycomb. In round four, these two would face each other and Claycomb would get the win. Now Claycomb was the only racer standing between Parker and the Championship. Claycomb would face Duane Jackson in the semi-final, and Parker had his money on Jackson. But Jackson would let him down, breaking out to send Claycomb to the final and giving him the points he needed to win the championship. With the championship title under his belt, Claycomb would have one last battle with Ben Helland for the event win. Helland cut a hefty -.081 red light to hand Claycomb the victory in the last contested Crazy 8's race.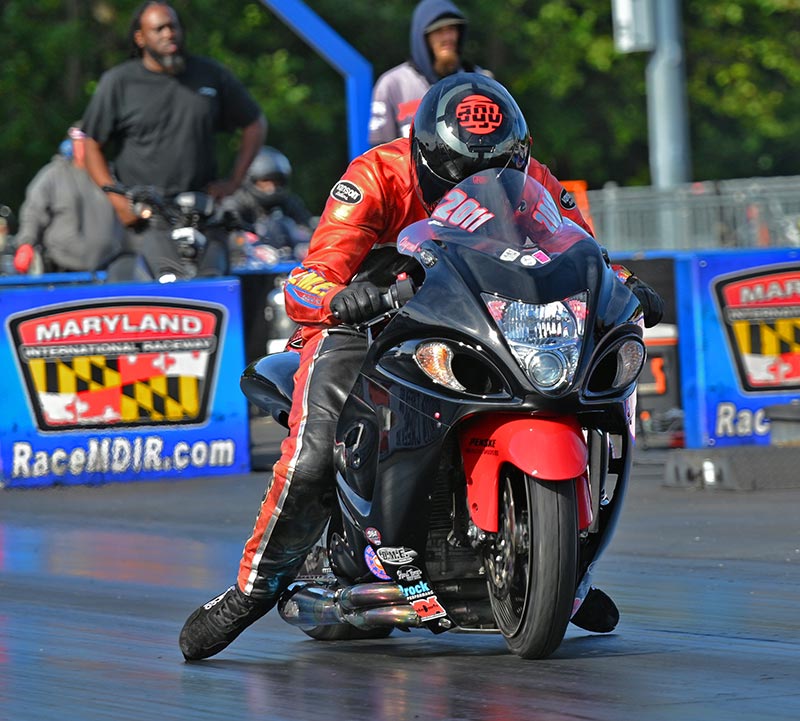 Dustin Lee has won his first champion in Mickey Thompson Top Sportsman. Going into the DME Racing Fall Nationals, seventeen competitors had a shot at the championship. Art Lawrence, the points leader, took a second-round loss and held the door open for Lee. Lee took out 2019 champion Robin Procopio in round one along with Ryan Schnitz, George Shriver, and Anthony Hunnicutt to meet Charles Nock in the final.
Charles Nock took out Antwine Nock, Michael Daddio, Wilson Burkhead, and Ricardo Marte on his path to the final. In the final Nock cut the better light, but something blew at the eight-mile, and he lost power. As he pulled the bike to the side of the track, he had to watch Lee turn on the win light.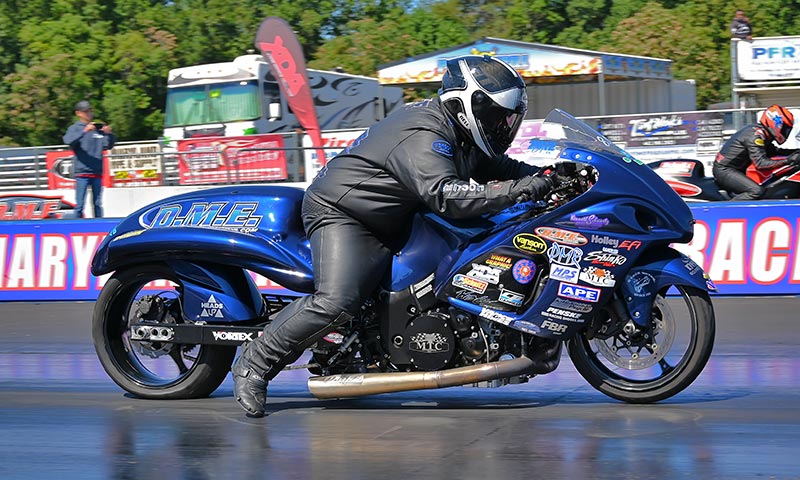 The MPS Racing Pro ET final was another tremendous turnout with 166 entries on Saturday and 122 on Sunday. James Farmer and Stephen Knight have been slugging it out all season with final-round appearances at previous events. They came into the event with only nine points separating them. Knight was determined to make up those points, and Farmer was equally determined to keep his position. On Sunday, both racers lost in round five to keep their points separation the same. With no one left in competition that could knock him out, James Farmer became the 2020 MPS Racing Pro ET Champion.
Back in competition, Robin Procopio sliced through the field to make it to her first final of the year. Dustin Lee, who was in the groove on Sunday won Top Sportsman, which put him into round six of Pro ET competition. Lee promptly took two more round wins to meet Procopio in the round eight final. Procopio dialed an 8.14, Lee a 7.98. Procopio cut the better light of .024 to Lee's .082. Procopio turned on the win light when Lee broke out running a 7.972 to her 8.191.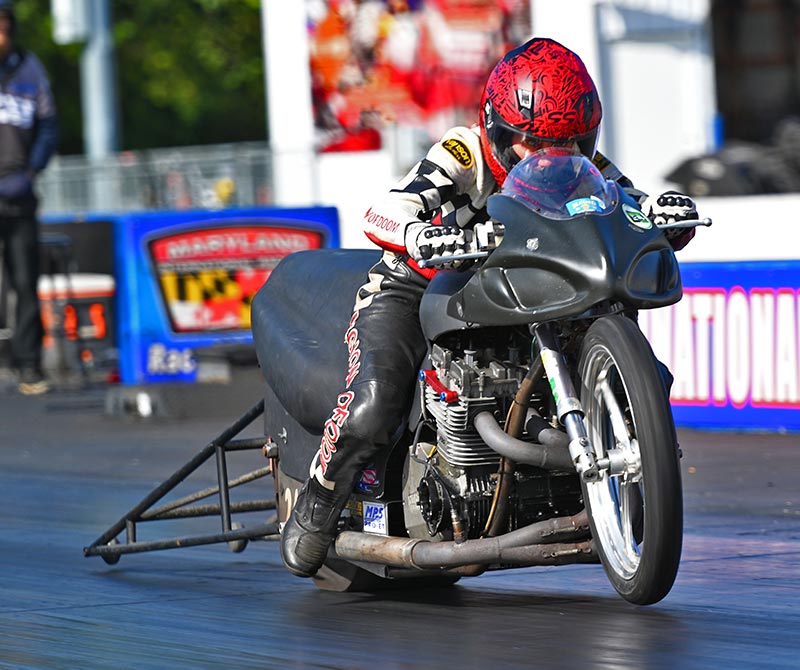 In Brock's Performance Street ET, over 200 racers have entered the class this year, and Derrick Milbourne, with two event wins under his belt, won the championship. This is a massive high for him. In 2018 he finished in fifth place, in 2019 he finished in second place, and now he has the championship that he has been striving for.
Marquise Blake from Delaware, a newcomer to the class, took out several class veterans to make it to the final. There he met Nick Hamlett, who is no stranger to a final round. In the final Blake dialed a 8.74 and Hamlett a 10.05. Hamlett left first, and Blake would be chasing him a second later. Blake lost traction off the starting line, and it took a second to get it back under control before he could get back in the throttle, and by this point the win should have gone to Hamlett. However, Hamlett made the rookie mistake of not keeping an eye on the other lane and by the time he looked over, it was too late. As Nick grabbed the brake, he was crossing the stripe and breaking out with a 10.023 to hand the win to Marquise Blake who ran three seconds off his dial. Oops.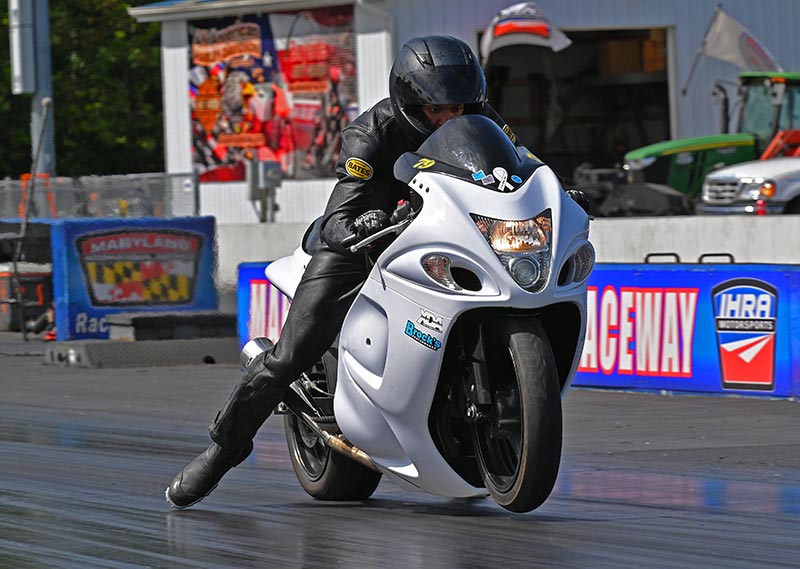 Congratulations to all our race winners, record breakers and champions. Despite a full swing pandemic, we saw many new racers at each race and would like to welcome them to the XDA family! We look forward to your support in 2021 as the serious continues to evolve.
Don't miss a weekend of racing with the quickest and fastest motorcycle drag racing sanction in the country; put XDA on your 2021 calendar now!
There are more videos on the Cycledrag Youtube channel (please subscribe here) and the Cycledrag.com Facebook page (Please like here) and more will be coming soon. Check back daily.
To take advantage of some amazing discounts at Brock's Performance, click – http://brocksperformance.com?aff=12
USE cycledrag5 coupon code.