This past weekend nearly 700 XDA motorcycle drag racers ran down the Maryland International Raceway quarter-mile for the 28th annual Platinum General Services Spring Nationals.

With a beautiful weather forecast and racers eager to resume racing after two years of pandemic hurtles, the pits were jam-packed with racers ready to start the 2022 racing season.
Friday saw record turnouts with nearly 300 racers entered in test and tune. And with the rush to get the season started, the track was hit with multiple oil downs as racers continued to push performance limits. However, the MIR crew prevailed and kept the show moving along as racers put on a crowd-pleasing show.
Orient Express Racing Pro Street
The Orient Express Pro Street racers never disappoint as they always give the crowd a stellar show. Racers started testing on Wednesday at the track as the season opener is always a learning curve. These Pro Street teams continuously make upgrades to push their performance to the next level. And it was apparent as 6 second passes became the norm every round.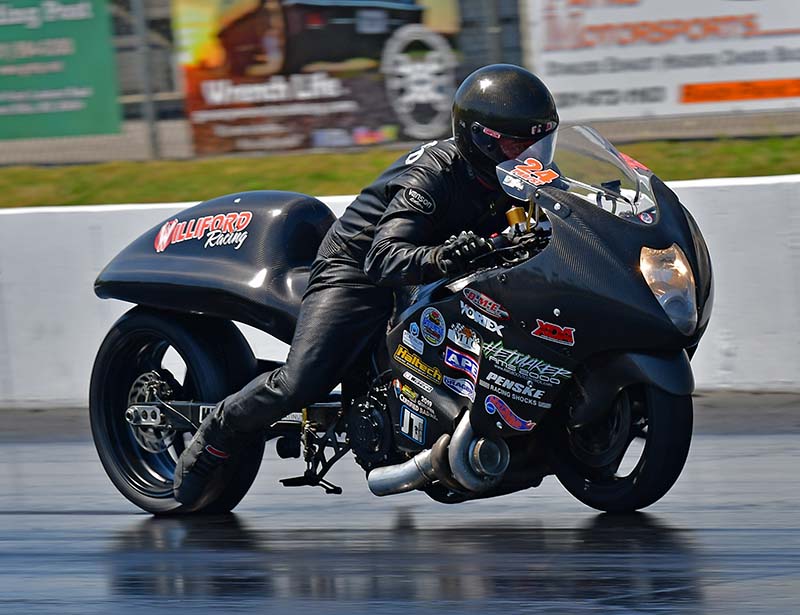 Class champion Rodney Williford was the number one qualifier every round. Williford turned the dials as needed every round to keep his turbo Hayabusa on top. His final number for qualifying was an astounding 6.397 made in the third qualifier.
Qualifying was exciting as several racers dropped their personal best ET's and put big numbers on the boards. By the end of qualifying, fifteen racers were running in the six-second zone. Justin Shakir struggled in the first two qualifying rounds, but then in three, he ran a 6.467.
The first round of eliminations was action-packed as fourteen of the sixteen competitors easily put 6 second times on the boards. Williford took wins against Rudy Sanzoterra, Jordan Haase, and Greg Wallace before facing Ryan Hable in the final. Hable took wins against Ricky Wood, Justin Shakir, and Darion Payne on his road to the final.
In the final round, Hable needed to cut a great light for any chance of a win. Williford, who could efficiently run in the forties with a wrist twist, is a tough competitor to beat. And Hable did his job cutting his best light of the weekend, but it wouldn't be enough for the Williford Racing powered Hayabusa running a 6.472 at 225.63 to Hable's 6.962 performance.
There were twenty-one Pro Street machines on the property, and while all of them did not qualify for the main show, we saw a lot of performance potential and can't wait to see what these guys deliver throughout the 2022 drag racing season. The next race is only a month away!
DME Racing Real Street
Class champion David Stewart took the number one qualifying spot in DME Racing Real Street with a 7.569. And Stewart looked to be on track for a season-opening win as he took wins against Courtlan Whiting and Rickey Gadson to land himself in the final against Ben Knight. Knight was not on his ProCharger this season. Instead, he is aboard Ralphie Navarro's Hayabusa, and he took this all-motor platform to the final after taking wins over David Fondon, Chad Sosnowski, and class champion Mark Hylton.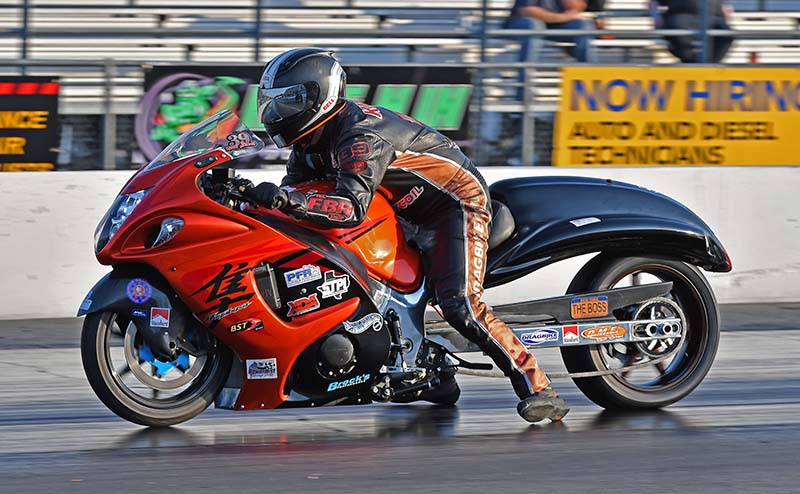 In the final, Knight did what he does best and cut a light on Stewart to make it an exciting side-by-side run as the pair raced towards the stripe. Stewart ran a faster 7.634 to Knight's slower 7.677, but that holeshot will get you every time, and Knight's win light came on for his first Real Street win!
MaxxECU Pro Xtreme
This weekend John Collins qualified #1 with a 3.988 in XDA's quickest eighth-mile category, MaxxECU Pro Xtreme. Collins would not be able to turn the qualifying position into a win as Chris Cutsinger took him out in the semi-final round. Cutsinger would face Canadian racer Terry Schweigert in the finals.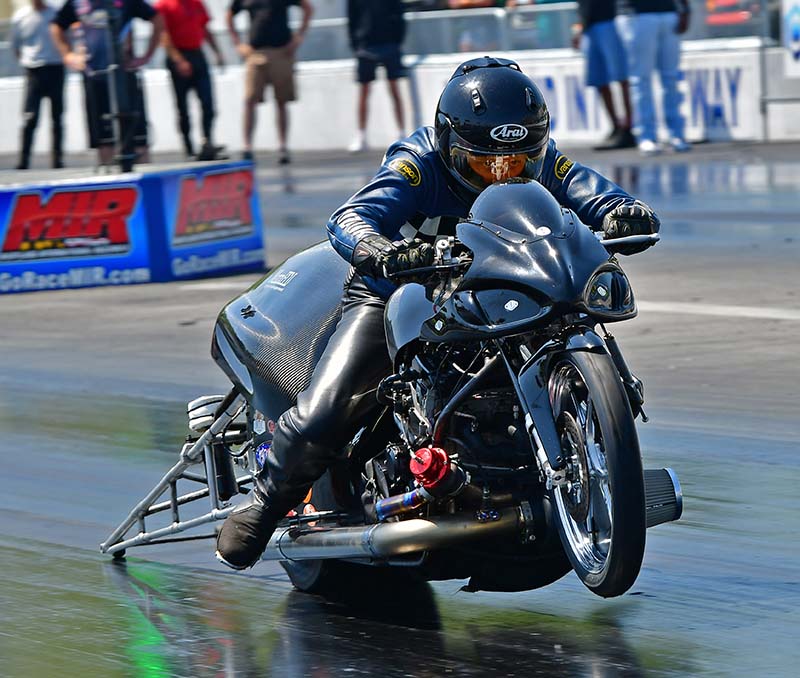 With these bikes pushing the limit every round, Schweigert's bike would suffer damage to give Cutsinger a solo pass in the final and his first Pro Xtreme win. Cutsinger gave the crowd a show despite the easy win when he blasted down the track and threw a 3.994 on the scoreboard!
MaxxECU Pro Xtreme is presented by Billy Vose Racing, Fast by Gast, Dunigan Racing, DME Racing, Grothus Dragbikes, Harley Haul, Rob Bush Motorsports, Robinson Industries, Schnitz Racing, Timblin Chassis, and Worldwide Bearings.
HTP Performance Super Stock
HTP Performance Super Stock features stock wheelbase motorcycles with limited modifications. This class is all about the riders and what they can do to squeeze the most power out of these motorcycles with just their clutch hand in control. The challenge with a stock wheelbase motorcycle in drag racing is controlling the torque off the starting line to keep that front tire on the ground for a quick and smooth transition from launch to acceleration.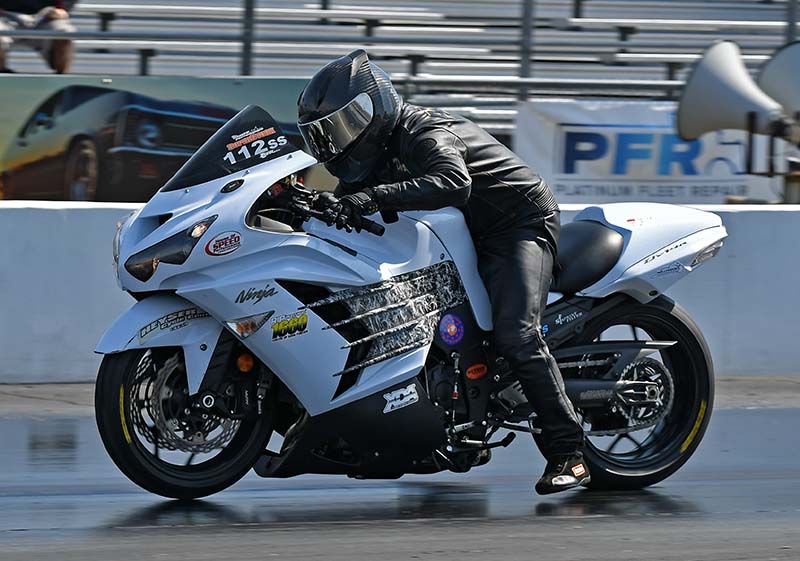 Darion Payne and Mike Davis finished the 2021 season in top five. And these two competitors showed their grit as they worked through the class to face each other in the final. Payne left first, getting the advantage on the tree, which ultimately paid off to turn on his win light, despite Davis running a faster 8.938 to Payne's 8.953.
Vance & Hines 4.60
The country's quickest and most popular 1/8th-mile index class is Vance and Hines 4.60, and thirty-two competitors showed up to fill the field at the Platinum General Services Spring Opener. Durwood Rawlings took the number one qualifying spot with a 4.601, followed by the class champion Ronald Procopio with a 4.602. Procopio would get right back to work, winning four rounds to land himself in the final against Michael Ostrowski, who qualified with a 4.605.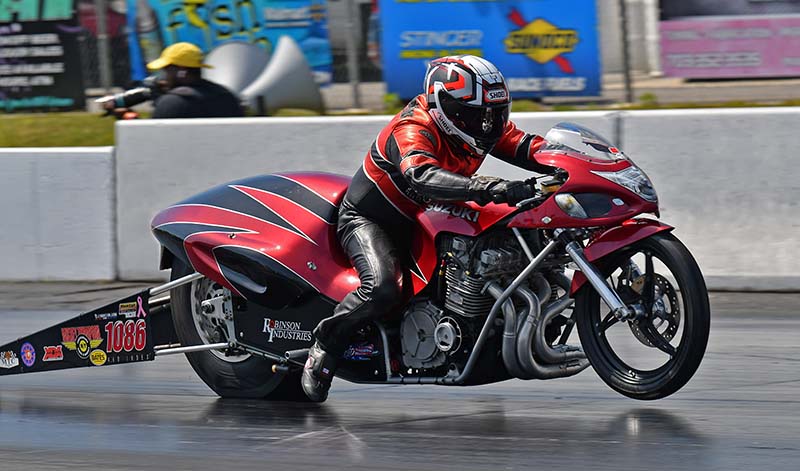 The final round was won at the tree as the champ turned on the red light with a -.003. This red light handed the win to Ostrowski and gave him the 2022 championship chase advantage.
Boosted Bulls
Boosted Bulls is back this season as a championship earning class as XDA is looking to bring the turbo grudge bikes back into the arena and give them a place to show out. The class started with sparks as Frankie Stotz on DME Racing's 'Reddi-Wip' crashed in round one against Malcom Phillips. Stotz was fighting a wheelie and keeping the bike away from the wall when the bike washed out from under him as the front wheel hit the track. He walked away from this crash with bruises and will be back out later this season.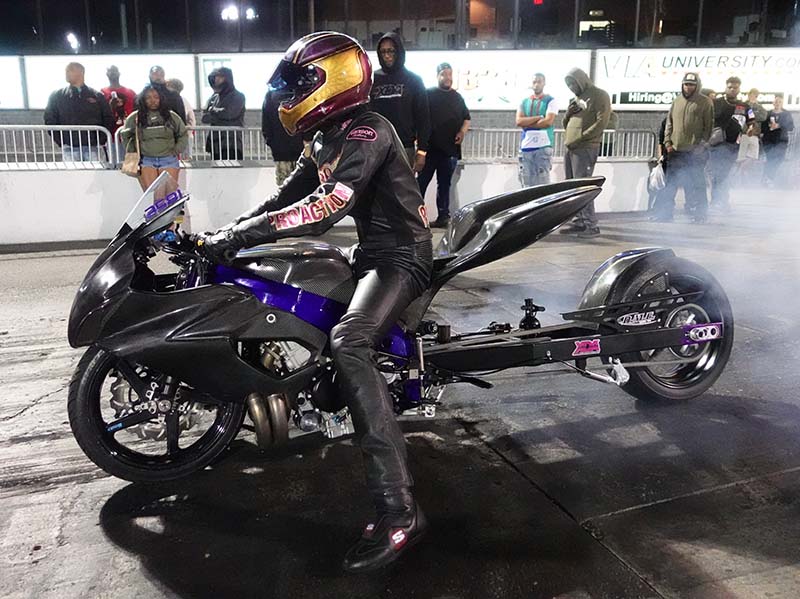 Phillips on 'Billy Mays' went on to take on Desmond Spalding on 'Moonshine' in the final but someone drank all the shine and Spalding was a no show due to engine carnage and handed the first win to Phillips.
APE Nitrous Bulls
Desmond Spalding switched gears from the turbo bike and jumped on 'Sho Nuff' in the APE Nitrous Bulls class. Rafael Bynum on 'War Cry' was set up and running fast passes all night, so it was not surprising to see him in the final against Spalding. These two rolled into the beams as their teams ran around both bikes making sure they were both ready to perform. Both bikes blasted off the starting line, but 'Sho Nuff' had no problem turning that win light for winner's circle finish.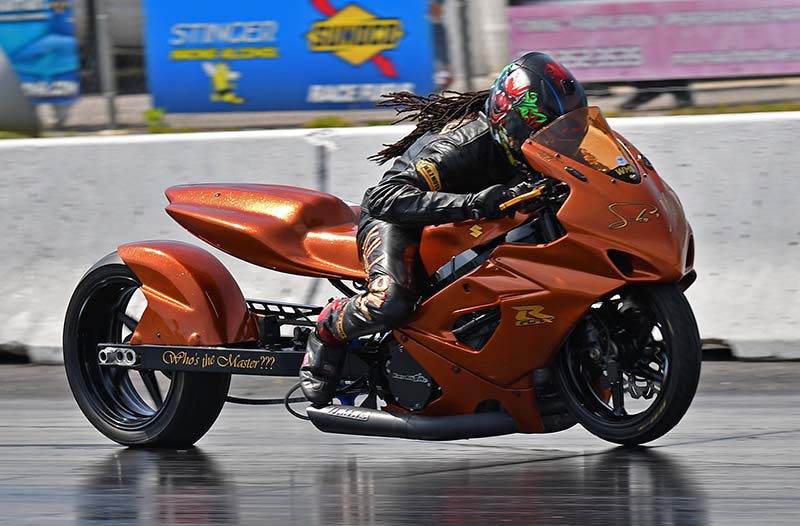 3 Sixty 5 Monster Bulls
In 3 Sixty 5 Monster Bulls the class champion David Page went out in round one to David Martin on 'Unknown.' Martin has been in a battle with Page for the last two seasons trying to dethrone him. And this weekend Martin got the jump on him and did not waste that win as he went on to win the next round again Howard Gerken on 'Son of Sam.' This win landed him in the final against Spencer Claycomb on 'Under the Influence.'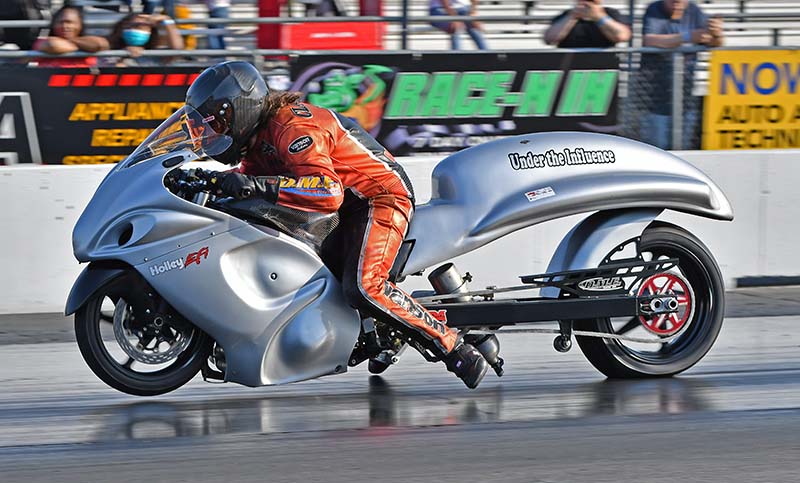 Spencer Claycomb has put in a lot of work on the off season and has been racing and testing for the last few months, so he would not be easy prey for Martin. Mullet power would prevail in the final as 'Under the Influence' found his way to the win light to start the season with the points lead.
Tommie's Motorsports DMV Bulls
The Tommie's Motorsports DMV Bulls class was sold out by Friday night with 16 entries. This affordable grudge class is designed for races who have not competed in the elite Boosted Bulls and Nitrous Bulls classes of XDA.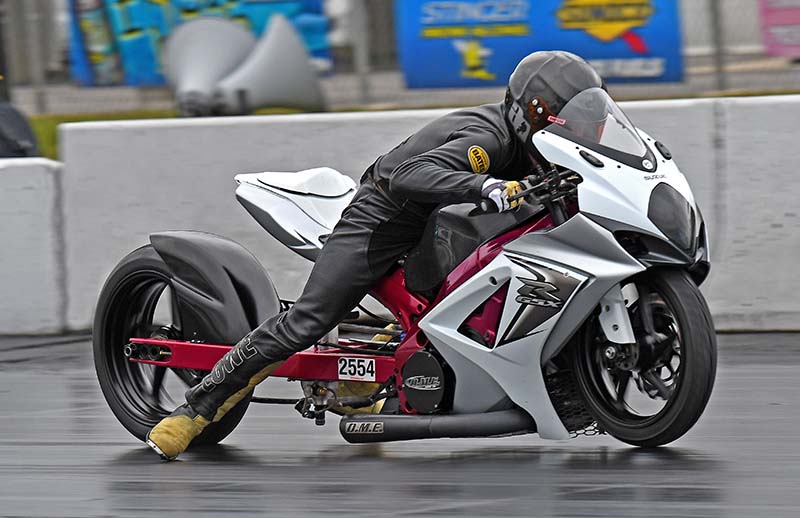 Class champion Cody Lowe on 'Codeine' was ready to defend his thorn this past weekend as he easily turned win lights on against Geoff Godfrey, Carl Lucas, and Derek Sobiech to make it to another final. John Carter on 'The Gray Matter' would be the last victim of the night as Lowe made easy work of him in the final to take his place in the winner's circle once again.
1 Stop Speed 5.60
In the eighth-mile class of 1 Stop Speed 5.60, class champion Dustin Lee took the number one qualifying spot with a 5.601 over forty-three competitors. However, Lee was eliminated in round two of competition despite grabbing the top spot.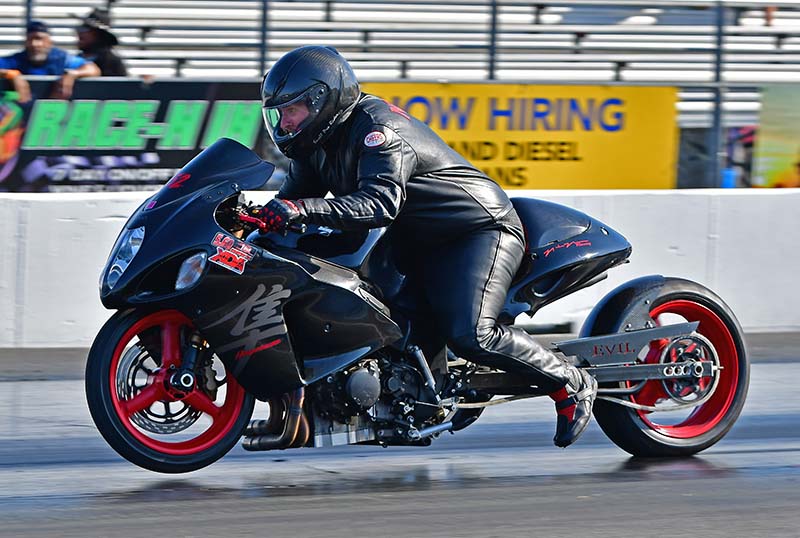 Last year's number two in the points chase for the championship was Nick Noble. And Noble is now on track for this year's championship after taking the season opener win over Juan George. The two racers gave it their all in the final with a margin of victory of only .011 seconds going to Noble.
Mickey Thompson Tires Top Sportsman
In Mickey Thompson Performance Top Sportsman, the fastest ET racers on the property competed for one of the thirty-two spots available. Pablo Gonzalez, who won two events last season, took the number one qualifying spot with a 7.462. Unfortunately for Gonzalez, he would not make it past round two.
However, Boo Brown and Hank Lovett had no problems cutting down the competition to win four rounds to face each other in the final. For the second time of the weekend, Brown would be chopped down at the tree with Lovett's .003 reaction time over his .079 giving Lovett the advantage to get to the stipe first and turn on that coveted win light.
MPS Racing Pro ET
The MPS Racing Pro ET class had a tremendous turnout for Sunday competition, with one hundred and thirty-five racers. The semi-final featured heavy hitter Hank Lovett, Kenny Webster, Dustin Lee, and class champion Mike Schulz. Dustin Lee and Hank Lovett would come out victorious to make it to the eighth-round final.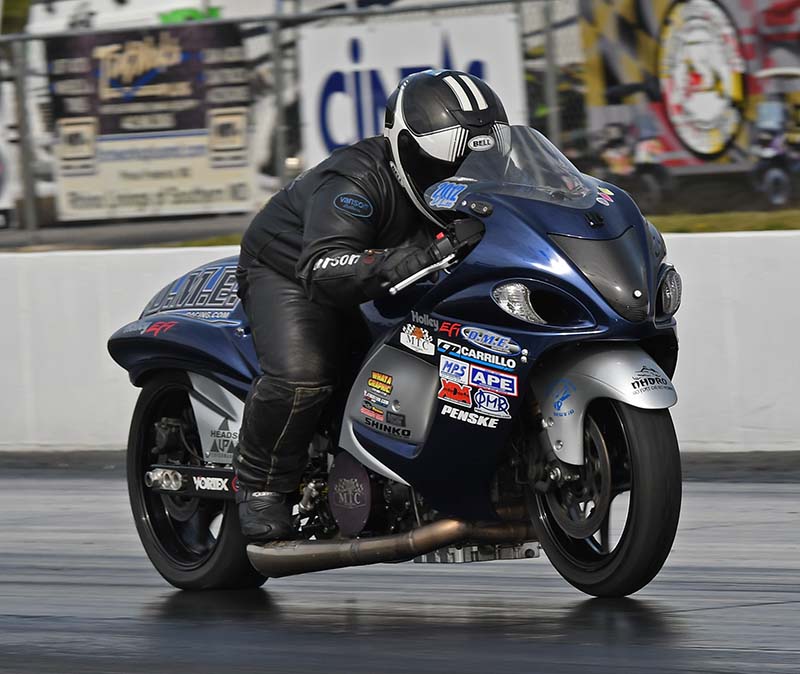 Hank Lovett, who won Top Sportsman had merged into Pro ET at the fifth round and was looking to double up for the weekend. The final round would be a letdown for Lovett when his bike broke on the starting line, and had to be backed out of the beams. Dustin Lee would break the beams for the win and start the season leading the points.
Brock's Performance Street ET
The Brock's Performance Street ET racers had to make it through six grueling rounds of competition to make it to the final. Both Davante Brittingham and Mark Blake fought hard to win those six rounds of competition to face each other in the final. Blake was running quicker with an 8.90 dial to Brittingham's 9.77. Brittingham cut the better light and resisted the urge to take the stripe first as Blake blasted by him to break out and give Brittingham the first win of the season.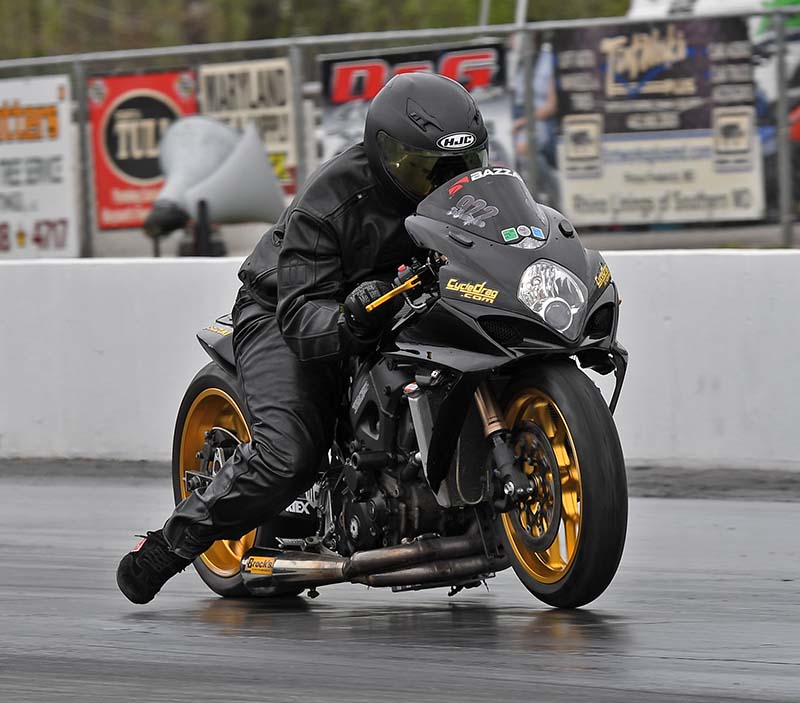 VooDoo Components Bracket Bash
The VooDoo Components Bracket Bash featured on Saturday had a stout 135 entries. But with a season opener riddled with oil downs and on track delays, only four rounds of competition were completed before the decision was made to call it a day and split the purse among the remaining riders.
Hard Times Parts & Service Gambler's Race
The Friday Hard Times Parts and Service Gamblers Race featured sixty-four sportsman racers looking to get competitive action before event qualifying. With a payout of $4,000 to the winner, this Friday-only race is intense, with racers throwing down double-o lights and running dead on their dials.
Boo Brown, who took a win last season, made it down to the final round by running dead on his dial-in. He faced Brice Corish Jr, who also had a great day of dial-in consistency. But the final round would be won at the tree when Cornish put a .001 light on Brown's .068 to give him the advantage and holeshot as the pair blasted through the finish line side-by-side.
Notable
The Platinum General Services Spring Nationals also featured the Top Fuel Motorcycle of Dave Vantine as his team came out to test his nitro monster. And he did not disappoint, running a 5.935 at 256.26 to set the MPH track record at Maryland International Raceway.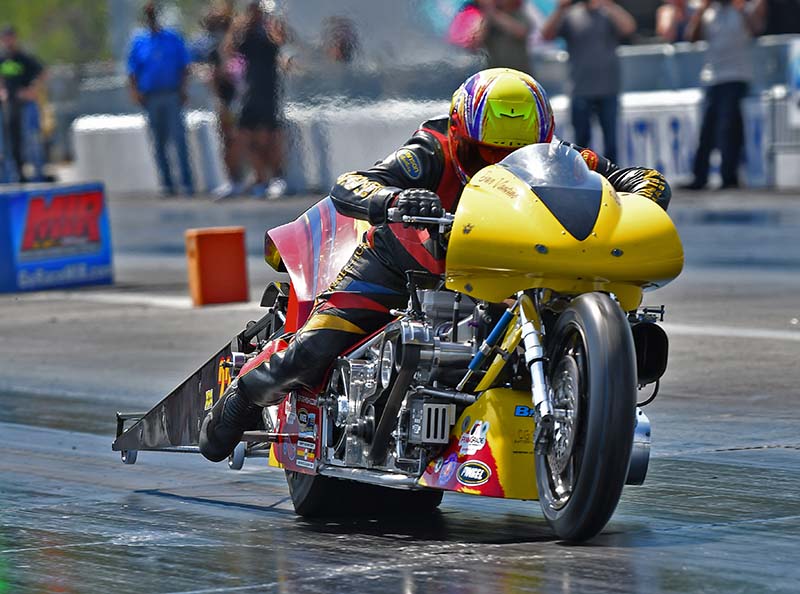 The next stop for the 2022 XDA season will be at Virginia Motorsports Park for the 36th annual MTC Engineering Summer Nationals on May 20-22, 2022. There will be over 700 Professional, Sportsman, and Grudge motorcycle racers in competition, battling it out for over $80,000 in cash purse. Make plans now to watch the best drag racers in the country put on the premier horsepower show the East Coast has to offer.
For full qualifying and round-by-round results of the event, visit xdaracing.com.

There are more videos on the Cycledrag Youtube channel (please subscribe here) and the Cycledrag.com Facebook page (Please like here) and more will be coming soon. Check back daily.