The 27th annual DME Racing Fall Nationals concluded the 2019 race season and crowned twelve champions at Maryland International Raceway (MDIR). The second year of XDA was filled with boundless excitement, drama, and more intense racing than anyone could have anticipated, not to mention a total payout over $200,000 for the year and $142,000 in contingency offerings!
Record barriers some thought impossible became a reality, more young stars made their presence known, while some veterans returned to form. XDA's 2019 season could arguably be called the most significant single season in motorcycle drag racing history. XDA promoter, Jason Miller stated, "Just when you think you've seen it all, the great racers of the XDA raise the bar even higher. It's a testament to their hard work, dedication, and sheer determination. We couldn't ask for a better group of sportsmen to be a part of our continued journey in motorcycle drag racing."
"My brother Chris and I are blessed with a strong staff that works tirelessly and with passion for the XDA racers. And we will continue to grow with the help of our great sponsors that support XDA and keep driving our industry forward. Thank you again to every single person that supported XDA this year."
This past weekend XDA also released their 2020 schedule to their loyal racers Friday as they came through the gate. XDA will continue their consistent format of keeping races four weeks apart. Get these dates on your calendar now!
April 24-26 / PFR Spring Nationals / MDIR
May 15-17 / MTC Summer Nationals / VMP
June 19-21 / Superbike Showdown / MDIR
July 24-26 / WPGC Bike Fest / MDIR
August 21-23 / Bike Bash / VMP
September 18-20 / DME Racing Fall Nationals / MDIR
Orient Express Racing Pro Street
Champion – Jeremy Teasley

Hands down, the Orient Express Pro Street class is the most exciting class to watch in all of motorcycle drag racing. With no wheelie bars, these 6-second, 230+mph Pro Street Motorcycles are launching like missiles as their riders fight to keep them straight through the quarter-mile. And to reward our loyal racers, we threw every possible chance at them to earn money and break records at the 7th annual 'Battle Royale.' This event, unlike the rest of the year, featured a thirty-two bike field with a $10K payout to the winner. And for the first time, XDA offered a FREE 'Second Chance' race for all sixteen of the first-round losers with a $1K payout to the winner. Penske Racing Shocks also posted cash for two shootouts that ran concurrently during Saturday qualifying, one for racers quicker than 6.90 and the other for the guys that haven't made it to 6.90's yet. Saturday night featured a Pig Roast for all the Pro Street team sponsored by Dunigan Racing. And Shinko Tires gave away seven tires to Pro Street racers for various awards.
But wait, there's more! XDA also awarded the 'Most Improved Rider' on the Pro Street GOAT list with a FREE Friday Testing & PST Tech Card at every XDA event in 2020. Cameron Teasley won this award by moving up thirteen spots from thirty-one to eighteenth on the list with a 6.732 ET aboard the Ronnie Mitchell Racing Hayabusa. Congratulations to him on such a substantial performance stride.
Out of the gate on Friday night records dropped in the first round of qualifying when Jeremy Teasley ran an astonishing 6.407 at 230.65 mph on the DME Racing Turbo GSX-R1000! His previous record was a 6.422 set back in June. This run also improved his MPH standing to second fastest in the world from his previous best of 227.77mph.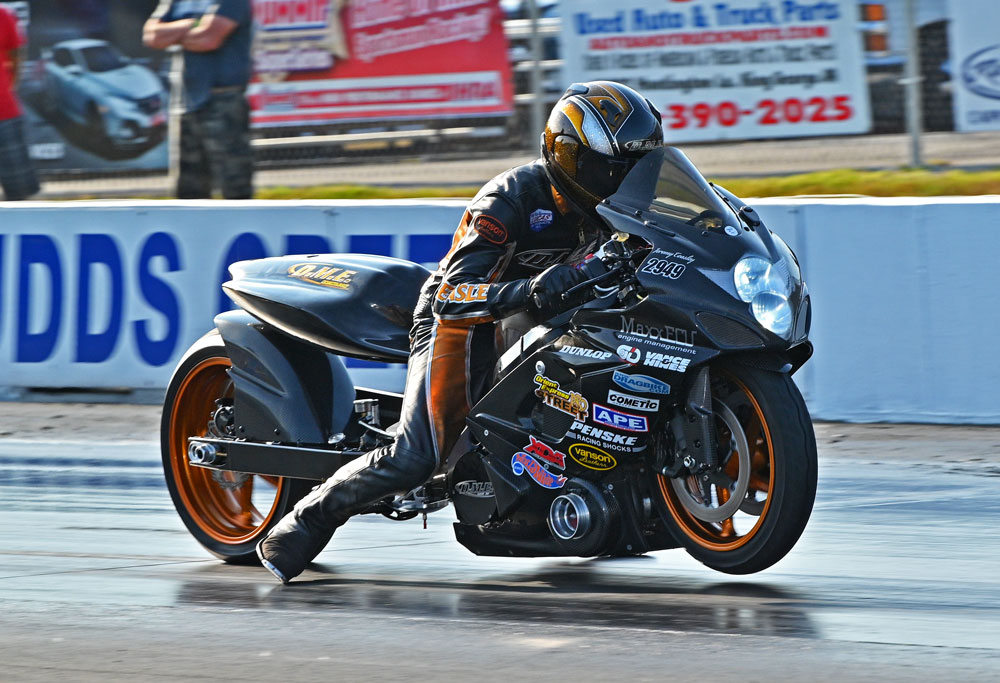 This event had two brand new XDA Pro Street racers with Ian Malone and Canadian David Rego looking to make their mark on the class. Rego's best time of the weekend was a 7.844 and Malone's was a 8.059. Welcome to the class guys, see you in 2020!
In round two of qualifying on Saturday afternoon, Teasley and Ehren Litten were the first pair of bikes out as they would kick off the Penske Racing Shocks Shootout. Teasley shattered the ET record once again becoming the first rider to the thirties running a staggering 6.384 at 228.27mph! In the next pairing, Rodney Williford would throw down a 6.524 at 229.16 mph against Jason Dunigan's 6.929. And then Richard Gadson who pulled the bye for the first round of the shootout ran a 6.500 at 214.55! Impressive numbers!
In round one of the Penske 6.90 Shootout Rudy Sanzoterra 6.931, Chris Edwards 7.073 and Kenny Brewer 7.793 all took wins.
Continuing with the rest of the class in round two of qualifying Tony Ficher lowered his personal best ET to a 6.663 on the DAS Performance Supercharged Hayabusa. And Keith Correia, with five years in the making, finally broke the seal and ran his first six-second pass at 6.987 on Jonathan Potter's DAS Performance Turbo Hayabusa.
Round three qualifying delivered round two of the Penske Racing Shock Shootouts at the front of the pairings. Jeremy Teasley and Richard Gadson were paired to go out first. And rumors in the pits on Friday were that the GS 1100 was going to attempt a thirty pass! This could be the reason DME Racing Tuner Andy Sawyer turned the dial another click for the last round of qualifying. Both riders shot off the line with Gadson having the front half advantage, it wasn't until the eighth-mile that Teasley started to pull past Gadson to take the win and run the second quickest side-by-side pass with a 6.441 and 6.474. Williford had a bye this round and ran a motor-conservative 6.916.
In round two of the Penske Racing Shocks 6.90 Shootout, Chris Edwards took a win over Rudy Sanzoterra with his first six-second pass running a 6.988! His stand-in Crew Chief for the weekend, Susan Reynolds, went wild at the starting line cheering for him! Chris's crew chief, Paul Reynolds, couldn't make the event, so his wife came with Chris to fill in as crew chief. She was running around all weekend, and by the look of Edwards' performance, maybe Paul just got replaced? Kenny Brewer had an earned bye this round. And would face Edwards in the final next round, but mechanical problems at the starting line would hand an easy win over to Edwards to make him the first winner of our Penske Racing Shocks 6.90 Shootout!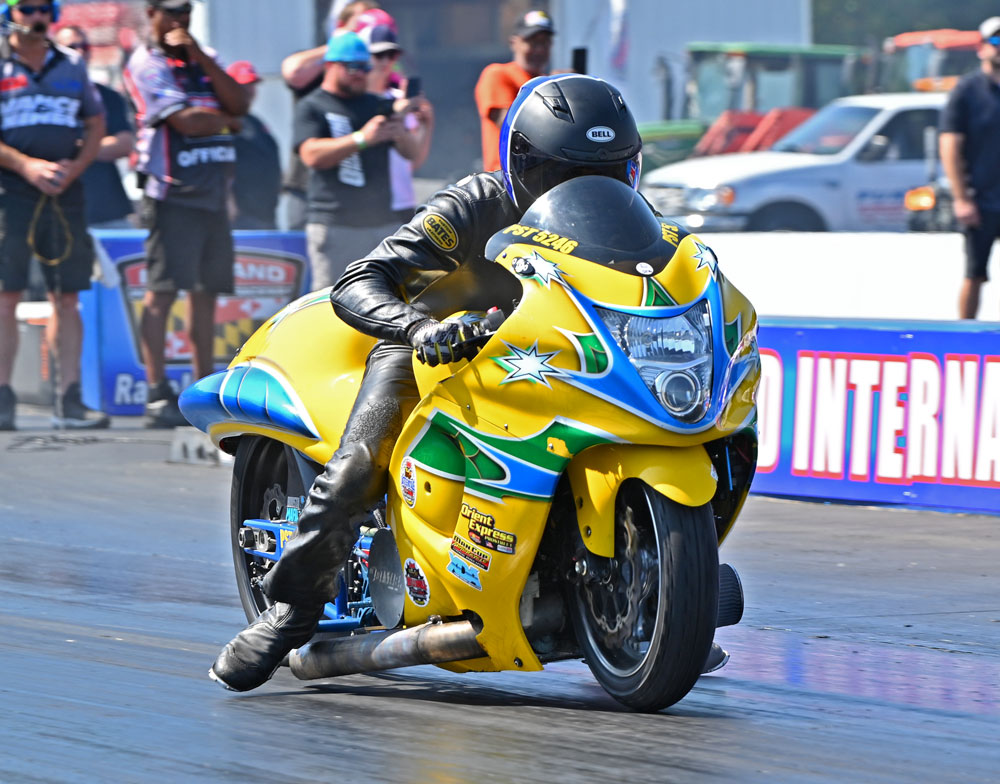 Continuing with the rest of round three qualifying, Pro Street rookie, Chris Moore improved his standing on the GOAT list running a 6.580 to secure a spot as the 6th quickest bike of the class. And the most improved rider, Cameron Teasley laid down his 6.732 pass this round to award him the free entry all next year worth $1,800.00! Now he just needs to find a ride for next year!
In the fourth and final round of qualifying on Saturday, it would be everyone's last chance to get their best numbers on the boards. While there were no significant gains in round qualifying, seven riders did improve their time to move them up a spot or two on the qualifying list. Most notable would be Jake Dugan who struggled to get his bike ready and missed the first two qualifiers leaving him unqualified after round three with an eleven-second pass. This round he was able to produce power and ran a 7.314 to bump Ryan Bonitatis out of the field. So with the thirty-two bike field set, we have the top sixteen bikes all in the six-second zone, with the number thirty-two qualifier rounding out the field with an 8.392, giving the field a two-second differential.
For the final round of the Penske Shootout, Teasley and Williford would line up against each other for the second time this year in a Shootout final. Teasley cut a .059 light and Williford a .068 light. Rodney would get out on Teasley immediately as the front wheel on the GSXR starts to come up. As Jeremy rides through his wheelie to regain control, he catches Williford just as the front wheel starts to come up on his Hayabusa and Teasley pulls past him. Williford doesn't recover quick enough, he can't gain ground on Teasley and has to watch him fly through the beams to take the win with a 6.433 pass to Williford's 6.832.
Like Saturday, Sunday would also feature two Pro Street races going down simultaneously. All sixteen of the first-round losers from the Battle Royale would be moved into their own 'Second Chance' race. Sunday afternoon it was sea of Pro Street bikes that would just keep coming back to the staging lanes.
On Sunday the championship chase between Williford and Teasley is the top priority of the day. Coming in the event, Williford is three points behind Teasley. In qualifying Teasley would earn an extra ten points for setting the ET record, and with qualifying, he would go into eliminations fifteen points ahead of Williford. But now the thirty-two bike field will come into play and make it harder for Teasley to hold onto his lead because it now gives his competition and extra round to potentially earn more points, and presents both Litten and Frankie Stotz with a chance at the championship that they would not have gotten on a sixteen bike ladder.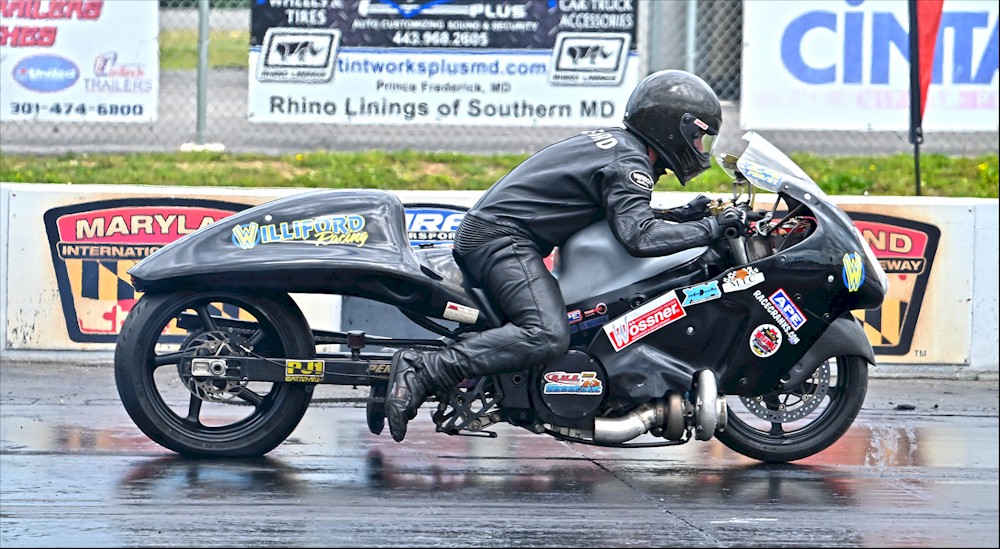 In round one of eliminations, Teasley as the number one qualifier should be the first pair down the track; however, his competition, Ian Malone, was a no show in the lanes. And Teasley moves to the back of the pack to wait for Malone, who would never show. Cameron Teasley would have problems on his pass as the bike would lose power as soon as he attempts to leave the line moving Jake Henderson into round two. First round of eliminations saw twelve bikes run six-second passes, with Williford and Teasley making the quickest passes at 6.572 and 6.515 respectively. Surprisingly Richard Gadson and Frankie Stotz would run seven second passes in round one.
Competition finally started getting serious in round two as the numbers started to drop on the scoreboards. Round two winners were, Teasley 6.452, Litten 6.588, Moore 6.746, Stotz 6.620, Gargiulo 6.664, Williford 6.59, Gadson 6.629, and Jordan Haase 6.703. With Teasley taking a round two win, it would now put Stotz and Litten out of the running for a championship. So Williford and Teasley would be keeping their eyes on each other for another go-round.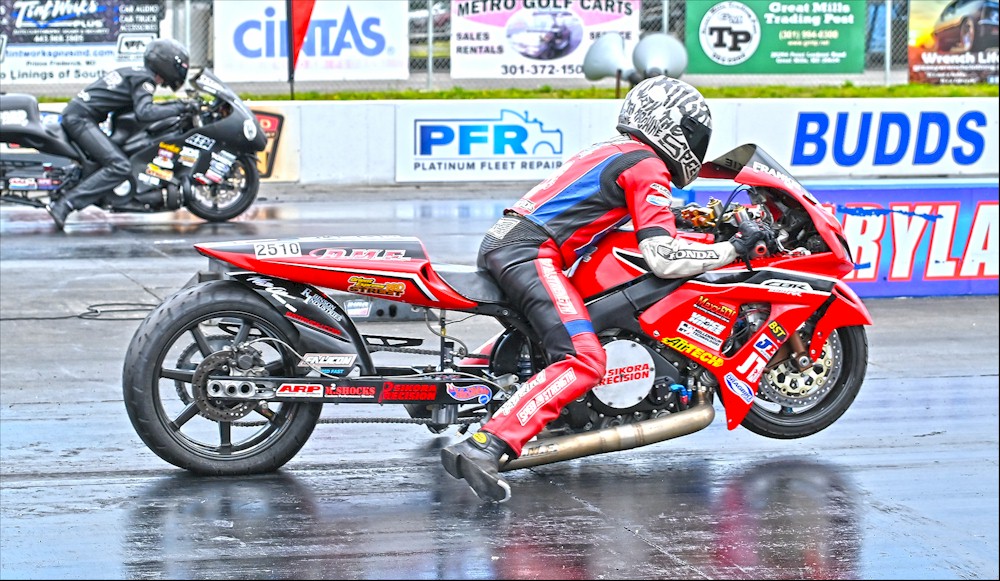 In round three of competition three bikes would run in the forties. Teasley would take a win over Litten with a 6.412 to his 6.482. Moore would take out Stotz with a 6.601 to his 6.620. Gadson would run his quickest of the weekend with a 6.467 to Gargiulo's 6.696, and Williford would take out teammate Haase with a 6.585 to his 6.881.
The semifinal was intense as both Teasley and Williford secretly were wishing each other would lose this round. Teasley got the easier side of the ladder taking out Moore with a 6.460 to his 7.375. Williford had to face the GS1100 nitrous bike who just ran a forty pass. Gadson took off quicker and planted itself straight down the groove like a missile. Williford would battle the bike all the way down the track as the front tire kept coming up wanting to launch. He stayed in the throttle and fought it, but his 6.634 was no match for Gadson's 6.463. Someone get Rodney some alcohol!
With Rodney out, Teasley is officially the 2019 Orient Express Pro Street Champion and can head into the final against Richard Gadson refocused on winning the $10K in cash. However, his focus may have been too relaxed as he cut his worst light of the weekend of .114 to Gadson's slightly better .082. As they both shot down the track, neither bike had any control issues, and they stayed side-by-side all the way to the finish line. It looked like Teasley was gaining on Gadson, but then Gadson's win light came on, and the scoreboards flash a 6.403 and 6.403! The fastest side-by-side Pro Street run in history! Once again at the XDA! And the time slip told the story with Gadson's impressive 1.077 sixty-foot and 4.182 eighth-mile times. The racing this weekend was just incredible in terms of performance.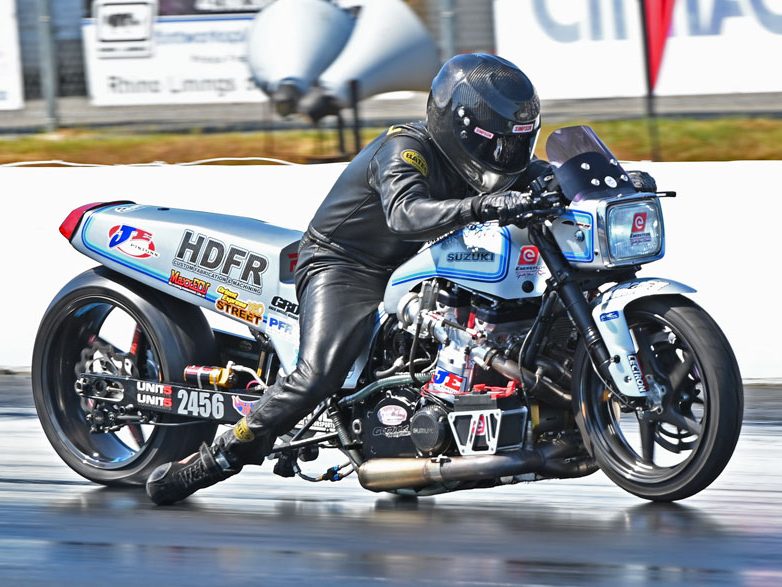 In XDA's second chance race the sixteen riders were paired based on their original qualifying order. In round one we saw three six-second passes from Jake Dugan 6.99, Justin Shakir 6.70, and Gabe Frederick 6.88. Also taking wins were Malone, Curtis Ellerbe, Keith Correia, Edwards, and Brad Christian.
In round two of eliminations, Jake Dugan ran his personal best on a 6.895 at 204 mph pass. Shakir 6.70, Edwards 6.98, and Christian 7.150 all took wins. In the semifinal, Edwards and Christian's luck would run out as Shakir and Dugan would head to the final. Both Shakir and Dugan have struggled this year, getting their bikes worked out. However, in this final, it would come together for Shakir, as he would run his quickest pass of the weekend with a 6.617 over Dugan's 6.857 to take the win and the $1K prize money.
We may see the 'Second Chance' race at more events in 2020, so get the XDA schedule on your calendars because next year is going to be action-packed.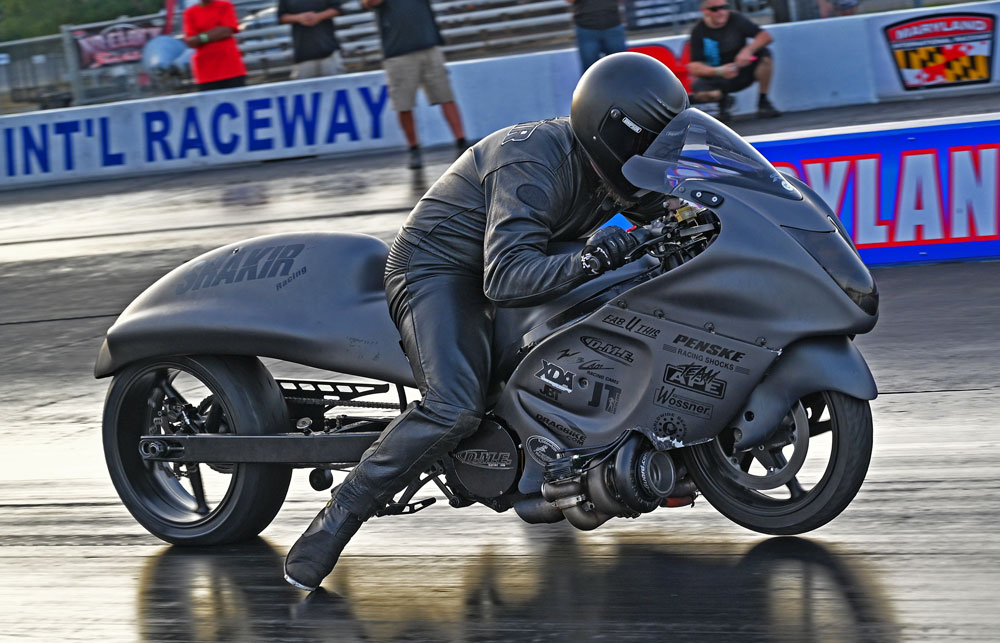 Now that the XDA season is done, the top ten XDA Pro Street racers will turn their attention to their bonus race. The Haltech World Cup Finals presented by Wiseco Import vs. Domestic event on October 30 – November 3 will host the second annual Pro Street Shootout sponsored by Platinum General Services. The ten racers that will attempt to qualify for eight spots on Sunday are Jeremy Teasley, Rodney Williford, Frankie Stotz, Ehren Litten, Jordan Haase, Chris Moore, Darion Payne, Gaige Herrera, Jason Dunigan, and Justin Shakir.
For the second year in a row, Richard Gadson on the Brad Mummert GS has qualified for the event but has withdrawn being unable to get out of work commitments. This year's alternate Justin Shakir will get his spot. This will be the largest event that Pro Street has ever raced at. Ten racers will show up, but only eight will make it to the show on Sunday!
DME Racing Real Street
Champion – Jeremy Teasley
Never before have so many racers been mathematically eligible for the DME Racing Real Street championship heading into the final race of the season. The top six in points still at a shot to be crowned champion at the end of the weekend. Even more so, how would perennial contenders Ashley Cotnoir, Alisha Malone, and others factor into the equation?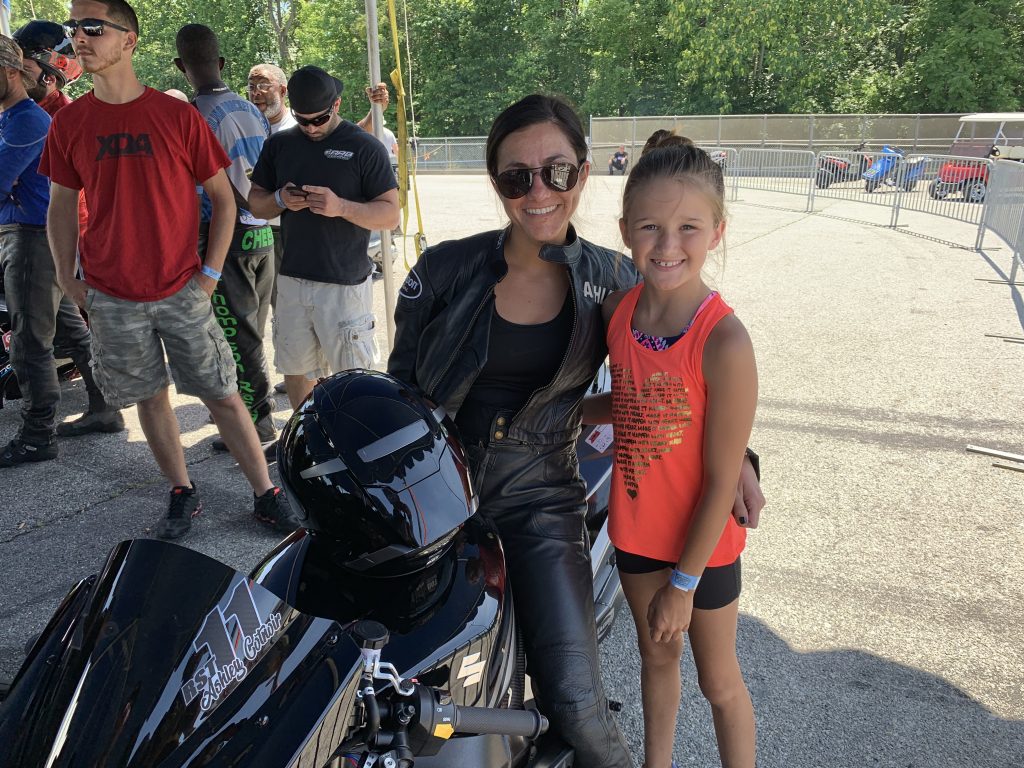 Reigning champion Spencer Claycomb, who dominated the class in 2018, was still looking for his first win of the season, as he qualified number one with a record run of 7.565 seconds on Saturday.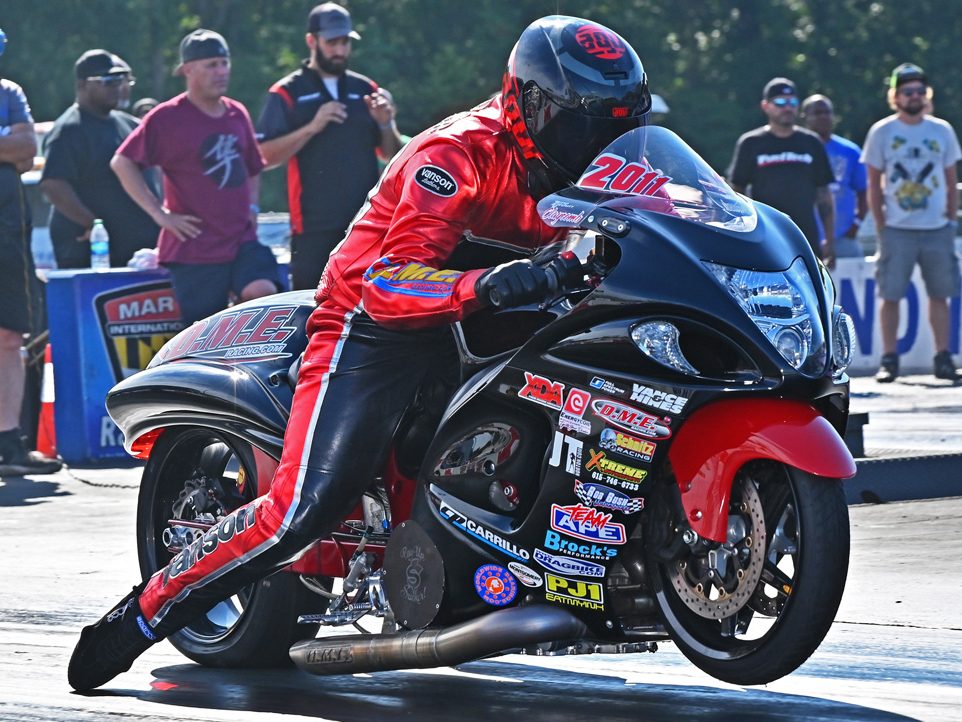 During qualifying the Penske Racing Shock Real Street Shootout went down among eight riders. First-round winners were Richard Diggs, Devin Ragland, Mark Hylton, and Jeremy Teasley. In the semi-final, class front runners, Hylton and Teasley would take wins for another final round battle against each other. Hylton would run a 7.721, but it would be no match for Teasley's 7.597 as he attempted to unseat Claycomb's position during the qualifying/elimination round.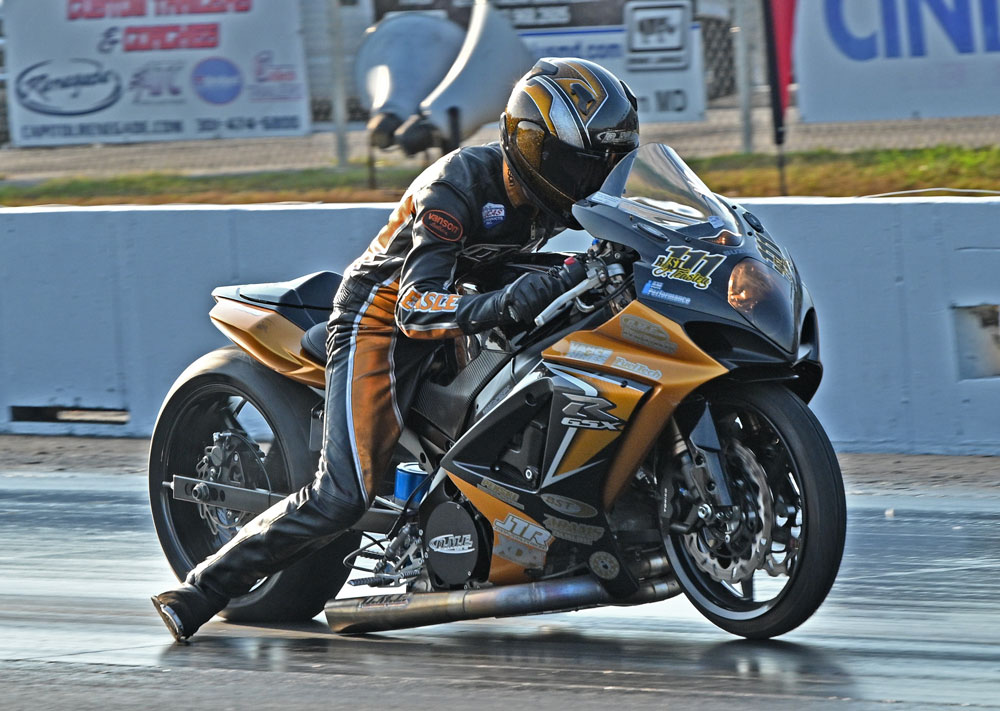 During Saturday's qualifying sessions the ladies of Real Street, Ashley Cotnoir, and Alisha Malone would line up against each other for a best two out of three racers to bragging rights and cash from fellow racers and a few sponsors. Cotnoir would take the overall win and bragging rights over Malone. And Malone would earn some cash for having the better reaction times of the three rounds.
Unfortunately for Cotnoir and her fiance, Mike Sweeney Jr., both their motors blew up in the final qualifying session and neither would be able to make the call for Sunday's eliminations.
Going into eliminations on Sunday, Claycomb had the advantage with a potential ten-point bonus if he could back up his 7.565 qualifying pass within one percent to solidify the record.
However, the spotlight would quickly shift to Jeremy Teasley, who broke his own record and went quicker than Claycomb with an astounding 7.539 run. Teasley already had the 1% backup run from his qualifying time of 7.597, and the momentum on Sunday shifted to the AM Performance team.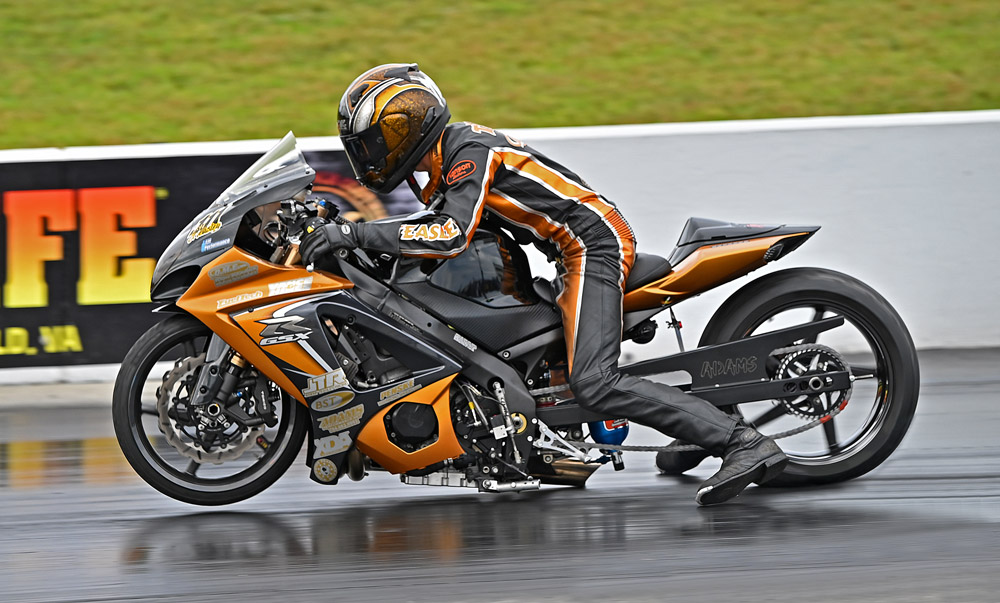 Round one winners were Claycomb, Cameron Teasley, Hylton, Ragland, Stinnett, Jeremy Teasley, Sosnowski, and Merced.
In round two of eliminations, former champion Anibal Merced took out Claycomb to give himself a better shot at the championship. Jeremy Teasley would take out Hylton leaving only Merced in his way of the championship. Devin Ragland would win against Chad Sosnowski, and Cameron Teasley would take out Brad Stinnett.
With Hylton and Claycomb out of the way this would set up the scenario that if Teasley won in the semi-finals and still have the ET record, he would clinch the championship despite Merced's outcome. In the semi-final, Merced would win over teammate Devin Ragland, and Jeremy Teasley would take his brother Cameron out.
Jeremy Teasley secures the 2019 DME Racing Real Street Championship and becomes the second rider in the series history to win both the Pro Street and Real Street Championships in one year. The first racer to ever meet this accomplishment was Joey Gladstone in 2016.
The final of Real Street would feel like deja vu for Teasley as he won the war but would again lose the battle. Teasley would cut a better light than Merced, but Merced would out power him to the stripe with a 7.612 to Teasly's off pace 7.77.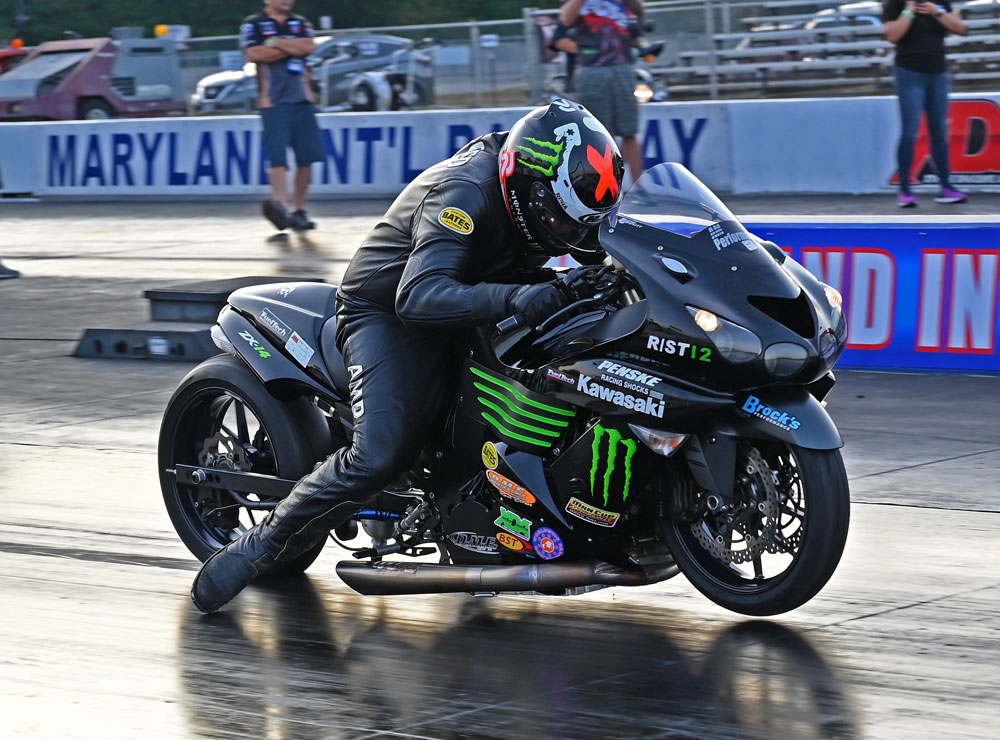 Teasley would ultimately win the Real Street championship by only four points, if he had not set an ET record, Merced would have won the championship. This year Teasley set three records in Real Street that would contribute thirty points to his overall points tally.
With four racers not qualifying for Real Street, XDA ran a 'B' Class that Victor Gotay took the win of over Derek Sobiech.
We look forward to seeing continued growth in this class as many racers are working on off-season bike builds.
Pro Xtreme
Champion – Kevin Clark
In Pro Xtreme Kevin Clarke proved to be an unstoppable force on his turbocharged Suzuki winning three out of four events this year. He started the season as the points leader and never let his guard down as the competition strived to unseat him. The 64-year-old mechanical contractor from Virginia has won the first Pro Xtreme Championship and will be back next year to defend his title.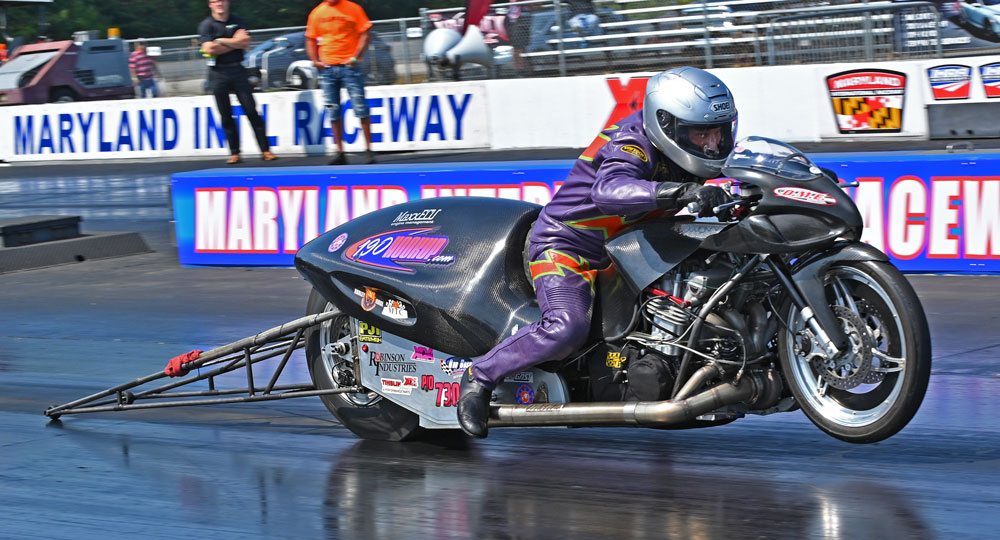 At the DME Racing Fall Nationals, seven racers came out swinging, tossing their best tune-ups into their bikes. John Collins took the number one qualifying position with a 3.971, Rodney Williford, who holds the class ET record at 3.962, qualified with a 3.972, and Kevin Clarke with a 3.976 rounded out the top three spots. With three bikes running three-second passes, this was the quickest field to date.
There are more videos on the Cycledrag Youtube channel (please subscribe here) and the Cycledrag.com Facebook page (Please like here) and more will be coming soon. Check back daily.
With an exorbitant amount of power and performance, comes carnage. It's an unavoidable part of any form of racing, and the carnage ran rampant at the season finale. In the first round of competition, John Collins, who had an earned bye, took a loss when he couldn't fire his bike up to take the tree under power. Paired riders, Bobby Lovingood and Chris Cutsinger didn't even make it out of their pits for the first round. Then Rodney Williford, who was paired with Ron Bonitatis, took a solo pass running a 5.244 as Bonitatis didn't make it for first round either. And lastly, Rob Garcia was a no show for first-round sending Kevin Clarke on a solo pass as he ran a 4.080.
So, with five competitors not showing up, the second round would also be the final round of side by side runs. Clarke would cut a better .043 light to Williford's .082 and then edge him out at the finish line with a 3.974 to Williford's 3.986. Then for the final round, Clarke would just need to take the tree under power to win.
Pro Xtreme is presented by DME Racing, Fast by Gast, Harley Haul, MaxxECU, McCoy Motorsports, MTC, Rob Bush Motorsports, Timblin Chassis, and Worldwide Bearings.
Vance & Hines 4.60
Champion – Tyler Cammock
Once again, the Vance & Hines 4.60 class showed out with thirty-seven riders competing for thirty-two spots on Sunday. Going into the DME Racing Fall Nationals, Michael Ostrowski was leading points. The competition in this class is so tight that a points leader one race can fall several spots by the next race.
Ostrowski took the qualifying lead with a 4.601 over Tyler Cammock's 4.601 to give him the number two spot in qualifying. Qualifying was rounded out with Thomas Acres as the thirty-second qualifier running a 4.733, that's only a thirteen-second differential among thirty-two riders, leaving no room for error in this eighth-mile class. In the first round of eliminations, there was only one red light, and three .00 lights showing you just how cutthroat this class is once they roll through the water box.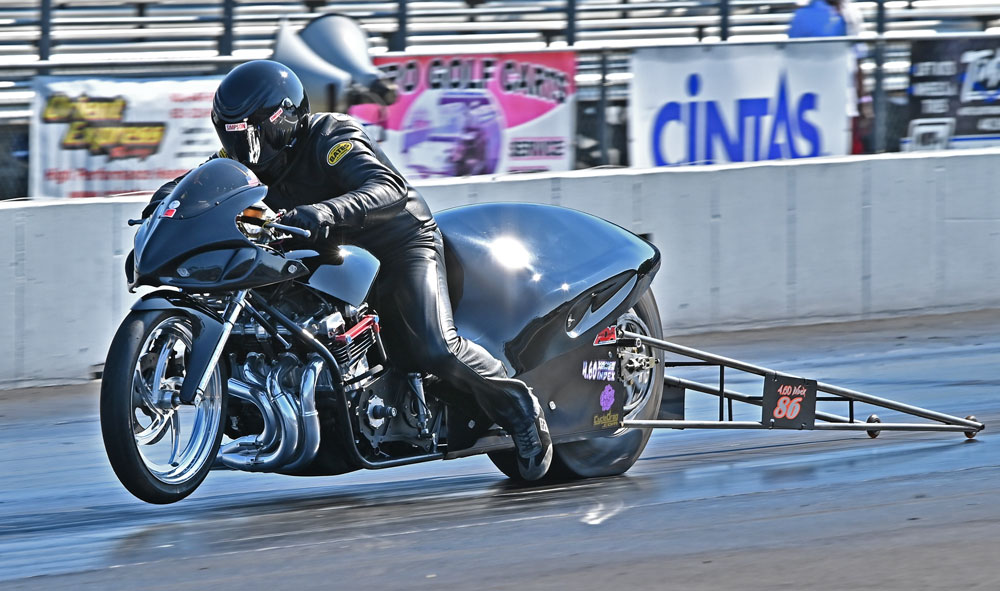 Ostrowski took a first-round loss to Thomas Acres in round one when he broke out with a 4.560 to Acres' 4.569. This loss would ultimately cost him the championship, as Tyler Cammock, Mac McAdams and Michael Thyen were all in striking distance, and all three took a win in the first round. However, in round two of eliminations Michael Thyen would lose to Darion Payne taking him out of the running for the championship. This left Mac McAdams and Tyler Cammock now both in the running for the 2019 title. In round three of eliminations, Eran Pielert would chop the tree on McAdams with a .003, and then drag him to the finish line where he let him take the stripe on a breakout run of 4.591 to Pielert's 4.629 who took the win by a thirteen-inch margin of victory. Now McAdams would wait on the top end of the track to see if his only rival left, Tyler Cammock, would win or lose his round. Unfortunately for McAdams, Cammock would dominate Darion Payne and take the win and the 2019 Championship! Cammock is the first repeat champion this class has seen since its inceptions in 2013. Cammock won the championship four years ago in 2015 under the IDBL sanction.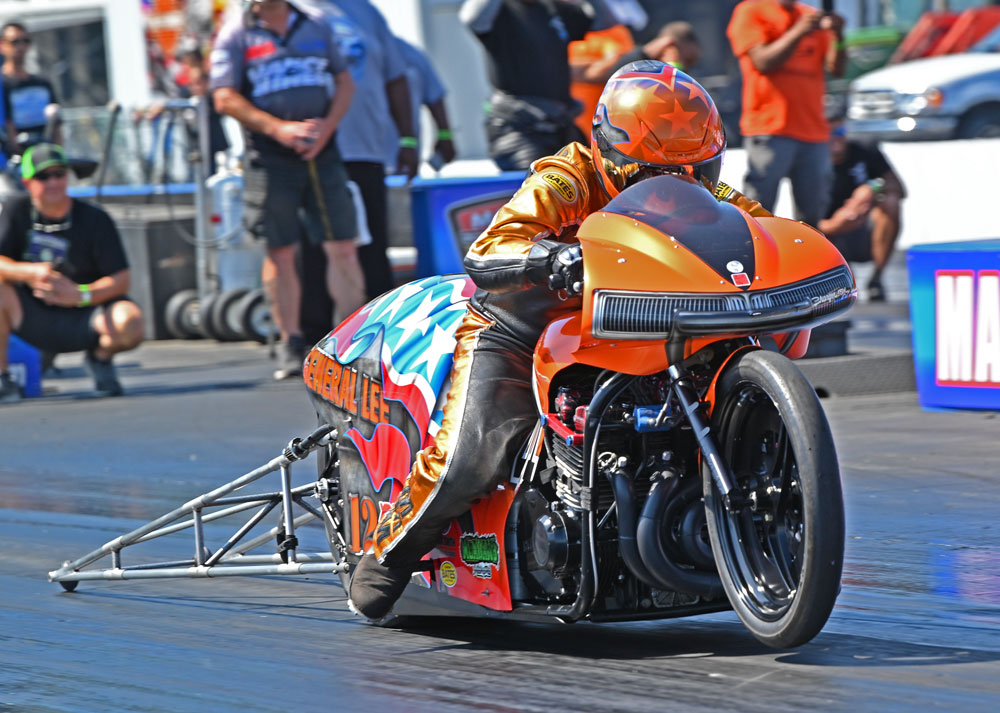 But don't feel too bad for McAdams. On Saturday during qualifying eight racers put up their own cash to race against each other in the 460 Big Money Shootout. Ronald Procopio, Brad Gleason, Wes Hawkins, Tyler Cammock, Richard Gadson, Michael Thyen, and Boo Brown joined McAdams in three rounds of racing to win a $4,000 cash payday. Procopio chopped the tree with a.014 on McAdams in the final but misjudged his performance and broke out at the stripe with a 4.571 to give the win and all the cash to Mac McAdams.
Cammock would not go on to win the event. In the semifinal, Maegan Bowers would take the win against him with a holeshot victory. And Eran Pielert would win against Tim Shelton to send him to the final against Bowers. Neither of these two racers has ever won a 4.60 race, and this would be a first for one of them no matter who took the win in the final. Bowers, who is in her very first season of 4.60, also became the first woman to race in a 4.60 final. XDA announcer, Fabian Brown hyped this final round to the crowd, and everyone was on their feet as they watched these two turn their top bulbs on. Pielert wanted the win and cut a .008 light on Bower's .079 reaction. With Pielert out in front of Bowers she would have to put in work to send her bike down the groove as quickly as possible if she wanted to catch him. As much as Bowers wanted the win, she just couldn't get there, and Pielert took the win by fifteen feet, with a 4.625 to her 4.626.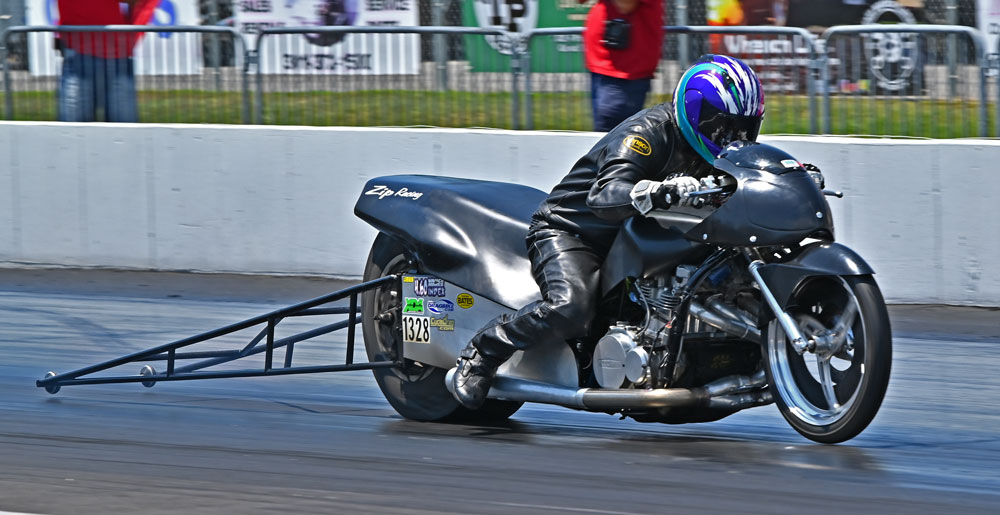 We can't wait to see how the Vance & Hines 4.60 class develops in 2020. Get the 2020 XDA schedule on your calendar!
HTP Performance Grudge
Fifty-eight HTP Performance Grudge racers showed up to support the season finale of the XDA, and while the temperatures were not as cool as they were initially forecasted, the 'No Time' motorcycles were unfazed as they were hooking up and rocketing down the track on Saturday night.
APE Nitrous Bulls
Champion – Dave Norris / Yellow Jacket
Dave Norris took the APE Nitrous Bulls championship just by showing up at the event, his points lead could not be undone by any racer. Which was a good thing because Richard Gadson on 'Dead Man Walking' got the round one win when Norris turned on the red light. Joey Gladstone took a weekend off from that boring Pro Stock bike life to come back to where the action is at with XDA. Aboard HTP's 'Grave Digger' he took out Brandon Tyree on 'Mad Max' with a better-controlled pass. Both bikes left the starting line simultaneously, but Tyree had to fight to keep the front wheel down, allowing a small window for Gladstone to get out and stay in front of him. Billy Vose on 'Power Slave' drew the first-round bye.
In round two 'Grave Digger' was no match for 'Power Slave' under the control of veteran racer Billy Vose. Vose left like a rocket leaving Gladstone looking like he stopped to dig a grave on his way to the end of the track. Gadson got the bye that round and would face Vose in the final. And once again, Vose quickly took a win as Dead Man Walking fell into that grave Gladstone dug the pass before.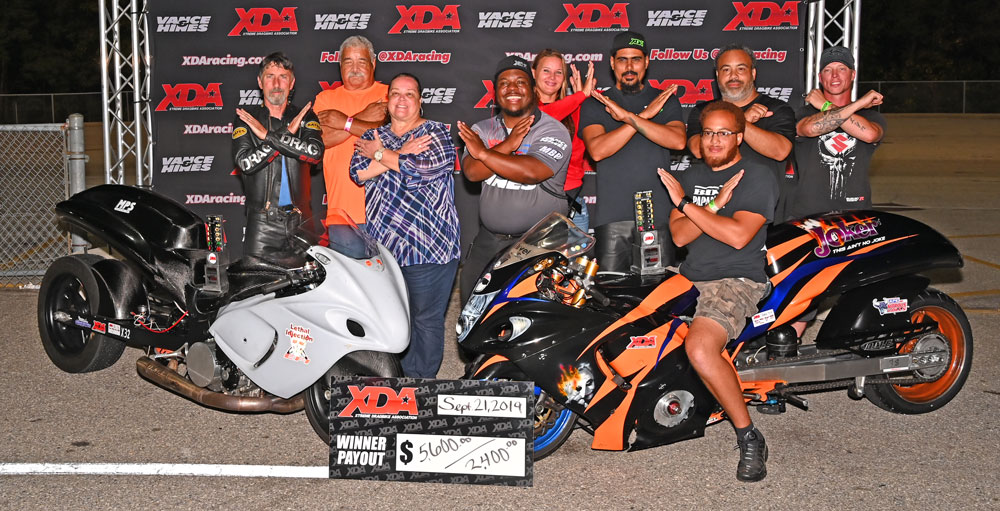 Monster Bulls
Champion – Rendolf Torbed / The Joker
Going into the finale of Monster Bulls, David Page on 'Pickin Pockets' was leading the points for the championship. However, during qualifying Page went down on the track at the sixty-foot mark that would send him to the hospital where he found out he broke three of his ribs. But this did not deter Page as he made it back to the track, with a smile no less, just in time to pull his first-round pairing card. Page intended to just break the beams under power against David Martin on Black Panther in hopes Torbed would take a first-round loss. However, for this race, Rendolf Torbed was aboard 'The Joker' which turned out not to be a joke of a bike as he, without much effort, won against Josh Eubanks on Harley Quinn. Eubanks had a big wheelie off the line and came down hard to abort the pass. In the final Torbed would take the win and the championship when he took out the 'Black Panther' ridden by David Martin by staying ahead of him from start to finish.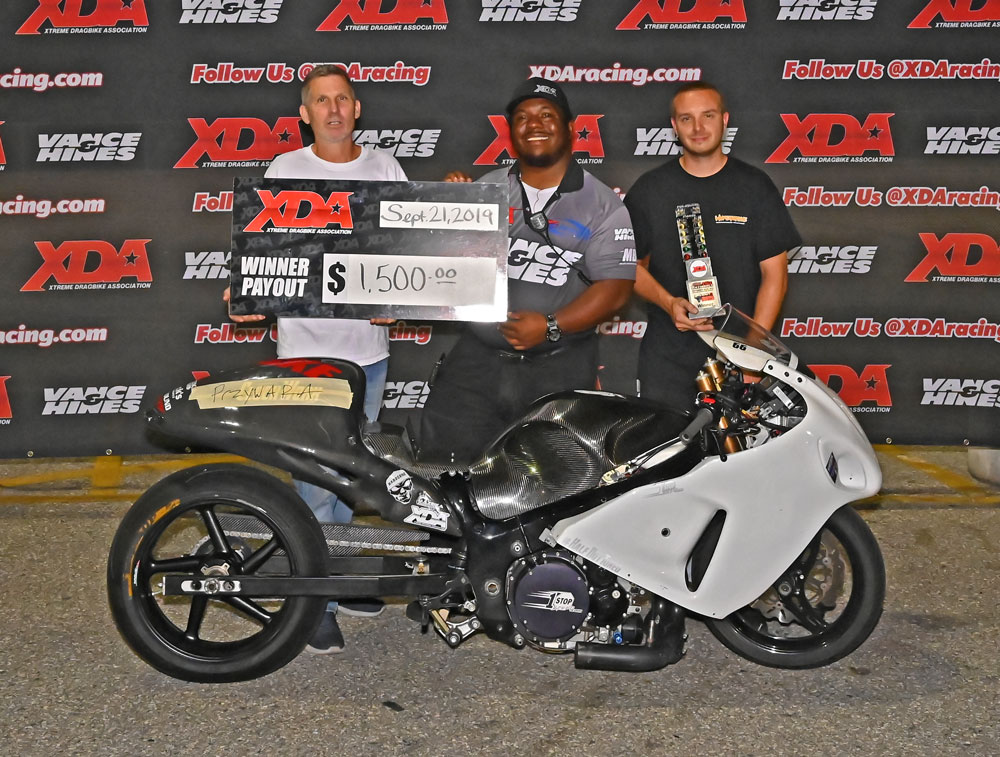 Unit 5 Components Brahma Bulls
Champion – Nick Mazeika / Clockwork
Unit 5 Components Brahma Bulls class was led by Nick Mazeika on 'Clockwork' all season. Unfortunately for Mazeika, he had a family emergency and had to leave shortly after the bike was teched in. His friend Gaige Herrera did the honors and made a quick pass on the bike in the first round of the Bulls eliminations.
The FBR Shop 5.60
Champion – Courtlan Whiting
The FBR Shop 5.60 was a nail biter for Courtlan Whiting who was leading the class when the race started but slowly started to lose his lead as the weekend wore on. Duane Jackson took the number one qualifying position with a 5.602, giving him an extra point in qualifying over Whiting who qualified second with 5.604.
On Sunday Whiting took a first-round loss putting his championship in jeopardy. The rest of the day was nothing short of #Suspenseful as we watched the rounds unfold. Duane Jackson, Jim Mauro, and Taylor Dunham all had a chance at the championship, and they all took first-round wins. Right away, anyone paying attention to points in this class, could feel the tension rise. In round two, Jackson, Mauro, and Dunham all took wins, and you could see Whiting standing on the track just watching his points lead diminish. In round three, it was a repeat as all three competitors took another series of wins as Whiting watched, suited up still competing in Crazy 8's, you could see the disbelief in his eyes as he walked back to his bike in the staging lanes. In round four, Mauro would take out Dunham and Jackson would take another win.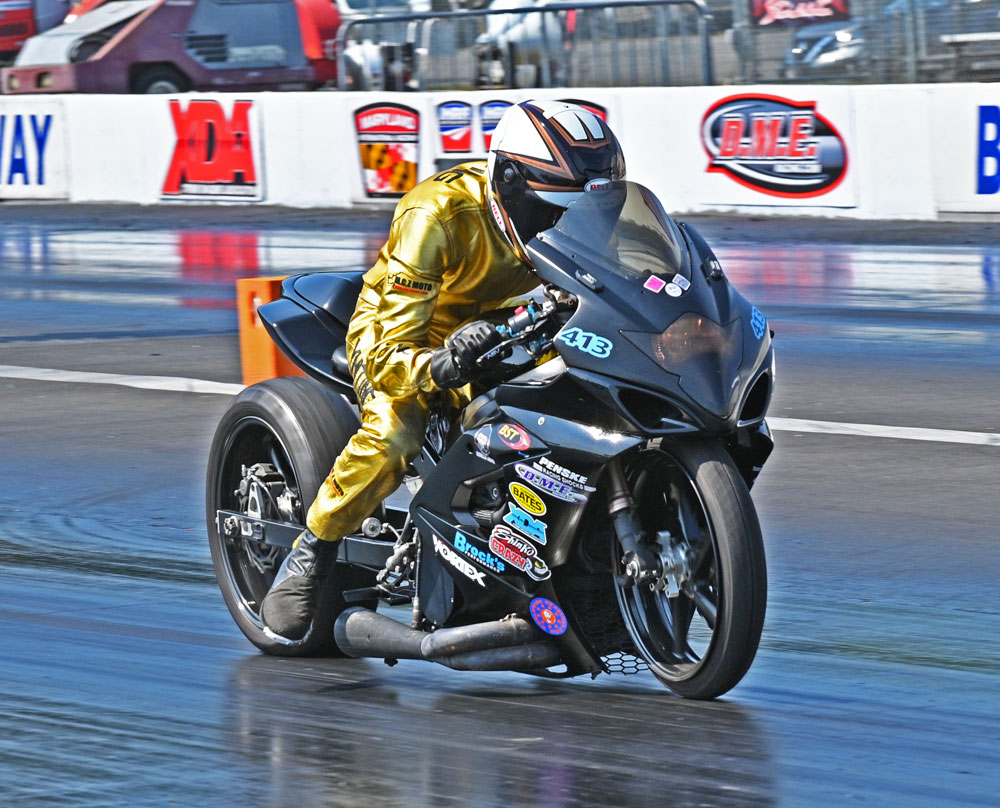 Then in round five, the worst possible outcome happens, Mauro had a bye to the final and Jackson took a win heading into the final as well. Courtlan had just won the Crazy 8's final before this round, left the winner's circle and ran over to watch this round, but that was all he could do at this point, watch.
In the final round, if Jackson won, he would also take the championship by twelve-points, but if Mauro won, Whiting would win the championship by three points. And at this point as a racer, you are doing the calculations in your head and hoping you counted everything correctly because this would be the tightest championship this season.
Both Mauro and Jackson were at the top of their games, cutting lights and running the number. You couldn't even bet on who would win this one, it was a coin flip pairing. Mauro got the starting line advantage on Jackson, but to the naked eye, it was hard to see as they both shot off down the track toward the eight-mile finish line. Neither racer was lifting the throttle, and they both broke out, running a 5.580 to a 5.569. Mauro would be the victor by a margin of only four inches! And when his win light came on, both Courtlan and Mauro's teams went wild!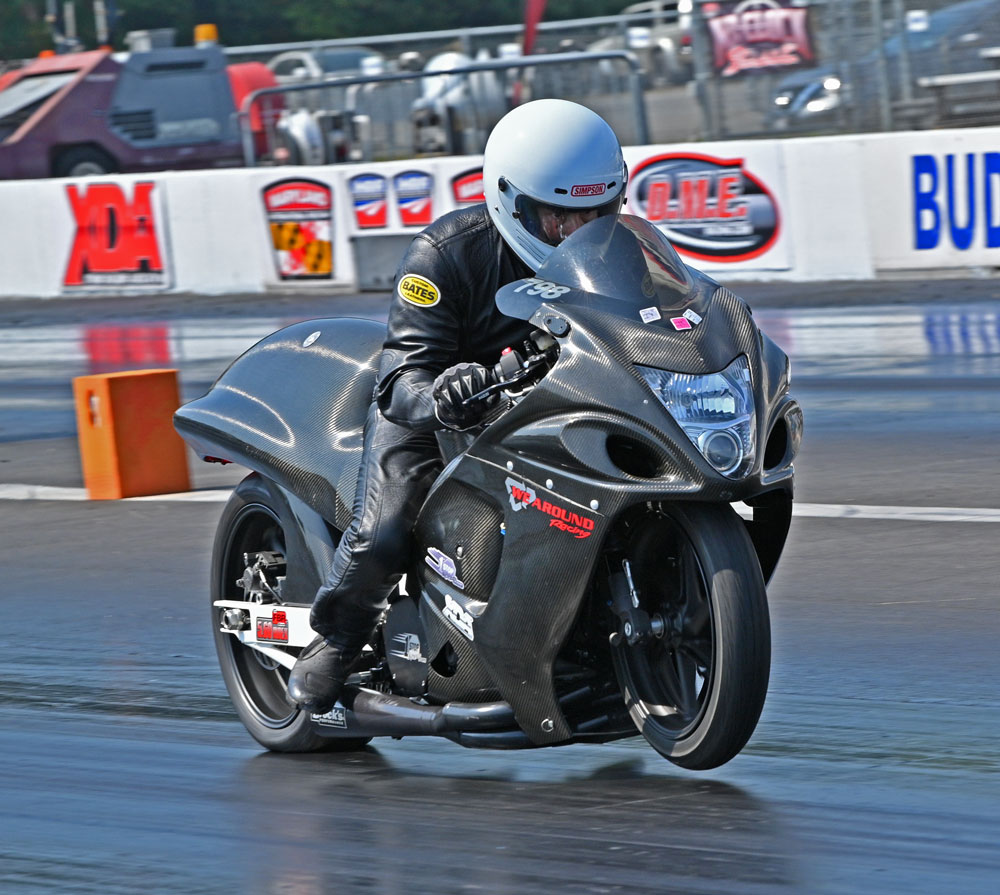 You can only see this kind of excitement if you are at the track. Get the 2020 XDA schedule on your calendar!
Shinko Tires Crazy 8's
Champion – Dustin Lee
Dustin Lee had the 2019 Shinko Tires Crazy 8's championship locked down before he even rolled into the track. His celebrating more than likely started on Thursday when he pulled in.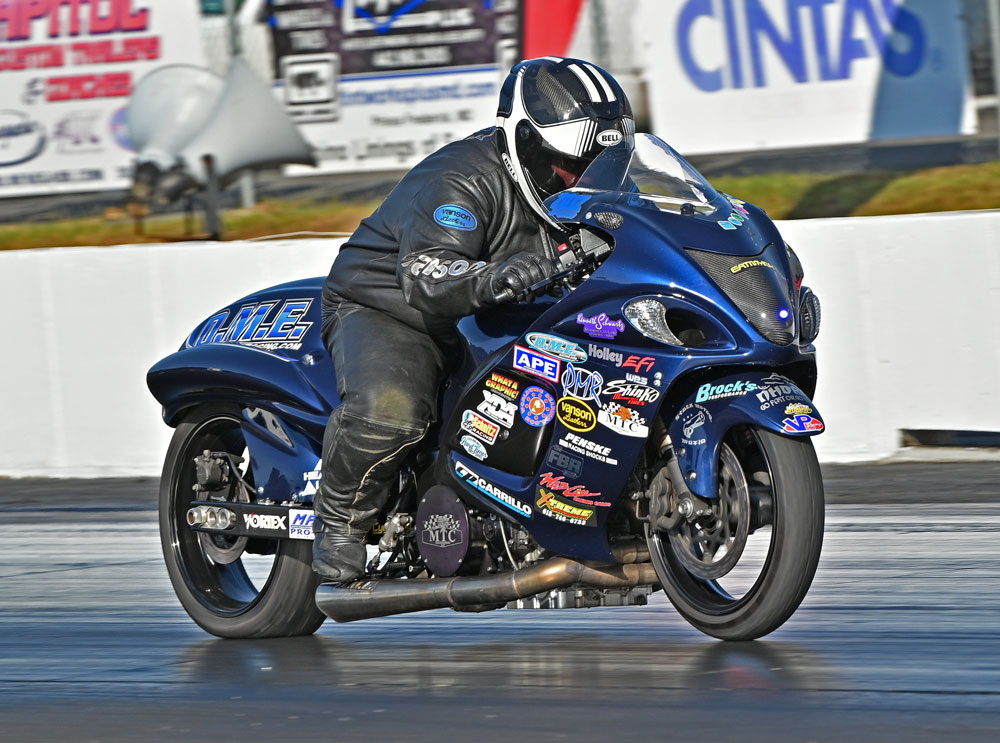 Mark Southard who took the win in Saturday Street ET also made the top qualifying spot in Crazy 8's with an 8.884 over thirty-four competitors. Unfortunately for Southard his Saturday winning streak would not translate over to Sunday as he would take a loss in round two to Duane Jackson. Courtlan Whiting who has had a sensational year made another final round appearance with Andre Ritchey. Ritchey, who was in his first Crazy 8's final this year would not be able to overcome a hungry Whiting. Whiting took the starting line advantage, and as both competitors approached the finish line, neither one was willing to back off the throttle, and they both broke out. Whiting ran an 8.862 taking the win by a margin of victory of just .017 seconds, over Ritchey's worse 8.844 breakout pass. Courtlan Whiting finished the season second in points, while Ritchey finished in sixth place.
Mickey Thompson Performance Top Sportsman
Champion – Robin Procopio
In Mickey Thompson Top Sportsman 154 riders would enter, but only thirty-two would qualify for the quickest bracket class in XDA. Kevin Manchester would take the top qualifying spot with a 6.921, while Hank Lovett would round out the field in the thirty-second position with an 8.176 ET.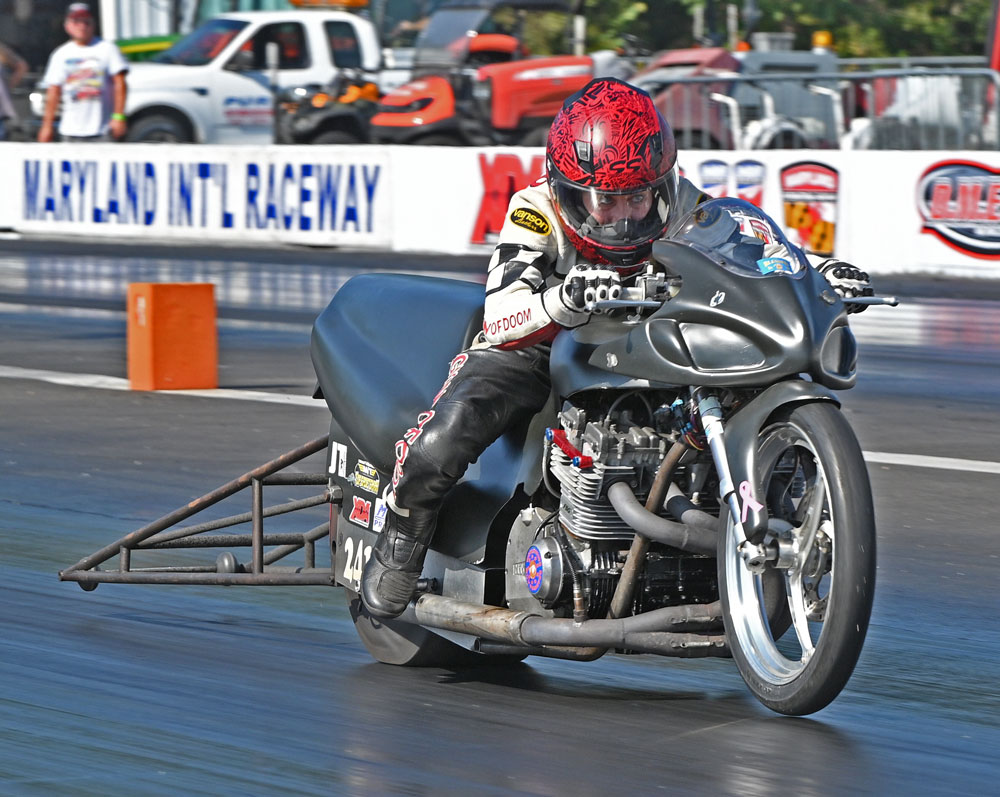 In round one of competition, out of the sixteen pairs of bikes that went down the track, only six of those delivered action as ten riders would either red light or break to give wins at the tree. In round two of eliminations, Robin Procopio beat Bobby Holland, who was trailing her in points, to clench her first Top Sportsman Championship! In round three she would be taken out by Richard Gadson, who at the previous event, she beat in the final round. Gadson would go on to make it to another final to face Kevin Manchester riding the quickest bike in the class. With the pressure of a win on the line, and one of the best riders in the country in the lane next to him, Manchester would go -.061 red to send Gadson to his second winner's circle of the day!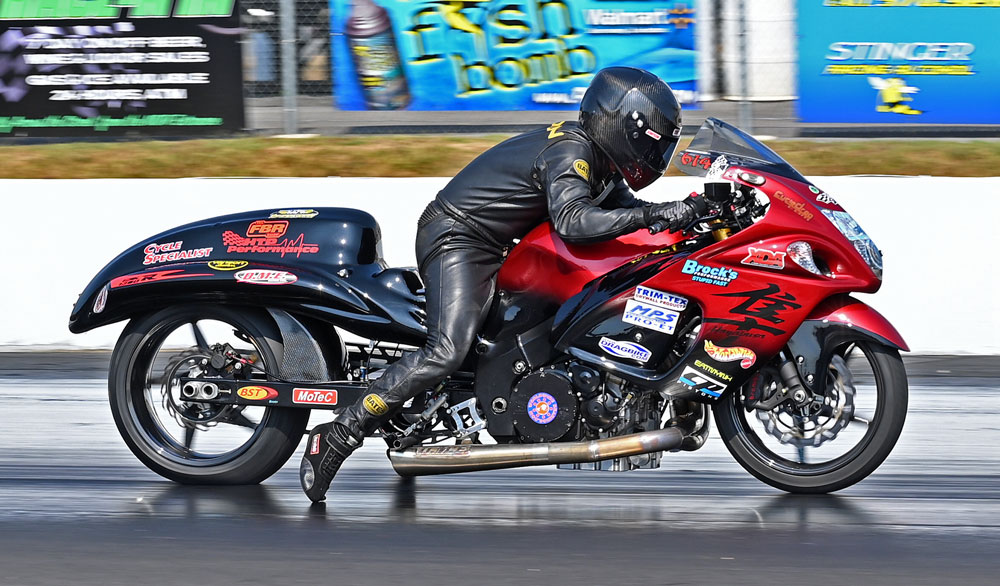 MPS – Motorcycle Pro ET
Champion – Mike Schulz
On Saturday the lanes were overflowing with 157 MPS Racing Pro ET bikes ready to contest the best bracket racers the east coast has to offer. It took seven rounds of competition to get down to just two men for the last battle of the night. Mike Marino and Dustin Lee would be those guys.
In the final, the bulbs would drop almost simultaneously as Marino dialed an 8.91 and Lee an 8.90. Marino would get the advantage at the tree with .024 light to Lee's .045. As they approached the strip, Lee made a rare miscalculation and broke out with an 8.885 giving the win to Marino with his dead-on 8.918 run.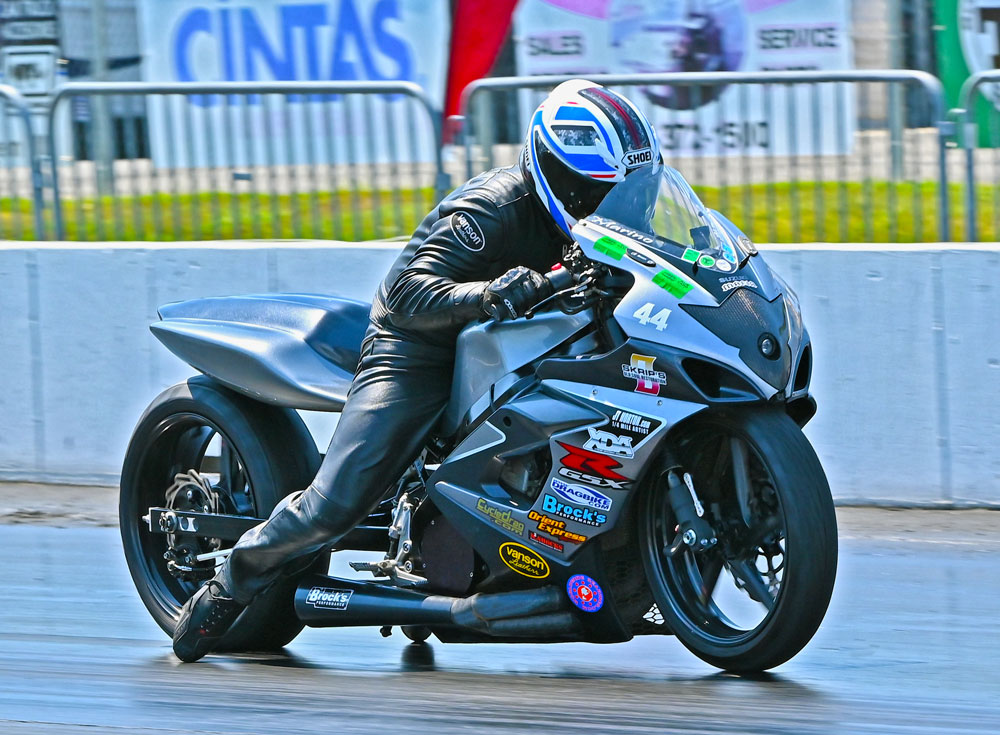 In Sunday's MPS Racing Pro ET race, it would be another eight-round battle with another Mike taking the win, but this time it would be class points leader Mike Schulz. With a strong showing of rounds won on Saturday, the only way Schulz could have lost his points lead would have been to take the first-round loss. But for Schulz that wasn't an option as he continued the charge on Sunday. Marino met Nick Hamlett in the final already knowing he was the class champion. But the final battle in Pro ET would end at the starting line. The bulbs dropped, and Nick Hamlett would be the third rider to red light against Schulz that day with a -.004 reaction time. Schulz finished the 2018 season tied for fifth place with three other riders, and this year the spotlight will fall solely on him! This is Mike Schulz's first time as an XDA/IDBL/MIROCK champion!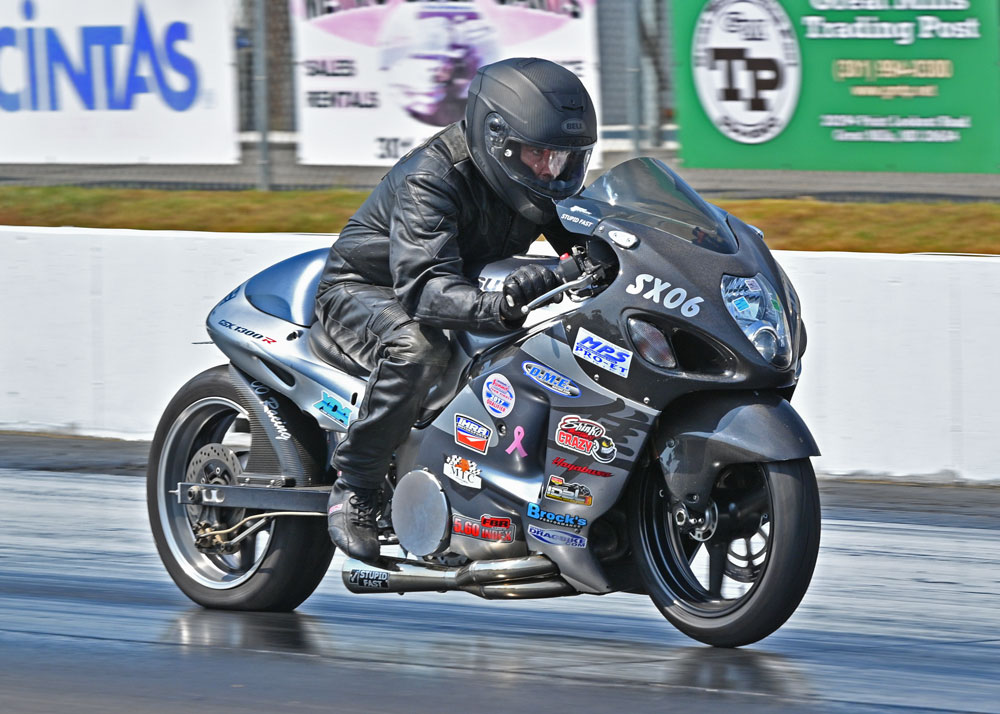 Brock's Performance Street ET
2019 Champion – Dustin Lee
Going into the DME Racing Fall Nationals Dustin Lee had a 120 point lead in Brock's Performance Street ET, and while the competition put up a fight, Lee finished the season on top claiming another championship for the second year in a row with a hundred point lead.
The competition was so hungry that virtually every first-round loser took advantage of re-entry for a second chance at the winner's circle. But the two competitors that did not need the re-entry option were Derrick Milbourne and Jimmie Miller. These two are top five in the class, and they cut through the competition effortlessly to meet each other in the final.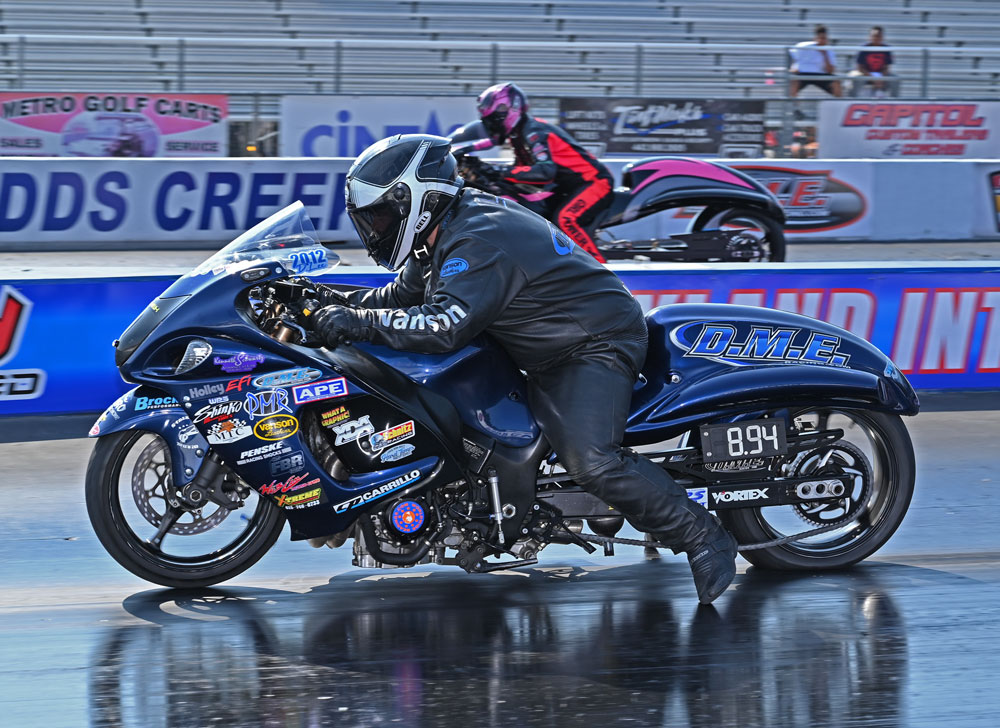 In the final Milbourne dialed 8.94 and got the jump on Miller with a .030 reaction time to his .063 dialed in at 8.49. With his opponent getting the starting line advantage, Miller would be playing a bit of catch up to get in front of him. But Miller would make a mistake by not lifting enough to take the stripe on a breakout run of 8.479, to give the win to Milbourne who ran an 8.961. Miller finished the season third in points, just thirty-two points behind Milbourne.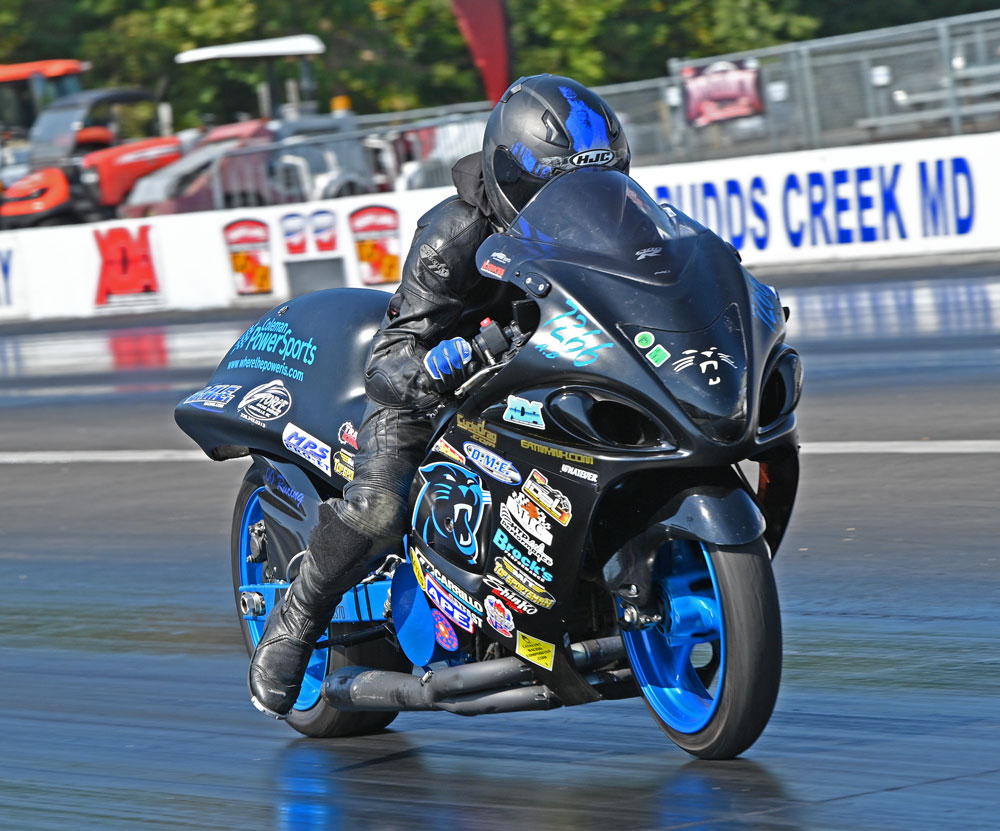 With Milbourne being undefeated on Saturday, he rolled through the competition on Sunday to make another final round appearance looking to double up. However, Shayne Proctor was rolling through the competition too and was ready to end Milbourne's win streak. When they met in the eighth-round final, their race would be one of the closest of the weekend. Proctor dialed 9.03 and Milbourne 8.97. Milbourne took a slight advantage at the tree with a .019 light to Proctors .023. They would race side-by-side down the quarter to the stripe with Proctor getting the win by a fraction. Proctor ran a 9.034 and Milbourne an 8.978, giving them an identical .027 package! Milbourne finished the season number two in points, while Proctor finished in sixth place.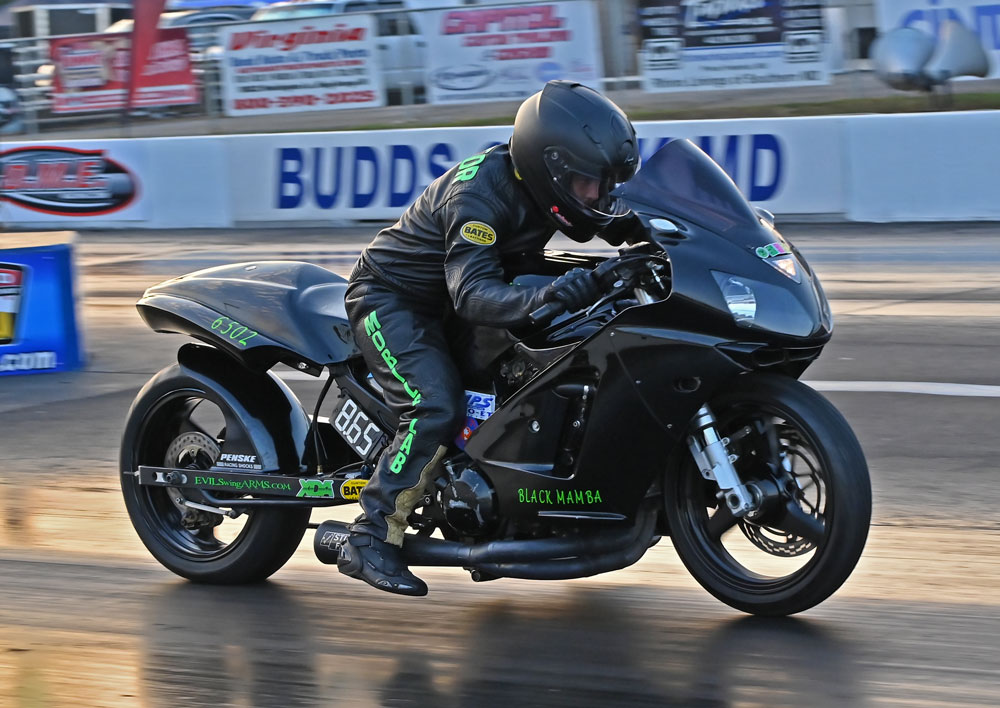 XDA's Street ET class continues to grow with new racers taking their first steps in this class at every race. Zack Krinock has been to many XDA events, but this past weekend he brought his 1982 Kawasaki and entered the competition. He won three rounds with good reaction times and consistent runs on his twelve-second dials. He also ran his personal best of 12.62 during Friday's test session. We hope to see him back in 2020 with his bike!
Gamblers Race
In Friday night's gamblers race thirty-nine riders entered the race, and Mac McAdams pulled the first-round bye. McAdams would fall in round four to Derrick Milbourne, who would then get an earned bye in round five to send him to the sixth round final to face Mark Southard. On his way to the final, Milbourne would take Johnny Mullikin, Jim Shifflett, Taylor Dunham out of the competition. Southard was also unstoppable on his way to the final with quick reaction times and consistent ET's. He took out heavy hitters like Dustin Lee, Jay Windsor, Robin Procopio, and David Ashton along the way. In the final, Southard would cut his worst light of the day with a .052 to Milbourne's quicker .032. And while a lot of races are won at the tree, this would not be one of them as Southard ran closer to his 8.81 dial with an 8.852 to Milbourne's 8.968 on his 8.90 dial. Mark Southard took the first win of the weekend and $2,438 in cash, in the racer funded race.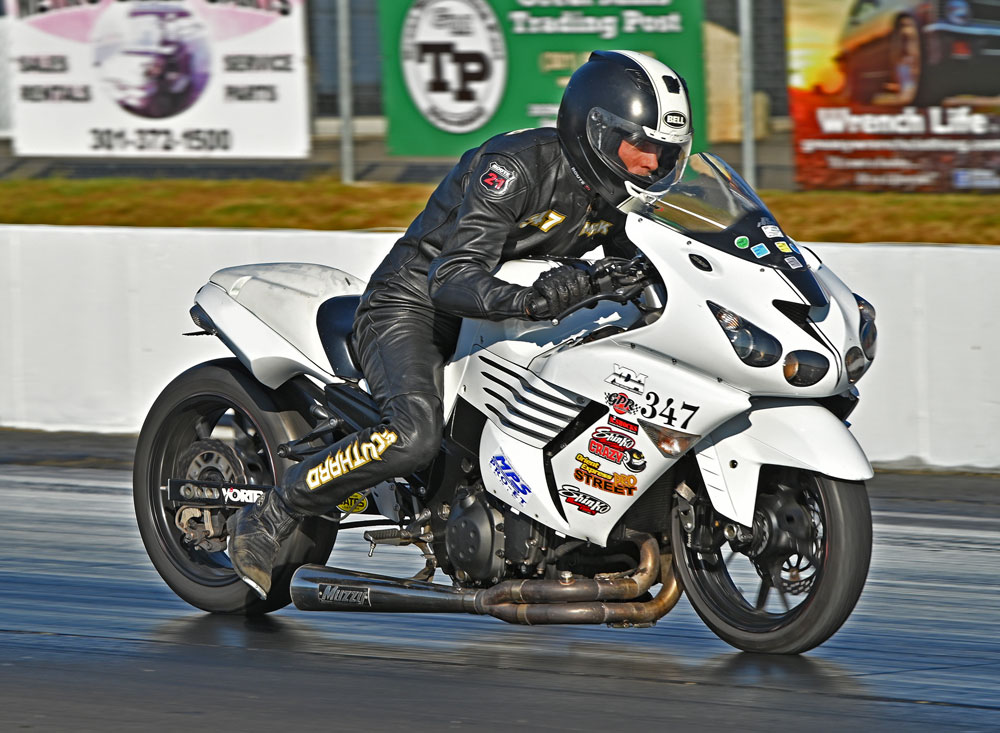 Trying to pick one standout moment in the XDA season would be near impossible. From the first run to the last, the entire XDA season was filled with great racing and memorable moments. Congratulations to all our race winners, record breakers and champions. And to all the racers that came out for their first XDA event in 2019, welcome to the family!
The 2020 XDA season will begin where 2019 ended, the world-renown Maryland International Raceway on April 24-26, 2020 for the Platinum Fleet Repair Spring Nationals. Mark your 2020 calendar now and don't miss a weekend of racing with the quickest and fastest sanction in the country.
There are more videos on the Cycledrag Youtube channel (please subscribe here) and the Cycledrag.com Facebook page (Please like here) and more will be coming soon. Check back daily.
Visit xdaracing.com for event information, class rules, schedule, and more.
About XDA Racing
The Xtreme Dragbike Association (XDA) is an east coast motorcycle drag racing series with 700+ motorcycle racers competing at each event. Every XDA event hosts professional classes, sportsman classes, grudge racing and a vendor midway. Lifestyle activities such as bike shows, bikini contests, DJ and live bands are also held at select events. For more information on the XDA, please visit www.xdaracing.com or connect with us on Facebook, Instagram, Twitter and YouTube @xdaracing