Drag Racing is a sport of extremes. High horsepower is the name of the game; however, it is largely governed by weather conditions. The track conditions at Sydney Dragway were certainly on the extreme side in the week leading up to the Santo's Summer Thunder event. A Test and Tune on Tuesday saw track temperature reach 150 degrees!
For five-time National Top Bike champ Chris Matheson, he knew it would be tricky, especially with a forecast for even higher temps on Friday.
"I certainly don't mind a bit of heat," said Matheson, "but it can make it tricky trying to get 1500 horsepower to stick on a hot track."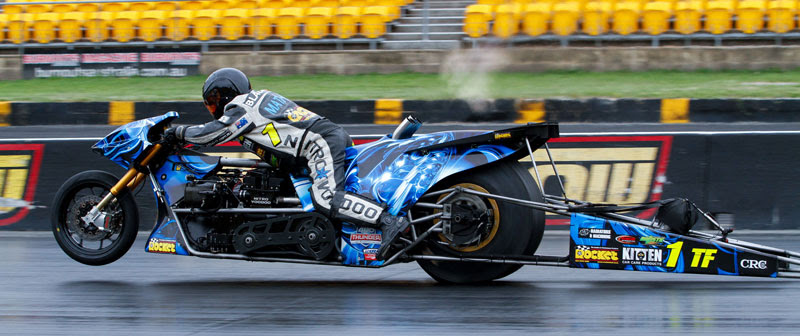 Last time out Matheson failed to score any points in the 400 Thunder championship. On his first pass at Sydney Dragway's East Coast Thunder, he suffered an injury to his back on day No. 1. Despite a visit to a doctor, Matheson made the difficult decision to withdraw.
"Normally I would grin and bear it, however, the painkillers were not giving me much relief, and I just couldn't get on the bike to ride it."
"With a few months in between rounds I was able to get some rest and physio to my back and build up some strength, "said Matheson.
Having only picked up 20 points following his last round in Sydney, Matheson knew he needed to perform well to close the gap on points leader Jay Upton and Gavin Spann.
Matheson and his Nitro Voodoo transporter arrived at the track on Wednesday. On Thursday he had a number of activities to attend.
"I was invited by Sydney Dragway to attend a Media Launch and Fan Day at Blacktown Civic Plaza. This was a great initiative to promote the sport to the general public during the busy Thursday lunchtime schedule. On display was one Top Fuel dragster from Rapisarda Autosport International and the AC Delco Pro Slammer of Maurice Fabietti.
"Then on Thursday evening the Australian Top Bike Group and Sydney Dragway held a welcome BBQ in the pits for racers and crews. Again, it was a success and was well received. Myself and the Nitro Voodoo crew were kept busy turning sausages and we were able to meet a lot of cool people."
Friday's schedule allowed for two shakedown runs, however with the extreme heat the Nitro Voodoo team elected to sit them out as they felt there was nothing to gain.
"We have always taken advantage of any track time," said Matheson, however since we had another shakedown session on Saturday with cooler conditions, we went back to the Atura Hotel and dive bombed the pool, laughed Matheson.
The first pass on Saturday's third and final shakedown session was a solid 6.18 ET at 199 mph [320 kph]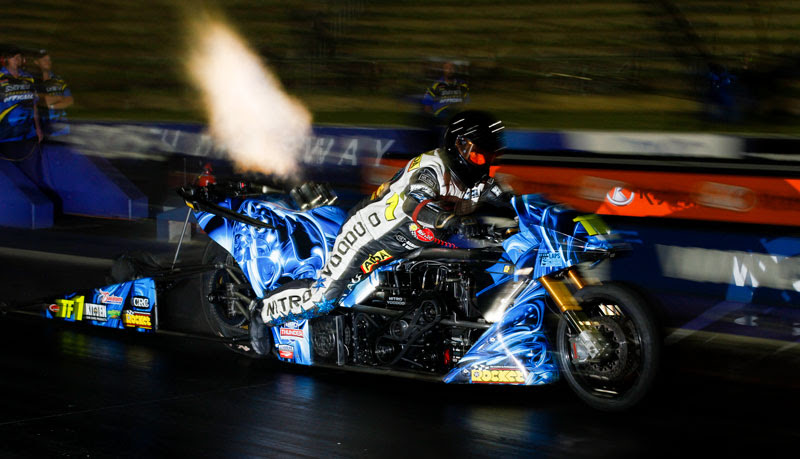 "This certainly put a smile on our faces," said Matheson, and that was with a couple of grabs at the throttle and an early shutoff."
Matheson said," The track held for the early part holding a .106 to the 60 foot and 2.71 to 330 feet, but then the back tyre started spinning followed by a couple of peddles.
"We then moved into the first round of the 400 Thunder All Run format. My first opponent was nitro Harley king Adam Layton from Sydney. Adam was trying out a new high gear setup on his V-Twin," said Matheson.
"Layton got out early as we smoked the tyre and shook. Eventually, we regained traction and quickly ran down Layton in a 6.60/196mph [315kph] to a 7.03 race," said Matheson.
Second round Nitro Voodoo took on the nitrous Suzuki of Rod Barchet. On the green, the Nitro Voodoo machine clicked off another 1.06 to the 60 and got as far as the 1000-foot mark before manhandling the bike to a safe stop. The result was still a strong 6.08 at 210 plus mph.
"We were almost a second ahead of the competition which was a great result in the trying conditions and not far off our track record at Sydney Dragway, said Matheson.
Matheson was to face Gavin Spann in the final, however a big Pro Slammer crash prior had damaged the safety netting in the sand trap so the meeting was cancelled. The good news was that the driver, Sam Fenech walked away without a scratch.
Matheson said the team found some form over the weekend. "We ran some improved short times and the bike behaved itself. I was happy all round after my withdrawal in the previous Top Bike round and my back held up which allowed me to move around and ride the bike. I haven't felt that well physically with my bike for some time. Hopefully, the ongoing rehab will continue to help with the spine so I can get back to full strength."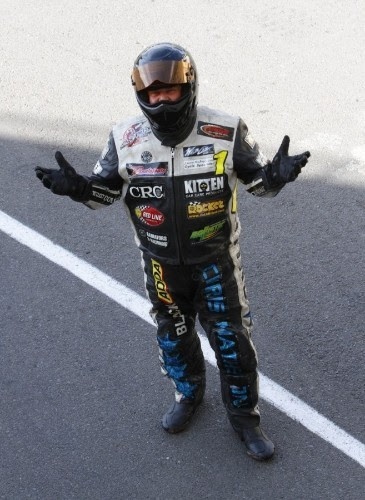 Matho came away with 101 points which certainly helped bridge the gap with fellow racers Upton and Spann and is now in striking distance of the championship points.
Rd 4 of the 400 Thunder Top Bike championship now heads to Willowbank Raceway on April 19th