Chris Matheson and his Nitro Voodoo Team have made Australian History taking out their fourth Australian Top Fuel Motorcycle Drag Racing Championship.
Matheson is the first to succeed in achieving the milestone and will go down in Drag Racing history as one of the greatest to compete in an extremely dangerous motor sport.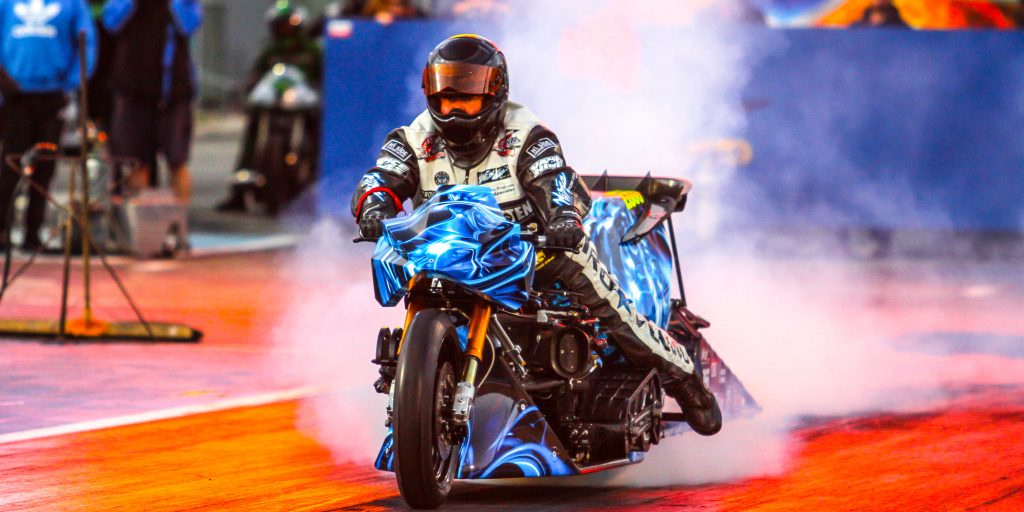 Matheson Top Qualified last weekend at the Gulf Western Oils 50th Anniversary of the Winternationals, some two tenths ahead of the field, clocking 6.18 seconds with an early shut off. Matheson said "the incrementals of the bike were the quickest seen in Australia for many years. We got into the 1.0 seconds in the 60fts and almost 200mph (322kph) to half track. We were set to turn it up for race day, however, the rain gods put a stop to that".
"The Winters is Australia's premier event and attracted an over-subscribed field of Top Fuel Motorcycle racers, though, come race day the field diminished to seven. The stage was set for a huge race day, however, heavy rain caused the cancellation of the event".
Matheson burst onto the Top Fuel Motorcycle scene back in 2010, setting new benchmarks across Australia, re-writing records and re-setting his own National Records on several occasions.
Matheson won the Australian Championship in his rookie year, then went on to hold the number one plate for a further two years, at one stage racing undefeated for almost two whole seasons, unheard of in the sport.
In pursuit for his fourth Championship in a row, Matheson had a massive accident at Sydney Dragway in May 2013, falling off at over 380kph (235+ mph), sustaining multiple injuries. After a six-month recovery programme, Matheson returned with a new machine and was yet again fearless in his pursuit to beat his long standing National Record of 6.04 seconds at 241.8mph (389kph).
Matheson and his Team hold the Australian Record and most Track Records across Australia, still recognised as the quickest man on two wheels in the Southern Hemisphere.
Matheson's recent success in winning the Thunder 400 Top Fuel Motorcycle 2017 Championship, was underlined by the fact he won the first round of the six round Championship, then continued to lead the points chase for the entire season.
Matheson said "we were consistently fast and got to the final of virtually all the rounds, gathering points along the way. We missed an entire round early in the season, however, kept our goals and continued our winning ways throughout the rest of the season. I'm really proud of my Team, Crew Chief Graeme Turner, Clint Ackland, new member Mitch, who make it all happen, I just pull the trigger and have the fun".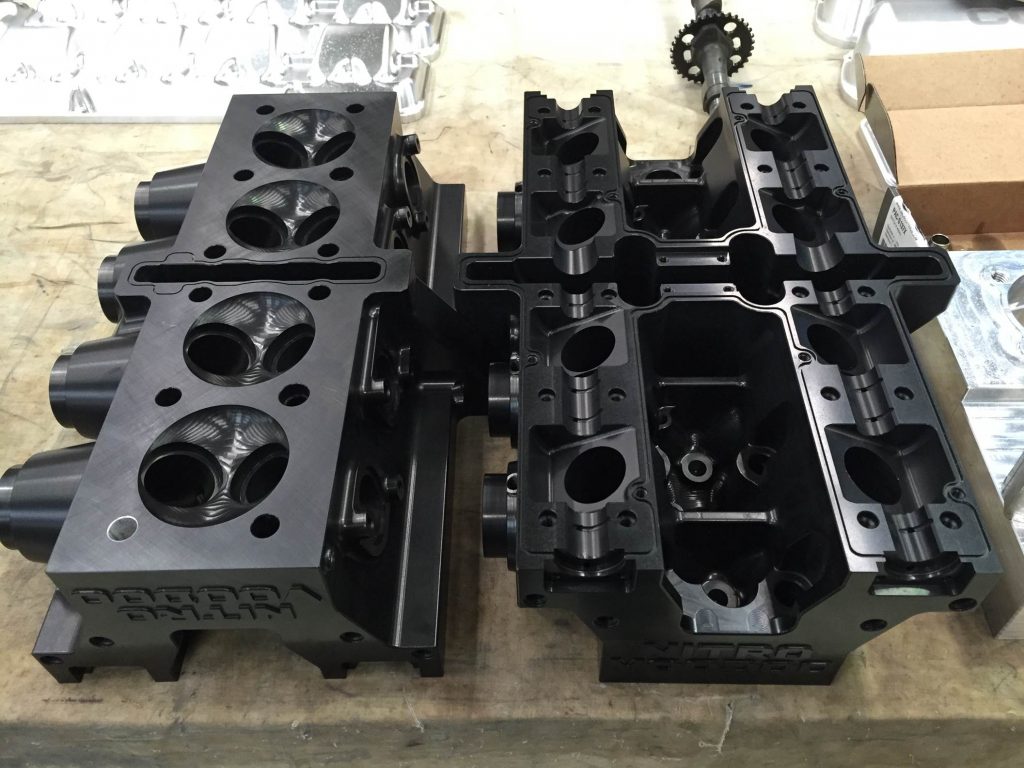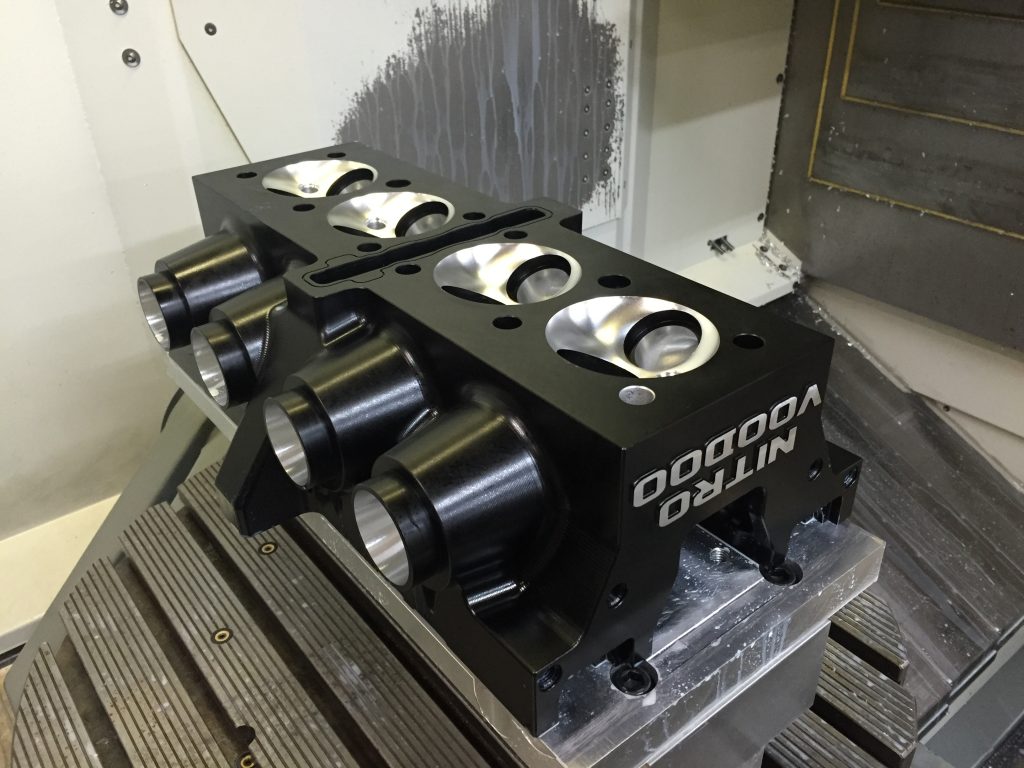 We took a bold step a couple of seasons ago and built our own engines with the help of Philip O'Brien, who's track record at the forefront of performance engine building is second to none. We have been able to get reliability into an engine that is lucky to survive one pass, let alone an entire season, it is a credit to all my guys.
Being quick, fast and reliable in this crazy sport is extremely difficult, the distances we travel across Australia competing, the time we devote to our passion and the cost on our family and loved ones is enormous. To our sponsors, friends, fans and fellow racers and their Teams, none of it will happen without all of them.
Matheson, at the age of 56 has no intentions of slowing down, when asked when he will retire, he said "I'm not done yet, I have some unfinished business on this bike before I head to the retirement village".
We have a clear goal and that's to improve our record of 6.04 seconds and break into the five second zone, a feat not yet achieved in Australia.
Chasing Championships is all about reliability, consistency and winning where it counts. In that process we break records along the way. Pushing the limits to lower our current record is going to be an exciting challenge, of which the whole Team is up for.
Our sport here in Australia and in fact Worldwide is seeing a resurgence with new riders and Teams entering the circus, which is great. It is a sport not for the faint hearted and one that if you intend winning, you need 100% commitment. It's a lot of fun as well, the bike produces near on 2000bhp and runs over 240mph (386kph) in six seconds. We do 100mph (160kph) in a second from the hit, 200mph (322kph) to 200 metres (half track), then almost 240mph (386kph) at the finish line. The bike carries the front wheel for the entire run and you actually steer with your feet, a scary deal, but unbelievable fun if you survive the pass".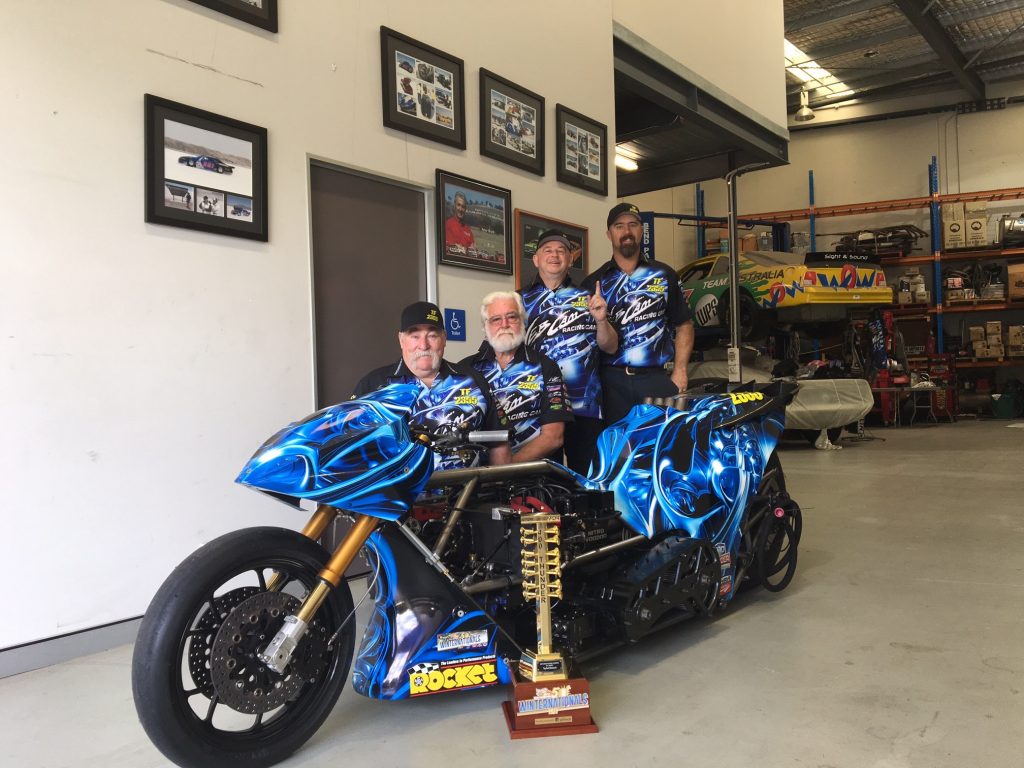 "I really enjoy the technical challenge of the mechanical side of the bike, you are never too old to learn anything! In recent years, I have been very fortunate and have learnt from the best in the game including the legends Larry & Steve McBride and of course my best mate and Crew Chief Graeme Turner. I believe the older you get, the more you want to acquire knowledge and discover new things. In the last few years, I've learnt the whole deal inside and out of our engines, clutch, the entire set up. It's been the difference, as you can make informed calls on set up, tuning and race craft to get the end results".
"I go to bed thinking about it and wake up thinking the same thing "how do we go quicker", it becomes obsessive as we strive to improve. Dangerous, yes, very dangerous, but everything is. Respect of the machine and your fellow racers is key, the moment you don't, you will be in a whole lot of grief".
Matheson said he is really looking forward to the 2018 season. "We have just about got a handle on our new engine set up and we hope to realise the bikes full potential. We are seeing new faces in the ranks and I think the sport is heading in the right direction after turbulent waters over the last few years".
"We have invested in our engine programme and the whole Team set-up, including a new custom built Transporter to crisscross the country, we're all really excited and look to the future of the sport".
Matheson thanked his Sponsors & Supporters:
GT Radiators & Machining, Kitten Car Care Products, CRC, Rocket Industries, Performance Wholesale, Great Southern Diesel Service, WebCam, PDS Graphics, Worldwide Bearings, Hi-Side Leathers, Boninfante Friction Inc., Ballistic Racing, Aeroflow, with special thanks to Steve and Larry McBride.
Photo courtesy of Luke Nieuwhof