Good lawyers offer clients a swift and successful verdict.
Attorney Ken Schwartz of St. Louis, Mo., is accustomed to getting rapid, rewarding results. Not only is he good in the courtroom, he regularly turns on win lights in about eight seconds aboard his immaculate turbo-charged, car-tire Suzuki GS.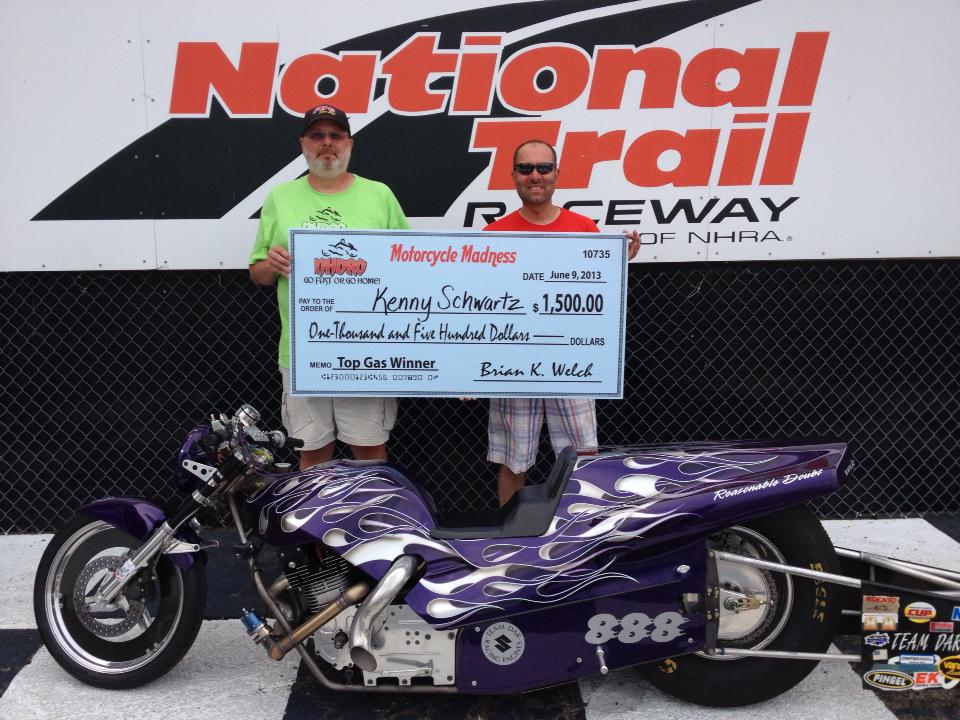 Not one to hide his profession of choice at the dragstrip, Schwartz named his impressive ride the "Reasonable Doubt Suzuki." Over the years , Schwartz's two loves, litigation and dragbike racing, have merged more than he ever imagined.
"Most of my clients I can trace back to somebody I knew through motorcycles," Schwartz said. "You make great friends drag racing and riding motorcycles and when they have legal issues or know people with legal issues, they send them to me. I'd go so far as to say the majority of my practice derives from people I have known through dragbike racing. That's where most of my friends come from too."
Schwartz finds a lot of his motorcycle-riding colleagues tend to trust him more than just some random lawyer. Since he began racing in 1987, Schwartz has helped some very high-profile dragbike racers and organizations over the years.
"Larry (Spiderman) McBride and Jimmy (Hulk) Brantley were given some grief by Marvel Comics a few years ago over using the Spiderman and Hulk images. I got in touch with the lawyers in New York City who had an issue and we made it go away," Schwartz said. "I also helped incorporate ManCup and set up all the limited liability company (LLC) stuff for them."

Schwartz worked closely with the defunct IDBA's Leigh Ann Minn, doing whatever he could to help save the organization and he was instrumental in bringing AMA Prostar to his hometown for the PR Factory Store St. Louis Nationals.
Schwartz, who has a NHDRO Top Gas championship to his credit, finds his high-speed experience is often helpful in the courtroom.
"I've represented a number of guys who got in trouble on motorcycles and sometimes judges get a little freaked out about triple-digit speeds. I've reminded a judge I've taken my hand off the handlebar at 140 mph and it wasn't that big of a deal. I remind them 100 mph isn't that much," Schwartz said. "They all know me and they think it's funny."
Schwartz grew up riding motorcycles, including a 1970 Yamaha RD 350, and his love for dragbike racing began in the late 70s when he would watch legendary Funny Bike pilot Bryan Bennett record low-eight second elapsed times at Gateway International Raceway. Eventually Schwartz decided a piece of drag racing equipment of his own was necessary and purchased a 1984 GPZ 550 out of the crate.
"That was my first semi hot rod bike and I went out and street raced it like every other young idiotic guy," Schwartz said. "Eventually I found my way over to Gateway International Raceway and I started to see some really cool bikes."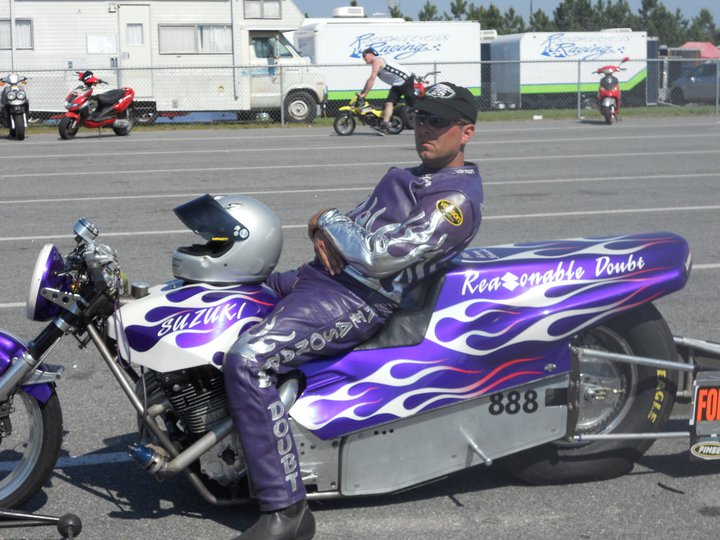 At this point Schwartz was hooked on motorcycle drag racing. However his two-wheel passion would have to wait as Schwartz, who would go on to become a Lieutenant in the U.S. Army, was about to be deployed to serve in Desert Storm. Upon returning home in 1992 and contemplating pursuing a career in law enforcement, Schwartz decided to follow in his father's footsteps and enter law school. He also decided it was time to build his first real dragbike.
"When I was deployed all the money I made was going back to my bank account and I never touched it. So when I came home I had about 10-thousand bucks. I promptly blew it all on building a Super Comp dragbike," Schwartz said.
Schwartz graduated law school in 1994 and five years later decided to assemble something really exotic.
As a friend and admirer of the late, great Top Sportsman racer Roger Franke, Schwartz became fascinated with turbo bikes. The legal expert got himself a 2000 Koenig Pro Mod chassis, the predecessor to the Low Boy, very similar to the one Tommy Miceli famously rode to many event wins, and powered it with a 1,400 c.c. Suzuki GS motor with low compression pistons and stock 1150 cams. The bike featured a draw-through, carbureted fuel system, similar to how most Funny Bikes were setup at the time.
"If you built a turbo bike in the year 2000 to go bracket racing, you built a draw-through bike," Schwartz said. "There were not a lot of injected bikes back then."
Over the next decade, on this unique, and perhaps less than exemplary combination, Schwartz would go on to amass multiple top-five plates and numerous wins and final round appearances in IDBA and AMA Prostar. Schwartz's contemporaries were thoroughly impressed.
"Top Gas racing is of course bracket racing and a turbo bike is not the most ideal. It's a heck of a lot of fun, but it's tough," Schwartz said. "Kenny Dermanelian (fellow Top Gas turbo racer) will tell you they are not the easiest bikes to tune. I think the best option for bracket racers is a big displacement, non-nitrous bike with a throttle stop and a good weather station."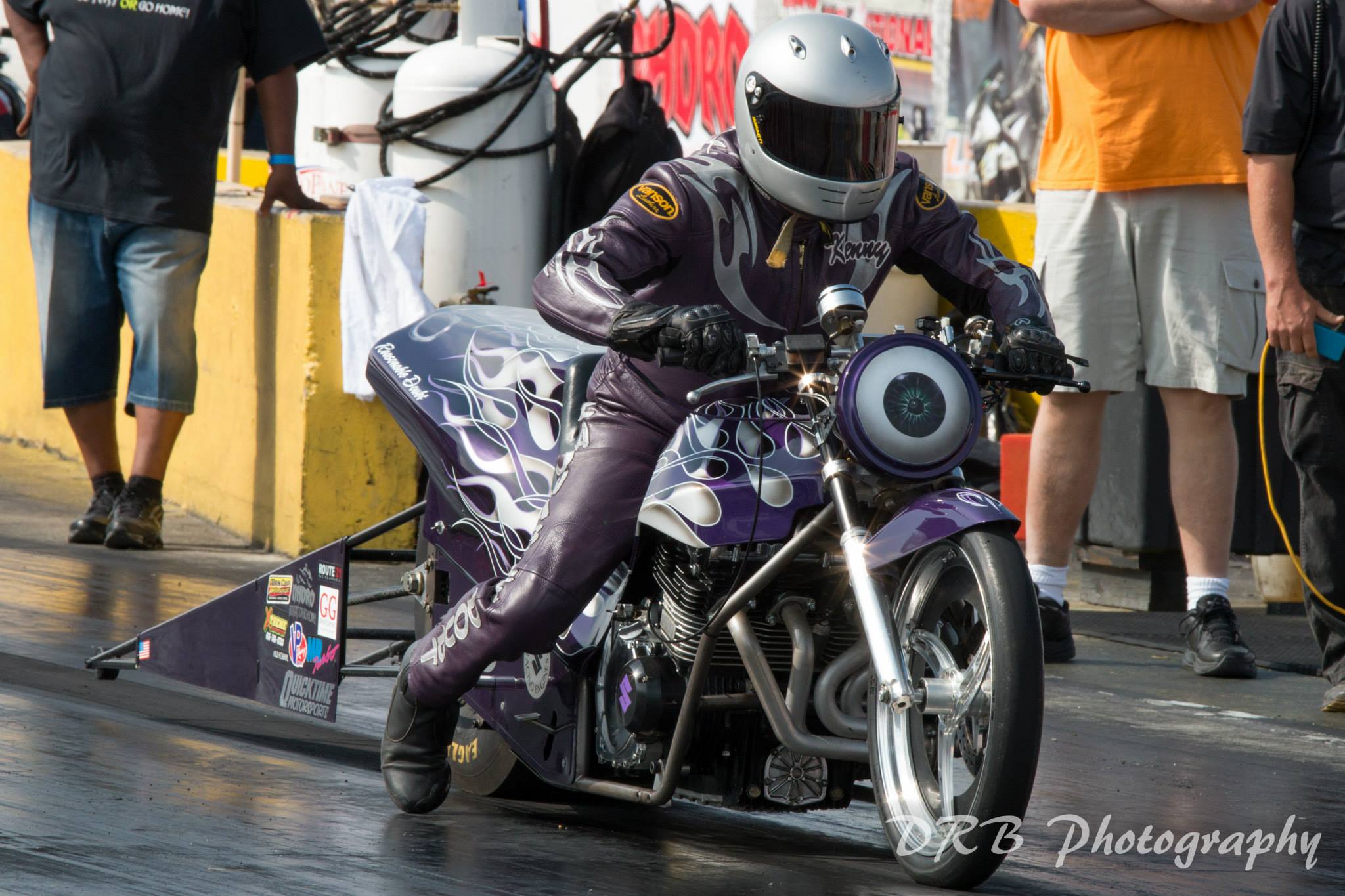 That's not to say Schwartz has any plans of changing his beloved and enjoyable combination. It's just too much fun for him.
Schwartz continues to follow the NHDRO circuit and attending select PMRA racers, and a MANCUP race here or there, if his schedule permits.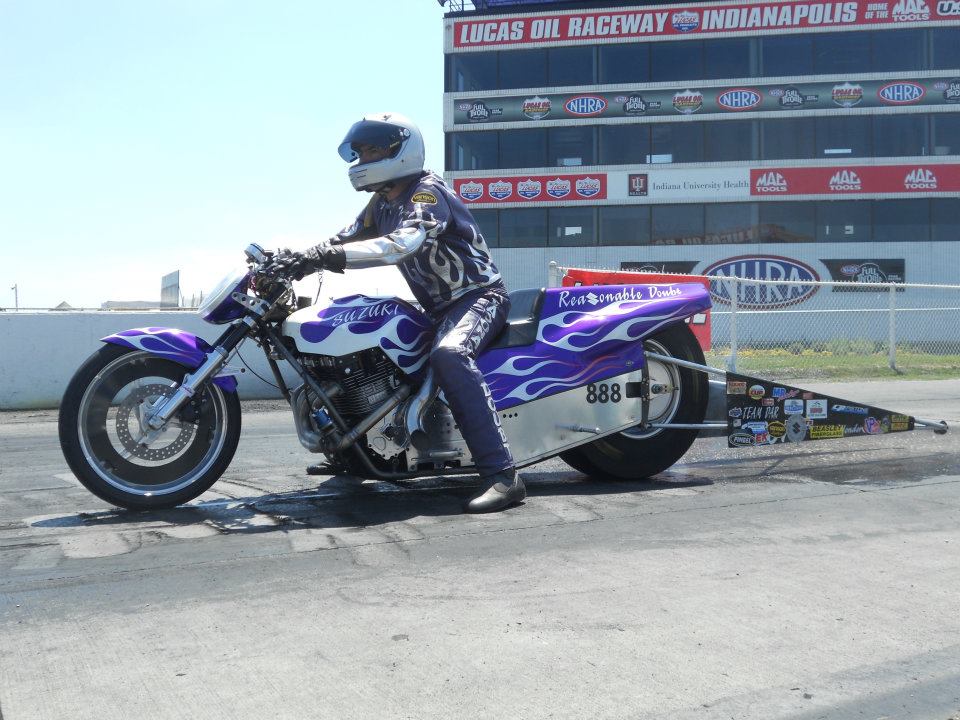 "If you think you have some type of legal issue give me a call. I'd be happy to help," said Schwartz, who specializes in accidents and criminal cases but prides himself as a lawyer who can handle everything from mortgage to murder."
Give Schwartz a call and make sure to mention Cycledrag.com for all your legal needs – 314-863-4444.

There are more videos on the Cycledrag Youtube channel (please subscribe here) and the Cycledrag Facebook page (Please like here) and more will be coming soon. Check back daily.