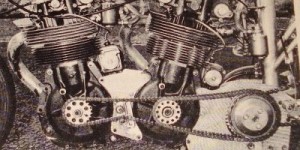 Motorcycle drag racers were no different from car drag racers. In addition to looking for ways to increase the performance of their engines, they also looked at ways of adding a second one. The car guys had done it as early as 1951 when the "Bean Bandits"—Joaquin Arnett and Carlos Ramirez—had competed in a Mercury powered by a pair of flatheads.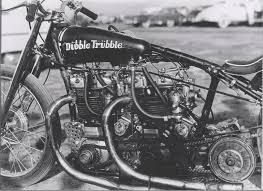 The first twin-engine drag bike would appear two years later. Built by Southern Californian Bud Hare, Triumph-powered "Dubble Trubble" was ridden by Pat Presetti, Bill Koch and Bob Thurston—and always quickly. The machine went 142.38 mph at Santa Ana in 1956 with Thurston riding.
The machine used a Triumph frame that had been stretched nine inches; Triumph 650cc engines running a mixture of 80 percent nitro and twenty percent benzol; and a Harley-Davidson clutch and transmission with second and fourth gear only. A Triumph hub was used at the rear along with a Harley-Davidson wheel and car slick.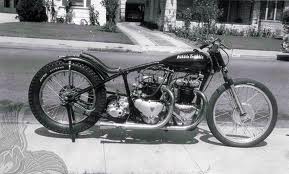 Although a number of cutting-edge machines came out of Hare's shop, the shop itself was anything but. As Triumph racer Don Harris recalls, "The roof was falling in and there was literally a dirt floor. His stuff looked like crap but boy could he make a motorcycle run!"
Part of what helped them run was Hare's incredibly innovative mind. He was, among other things, the first to reverse the direction of the cylinder head to give the incoming air a more direct path into the carburetors, and also one of the first to use splayed ports—which was later incorporated by the Triumph factory. "I saw Bud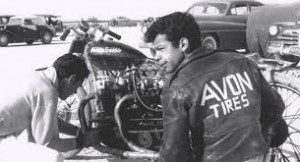 at a drag strip in the early Sixties with a Triumph," said Bob Sirkegian. "I asked him, 'Hey, what's all them lines?" 'I'm playing with something' was all he would offer. It was nitrous oxide and in the Sixties!"
The machine is now owned by Glen Kerr of Swartz, Louisiana, who shows—and races—it as often as possible.
There are more videos on the Cycledrag Youtube channel (please subscribe here) and the Cycledrag.com Facebook page (Please like here) and more will be coming soon. Check back daily.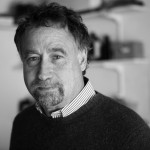 To learn more about the history of
the sport, you can purchase John's book "Motorcycle Drag Racing:
A History". Either go to gearheadpublishing.com or call
(310) 459-7542. The price is $40 and shipping is free.