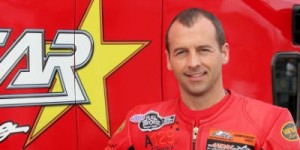 After a three-year absence from fulltime NHRA racing, George Bryce and the Star Racing team were very proud to gain their first round win since 2008 and to qualify both racers in one of the toughest fields yet in Pro Stock Motorcycle drag racing at the Tire Kingdom Gatornationals this past weekend.
The 2012 Sovereign-Star Racing Team, owned by Bryce and partner Jeno Rujp of the European Sovereign Racing Team, is fielding two racers who are relatively new to this level of competitive drag racing. However, riders Scotty Pollacheck and John Hall proved their potential this weekend by qualifying #9 and #14, respectively, with Pollacheck advancing to the 2nd round of eliminations.
"I am very proud of our team," Bryce said. "We got both bikes qualified in the toughest field ever. The wind was brutal, and Scotty got our first round win since 2008! This is a humble start to a great season of growth and improvement. Thank you to Jeno and Sovereign Racing, Daytona Sensors, S&S Cycle, Scotty, John, our crew at the track and our crew at the shop."
Pollacheck won the 1st round with a 7.012/187.08 against Steve Johnson's 7.023/190.46. Pollacheck's 2nd round performance of 6.998/186.64 wasn't enough to eliminate Eddie Krawiec on the Screamin' Eagle/Vance & Hines V-Rod, who went on to win the event.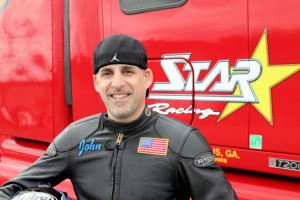 "It was so awesome to be able to qualify in the middle of the pack and to go into the race knowing that you had a legitimate shot to win that round when you've never won a round before. Winning a round is huge," Pollacheck said.
After qualifying #14 in his first NHRA appearance, Hall had trouble in the 1st round when he redlighted against Andrew Hines, also on a Screamin' Eagle/Vance & Hines V-Rod.
"I think we did well for our first time out," Hall said. "All these bikes were going for only 16 spots, which is tough. I knew who I was up against with the #3 qualifier. I knew I had to cut a good light; I tried it and came out on the wrong end of it. But I think we'll be much more prepared for Houston. In those few passes at Gainesville, I learned a lot just riding down the track."
Bryce was more than happy with the Sovereign-Star riders' performances and their current points standings at #8 Pollacheck and #13 Hall, as reported on the NHRA Web site's unofficial points standings.
"They did really great for their first time out. They had some big shoes to fill, and they both agree they have room to improve, as do we with the performance of the motorcycles. We are looking forward to a promising season and want to continue to build on this strong start to the series," Bryce said.
Bryce, who has been very vocal about the current NHRA rules surrounding the Vance and Hines/Harley-Davidson V-Rods, continued to fuel the fires of dissatisfaction among Pro Stock fans and participants over the weekend. The Sovereign-Star Racing, S&S powered Buells were sporting a new decal, "3rd is the new 1st." Although Bryce allowed this controversy to influence his racing plans for the past few years, he is now excited to be back in the NHRA game.
"It was good to come back," Bryce said. "We have stayed out of the NHRA for the last three years because of the unfair rules with preference to the Harley Davidson team. But, we missed out on the dreams, wishes and abilities of our friends, racers, teammates and sponsors that wanted to go try out and experience NHRA racing. It's cool to get to race with our Hungarian friend, Jeno, and with Scotty and John to help them chase their dreams and achieve their goals."
With the first race out of the way, Pollacheck and Hall are both optimistic about the rest of the season and the improvements that can be made to the team.
"My mindset is that I want to work on some things that I need to improve on before the next race in my preparations and my routine. I want to focus on making the bike go faster doing what I'm doing, as opposed to what the crew does. And I want to concentrate on getting me as good as I can be," Pollacheck said.
"There were so many variables that I didn't think about before Gainesville – just how big it is and seeing all the rigs and famous names. I've never experienced anything like that, racing on the same track as them," Hall said. "Signing autographs was new, too. All I've ever signed was checks. We'll keep doing better, though. We learned so much just from that first race."
The Sovereign-Star Racing Team will get a second chance to showcase their skills on April 27-29 at the O'Reilly Auto Parts Spring Nationals at Royal Purple Raceway in Houston, Texas.
The Sovereign-Star Racing Team would like to thank the following sponsors: Sovereign, Star Racing, S&S Cycle, Daytona Sensors, Americus Motorsports Complex, Who's Up Next?, and Quality Tire.
#
Star Racing Fast Facts:
Based in Americus, Georgia
Six-time NHRA Pro Stock Motorcycle Championships
78 NHRA national event wins with nine different riders
Owned by George & Jackie Bryce
Sovereign Racing Team Fast Facts:
Based in Budapest, Hungary
2011 European Championship Team with rider Jesper Thiel
Owned by Jeno Rujp
John Hall Fast Facts:
From: Hamden, Connecticut
Job: Real Estate Investor
Years in racing: 16
Scotty Pollacheck Fast Facts:
From: Medford, Oregon
Job: Owns "Quality Tire" store
Years in racing: 27