Drag Racing is a sport that has a start and a finish. The aim is to cover the distance in the quickest time possible and cross the line ahead of your opponent. For Brisbane drag racer Chris Matheson he is well aware of the challenges 1320 feet [400 metres] can throw at you.
He's been blown off his bike, crashed at 236 mph [380 kph], and electrocuted!. On the upside his "Nitro Voodoo" Top Fuel Motorcycle is the current Australian record holder, and the quickest and fastest down the Aussie quarter mile in 6.04 seconds at 241 mph [388 kph].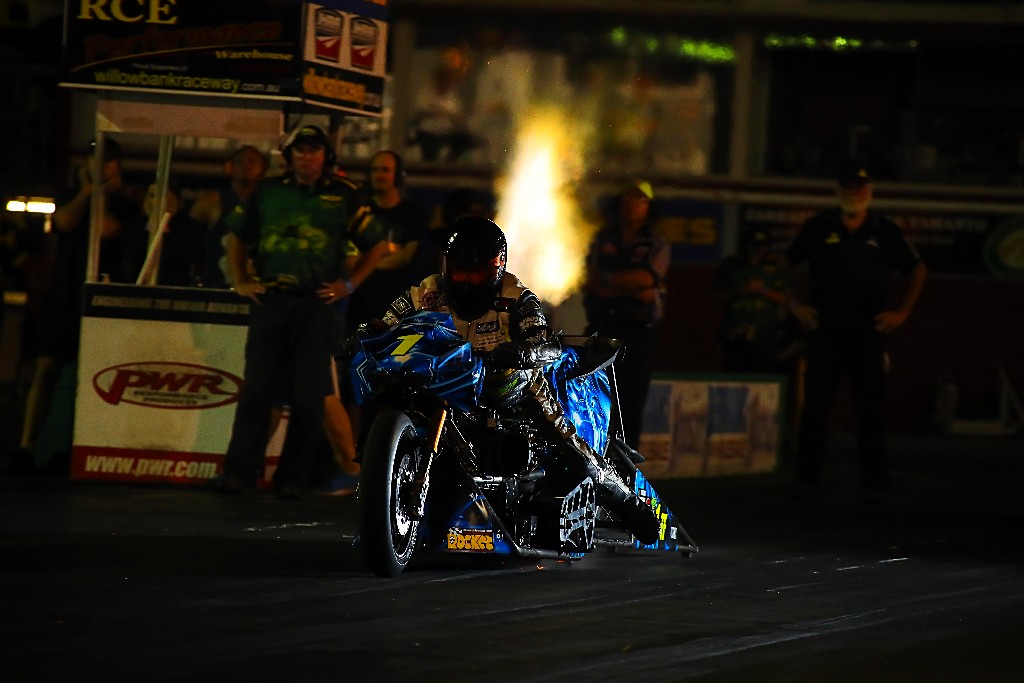 He is a man driven to be the best he can, and has set goals to achieve both here and the USA.
His last appearance was at Willowbank Raceway for the Santo's Summer Thunder event, and while it wasn't a Top Bike points round, he did take the opportunity to try a new approach on his Top Fuel bike.
"It was disappointing (not to be a Championship round), but it gave me and the crew the opportunity to attack the track differently," said Matheson. "We have always had a fast bike, with the majority of our better results coming in the second half of the track. So we adjusted the bike to leave the line quicker.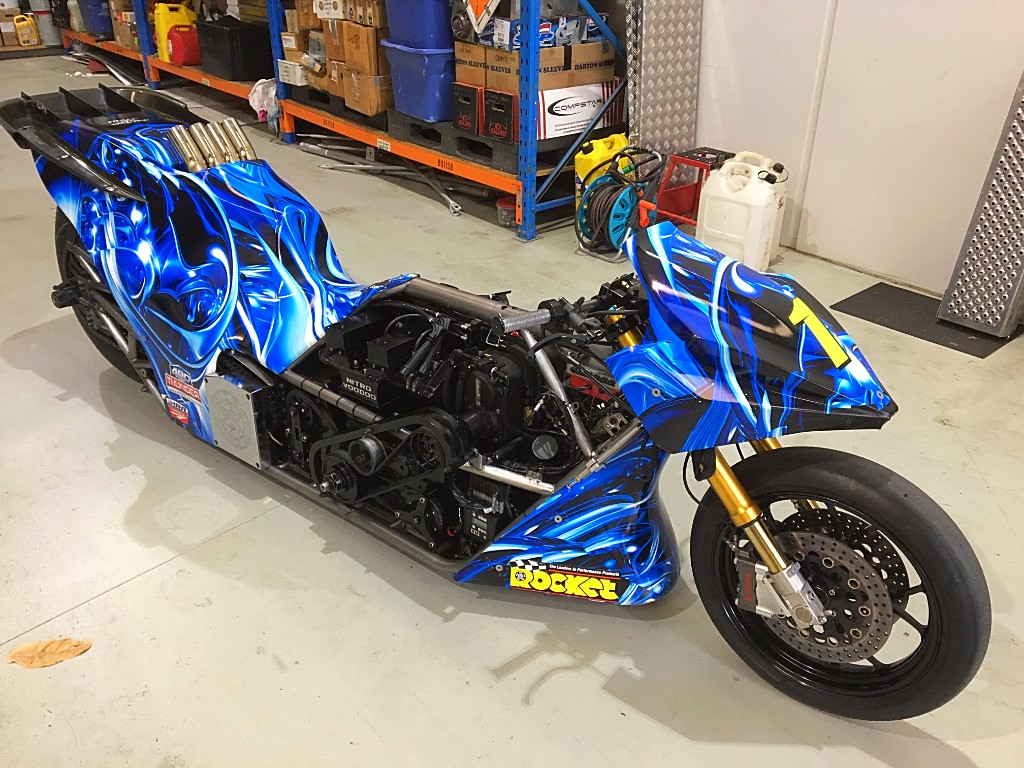 "At Willowbank, we went back to taking small steps in an attempt to have the bike react quicker in the first half of the track. If we can do that consistently we will ultimately run quicker.
"More importantly, it also allows me to get off the throttle earlier, giving me a longer braking area with more room to stop. Believe me, running over 240 mph [380 kph] can really get your attention, even with a parachute!
"We made the bike a lot more aggressive on the launch and succeeded in getting back to a zone we hadn't been in quite some time.
From my seat, I could feel the difference in the launch. From my gloves, feet and backside, it certainly grabbed my attention," said Matheson.
"Even though we smoked the tyre on a few attempts we were still happy. However, a spectator approached me after and asked why I fist pumped the air after I went up in smoke. I replied it was me screaming Yesssss! I was excited.
"What he didn't know was how hard the bike hooked up, so much it really hurt my tailbone. He saw what looked like a wasted run and we'd gone backwards. I explained we had actually taken some big steps forward in what we wanted to achieve," said Matheson.
"We are fortunate we have a bit of a lead in the championship points to be able to try out things. If we were right on the limit with the points it would have been business as usual. The bike would still have run in the low 6.0s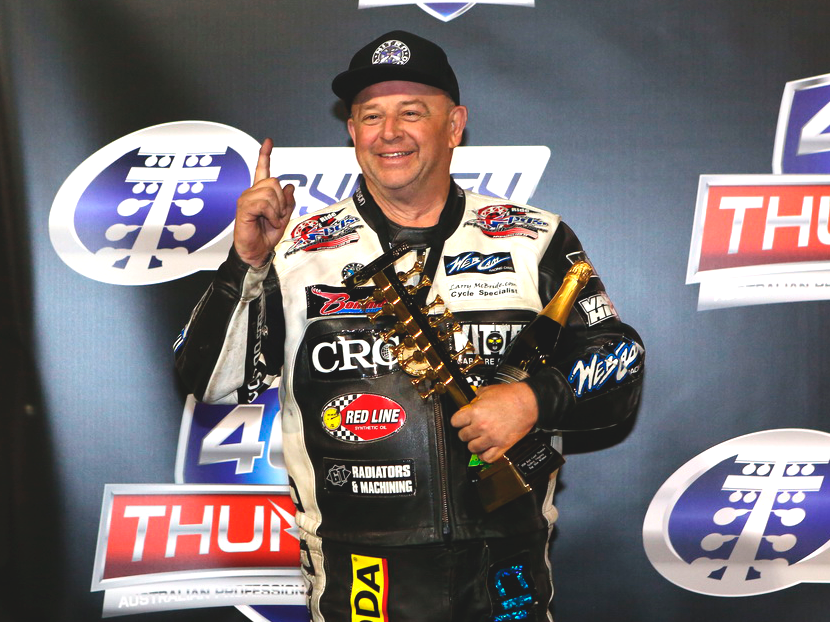 "But you know we are not trying to run low 6.0s. We are trying to run a lot quicker. It's a constant battle.
"We never rest on our laurels and are always trying to go quicker every run. The more passes you do, the more opportunity you've got to improve.
"That's one of the good things about the All Run format at the 400 Thunder events. If you lose a race you still get to come out again and run in front of the crowd and earn points.
"The fans come to see you run and there is nothing worse than going up in smoke because you are trying to run fast but get knocked out early.
"I'm a huge fan of the new format because it gives all the fuel bike riders the opportunity to perform multiple runs on race day.
No matter if I win or lose, I still return to run in front of the fans and give my wonderful sponsors and supporters more exposure.
The four times Australian Top Bike Champion is heading to the Gulf Western Oils Nitro Thunder on the 4th & 5th May and is looking to use the data he picked up from his last outing and deliver the results he is chasing.
"We'll get out on the track on Friday and make a few soft runs before we wind her up on Saturday. I'll be part of the autograph signing session on Saturday and looking forward to chatting with all our great drag racing fans. Please drop in, as I will have a few of my "Nitro Voodoo" posters and key rings to hand out.
Lead photo by Grant Stephens – www.cacklingpipesphotography.com
Action photo by Dave Reid – www.dragphotos.com.au
400 Thunder Championship Points Standing (As of April 4)
1: Chris Matheson 404
2: Mark Drew 230
3: Adam Layton 169
4: Chris Porter 150
5: Ben Stevens 110
________________________________________
Chris Matheson Racing is proudly supported by the following sponsors – Kitten Ultra, Rocket Industries, CRC, Web Cam Racing Cams, Larry McBride, World Wide Bearing Company, Boninfante Friction Inc, Performance Decals & Signage, Bill Furr Orangeburg Cycle Racing, Hi-Side Leather Repair, Performance Wholesale, GT Radiators & Machining, GT Radiators, Boninfante, Great Southern Diesel Services, Aeroflow Performance and Ballistic Performance Parts.
________________________________________
For further information please go to www.nitrovoodoo.com.au
Facebook: www.facebook.com/chrismathesonracing/
For Nitro Voodoo Media/PR please email: dragmedia@bigpond.com