Although fans won't be able to see it under his Shoei helmet, seventh-year Pro Stock Motorcycle professional Hector Arana Jr. will be smiling ear to ear when he
fires up his Lucas Oil Racing TV Buell for the first time at this weekend's eighth annual NHRA Four-Wide Nationals.
"I can't wait to race again," Arana said, referencing the six-week break since the class' season opener in Florida. "It seems like we had another Christmas break after Gainesville. As a driver, you want to get into a rhythm with everything you do when you make runs. Having long gaps between races doesn't help you get comfortable. Fortunately, we're pretty much on a normal schedule now so I'm a happy guy."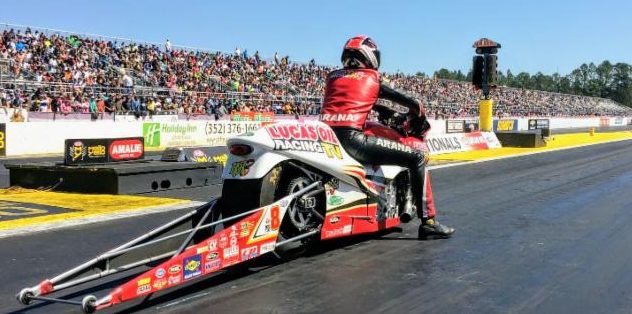 Racing alongside his father Hector Sr., Arana says his team is still a work in progress at this early stage of the 16-race Pro Stock Motorcycle schedule.
"The first race let us know where we stood in relation to the field," he said. "It also directed us to the areas where we need to improve. It was a great test in that regard. So ever since Gainesville we've been working on getting these two Buells to perform the way they need to for us to be competitive.
"We were trying a lot of different things and there are still other things we will be trying this weekend. We're still learning. To be honest, it may be another race or two until we are consistently up there with the top runners in the class.
"I think having Jim Yates helping us this year will really pay off. He's a smart guy and even though he raced Pro Stock cars, he understands what we're doing with the bikes and the more he's around them, the better he'll be at adding his ideas."
Arana is no stranger to success at zMax Dragway. He is the current track record-holder for elapsed time and top speed after last year's postings of 6.794 seconds and 199.88 mph. His top speed also is the national record, and just a breath away from the magical 200-mph mark everyone is fighting for.
"The first time I raced four-wide I won the event (in 2013)," he said. "The next year I went to the finals so I'm definitely a fan of the format. It's something different and that's cool for the racers and the fans. It seems most people really like it.
"Racing is racing. We all show up with the same chance to win. It's how you execute that matters. We'll be ready for the weekend."
Pro Stock Motorcycle qualifying sessions are scheduled for 4 p.m. and 6:30 p.m., Friday, and 1:30 and 4 p.m., Saturday, with eliminations starting at 12:40 p.m., Sunday. Television coverage on FOX Sports 1 begins with a live qualifying show at 7 p.m., Friday, followed by elimination action at 5:30 p.m., Sunday. (All times listed in EDT).