Scrappers Racing will start the 2021 NHRA Camping World Drag Racing Series with a three team lineup at the Gatornationals in Gainesville, Florida. Mike Salinas will return to the seat of the Top Fuel Dragster, Jasmine Salinas will step into a brand new A/Fuel Dragster to compete in her second full season in Top Alcohol Dragster, and Jianna Salinas will also make a return to Pro Stock Motorcycle fifteen months after winning the 2019 Auto Club NHRA Finals in Pomona, California.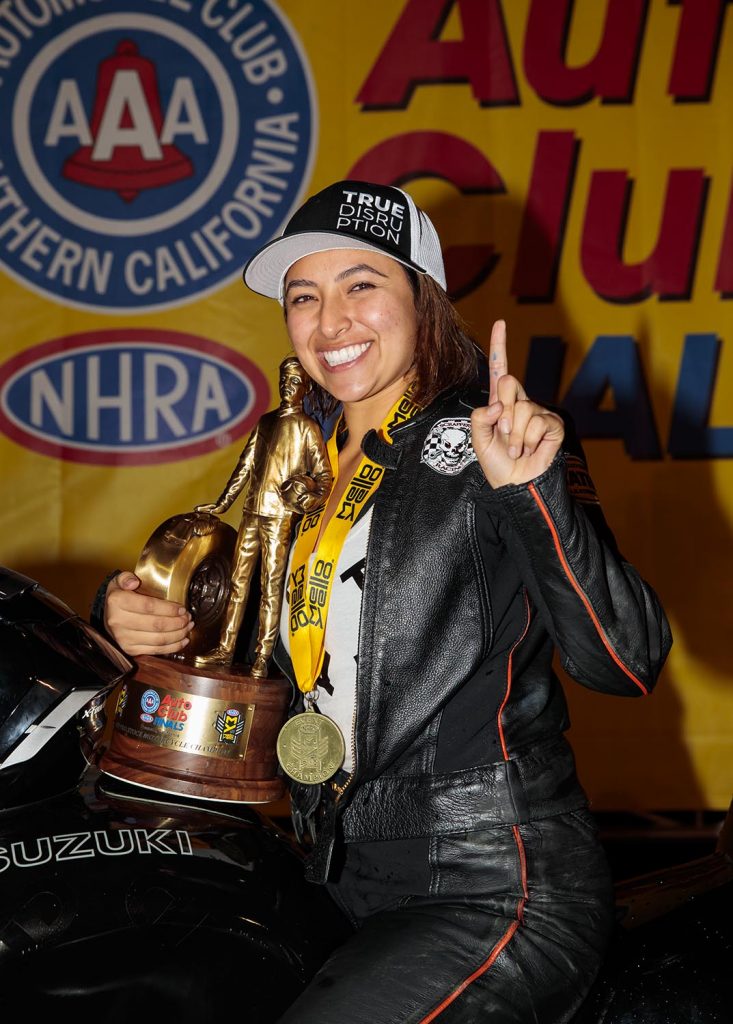 Earlier this week, Mike Salinas earned his competition license in a ProCharger Pro Mod. The '69 Chevrolet Camaro tuned by Pro Line Racing's Steve Petty, Chris Foster, Doug Patton, and Jared Parker will debut in Atlanta, Georgia April 30- May 2. "Racing in Pro Mod has always been a dream for me and something that I've always wanted to do, even before Top Fuel," Salinas commented. "When I made the decision to go into Pro Mod, I looked for an organization that was the pinnacle of the class and at the top of their game. ProLine was the obvious choice for me. Together with Eric, Steve, Chris, and Jared, we have assembled a top notch team and a competitive car. I am looking forward to learning how to become a winning driver and working with everyone within the ProLine family. I am incredibly grateful for how they all have taken me under their wings to teach me the ProLine winning formula. I especially want to thank Eric, Doug, and Steve for helping me fulfill one of my dreams and check another thing off my racing bucket list. I am looking forward to having lots of fun in Pro Mod this year. Now we can go racing
every weekend if we want."
Winning Top Fuel races is still at the top of Mike's to do list. With Alan Johnson and Brian Husen tuning the car along with a championship-winning crew, Salinas believes more victories are inevitable. In 2019, Salinas had appeared in five final rounds scoring wins at Las Vegas, Nevada and Bristol, Tennessee. The team has had a lot of time to service the car, build new engines, and prepare for the long awaited return to racing. This weekend they will make passes in West Palm Beach, Florida, testing all the components and reacclimating to the car and race day protocols before the season opener in Gainesville, Florida March 11-14. Adams Pool Solutions, Pleasanton Ready Mix, Red Line Oil, and Valley Services will be backing the Scrappers Racing Top Fuel Dragster this season. In the past, fans can attest that Salinas has always had the cleanest looking race vehicles. "We all love the clean look, but you can expect to see more sponsors on our cars moving forward. We have some exciting partnerships and look forward to pursuing other sponsorship opportunities," Melanie Johnson, Director of Marketing, mentioned about the team's outlook on sponsors in the sport. "We believe Camping World coming on last year was a step in the right
direction for our sport and there is an opportunity to bring in companies that have never been a part of drag racing but will greatly benefit from doing so."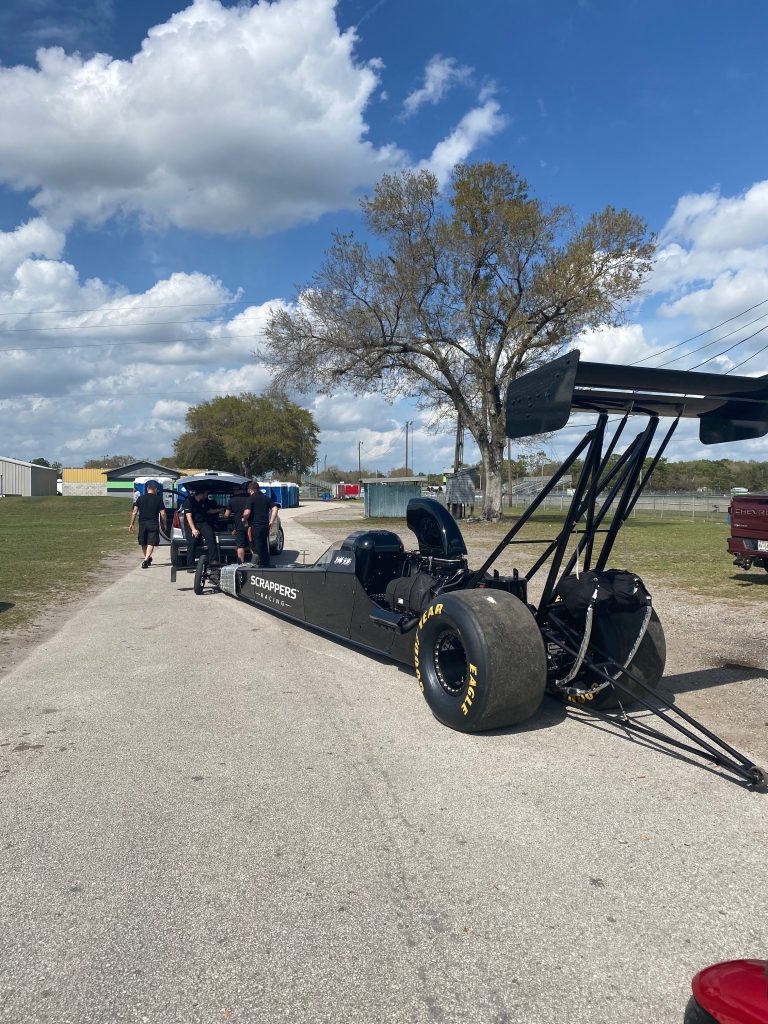 Jasmine Salinas is elated to begin her 2021 campaign in Top Alcohol Dragster. Late last year, she made the decision to bring in Rich McPhillips and Rich McPhillips Jr. as the new crew chiefs of her A/Fuel team. After the McPhillips came on in December, the team decided the best course of action was building a new car. After the many struggles and short race days for Salinas in 2019, she has her sights set on becoming a fierce competitor within the class. Salinas reflected on the 2019 season and the subsequent decision to hire a tuning team with a great track record over the last decade after wrapping up testing this week in Orlando, Florida.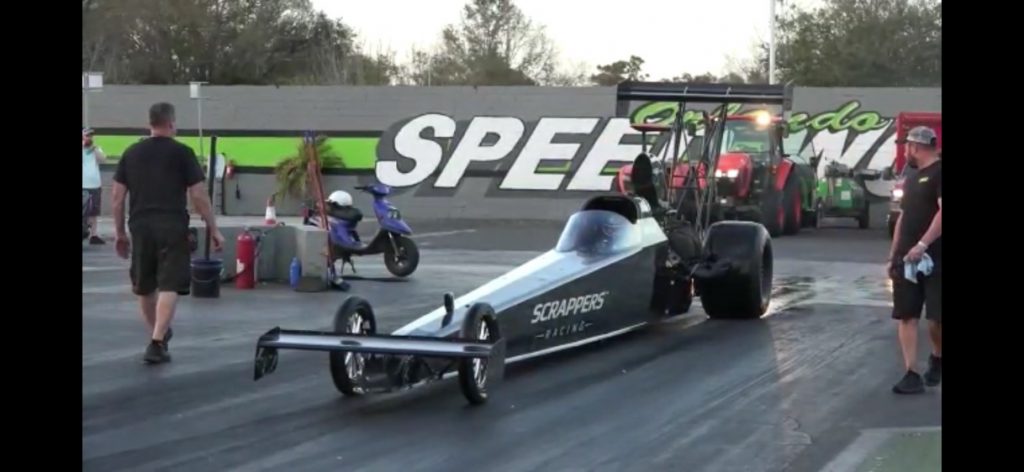 "We sat out 2020 and used the time to reflect on how my rookie season went in 2019. It was a good learning year for me, and I got a lot of seat time, but was not satisfied with the performance and could not accept showing up like that again. Fortunately, the timing aligned perfectly, and we were able to partner with the McPhillips team at the end of last year. I have admired the McPhillips' for a while now and have always kept my eye on what they were doing while Troy Coughlin Jr. was in their car. They are a high-caliber, family-oriented team with a track record that speaks to their dedication, performance, and capabilities. I am very honored to have the opportunity to work with them and grow as a driver. I feel confident going into the 2021 season and I know we are going to have a lot of fun out there together as a team."
Support from NGK Spark Plugs and Red Line Oil will also provide Salinas with a competitive edge this year.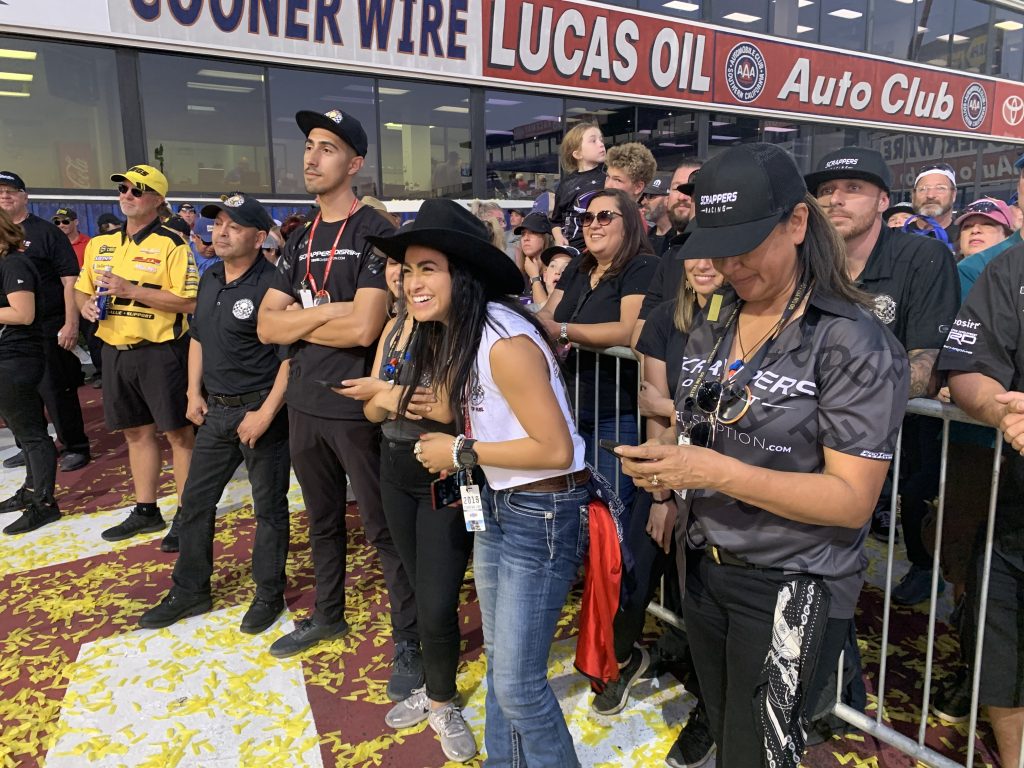 Pro Stock Motorcycle will see the return of Jianna Salinas not only as a rider but a team owner. Salinas spent the long off season working toward taking ownership of the Scrappers Racing Pro Stock Motorcycle team. Female ownership in drag racing is a rarity and Salinas wants to change the face of team ownership. "Owning my own team has always been a big goal for me. When we decided to sit out in 2020 after ending 2019 on such a strong note, the opportunity to transition into team owner opened for me. While talking to my crew chiefs, Greg Underdahl and Gary Stoffer, they informed me that they were looking to sell their team at the end of 2019 but still wanted to work with me. After doing some thinking, I realized that being a rider was not enough for me and I wanted to step up and own my own team," explained Jianna. "From the time I started racing, I have always wanted to show young girls that not only can they make it in the sport, but they can also own their own team, and be in a position of power within amale-dominated sport. Representation is extremely important, and I am immensely proud to be able to represent Scrappers Racing as the new Pro Stock Motorcycle team owner. I am also excited to add Jimmy Underdahl as my teammate while continuing my partnership with Greg Underdahl and Gary Stoffer. I look forward to what we are going to accomplish, not only on an individual level, but more importantly, as a team." With True Disruption returning as her primary sponsor, Salinas looks to bring in more forward-thinking organizations. Salinas has also secured a sponsorship from NGK Spark Plugs for 2021.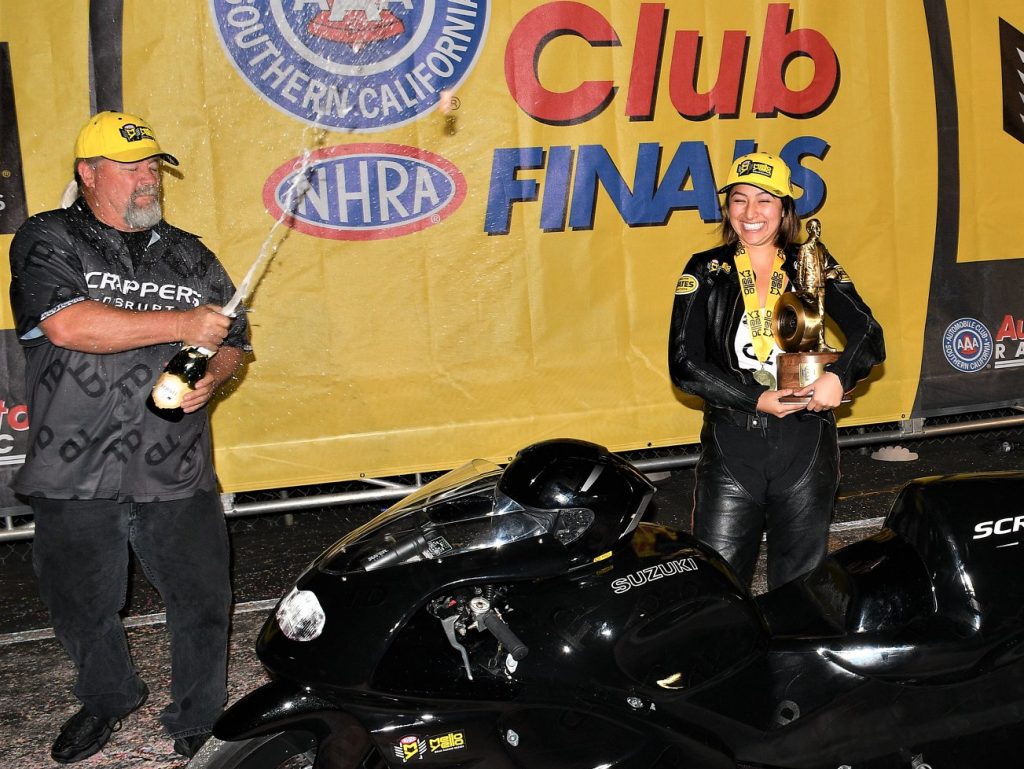 The Salinas family is grateful for the support they received after deciding not to race in 2020. It was a difficult decision but made the most sense for their family and racing operation. The longer off season gave them the opportunity to start new ventures, secure new sponsors, and organize a grand debut for the 2021 Gatornationals.
Overall, fans of Scrappers Racing have a lot to look forward to in the coming season. Be sure to follow @teamscrappers on Facebook and Instagram
There are more videos on the Cycledrag Youtube channel (please subscribe here) and the Cycledrag.com Facebook page (Please like here) and more will be coming soon. Check back daily.
To take advantage of some amazing discounts at Brock's Performance, click – http://brocksperformance.com?aff=12
USE cycledrag5 coupon code.