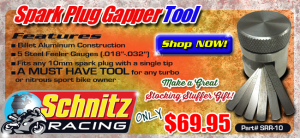 The SRR Spark Plug Gapper is an ingeniously designed tool that allows quick and accurate gapping and checking of spark plug gap.
Spark plug gapping is usually done with a hammer or by hitting the plug on a workbench. This can easily cause damage to such a critical and delicate spark plug. Now you can gently and accurately gap a set of spark plugs in just a couple of minutes. No more banging, prying or damage to the tip!
We've used this great tool for over a year in our dyno shop and LOVE IT!
Billet Aluminum Construction
5 Steel Feeler Gauges (.018″-.032″)
Fits any 10mm spark plug with a single tip
A must have tool for any turbo or nitrous sport bike owner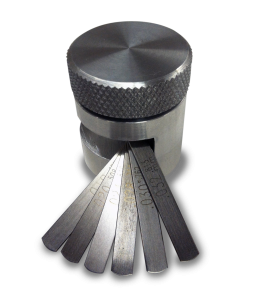 Part Number: SRR-10
Price: $69.96
VIA WEB
VIA PHONE
From US and Canada: 260-728-9457
From all other countries: (International Access Code 011) + 260-728-9457
VIA FAX
From US and Canada: 260-728-2021
From all other countries: (International Access Code 011) + 260-728-2021
VIA MAIL OR IN PERSON
Schnitz Racing
222 N 3rd St
Decatur, Indiana 46733
USA