"Event and racer tickets are on sale now. Racers spaces are going fast so bike guys need to get rocking," Brian Bossone, promoter with One media.
Qualifying All Day…. ArmDroping All Night!!
The next evolution of the PINKS style racing unfolds in Rockingham.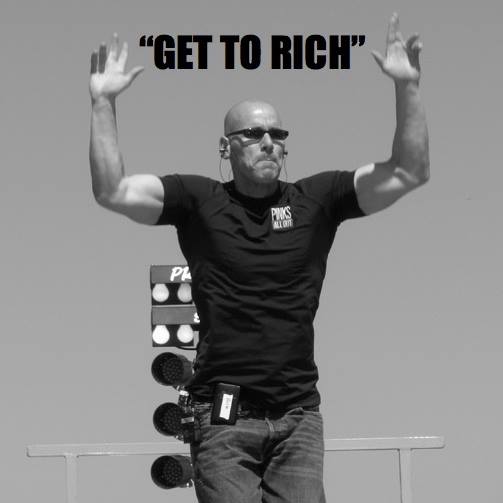 Racers simply have one goal, "GET TO RICH". The daily racing starts with two rounds of qualifying, starting with a Pro Tree for round one and an Instant Green Light for round two. This will get racers acclimated to the speed of Rich's ArmDrop. Rich can hold for three to five seconds but when the Arms Drop, there is no delay!
Two groups of racers will be chosen to run for the Cash from these qualifying rounds. That's right! Not just one group of …. it's 2 groups per race ET class. To ensure the closest and best racing, these groups will be chosen from not only the closest grouped ET cluster, but the most consistent racers throughout the competition. We are simply trying to find the driver and vehicle best prepared to move on to the next round. All this comes into play with the final rounds of competition which will require the contestants to "Hot Lap" back around after each pass to the PINKS Staging area.
This area will be in front of the grand stands, filled with thousands of screaming fans cheering them on, as they prepare for the next round. Each team will be allowed to have their crew setup like a mini NASCAR pit lane. As the field gets smaller the time gets shorter to prepare for the next round, ultimately leaving the two best competitors and vehicles standing.
These two racers face off and with the Drop of the Arms, we have a Cash Winner!
You say that's it? It's over ….. Nope!
This happens twice per ET class, leaving two overall class winners staring at each other in the old school PINKS circle. That's right! The two racers can negotiate for lengths and bet their winnings to multiple their take home Cash. Don't be surprised if Rich doesn't add some skin into the game! It's a two out of three ArmDrop Finish in front of a screaming crowd of PINKS fans, ultimately crowning the Winner of there ET class!
Racer Registration: http://pinks.extremetix.com/
888.695.0888 or Tickets@ExtremeTix.com