All year Pro Street fans have been waiting for the category's first 6.80.
Jeremy Teasley got the job done at the NHDRO Fall Fury Finale from Lucas Oil Raceway in Clermont, Ind., Sept 26-28 with four passes in the 6.80s, including a new world record of 6.843.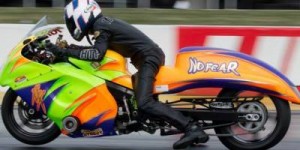 On Facebook Teasley wrote, "I want to thank John from No Fear racing for giving me the opportunity to ride such a great motorcycle and have to thank Rodney Williford for his amazing tuning capabilities and getting this bike down the track so fast and smooth. And thanks to the rest of the team for all their help and hard work!"
The bike was formerly owned by Williford and ridden to multiple records and championships.
"6.84 BABY!!! Please tear us down for all the haters out there!!!," wrote Williford on Facebook.
The machine passed a thorough tech inspection.
The motorcycle itself, the "No Fear" Suzuki Hayabusa has quite a storied history and is very accomplished. It was originally owned by MIROCK's Jason Miller and ridden to multiple records in the defunct 60 Inch Pro Sportbike class.
The motorcycle held the MIROCK Pro Street Record at 6.91 until Joey Gladstone reset the mark this season.
Pro Street racer John Gover, who refers to the machine as the "baddest streetbike ever" added, "It was sold to John Drake for the 2014 season and once again got a new look. When being tuned by Rodney, the bike has been quite a performer. Rodney rode the bike at Atco, cloaked in the former Tom and Jerry purple bodywork in order to tune it in preparation for the final NHDRO race, as well as the Battle Royale next week. Of course, this weekend, not only allowing Jeremy Teasley to win both the Summer Celebration make-up and the Fall Fury race (His second back-to-back win in a single weekend this season in the NHDRO series), but also to break into the 6.80's so many times that it became old news by Sunday."
Teasley's nitrous Suzuki defeated the turbo Honda of Frankie Stotz in the final with a 6.87 to a 6.98. It was the quickest side-by-side Pro Street pass in history.
All of this adds more intrigue to next weekend's $10,000 Pro Street Battle Royal at Maryland International Raceway.
Streetbikes are now running numbers that were respectable in Funny Bike a decade ago.