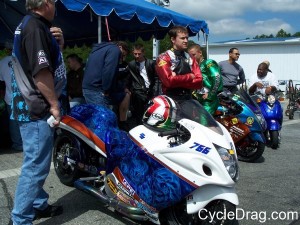 There have been rule changes in the Orient Express Pro Street class to help close the performance gap between the nitrous bikes and the turbo bikes for the last decade. The nitrous bikes were given many advantages in the rulebook, and left the turbocharged bikes handicapped to try to achieve parity in the class.
Then during the 2011 season a few nitrous teams finally closed and surpassed gap with the rule advantages and it showed on the track. In an effort to help bridge the gap between the two different combinations the nitrous bikes lost some but not all of their rule advantages. The turbocharged bikes were also given the same wheelbase options as the nitrous bikes and a slight weight reduction. There has been much debate in the off-season of the new rule changes in the Pro Street class, and MIROCK officials have been keeping a close eye on intervals and each combination's performance since the rule changes went into effect at the end of last season.
Jason Miller (Promoter of MIROCK) states, "The class parity is closer than it has been in decades, but the turbocharged bikes are basically running the same numbers as the nitrous bikes were last year now and the nitrous bikes were slowed down a little too much with the changes. We felt it was necessary to remove 30 lbs off the nitrous combination's base weight to put them back at the same weight they were at last year. We are also allowing sliders back in with a 10 lb. weight penalty as it is not a street bike type clutch. These rule revisions will tighten up the Pro Street class to a very exciting side by side drag race that will entertain MIROCK fans for years to come."
The following rule revisions are effective immediately on 5-22-12, and the normal MIROCK 14 day window for rule revisions do not apply here as we are opening up a combination and not restricting it before the event. These rules will be in full effect on June 2nd-3rd at the Fast by Gast Summer Showdown.
Click on the link below to view the updated Orient Express Pro Street Rulebook:
http://www.mirockracing.com/rules/2012_mirock_rulebook_prostreet.pdf
The next event for the Mickey Thompson Tires MIROCK Superbike Series is the Fast by Gast "Summer Showdown" at Maryland International Raceway on June 2-3, 2012.
For more information on the Mickey Thompson Tires MIROCK Superbike Series please visit: www.mirockracing.com
Jason Miller
MIROCK Superbike Series Promoter